Life for business consultant Ed McCormick changed one day in 1993. That´s when he saw a man sitting in a glass room at a Florida airport, listening to a Walkman, a toy airplane at his feet.
Turns out, McCormick didn't see a man at all. He later read in an art trade magazine that it was a life-size sculpture by artist Duane Hanson. This event eventually led the leisure-time painter to found ArtMolds (ToyDirectory) in 1997.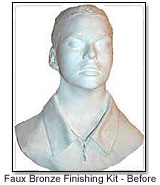 "For nearly 30 years, I wrote business plans at my father's company in New York ," McCormick explains. "I always had a creative streak, and when I read (about) Hanson, I knew I had to learn how to do that."
So, McCormick cast about to find an expert who could teach him the tricks of the trade. He attended workshops with famous "lifecasters" as they called themselves, and that's when he saw a problem.
The alginate materials lifecasters used were the same ones dentists used to make teeth molds. But tho se products, made from kelp, left a lot to be desired.
"I was never satisfied with the material," he says. "It was never strong enough, and the mix formed powdery clumps that left air bubbles in the cast."
So, McCormick got referrals and asked chemists to make a higher grade of molding material.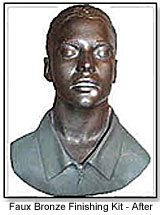 Eight months later he had the answer: FiberGel, a stronger product with less shrinkage. Then it hit him: maybe other artists or art school students would want this new material.
Thus, the Summit, N.J.-based ArtMolds was born. The company employs five who develop and sell molding and casting materials for the artist, moldmaker, special effects sculptor, taxidermist and prothesticsist.
As managing director, McCormick first marketed products via the Internet. Today, ArtMolds has distributors in eight countries. In the United States , ArtMolds has 25 retailers and three manufacturers. And its product line has blossomed from one to 35.
One benefit of Artmolds products is that you don't have to be a professional artist to use them. Artmolds has 12 kits that include everything needed to cast the body part of your choice.
Best-sellers are kits to cast a hand, face or torso. The Pro Hand Casting Kit ($59.95), for example, targets the adult market and re-creates hands up to the forearms. There are also faux bronze finishing kits ($59.95) for those who want a metallic finish instead of white.
The hand castings kits, and others, involve an easy and fun process: First, add water to a mix, fill the provided container, plunge your hands in, wait and wiggle them out. Then, mix the plaster, pour it in, let it dry and remove the sides.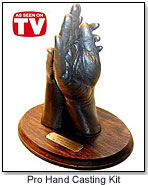 Other kits, such as the torso or face kit, are applied directly to the body using plaster bandages, allowed to set, and removed for instant results.
All kits use hypoallergenic mixes, and each kit has a money-back guarantee. More than one sculpture can be made from a mold, too.
The concept of capturing a moment in time is like bronzing baby's first shoes.
"It's great to have a tangible memory of someone," says McCormick. Rather than a shoe, ArtMolds products recreate actual body parts. And sometimes, faithful re-creations are needed.
This was true when McCormick had to cast the torso of Supermodel Iman. Diamond giant De Beers wanted a replica of her torso so it could create a line of necklaces for her to model.
ArtMolds products have also been used by film special effects artists to make casts on television shows such as "The Swan" and "Change of Heart." Artist Roy Butler also used ArtMolds products to make a bust of Vernon Winfrey, Oprah's father, for her recent 50th birthday.
McCormick plans to expand the company's marketing from makeup and sculpture supply stores to art store chains. But he won't abandon the artistic community.
"We're the only company founded by artists and we have the interest of the artist at heart," he says. So, for now, McCormick and ArtMolds will continue working to make art imitate life.