---
Nano Novelties Puff Up Sales
Ladybugs and More Create Balls of Fun at Registers
"A wind-up toy 'makes for an excellent present-topper.'" — Kate Noreen, Mudpuddles Toys & Books

With additional reporting by Alison Marek and regional correspondents Dennis Furlan, Terri Hughes-Lazzell and Christine Lebednik

Sometimes a novelty item at the register is just enough to get a whiny kid out of the store. And sometimes it's an integral part of business, as in the case of Ann Arbor's Brain Station, which touts more than 300 novelty bins. Thirty-four specialty retailers and a few toy companies recently told

TD

monthly Magazine that novelties are all about low-priced light-ups, balls and little racers. And much more…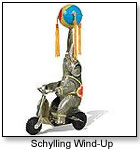 WHAT'S SELLING

Besides remote-controlled toys and the slingshot animals found on

TD

monthly's list of the Top-10 Most-Wanted Novelty Toys, Eligio Coniglio Jr. of Novelties Wholesale said the company's 4" Blow-Up Puffer Ball is really hot right now. An interactive version of something that's been around for years, it's "an item that we can't even keep in stock," he said.

Schylling's "pick-me-up items," a term used by the company's Stephen Medina, include Busy Bugs Music Box — a product that, based on initial sell-out at Kringle's Toy Box in Amherst, N.H., will likely achieve sales of 200 units a month, according to Partner Debbie Carroll.

A battery-operated light-up globe called the Meteor Storm was "Schylling's No. 1 selling item by unit in 2004 and 2005," Medina pointed out, and it's still strong today.

SOMETHING FOR EVERYONE

Anna Barr, owner of Anna's Toy Depot in Austin, Texas, noted that light-ups, magnetics and squeeze balls tend to do well. "I sell a lot to the counseling market and autism market. Speech and hearing therapists … use light-ups for diagnostic tools," she said.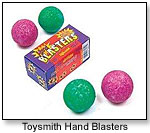 Kate Noreen, manager of Mudpuddles Toys & Books in Sherwood, Ore., is one of three retailers who told

TD

monthly that wind-ups are popular. She said she sells about four or five Nano Racers by Silverlit per day.

A wind-up toy "makes for an excellent present-topper," she pointed out.

Diane Robinson, owner of Silly Goose in Essex, Mass., told

TD

monthly her store has a lot of novelty items, but one of her favorites is Sarut for "grownup kids," because the company is "very dimensional in what they do."

As for novelties overall?

"The grosser, the better," Fred Rosenberg said. The owner of On the Park in Kingwood, Texas, pointed to "any of those squoosh balls that are the frogs and skulls and things like that. Toysmith-type products."

WHAT'S FADING

Although Rosenberg believes in "squoosh" toys and three retailers praised Inside-Out Balls by Play Visions, Noreen pointed to a different trend: "The squishy stuff," she said, "[has] not been selling for us."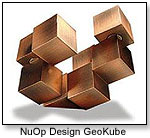 WHAT'S NEW

In general, "people are going for stuff that they've never seen before," CEO Frank Frisari of NuOp Design told

TD

monthly.

Among the 2-year-old company's products is the flexible rubber Q-Man, available also in miniature pushpin form and as luggage tags. "The Q-Man is successful because it is so gosh-darn basic, but it is also curiously amusing," Frisari said.

See the Q-Man and other amusing novelty toys below. And for even more, see July 2007 New Toys – Novelties.







This little fellow shoots up to 50' in the air and screams like a monkey. It comes with a cape. Launch date: December 2006.

.

AD
---






.

AD
---






.

AD
---






This fake cat's paw has a bell on the handle and a trigger to make the claw ... well, do claw things. Backscratcher? Friend tapper? Dog deceiver? This thing is just straight weird. The user manual shows things such as using it to reach for a coffee cup, confuse a real cat, and even duel — if your opponent also has a cat paw. It looks fun, and Izumi Nagano at Bandai headquarters in Tokyo explained that "it is something that is unique and brings both playfulness and joy."

.

AD
---






This new concept in light-up toys is sure to be popular. Give it a light tap, and it will start flashing light. It's not a bouncing ball; rather, it slides across hard surfaces while the pirate continues to stare up, and lights flash.

.

AD
---






This 3.5" squeeze froggy oozes when squeezed. It is not messy and comes in a 12-count 11.5" x 8" display box.

.

AD
---






The 4" Die Cast School Bus has pull back action. It comes as 12 pieces per printed display box.

.

AD
---






The Flingshot Flying Frog screams and shoots across the room. The rubber neck allows it to shoot up to 50' through the air.

.

AD
---






Slot cars and grandma? What do the two have in common (unless you have a granny who grew up in Southern California in the '60s)? This new high-speed senior citizen slot-car package takes the usually slow and infirmed, wheelchair-bound old fogies and turbo charges them for the track. We're talking two grannies with rugs over their knees, 10-piece cross-over track (for dangerous navigating), remote controls, clip-on crash barriers (you don't want those grandmas cartwheeling into the "stands," do you?), and a whole lotta fun. They're great for kids or old-age home retirees: Who says we slow down with age? The racers require four 1.5V AA batteries (not included). It's been an excellent seller for Jumpin Banana, according to its sales staff, with an "excellent novelty value."

.

AD
---






.

AD
---






Once these grannies are wound, they race along at crippling speeds. Launch date: May 1, 2007.

.

AD
---






.

AD
---






Three-inch vinyl worm balls are available in assorted neon colors including green, pink, yellow and orange. Six worm balls are packaged in one retail-ready Value Pack. Launch Date: June 2006.

.

AD
---






.

AD
---






Made of flexible coated wire cable, the Q-Man luggage tag is durable, stylish and fun. It comes in six solid colors and is also available in camouflage.

.

AD
---






This ball, available in several colors, can blow up to 12" in diameter.

.

AD
---






These cute realistic cars are part of the Nano Racing System, which includes fun tracks and accessories and allows the cars to jump and stunt at high speeds. They have pull-back engines and can do pop-up wheelies.

.

AD
---
THIS BANNER IS AN AD:
---
---