---
It´s All in the Name
Personalization Brings Extra Profits
A study by Heather Bortfield, a psychologist from Texas A&M, demonstrated that "babies use familiar words such as their names as a sort of 'anchor' into the speech stream.
What's in a name? Ask designers and retailers of personalized baby and children's gifts and they'll tell you that the name is the game to get into.
"Personalization has always been part of any décor purchase, whether it's the full name or a monogram," explained Jamie Lentzer, owner of Jamie's Paint and Design and creator of Name Tiles. Making the child the focus of the product is an area of retail that has kept its momentum since a surge in the late '90s.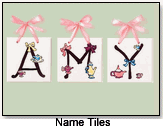 "Personalized gifts make a lasting impression and many are cherished from generation to generation," said Shannon Connolly, online retailer and owner of Bonny Babies. "They show the recipient that you took the extra time and thought to choose a special gift just for them."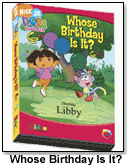 Books, music, videos and software use both original and established brand names to make their products special. Personally Yours Books, for example, is able to take a child's name (and sometimes even his or her picture) and create a variety of fun products for children to play with or watch. One of the biggest sellers is a personalized Dora the Explorer "Whose Birthday is it?" VHS or DVD where the child becomes the special birthday person that Dora and her friends try to find. Another great personalized offering is "The Everyday CD," a music recording that uses the child's name throughout the music.

Even though a personalized gift isn't a new idea, the trends that are keeping sales up are certainly moving with the times. "Designs and products that are more modern are most popular," said Shelly Kennedy, owner of Drooz Studio and an artist who specializes in personalized lithographs, paintings, rugs and other wall hangings. "Décor items are becoming less fussy. We have a 'retro party' name plaque that sells well. It is bold and fun — matching well with the new trends."

Personalized handmade gifts are selling well, too. "The do-it-yourself personalized handprint and footprint kits are not new, but they are getting better and better — no more mixing plaster or mess from the ink pads," Kennedy said. "These are getting extremely popular because parents love being able to personalize these gifts themselves with baby's photo, prints and birth information. Also, personalized religious and special occasion/holiday items are becoming more widely available."

Personalized items and toys in a nursery can be a key to language development. A study by Heather Bortfield, a psychologist from Texas A&M, demonstrated that "babies use familiar words such as their names as a sort of 'anchor' into the speech stream. A baby as young as 6 months can learn to recognize an individual word that follows its own name, even after hearing both words as part of whole sentences." In addition to hearing the name over and over from the parents, it is likely that children can learn to recognize their names from seeing them daily—in their own rooms, either on the walls, blankets, toys or books.

The following is more information on the products mentioned in this article.









In this music CD, the child is part of every song. Personally Yours offers more than 3,000 pronunciations available in each album, representing 7,000 or more names, including spelling variations. Produced in-house, the name list is constantly updated.

.

AD
---






A child's wish come true: becoming part of a video game and story! Not only does the child's name appear in the program, but a photo can be used to create animated figures, too. A fun learning experience for kids on the computer.

.

AD
---






My Baby Forever is a personalized keepsake doll custom ordered to be the actual length of a baby at birth. Baby´s birth information is then embroidered onto the cotton interlock gown in soft blue or pink threading. A matching knotted newborn cap is included.

.

AD
---






Each Customized Lithograph is signed by the artist, Shelly Kennedy, and personalized with the child´s name. These beautiful Lithographs are a 10" x 10" print mounted in a 19" x 19" distressed painted finish wood frame. It is topped off with Plexiglas. The lithograph comes with a spa white matte and a choice of a Spicy Mustard or French Vanilla frame.

.

AD
---






This kit allows parents to make a beautiful lasting impression of their child´s hand or foot, or their pet´s paw. This kit contains everything necessary to make a raised plaster cast with a natural sand finish, including a solid wood frame, available in three beautiful colors: black, honey and mahogany. It comes with clear easy-to-follow, step-by-step instructions as well as picture illustrations.

.

AD
---






This princess gift bag set includes a variety of wonderful items for the new princess. All items are embroidered with a little girl and princess. The tote bag is filled with a pink jersey/fleece blanket, handmade feet kit, burp cloth and a small frame all with the same little girl/princess. It's also available in a boy theme called Lil´Champ.

.

AD
---






Send a personalized birthday greeting with these very special Barbie dolls. Each memorable doll says more than 20 different phrases that include the child´s name and birth date. Kids can activate the feature with the push of a button. Barbie doll wears a beautiful gown with sweet feminine accents and exquisite detailing. Available in three different ethnicities.

.

AD
---






This 14" Elmo doll comes with over 20 cool phrases, songs and games. What's more, the doll is programmed with a personal greeting that includes the child's name. Elmo comes cute as ever, wearing an Elmo T-Shirt and holding a puppy. Other versions include an Easter Elmo, Christmas Elmo and Birthday Elmo.

.

AD
---
THIS BANNER IS AN AD:
---
---