---
Specialty Teddy Bears No Longer Bank Breakers
High-Quality Bears Come at Lower Prices
"Now there are younger teddy bear collectors because their parents loved teddy bears." — Susan Swickard, The Talking Teddy
As any teddy bear collector will tell you, before the 1999 economic downturn, consumers had to choose between inexpensive manufactured everyday plush and high-end handmade artist bears.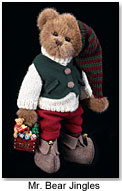 Today, manufacturers like Bearington Collection offer higher quality bears at lower prices, blurring the line between artist bear and everyday plush. Now, even the budget-strapped can find collectible-quality manufactured bears within their price range. Storeowners note these bears are gaining in popularity.
Take Bearington Collection: In its short eight-year existence, the plush manufacturer's heartrending bears have been receiving industry notice, winning numerous TOBY awards and Golden Teddy nominations.
"Bearington is starting to be collected" by adults and children, said Bear Hugs owner Emily Hahn of New Jersey. "Prices can be around $30. Its selling point is it's not too pricey."
North American Bear Co.'s finely detailed Muffy Couture line continues to be in demand.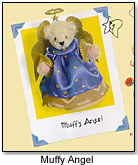 "Muffy VanderBear is very popular," said The Talking Teddy owner Susan Swickard, of Estes Park, Colo. The Talking Teddy carries thousands of bears and is in its 22nd year of business.

Literary bears are also perennial sellers. "Character bears sell," Swickard went on to say. "They're timeless."

Still, the artist bear, handcrafted just as it was a century ago, will always be the flagship for teddy bear collectors, explained a Maine teddy bear storeowner.

"Top sellers are what is known as the 'classic teddy bear,'" noted Swickard, the resort-town Colorado storeowner.

Ohio bear artist Lori Ann Baker-Corelis explained collectors´ preference for the traditional-looking bear: "The soul of the teddy bear lies in ´tradition,' and I think this is still what pulls collectors." She added, "it has to 'speak' to the collector. This is usually done by the face. It's in the eyes and the expression!"

Whatever the price niche, there will always be a market for teddy bears. "The people who collected teddy bears used to be mostly adults," said Swickard. "Now there are younger teddy bear collectors because their parents loved teddy bears. Mom loved Winnie-the-Pooh and wants her children to love him. Teddy bears become multigenerational."

Some collectible bears to stock include:









The Boyds Collection offers the The Boyds Racing Family, a lineup of nine of stock-car racing's most distinguished drivers, including Jimmie Johnson and Kasey Kahne. Here, Boyds honors NASCAR legend Dale Earnhardt Sr. with a plush fully-jointed 16" bear wearing a white firesuit and a black #3 cap. The product is licensed by NASCAR and the drivers they represent.

.

AD
---






The Bailey & Friends subdivision of The Boyds Collection has been running now for 11 years and is always a good seller, said marketing associate Rich Scotti. The 8" limited edition plush line is based on the now-retired founder´s kids and their friends. Every season the friends have a different adventure. Fall Harvest includes: Bailey (gold bear named after the founder´s daughter), Edmund (this rust bear follows Bailey around) and Matt (mocha bear named after the founder´s son).

.

AD
---






When The Boyds Collection started the Boyds Bears & Friends line a couple years ago, they intended the bears to be an everyday plush. "The fact that they're as popular with collectors as they are with folks who want a great everyday plush friend thrills us!" said marketing associate Rich Scotti. Bears in this collection have extraordinarily soft fur and large bellies. Displayed here, Coco retains Boyds´s characteristic innocent yet gruff face. The cocoa fur is contrasted with pale paw pads and ribbon.

.

AD
---






The award-winning Paddington Bear has soft honey brown plush with black sparkling eyes. He wears a red felt hat, bright yellow Wellington boots and the legendary tag that reads "Please Look After This Bear". His blue hooded coat comes complete with working wooden toggle buttons, and cuffs with yellow embroidered buttons.

.

AD
---






Baker-Corelis handcrafts such distinct, traditional mohair bears as Patriot Make-Do, a gold bear wearing a conical blue party hat with red ruffle trim. The little bear holds an American flag and tiny tinsel curls. He sits atop a big feather-stitched red wool ball with bells.

.

AD
---






Kennesaw, Ga.-based Bearington Collection Inc. offers beige-fur Ima Tree, a poseable, 4.5" 2005 Golden Teddy Award-nominated plush holiday ornament. The quiet, wispy girl bear plays dress-up as a Christmas tree. She balances a large gold star on top of her head as if wearing an avant-garde tiara.

.

AD
---






Black leather coat-wearing Harold drives the motorcycle while Leigh chills in the one-wheeled sidecar. These 4" plush bears are from World of Miniature Bears´s Becky Wheeler line.

.

AD
---






Muffy VanderBear is the Queen of Hearts in North American Bear Co. Muffy Couture line. The Queen of Hearts, in Lewis Carroll´s "Alice´s Adventures in Wonderland," is the playing card who's always ordering someone's beheading. A large red heart set on a black sash rests over Muffy´s abdomen. This is a limited boxed edition.

.

AD
---






In this bear, Muffy is a painting come to life. The 7" fully-jointed Muffy make-believes she is Infanta Margarita, the precocious little daughter of King Phillip the Fourth of Spain. Infanta Maragarita is the radiant focus of Diego Velazquez's 1656 masterpiece, Las Meninas ("The Maids of Honor"). Mohair fabric and numbered, Velazquez Infanta is from North American Bear Co.'s Muffy Haute Couture limited boxed editions line.

.

AD
---






This miniature shepherdess stands just 4" high. Handcrafted from a design by artist Linda B. Schaff. A 2005 Golden Teddy Winner, she comes with her own crook and a little sheep on a pink satin tether.

.

AD
---






This adorable 5" German mohair teddy is ready for adoption. She even comes with her own basket, so she can be dropped on some lucky doorstep. She wears pink ribbons in her ear fur. She was handcrafted from designs by Janice Schmuck.

.

AD
---
THIS BANNER IS AN AD:
---
---