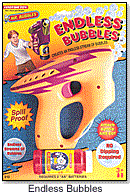 Strombecker Corp.
Never get your hands sticky again by blowing bubbles when you use Endless Bubbles by Strombecker Corp. Forget about dipping the bubble wand or wasting your breath blowing bubbles. This spill-proof bubble toy blows out streams of perfect bubbles for your children to enjoy! It comes in assorted colors and a 4 oz. Mr. Bubbles solution. Ages 3 and up.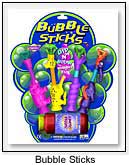 Kidz Delight
Did you know an elephant can blow bubbles with its trunk? With Bubble Sticks by Kidz Delight, four different animals can blow bubbles, even a snake. Dip any of the four zany animals into a bottle of bubble solution, and then blow away! Each Bubble Stick includes bubble solution and is fun and easy to take anywhere! Ages 3 and up.
Little Kids, Inc.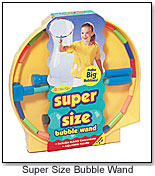 Winner of the 2004 Oppenheim Toy Portfolio Gold Seal Award, the Super Size Bubble Wand by Little Kids, Inc. leads the way in making the largest bubbles ever! Inside, this wand is fabric-covered in order to soak up more bubble solution than the regular plastic wand! With a collapsible handle and adjustable wand, any sized child or adult can use it! Ages 3 and up. $7.99.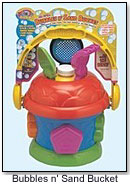 Imperial Toy Corporation
Get ready for the ultimate beach toy with the new Bubbles n' Sand Bucket by the Imperial Toy Corporation. The instruments can double up to be used to make large bubbles and to build the ultimate sand castle! This set comes with bubble wands, Miracle Bubbles, sand molds, and sand tools. Time at the beach has never been so fun!