---
Rag Doll Revival
Newfangled Old-Fashioned Dolls Appeal to All Ages
"We thought the typical hard plastic 11" fashion doll would limit their fashionability." — Goldi Miller, Fashion Angels
With reporting by regional correspondents Virginia Davis and Pennie Hoover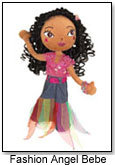 Rag dolls used to mean Raggedy Ann and old-fashioned pinafores, but when Manhattan Toy's (ToyDirectory) Groovy Girls burst onto the scene in 1998 wearing chunky funky sweaters and mini-skirts, rag dolls were transformed from nostalgic gifts to modern-girl must-haves. Eight years later, Groovy Girls even have a raggy fashion rival in the new Fashion Angels (ToyShow). Retailers told TDmonthly Magazine that plush "rag" dolls are some of their best sellers — and they're not old-fashioned at all.
"Unlike the rooted hair/molded face dolls, the rag dolls can communicate a wholesome presentation, and I think parents are looking for that," explained Hugh Kennedy, vice president of business development for Manhattan Toy.

Amanda Scadina, manager of Cheeky Monkey in Menlo Park, Calif., carries the plush Language Littles (ToyShow), which talk and teach new languages so that kids can learn to communicate with children of other cultures or just broaden their own understanding of language.
"They are really fun, educational and soft," said Scadina. "The larger size dolls are picked up by grandparents more frequently. We also have a smaller size that tends to sell more to birthday-party goers and parents."
"Plush is just so much better for children 3 and up," explained Elizabeth Gonzalez, accounts manager for Language Littles. She said it was the only material they ever considered for their dolls, which debuted in 2000. "A soft, cuddly toy combines with the doll's voice, which is reassuring. You can also carry it along with you or stuff it in a backpack."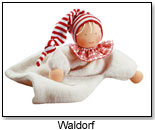 Cuddliness is one of the chief traits of rag babies made by

Europlay

(

K

ä

the Kruse

) and

Fanny's Playhouse.

"We buy the Baby Bottoms, the soft dolls from Fanny's Playhouse (ToyShow) that are anatomically correct. They are very cute," Pam Byers, owner of The Ark in Berkeley, Calif., told TDmonthly. Her Käthe Kruse Waldorf rag dolls also do well.


"The baby dolls that were on the market when we brought out Baby Bottoms were mostly vinyl," said Fanny Wong, owner of Fanny's Playhouse. "There weren't any soft-sculptured ones. Our anatomically correct Baby Bottoms do very well in California, New England and Manhattan but not as well in the South, because it's more conservative."

According to co-owner Jennifer Vanderish, Picayune Toys in Dunwoody, Ga., had just brought in the Fashion Angels. Several other retailers that spoke to TDmonthly since the American International Toy Fair in February said they'd ordered them, too.

TDmonthly asked Fashion Angels co-owner, Goldi Miller, why they took the rag route for their new posable fashion dolls.

"We thought the typical hard plastic 11" fashion doll would limit their fashionability, because for us the clothing was more important than anything," explained Miller, whose dolls are based on tween, not teen, bodies. "Also, we wanted to translate the Fashion Angel cartoon character from 2D to 3D without distorting it too much. When we started playing with actually sewing them up, the look screamed 'perfect!'"

Fashion Angels were released last year — but without their essential fashions, a mistake the company quickly corrected in 2006.

"We just started to ship the boutique in a trunk, and we're getting great press and great feedback and we're very happy," said Miller.

Manhattan Toy should be happy, too. Eighteen of 35 toy and doll stores contacted by TDmonthly were carrying Groovy Girls and, despite their move into mass market more than a year and half ago, everyone said they were still selling well.

"We sell dozens of Groovy girls ... the kids love them," said Katie Bates and Sherry Bates, co-owners of Butterfly Kisses in Hiwassee, Ga.

"They're one of the top selling dolls," agreed Scadina.

They're the best selling fashion doll at AbraKIDabra Toys in Greenville, N.C., "because they are cute and not expensive," commented manager Roberta Kenworthy.

"Groovy Girls … are wholesome dolls," noted Deborah Thompson, owner of Toy Store in Peachtree City, Ga. "They're not like the Bratz dolls ... these seem to be children that are well mannered and not punks."

As if any doll descended from Raggedy Ann could be anything else!

Here are the cuddly, non-punky dolls that retailers said were doing well in their stores, plus a few more that TDmonthly has scouted out:









The Tiny Treasures Playset provides hours of fun to young girls ages 2 to 5 years of age. The Tiny Treasures playset is designed to teach children to role-play and to encourage the use of their imaginations by generating stories about their play. The individual pieces in the set help develop hand-eye coordination — bassinette with zipper, baby doll, bear that rattles, bottle that crinkles and baby blanket. The playset is surface washable and available in either pink or purple.

.

AD
---






.

AD
---






Babicorolle, the collection of plush dolls and accessories, welcomes one of two new all-cloth dolls: Pink. Designed to visually appeal to babies, she and her "sister" Grenadine are dressed in jersey or polished cotton fabric, featuring vibrant bolds and bright stripes or rosey pastels to create an inviting, colorful play toy. Shy, slightly mischievous grins, oversized fedora hats, mitten hands and large slipper style boots for feet ensure her instant appeal to the very young. Made with no detachable parts, the dolls are durable, washable, and most important, equally comfortable for cuddling during playtime or at bedtime. It is age appropriate for kids age 0 to 18 months.

.

AD
---






A helpful new addition for toddlers is the Goodnight Doll. These sweet little dolls are everything a young child needs for bedtime. The doll has a recordable chip in one hand and playback feature on the other, so mom or dad can squeeze the doll's hand and leave a recorded message. The child can play and re-play the message as many times as she wants when she's in bed. The Goodnight doll is a plush doll wearing adorable satin pajamas. She also comes accessorized with a small teddy bear that has a surprise — squeeze its tummy, and a night light glows from within to add a fun treat for bedtime. All bed companions need to be comfortable as well, which is why the Goodnight Doll also has her very own blanket so she can snuggle up next to her toddler friend.

.

AD
---






.

AD
---






Give your Fashion Angels Living Dolls a new do. These four interchangeable wigs look great on all four Fashion Angels. Each wig sold separately. Pictured are "Long Curly Blond Wig" (Item #11053), "Short Blue Wig" (Item #11054), "Long Black & Pink Wig" (Item #11055), and "Long Straight Blond Wig" (Item #11056).

.

AD
---






.

AD
---






.

AD
---






Baby Bottoms 12" baby rag dolls are anatomically correct with truly adorable faces. The dolls are available in four different skin tones and in both boy and girl versions. Realistic, developmentally appropriate dolls help children grow up with a healthy body image. The outfits are removable and the dolls are machine washable and dryable.

.

AD
---






A lifelong companion, Miss Dessa is understuffed and ultrasoft. She features a sleeve on the back of her dress for extra-huggability. She's 16" long and suitable for kids 18 months and older.

.

AD
---






The 2006 version of the popular multicultural Learn to Dress Dolls are 14" rag dolls that have embroidered faces. The dolls teach toddlers five dressing skills that they can use to dress themselves. The dolls are machine washable and dryable.

.

AD
---






.

AD
---






The 10" tall cloth fashion doll Maya shows her flair for fashion and love for vivid colors as she dons her multi-color striped corduroy pants and yellow halter top. To complete her look, Maya carries her matching corduroy purse and slips into her raspberry Mary Jane-style shoes with yellow accents. Her hair is 100 percent acrylic and dry cleaning is recommended. "[Dolls] by Kidz by Design — a new manufacturer — sell well," said Karen Sullivan, owner of Polka Dot Kids in Marietta, Ga. Tween girls "love their hair, which is as close to natural hair as you can get," explained Kidz by Dezign vice president and the designer's son, Chris Carpenter. "They can style it and comb it."

.

AD
---






.

AD
---






This soft, cuddly and washable Jesus doll was designed to give comfort to children of all ages that are in need of warmth and compassion, while reinforcing their faith and courage. He's 16" tall with outstretched arms just right for hugging. The doll includes a short story written on a scroll for use as a tool for discussions about Jesus' life. The doll was launched in 2005.

.

AD
---






This little doll is perfect for cuddling and pampering. Baby It's Me belongs to the Käthe Kruse Waldorf line and is only 8.5" long. Baby It's Me likes to nap in her carrying bag. She comes in three hair colors: blonde, brown and white and also with a diaper, romper and carrying bag. She is adorably packed in a heart-shaped bag and is handmade and hand washable. She debuted at the 2006 American International Toy Fair.

.

AD
---






Shoe String Babies are soft, cuddly cloth dolls that come in a whimsical flowered shoebox, perfect for storing all their cute little accessories and outfits or for just toting to a friend's house for an afternoon of play! The dolls stand 12" tall and the head and arms are jointed for ease in removing doll clothes. Included with each "baby" is a small plush pet (a kitty, puppy, teddy or bunny) just because everyone "needs a friend". And tucked in a small doll sized canvas tote bag is a pair of brightly flowered shoelaces for those favorite pair of sneakers! The doll bodies are machine washable and the trademark "two dots for eyes" identifies the doll as a member of The Lizzie High Collection of Dolls.

.

AD
---
THIS BANNER IS AN AD:
---
---