Click here to read more TDmonthly_Top_10_Most_Wanted_Lists
Straight from the runway…manufacturers have stepped it up a notch this retail season making tween girls more fashion conscious, technology savvy, and realistic then in years past. This age group is big business, with an estimated worth of $4.2 billion according to a 2003 NPD survey. Bratz and My Scene are predicted to stay on top, but movie tie-ins, product placement and new lines will keep this market on the cutting edge.
1. Bratz: Tokyo a Go Go ($24.99, 6+) by MGA Entertainment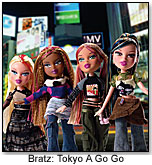 The newest international Bratz have taken off in style with a cyber-pet and electronic accessory.
According to retailers surveyed, Bratz are still dominating the marketplace.
Bratz was the #3 most-searched doll in the last month on Lycos 50.
They have a video out in August called "Starin and Stylin."
2. I Message Girl (19.99, ages 5+) by Mattel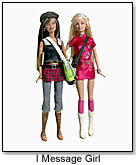 Barbie is keeping up with technology savvy tweens by texting. Each hipster has two cell phones sending and receiving messages.
The technology aspect makes her relevant to tweens.
NPD Group ranks Barbie in the top 5 doll toy properties for tweens.
Barbie has 7 weeks on Lycos top 50 and was the #1 most-searched doll last month.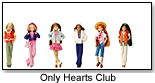 3. Only Hearts Club: Fashion Dolls ($15.00, Age 6+) by Creative Stuff
These 9" poseable stuffed dolls are the hottest item in boutiques across the country. The six friends with standout eyes and life-like characteristics are a wholesome alternative.
Boutique toy stores surveyed rate them as #1.
They will be at 1000 retailers by the end of August.
Creative Kids Stuff sold out instantly twice.
4. Cali Girl So Excellent Earrings ($14.99, ages 5+) by Mattel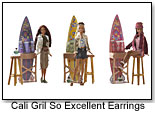 Fresh off the beach, tweens love these sun-kissed trendsetters with 16 pairs of earrings.
NPD survey in May 2004 ranked Barbie #1 toy with kids ages 5-12.
Two Cali 's are listed as bestsellers on Barbie's website and its a retail favorite.
Barbie is listed on e-bay and yahoo's top toy searches.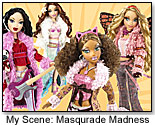 5. My Scene: Masquerade Madness ($19.99, ages 5+) by Mattel
This 12" edgier version of Barbie dressed in costume comes with a 44 minute DVD.
My Scene is a currently top seller for eToys.com.
NPD Group, ranks her in the top 5 doll toy properties for tweens.
Myscene.com is currently the #4 Website for girls according to Media Matrix.
6. Hello Kitty and Accessory Set ($7.99, Ages 4+) Bandai
This 2" mini keeps up with the latest styles in snap-on fashions and accessories.
Hello Kitty is rated the highest among girls 8-12 surveyed.
Rated #5 most-search dolls in the last month on Lycos 50.
Multiple sources ranked it a consistent favorite for the age.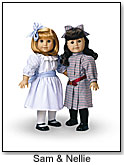 7. American Girl Collection: Nellie ($84.00) by American Girl, LLC
Heads up tween collectors, there is a new addition to your favorite line.
She will be featured in a live made for TV movie in November on the WB.
NPD Group ranks American Girls in the top 5 doll toy properties for tweens.
Americangirl.com, receives an average of 1.3 million visitors per month.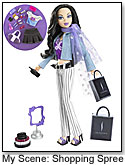 8. My Scene: Shopping Spree (19.99, ages 5+) by Mattel
This is a must have for all the die-hard shoppers in training.
They debuted complete with shoes from Aldo, jeans from Levi and makeup from Sephora.
NPD predicted My Scene to be hot for 2004.
Trends, styles, colors and shopping are top teen interests.
9. Shorties: Fashion Minis ($4.99, 6+) by Mattel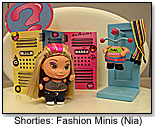 Pop off her head and change the look from day to night.
Mini dolls were very popular with girls 7-10 surveyed.
Everything is going mini, first iPods and dogs, now dolls.
Out of all the mini lines, this one is geared for 7-10 year olds.
10. Bratz: Flashback Fever ($24.99) by MGA Entertainment
It looks like these girls will ride the wave from Sun Kissed Summer right into the 70's disco era.
NPD Group ranks Bratz #1 in the top 5 doll toy properties for tweens.
Bratz appeared on a significant number of top 10 toy lists.
Bratz are currently a top seller for eToys.com.
*11. Bonus: I-Girl Hotties by Lanard.
These "international" hipsters jet to global hotspots in stylish clothes and fabulous accessories.
Click here to read more TDmonthly_Top_10_Most_Wanted_Lists