---
New & Notable Toys: Play Sets
Check out these new and noteworthy toys.
B. Critter Clinic Toy Vet Play Set by BATTAT INC.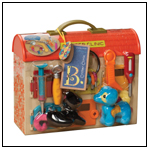 Our B. Critter Clinic features a hospital with 6 private rooms, 2 cute plush patients, color match keys and 5 tools. The stethoscope, mirror, syringe, tweezers and thermometer give you everything you need to make your "critter" all well. 10/26/2015 (Price: $39.99; Age: 2 and up)



Calico Critters Hopper Kangaroo Family by INTERNATIONAL PLAYTHINGS LLC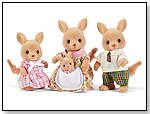 Father, Richie is a huge sports fan and works as a sports writer for the Cloverleaf Corners newspaper. Sister, Isabella is the most popular girl in school. She is a member of several clubs including gymnastics and tennis. Baby girl, Katie loves to take a lot of naps and listen to lullabies.
— Barbara Fineblum, owner of Barstons Childs Play in Rockville, Md., told TDmonthly in a December 2014 interview that the Calico Critters Hopper Kangaroo Family was a best-selling play set at their store. 12/30/2014



Alpine Cable Car by PLAYMOBIL INC.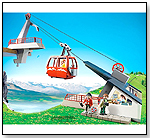 Cable has a maximum distance of 6.6 feet. Dimensions of the Valley Station: 15.2 x 12.2 x 9.4 inches (LxWxH). Dimensions of the Mountain Station: 13.4 x 7.7 x 13.4 inches (LxWxH). The average construction time is approximately 60 minutes.
— Paula Bolte, owner of Imaginations Toy & Furniture Co. in Blacksburg, Va., told TDmonthly in a November 2014 survey that Playmbil is her best category - almost 10% of her store's sales come from Playmobil. 8/28/2014 (Price: $61.59) [Add to my Inquiry Basket][?]



SnowTime Anytime Snowballs by PLAY VISIONS INC.


Snow Time Any Time is the only product on the market that allows kids to have wintry snowy fun anytime they want, even on hot August days! These specially designed snowballs are light and fluffy and feel like a real snowball. Soft and safe, they even crunch with you squeeze them! Item# 7500 count suggested retail $30.00. Item#7501 15 count suggested retail $20.00. 4/29/2014 [Add to my Inquiry Basket][?]



GoGo City Fire Station Playset by KID GALAXY INC.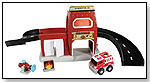 Create your own GoGo City with this Fire station play set. Includes building, detachable ramps, water cannon and a soft, safe and squeezable fire engine with a powerful pull-back friction motor. 18 months and up. 9/26/2013 (Price: $29.99; Age: 1 and up)



Skylanders Arkeyan Copter Attack by MEGA BRANDS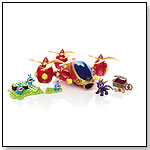 Take the battle to the skies with the buildable Mega Bloks Skylanders Giants Arkeyan Copter Attack (95418). The Frigid Chompies are no match for Spyro when he attacks from above using the Arkeyan Copter's working missile launchers. Once his foes have been defeated, Spyro can swoop in to collect the treasure. Help Spyro and his friends save the Skylands. 11/15/2012 (Price: $34.99)



Fortune Cookie Maker by Moose Enterprise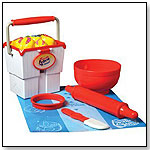 The Fortune Cookie Maker lets children write, create and decorate fortune cookies right at home. Children just write down their fortune, combine the included mix with water, heat in the microwave for a few seconds, knead and roll out their dough and then place it in the Fortune Cookie Machine. With the push of a button, their fortune is deliciously sealed and is ready to decorate and eat within 10 minutes. The Fortune Cookie Machine makes up to 12 cookies, and is fun for the entire family. 11/15/2012 (Price: $27.99; Age: 5 and up) [Add to my Inquiry Basket][?]



Cool Baker Cake Pop Maker by SPIN MASTER TOYS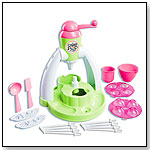 With the Spin Master Cool Baker Cake Pop Maker, kids ages six and up can make and decorate vanilla-flavored cake pops. The kit's cake-pop maker helps kids fill the included molds to make perfect, no-bake pops, which set up in the refrigerator and are ready to decorate in just 15 minutes. Kids can personalize their pops with white or brown icing and pink, blue, and rainbow sprinkles. Sprinkle stencils and brightly colored paper tags add extra flair. 11/15/2012 (Price: $24.99; Age: 5 to 10) [Add to my Inquiry Basket][?]



Care for Our World Play Set by COMPENDIUM INC.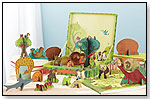 As children turn the pages of Care for Our World, they'll encounter dozens of playful creatures, and will learn the importance of caring for all the plants, animals, and people that call planet Earth their home. The whimsical animals come to life with this punch-out-and-play set, which includes everything kids need to create and explore their own wildlife habitat. Simply punch out and assemble the pre-cut animals and plants, and use the habitat box as a backdrop for hours of imaginative play. Launch date: May 2012.
Awards: 2012 Mom's Choice Award; 2012 Silver Medal in Book with Merchandise (plush toy, etc.), Moonbeam Children's Book Award; 2012 Playset of the Year, Creative Child Awards; 2012 Top Toy of the Year, Creative Child Awards; 2012 Runner-up in the Children's Books Category, Green Book Festival 11/14/2012 (Price: $34.95; Age: 2 to 8) [Add to my Inquiry Basket][?]



Spider-Man Stuntacular City Playset by HASBRO INC.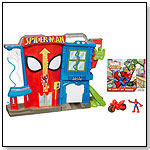 This awesome Spider-Man Stunt City playset is the perfect home for the amazing wall-crawling hero. Kids' Spider-Man figure will do his most heroic stunts when he takes on his enemies in the Spider-Man Stunt City playset. Will he climb down the wall or spin down the pole? He can swing on his web line, slide down the lizard tail ramp or cling upside down to escape his enemies, and he can dodge their lunges and drive right through the door on his speedy motorcycle. Press the button for lights and sounds and cool Spider-Man phrases. When playtime is over, kids can read the special value storybook "The Lizard's Lost Treasure."
— As of 11/5/2012 this product had 3.9 out of 5 stars from Amazon.com. Pros: Spiderman can climb up the side;lots of different sections on the play set offer different types of play. Cons: A few users reported that the electronic functions in the toy stopped working shortly after purchase. 11/5/2012 (Price: $54.99; Age: 3 and up) [Add to my Inquiry Basket][?]



LEGO® Friends Emma's Horse Trailer by LEGO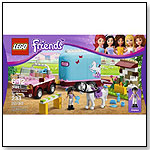 Little horse lovers will have a great time helping prepare for a horse show with a LEGO horse trailer set. Children can put mini doll Emma in her horse Robin's saddle to practice jumping. Or they can groom Robin for the big show with her brushes. Then, they'll transport the pair to the big competition in the realistic trailer. Kids will have a blast at playtime, helping Emma and Robin prepare for their big day. 10/11/2012 (Price: $24.99; Age: 6 and up)



Rhapsody Indoor Playset by CEDARWORKS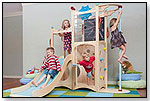 Rhapsody luxury indoor play systems, crafted by CedarWorks of Rockport Maine, are incredibly unique. Rhapsody features fine craftsmanship, exquisite design, natural materials; and the modular system is easily adapted to the specific space requirements of any residential or commercial project. Rhapsody is the solution for young children's active play year round. Launch date: March 2011. 10/2/2012 (Price: $4000.00; Age: 1 to 6) [Add to my Inquiry Basket][?]



Imaginext Eagle Talon Castle Play Set by FISHER-PRICE INC.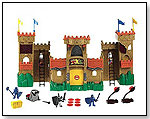 The expanding Fisher-Price Imaginext Eagle Talon Castle Play Set brings imagination to life with sound effects, activation discs and figures to help fight the attackers. Castle magically recognizes approaching dragons, ogres and battlements to warn of impending attacks. Castle expands from 20" to 42" and is reconfigurable in different ways. Play set includes: transforming castle, 3 figure turn discs, 2 catapults, 1 "Turn Tech" cannon with 2 projectiles, 3 figures with helmets, shields and swords, 8 firing discs for catapults and eagle head, 1 treasure chest, 2 ladders and 4 flags. Launch date: 2012. 9/19/2012 (Price: $49.99; Age: 3 to 8)



Tutu & Blanket by GREAT DIVIDE CORP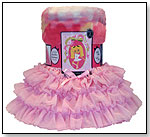 Our blanket and tutu duo is the ultimate for play and nap time. It provides dress up time as well as nap time. Launch date: March 2012. 7/13/2012 (Price: $29.99; Age: 3 to 12) [Add to my Inquiry Basket][?]



Room Magic "Boys Like Trucks" Table and Chairs set by ROOM MAGIC TEXTILES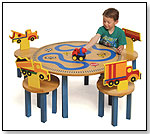 Our Truck activity table will drive any boy wild. The table top has roads, road signs and train tracks for boys to drive their toy trucks and trains. 4 different Truck Chairs make the adorable play set complete. 36"diameter, 18" H. Launch date: June 2000. 7/10/2012 (Price: $275.00; Age: 1 to 6) [Add to my Inquiry Basket][?]



Build-a-Bear Workshop Furry Friend Fun Packs - Friendship Hearts Series 1 by ENTERPLAY LLC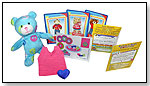 The Build-a-Bear experience in an all new mini format. A dozen BABW favorites come packed with T-shirt, customizer sticker set, heart and ceremony, trading cards and collector's activity guide with online code for items on bearville.com. 2/8/2012 (Price: $5.99; Age: 5 and up) [Add to my Inquiry Basket][?]



Bobble Bots™ Moshi Monsters™ Large Starter Set by INNOVATION FIRST LABS, INC.

The Bobble Bots Moshi Monsters Large Starter Set comes with one Moshling, two cobblestone building tiles, six brick borders, three grass pieces, one garden patch, one small bush, three flowers, one mushroom, one weed, and one rock. Each set also contains secret codes that unlock fresh, new content in the online virtual world of www.moshimonsters.com. Launch date: Spring 2012. 2/8/2012 (Price: $14.99) [Add to my Inquiry Basket][?]



Toysmith Nonstick Bakeware Set by TOYSMITH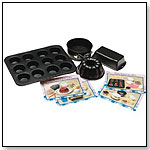 Kids can bake real desserts with this set which features 12-cup mini muffin pan, a mini loaf pan, a pan and 4" diameter springform pan. Comes with laminated recipe cards. Dishwasher safe.
— As of 8/29/2011 this product had 4.8 out of 5 stars from 11 reviews on Amazon.com. Pros: Oven and toaster oven safe; don't need to buy special mixes in order to use; durable; non-stick really works. Cons: Since pans are smaller than adult pans, users need to reduce most recipes that they want to use the pans for. 8/29/2011 (Price: $49.99; Age: 3 to 8) [Add to my Inquiry Basket][?]



Costume Club Treehouse by PADDYWHACK LANE LLC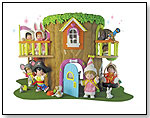 There are so many fun things to do in the Costume Club Treehouse. Play on the tube slide. Have a turn on the tire swing. Gaze through the swivel telescope. Share a cup of tea with a friend, or take a snooze on the comfy bunk beds. Paddywhack Lane® Costume Club Treehouse can be Combined with the Costumed Kids Figures & Accessories. INCLUDES: Tube Slide, Tire Swing, Table & Chairs, Swivel Telescope, Bunk Beds, Fleece Pillows, Gingham Sheets, Circular Area Rug.
Awards: TDmonthly Top Toy Award, August 2011.
— Why it won: This play set for adorable child figures is high-quality and stimulates imaginative play in girls and boys. 7/27/2011 (Price: $59.99; Age: 3 and up)



Cars 2 Siddeley the Spy Jet Transporter by MATTEL INC.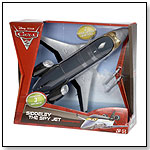 Cars 2 Siddeley the Spy Jet Transporter is Inspired by the new hit Disney/Pixar film, Cars 2. This Spy Jet that can hold up to three 1:55 scale die-cast vehicles and "secret" surprises inside. Twist the jet's turbine to reel in the tow hook, roll it along, or prepare to aim and fire the projectile missiles. 6/8/2011 (Price: $21.99; Age: 3 and up) [Add to my Inquiry Basket][?]



Disney Princess Magic Rise Kitchen Playset by CREATIVE DESIGNS INTERNATIONAL LTD.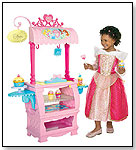 This kitchen set comes with 18 pieces for kids to bake, decorate and display their royal treats. The set works with all Magic Rise toys and is designed to easily fit the Disney Princess Magic Rise Oven (sold separately). The burners light up when the heart gem is pressed. 6/2/2011 (Price: $59.99; Age: 3 to 5) [Add to my Inquiry Basket][?]



Sprig™ Soarin' SeaPlane™ by SPRIG TOYS, INC.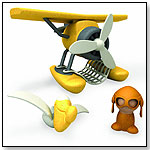 Equipped with pontoons and a moving propeller, the bright yellow Soarin' Sea Plane has a soft rubber cargo net for transporting baggage or perhaps lost treasures. The set includes Pilot Pete and a friendly pelican called Pelly.
Awards— A Dr. Toy Best Green Product for 2011 4/27/2011 (Price: $24.99; Age: 3 to 6) [Add to my Inquiry Basket][?]



Recycled Cardboard Zoo by CREATIVITY FOR KIDS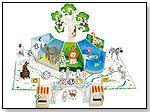 This cleverly designed set comes complete with everything kids need for play and pretend; from fuzzy flocked animals and a tree full of monkeys to a realistic looking fish-filled aquarium. The easy-to-assemble zoo includes animal enclosures, entrance arch, 12 markers, color-in stickers, aquarium accents, pre-printed paper backgrounds, punch out people, animals and plenty of zoo accessories - more than 100 pieces in all. The zoo measures 30"w x 17.5"d x 15"h. Kids can use the supplies included or go "green" and turn everyday items into fun accessories. Even the package becomes part of the play experience. 4/25/2011 (Price: $29.99; Age: 3 to 8) [Add to my Inquiry Basket][?]



Lucky Tea Time Set by HABA USA/HABERMAASS CORP.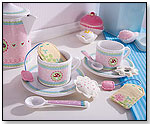 This set includes 2 cups with saucer, 2 spoons, 2 cookies and 2 tea bags. The dishes are made of shatterproof melamine and are dishwasher safe for easy clean up. The realistic cloth tea bags can be put in the washer. Not recommended for use in microwave. (

Watch Video) 3/29/2011 () [Add to my Inquiry Basket][?]



Bedtime on Safari Storybook and Puppet Theater Play Set by CLOUD B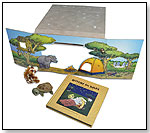 Vacations are fun and exciting, but when day turns to night, being in an unfamiliar, dark environment can be scary. Read Bedtime on Safari to learn about how relaxing lights and familiar sounds can comfort kids and show them that there's nothing to fear in the dark. Set features a fully illustrated book that helps children overcome their fear of the dark. Includes two fun finger puppets (Twilight Turtle and Gentle Giraffe). Gift box transforms into an interactive puppet theater with fully illustrated Safari scene. Gift set lets children play while they learn. Launch date: 2011. 3/22/2011 (Price: $19.95; Age: All Ages)



Undercover Spy Case by ALEX BRANDS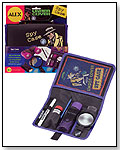 Kit includes sleek black nylon case contains binoculars, magnifying glass, fingerprint powder, brush, flashlight, secret marker pen set and a printed spy guide. Can be carried by the convenient handle or looped through the belt.
Awards— Dr. Toy's Best Classic Toys for 2011 3/7/2011 (Price: $25.95; Age: 8 and up) [Add to my Inquiry Basket][?]



Pirates of the Caribbean: Queen Anne's Revenge Playset by JAKKS PACIFIC INC.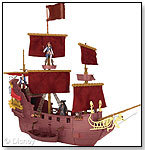 Authentic cloth sails, a retractable crow's nest, canon with working projectile and launching deck complete Blackbeard's ship. Once you capture your rival, use the retractable plank walk and send him to his doom. Midsection opens for inside play; detachable longboat also included. Launch date: March 2011. 2/18/2011 (Price: $59.99; Age: 6 and up)



Squinkies Cupcake Suprize! Bake Shop by BLIP LLC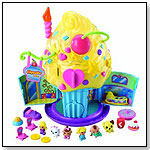 The Squinkies series of toys are soft, squeezy characters that can be held in the palm of a child's hand. Each toy comes inside its own bubble from which it can be removed. Put the Squinkie in the cupcake, insert a "coin," and the Squinkie comes tumbling out. The Cupcake can be opened to reveal a bakeshop playset. 2/18/2011 (Price: $19.99; Age: 3 and up) [Add to my Inquiry Basket][?]



Groovy Girls® Vivacious Vanity by MANHATTAN TOY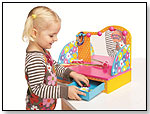 Girls can have some fashion fun and then store their favorite jewelry and accessories in their Vivacious Vanity. Top half of vanity separates from drawer-filled base and folds closed into an easy to store size. Includes two pull-out drawers, large mirror, three hanging hooks and detachable base. Launch date: January 2011. 1/26/2011 (Price: $70.00; Age: 3 and up) [Add to my Inquiry Basket][?]



Real Relics™ Safari Playset by NEAT-OH! INTERNATIONAL LLC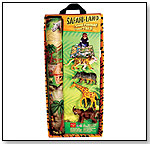 This double sided playmat and animal figurine set allows children to creatively experience the safari environment. Real Relics Safari-Land includes 4 museum quality animals and a large wipe clean 2-sided playmat. 1/25/2011 (Price: $24.99; Age: 3 and up) [Add to my Inquiry Basket][?]



Big Red Barn by SCHLEICH NORTH AMERICA, INC.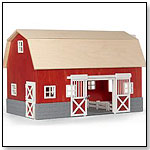 A combination of quality wood and durable molded parts, this barn has a removable roof for easy access, two large sliding stall doors with stalls to keep farm and horse animals in. (

Watch Video) 8/10/2010 [Add to my Inquiry Basket][?]



Star Trek The Movie Transporter Room Playset by PLAYMATES TOYS INC.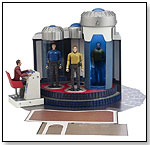 This playset appears to "transport" figures to and from remote areas. Kids can beam their action figures in and out and watch them actually disappear and reappear. This highly detailed replica of the transporter features authentic transporting lights, sounds and effects. 7/16/2010 (Price: $32.99; Age: 4 and up)



Star Trek Retro Bridge Playset by DIAMOND SELECT TOYS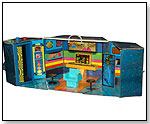 Return to the days of Captain Kirk and the first U.S.S. Enterprise with this retro-inspired recreation of the Enterprise Bridge playset. The set feature the classic fold-up design of the original release. 7/14/2010 (Price: $60.00)



Bowling Bunnies by SCHYLLING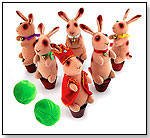 Inspired by turn-of-the-century parlor games, this classic game brings charming bunnies to life. The bunnies fall and tumble about when bowled over with the soft green cabbage ball. The set features one soft king pin and five soft 9" bunny pins, plus two soft, safe "cabbage" bowling balls. 7/6/2010 (Price: $40.00)



THIS BANNER IS AN AD:
---
---