---
New & Notable Toys: Novelties
Check out these new and noteworthy toys.
Aqua Dragons Underwater World Boxed Kit by PLAY VISIONS INC.


Live aquatic creatures which you will bring to life, hatching them out of their hibernated egg state by putting them in water. Aqua Dragons look like three-eyed, long-tailed, hairy headed dragons. They swim and play graciously in their fascinating aquatic underwater world. Care for them and you will see them eat, grow, swim, play and reproduce. Comes complete with aquarium, eggs, food and feeding tools. 3/18/2015 (Price: $18.00; Age: 6 and up) [Add to my Inquiry Basket][?]



Sea Life Poppers by HOG WILD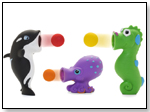 Wave "hello" to three new ocean-inspired Poppers—Orca, Octopus and Sea Horse. Just place the ball into their mouth, squeeze the belly and out shoots a soft foam ball—up to 20 feet! Each character includes six soft foam balls. Great for indoor, outdoor, at the beach or just lounging around the home front.
Awards: 2015 TDmonthly Top Toy Award 3/18/2015 (Price: $9.99; Age: 4 and up) [Add to my Inquiry Basket][?]



Wild Lights by LEADING EDGE NOVELTY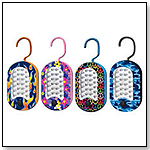 32 LEDs plus a flashlight. Great locker light; has magnet and hook to hold it in place. 12/18/2014 (Price: $7.99) [Add to my Inquiry Basket][?]



Whackies by CREATIVE CONCEPTS LLC


Whackies is the latest and greatest product coming out of Creative Concepts this year. Filling a tube full of great tasting crunchy candy pieces makes this new product a must for retailers who are looking for something new and exciting. 11/10/2014 [Add to my Inquiry Basket][?]



Finger Spinners by NPW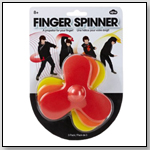 These foam propellers will spin as long as they are moving, so take one for a whirl on your fingertip! Wave your hands around and release the spinner for a host of mind-blowing moves and tricks. 10/15/2014



Flip Car by TOYSMITH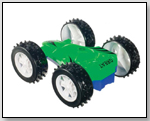 These friction-powered racers feature a two-sided design. Rev them up and watch them drive over and into obstacles, flip over and keep going. Cars measure 4.5 inches long and have all-terrain wheels. Assorted colorful styles. 10/15/2014 (Price: $2.99) [Add to my Inquiry Basket][?]



Disney Large Beanbag 9-10.5 Inches Plush With Hangtag by UNITED PRODUCT DISTRIBUTORS LTD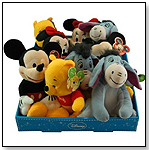 Assortment of PLUSH - DISNEY LARGE BEANBAG 9-10.5 INCHES PLUSH WITH HANGTAG. Comes in an assortment of 12 characters. © Disney 9/2/2014 [Add to my Inquiry Basket][?]



Houdini Lock and Key by RECENT TOYS USA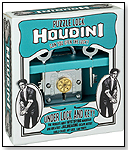 A special design for a metal trick lock.The Houdini Under Lock has internal mechanism that needs to be figured out, so a simple use of the provided key will not do it! Puzzle Locks or Trick Locks cannot be opened like normal padlocks. A solution, or trick, needs to be found to crack the lock! Pit your wits against this puzzle in order to crack the lock. Puzzle locks have been made for many centuries and have foiled burglary attempts, kept secrets hidden away and helped escapologists baffle audiences. Over the years they have been some of the best and most popular puzzles ever invented. 5/6/2014 (Price: $19.95) [Add to my Inquiry Basket][?]



Super Sonic Auto Gyro Spinnerz by GEOSPACE INTERNATIONAL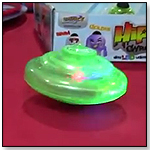 Like a miniature UFO, this phenomenal auto spinning toy displays a kaleidoscope of constantly changing LED Lights, flashing and pulsating to the rhythm of a cool hip-hoppy tune. Powered by 3 AA batteries (not included), the SUPER SONIC™ LED AUTO SPINNERZ™ can rotate incredibly fast and are surprisingly stable. A three-way switch gives kids the option of operating it with music on or off.

4/7/2014 (Age: 4 and up) [Add to my Inquiry Basket][?]



Halloween Screamer by CANDYRIFIC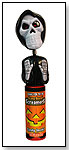 Building on the popularity of CandyRific's past Halloween Screamers, 2013 brings a new design, featuring a skeleton and mummy. When you shake them, their eyes light up and they scream four different shrieks. They also include .53 ounces of microbites candy. Launch date: August 2013. 1/18/2013 (Price: $3.99; Age: 3 and up)



Elvis Blue Hawaii Potato Head by PPW TOYS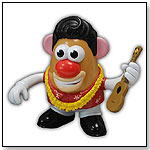 How cool is this Elvis Presley Blue Hawaii Mr. Potato Head? Combining the spirit of the musical film Blue Hawaii, starring everyone's favorite crooner Elvis Presley, with the classic fun of putting together Mr. Potato head, the 6-inch tall Elvis Mr. Potato Head features The King of Rock and Roll with his trademark pompadour, in a red Hawaiian shirt. He's got a ukulele in his left hand, in case kids feel like having him bust out some tunes. And what kind of Hawaiian would Elvis be without that yellow lei flower necklace? Elvis fans will love the mini parody album cover included inside the packaging, too. 12/4/2012 (Price: $13.99; Age: 2 and up) [Add to my Inquiry Basket][?]



Extreme Chores Video Game by 30 WATT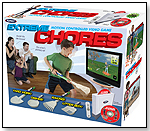 A motion controlled video game equipped with wireless controllers in the shape rakes, dust pans, frying pans and pooper scoopers. Extreme Chores races kids against the clock as they complete important household tasks like raking, doing the dishes, digging holes and emptying the litter box. Exteme Chores promises to make chores fun. 11/26/2012 (Price: $8.00) [Add to my Inquiry Basket][?]



Primordial Putty by GIANTMICROBES

Each petri dish of orange putty in the company's new line of product, GIANTmicrobes® Primordial Putty, includes a different collectible figure. Choose from Flesh Eating Disease, Black Death, Ebola Virus or Anthrax. Perfect for Halloween parties and stocking stuffers. Launch date: 2012. 11/5/2012 (Price: $7.95) [Add to my Inquiry Basket][?]



petzombIeRock Methuselah by undead4EVR LLC

petzombIeRock is a unique, collectible artwork hand painted and crafted in the USA by the artist, KC. PetzombIeRock makes a great Halloween gift. petzombIeRock arrives in its own coffin. 9/17/2012 (Price: $12.99) [Add to my Inquiry Basket][?]



ItzaBot Grow-A-Head Girl by SOURCING INTERNATIONAL LLC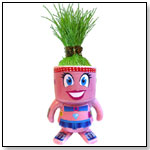 Itzabots are robot shaped ceramic planters that kids can customize with any of the included mix and match stickers. Create and recreate new companion as many times as kids like. When kids fill the planter with water and give it a little light, their itzabot will begin to sprout a thick head of grass "hair" within 5-7 days. The hair will continue to grow for 2 months with continued watering and styling. Available in three styles/sticker kits: Monster, Girl, and Robot. 8/23/2012 (Price: $9.99; Age: 3 and up) [Add to my Inquiry Basket][?]



TipAlert Tots by TipAlert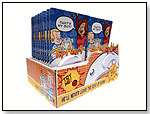 A happy tune and saying–reminding him to lower the seat when he's done. A flashing LED light every 15 seconds lets users know when he's left the seat up in the middle of the night. Peel-and-stick adhesive backing attaches easily to the flat underside of any toilet seat. Hygienic, water resistant case. 8/8/2012 [Add to my Inquiry Basket][?]



Thinking Putty Super Illusions by CRAZY AARON ENTERPRISES, INC.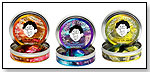 Thinking Putty is high quality silicone bouncing putty enhanced with knock-your-socks-off colors. It is all Made in the USA, non-toxic, and never dries out. The three new Super Illusions are unbelievably vibrant colors that shift depending on how the light hits them. The dynamic colors shine like no others: when held up to the light and pulled thin, the colors magically disappear and kids can see right through them. Launch date: June 2012.
— Mary Sisson, owner of Kazoodles in Vancouver, Wash., told TDmonthly in a Fall 2012 survey that Thinking Putty is one of her best sellers in the tween category. 7/19/2012 (Price: $13.50; Age: 3 and up)



Air Fork One by FRED & FRIENDS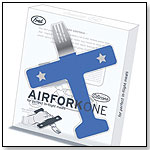 Airfork One is now ready for boarding. It's made of sleek stainless steel encased in food-grade, dishwasher-safe silicone, just the thing to bring those mashed potatoes and peas in for a safe landing. It's high-flying meal-time fun for the little ones. 6-1/2-inch long, packed in a recyclable clear peggable PET box. Design by Sibylle Stoeckli/ECAL. 6/8/2012 (Price: $9.99)



Fisher Price Retro Changeable Disk Camera by SCHYLLING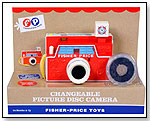 A reproduction of the original 1968 Fisher Price toy, this camera includes 3 interchangeable picture disks that are advanced by pressing the "shutter" button. Other features include a take along strap for the aspiring photographer on the go and a rotating flash cube. 6/8/2012 (Price: $24.95; Age: 2 and up)



Nickelodeon Gak - Blue by NSI INTERNATIONAL INC.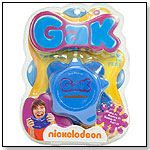 Nickelodeon Gak is back. The Nickelodeon Gak - Blue is the incredible squishable, squeezable, squashable, stretchable, bounceable, ploppable, poppable stuff. Gak's "Splat" container lets kids make all sorts of wacky sounds when they squish the Gak around. Smoosh it, Twist it, Bubble It, Mix it. 4/11/2012 (Price: $6.99; Age: 6 to 8) [Add to my Inquiry Basket][?]



Sevi Instrument Set by MAGICFOREST LTD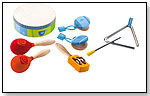 Music is a wonderful opportunity for little ones to expand their sensory and imaginative personality. Music helps them to understand rhythm and harmony, and also to express themselves and their moods. This set of percussion instruments from Sevi is an easy way to get kids started. It comes with 8 pieces, including a tambourine, castanets, a triangle, maracas and a noise maker. Produced by Sevi, Europe's oldest wooden toy company, this product contains parts and components that are recommended for children ages 2 and up. (

Watch Video) 3/26/2012 (Price: $35.00) [Add to my Inquiry Basket][?]



SillyHands by KELLYTOY U.S.A INC.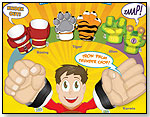 These pairs of super-sized plush hands looks just like kids' favorite character's hands and slide right over their hands for slamming SillyHands™ make-believe. Each hand makes distinctive motion activated sounds and speech. Styles include Karate, Tiger, Alien and Boxing. Launch date: February 12, 2012.

Silly Hands ©&TM 2010-2013 Idea Vault LLC All Rights Reserved
Used by Kellytoy U.S.A. Inc. under license from Volcano LLC 2/10/2012 (Price: $19.99; Age: 3 and up) [Add to my Inquiry Basket][?]



Ecotronics Hand Crank Flashlight by INTERNATIONAL PLAYTHINGS LLC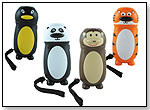 Squeeze-powered, kid-sized flashlights. Each animal's nose lights up when switched on. Side lever stores inside the body—release and squeeze to charge up the light.
— June Hargrove, co-owner of Black Forest Books & Toys in Charlotte, N.C., told TDmonthly in September 2011 that they sell 12 of this item each month. 9/12/2011 (Price: $10.99; Age: 6 and up)



Big-foot Stomp Walkers by MONKEY BUSINESS SPORTS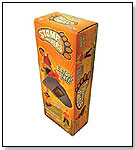 These stilts are decorated on the end with big, hairy Bigfoot feet. Set includes 1 pair of Stomp Walkers. Supports up to 100 pounds. Balance is easy with ultra-wide foot stands. Flexible & durable soft foam base is ideal for indoor/outdoor play. (

Watch Video) 3/31/2011 (Price: $79.99; Age: 6 and up) [Add to my Inquiry Basket][?]



Sunny BeadZ by SUNNY SLEEVEZ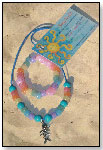 Sunny BeadZ Jewelry features color-changing beads that are white indoors and instantly change to color in the sun, the stronger the UV rays the brighter the color. Skin cancer rates are skyrocketing, (1 in 5 Americans diagnosed annually). Often some of the worst sun damage occurs on cloudy summer days when the UV rays are just as strong but the temperature is cool, but Sunny BeadZ alerts the wearer to the strength of the rays. Sunny BeadZ Necklaces, bracelets and key-rings featuring both permanent-color beads & charms as well as UV beads, and all are made in the USA. Launch date: 2011. 3/22/2011 (Price: $6.99; Age: 3 and up) [Add to my Inquiry Basket][?]



Felt Forest Soft Sculptures by FELT FOREST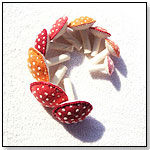 These various hand-felted sculptures are made out of all natural wool felt and cotton thread. Each piece is made by hand. Also available are mini felted mice, gnomes, birds, and petit fours. Prices from $7.00-$95.00. 2/24/2011 [Add to my Inquiry Basket][?]



Egg Bods by BLUW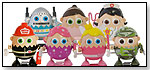 These cute eggs come in a variety of characters. You can switch around their heads to let them have a chance to experience a different costume. They also wind up and walk. 2/22/2011 (Price: $4.99) [Add to my Inquiry Basket][?]



Dandy Bandz 24 pack- Baby Boy by Dandy Bandz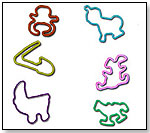 These sparkling silicone bands can be stretched out to fit around a child's wrist, but they always go back to their original shape. The 24-Pack Baby Boy Series includes: Pacifier, Baby Boy, Safety Pin, Rabbit, Stroller, Rocking Horse. 2/3/2011 (Price: $4.99) [Add to my Inquiry Basket][?]



I Spy Wonder Tubes by BRIARPATCH INC.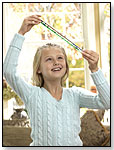 Among the sand and glitter in the I Spy Wonder Tubes are I Spy pictures. Find the floating pictures in the tube to answer the I Spy riddle/rhymes. There are three different sets of riddles and five different colors to collect. "The I Spy Wonder Tubes are unique because they feature the I Spy images AND I Spy riddles," Carol Comes, senior product manager at Briarpatch Inc., told TDmonthly. Launch date: February 2011. 1/25/2011 (Price: $5.99; Age: 5 and up) [Add to my Inquiry Basket][?]



Moopus McGlinden Temporary Tattoos by MRS PINKELMEYER LLC
This pack of five temporary tattoos feature Mrs. Pinkelmeyer's dog, Moopus McGlinden. FDA approved. 12/17/2010 (Price: $5.00) [Add to my Inquiry Basket][?]



Alphabet Piggyback Bandz by FUNGRINS, LLC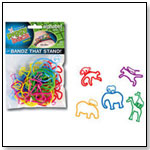 This patent-pending version of an elastic bracelet takes it to a whole new level – perpendicular to the wrist. Piggybacks, "The Bandz That Stand™" have incorporated a mini shaped band that "piggybacks" on top of the traditional shaped rubber band allowing, the top shape to be easily seen when placed on the wrist. A Piggyback Bandz looks similar to many other band bracelets until you slide it on your wrist and watch it stand at attention, upright. The bandz can be layered with one, two or a half-dozen more to create a word, a secret code, a design or whatever the imagination whips up. 12/16/2010 (Price: $4.95; Age: 4 and up)



Silly Bandz Gulf Shapes by BCP IMPORTS LLC

Containing the shapes of a dolphin, sea turtle, crawfish, and other creatures native to the habitat affected by the 2010 Gulf of Mexico oil spill, this special pack of Silly Bandz is designed to raise awareness for creatures threatened in this environment. A portion of the sales from every pack will go to helping rescue affected wildlife. In addition, this pack features "thermo activated" technology, causing a change in temperature to change the Silly Bandz's color.
— Two of 44 retailers listed Silly Bandz as a best-seller for tweens, reporting sales of approximately 100 per month during a September 2010 survey.
— "We've sold 2,300 this year at all three stores," Marc Holcomb, owner of of Toys & Co. in Greensboro, S.C., said in autumn 2010. ''Silly Bandz is trending down, and they are selling their excess to stores in California, Washington and Texas,'' he added.
--Christine Osborne, co-owner of Wonder Works in Charleston, S.C., sells about 3,000 to 4,000 per month. 10/28/2010 (Price: $5.95; Age: 5 and up) [Add to my Inquiry Basket][?]



Jokes On You! by REEVE & JONES LLC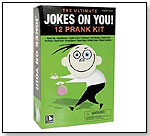 Loaded with 12 complete pranks, the Jokes On You! kit from Reeve & Jones contains supplies and instructions for classic gags to pull on friends and family. A hand buzzer, fake vomit, pet poop, squirt ring, money snatcher, and many more items will arm tricksters young and old.
— During a September 2010 survey, two of 49 retailers listed practical joke supplies as their top-selling novelty items. 9/29/2010 (Price: $19.99; Age: 5 and up) [Add to my Inquiry Basket][?]



Ooze Tubes by OFFICE PLAYGROUND INC.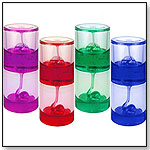 The Ooze Tube is a bright colored, slow-moving desk top toy. Part kinetic sculpture, part decoration, the Ooze Tube is filled with a clear, viscous liquid that flows from one half of the tube to the other through a small hole in the middle while bubbles form in the liquid above. When all of the ooze has run out, simply flip it over and start again.
— "We do really well on ... things that flip over, like Ooze Tubes. With oozie things like that, that there's a degree of mesmerization," said Anna Barr, owner of Anna's Toy Depot in Austin, Texas, when asked about her best-selling novelty items in September 2010. 9/29/2010 (Price: $6.99)



Magic Orbeez Maker by TINY LOVE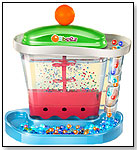 Kids can grow up to 300 Orbeez at once, and 2,500 total, in this gizmo. While the Orbeez grow, children can shoot them through the hoops. Once grown, they cascade down the spiral ramp into the collection tray and can be used for play with ideas from the included activity booklet. 9/23/2010 (Price: $24.99) [Add to my Inquiry Basket][?]



USB Lightsaber Glow Lamp by UNDERGROUND TOYS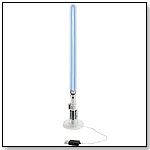 This lightsaber plugs into a USB port to light a desk area. The base recharges the light and can be removed to adjust the illumination level. This singular lamp stands approximately 14" tall. (

Watch Video) 8/20/2010 (Price: $29.99) [Add to my Inquiry Basket][?]



Temporary Tattoo by CHINA TOYBIZ.CN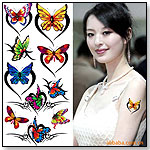 These temporary tattoos are easily applied with water and can last for several days. They are guaranteed to be safe for skin and come in a variety of designs. 8/19/2010 (Price: $1.50; Age: 8 and up) [Add to my Inquiry Basket][?]



Poo in a Box by WILD CREATIONS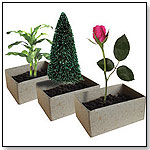 This novel item is nutrient-rich animal dung from an elephant, reindeer or rhino. From the Natural History Museum, the Poo in a Box begins at a British zoo or safari park and is treated to be germ and odor free. Kids and adults simply sow the seeds, water the cardboard box and watch the plants grow. Awards: Dr. Toy Best Green Toy Award 2010 8/13/2010 (Price: $5.99; Age: 5 to 12) [Add to my Inquiry Basket][?]



Kung Zhu Pets Battle Arena by CEPIA LLC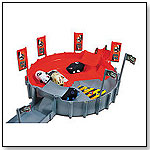 With eight original characters split into two battling groups called Special Forces and Ninja Warriors, Kung Zhu Pet owners will have the thrill of training each character to transform fighting, battling warriors. While these Kung Zhu hamsters may start of as "cute" and "mild-mannered" once they are sent into their main training grounds, smart chip technology will actually allow for a distinct personality transformation of fighting ninja and warriors.
— As of 8.12.10, this product had 4 out of 5 stars from seven reviews on ToysRUs.com and was listed No. 14 in best-selling toys and games. PROS: Easy to use and entertaining. CONS: Not very durable. 8/12/2010 (Price: $34.99; Age: 3 and up) [Add to my Inquiry Basket][?]



Iwako Unicorn Erasers by BC INDUSTRIES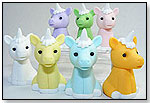 These unicorn erasers have removable puzzle parts so they can be taken apart and reassembled. The collection includes six pastel colors.
— In summer 2010, Margy Peine, owner of Tree House Toys in Cumberland, Md., told TDmonthly her store sells about 75 Japanese erasers per month.
— Thirteen percent of 38 specialty retailers named Japanese erasers a best-selling product in July 2010.
— Linda Laramy, owner of Crackerjacks in Easton, Md., told TDmonthly in an October 2011 survey that they don't sell many tween items other than collectible erasers, which they sell about 4 dozen of each month. 8/10/2010 [Add to my Inquiry Basket][?]



Star Wars Rotta the Hutt Back Buddy by ENTERTAINMENT EARTH INC.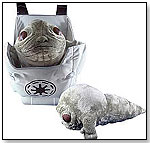 This squeezable, functional, and collectible backpack is a humorous and unique way to store belongings. The Rotta Back Buddy is based on the "Star Wars: Clone Wars" character and includes an adorable baby Huttlet that nestles inside. 7/22/2010 (Price: $45.99) [Add to my Inquiry Basket][?]



Magic Fish Bowl by FASCINATIONS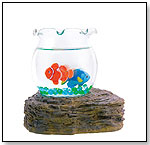 These bright tropical fish swim around their bowl all day long while requiring none of the feeding, cleaning, or careful temperature monitoring of a real aquarium. The round bowl and simulated rock base offer an attractive and realistic appearance.
― When asked about her top-selling electronic or battery-operated toys in June 2010, Diana Nelson, owner of Kazoo & Company in Denver, Colo., said "this whole line" from Fascinations, including the Magic Fish Bowl. 7/21/2010 (Price: $14.99; Age: 3 and up) [Add to my Inquiry Basket][?]



Disney Bandz Classic Characters by DISNEY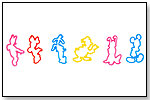 These multicolored shaped rubber bands can be worn, collected or traded. This set features Daisy, Minnie, Goofy, Donald, Pluto and Mickey. 7/13/2010 (Age: 5 and up)



THIS BANNER IS AN AD:
---
---