---
New & Notable Toys: Puzzles
Check out these new and noteworthy toys.
Gradient Puzzle Black and White by Bryce Wilner by AREAWARE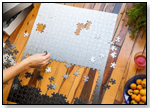 The Gradient Puzzle is a vibrant way to meditate on color. The act of putting it together is slow and deliberate, where the color of each piece is used to locate its proper position. We've used a thick stock and high quality art paper, so the puzzle can be assembled again and again without losing its edge. 1/31/2016 [Add to my Inquiry Basket][?]



Brain Dice by RECENT TOYS USA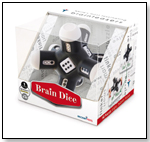 Incredible math game with thousands of challenges and solutions. 12/30/2015 [Add to my Inquiry Basket][?]



Science X Magnetic Magic Activity Kit by RAVENSBURGER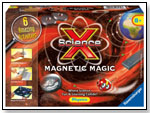 Can you make a paperclip float? What are magnetic fields? How does a compass work? These astonishing activities will reveal the fascinating world of magnetism. Success is guaranteed as you discover the power of this invisible force. Contents: 2 Ring Magnets, 1 Bar Magnet, 1 Packet of String, 1 Compass, 1 Washer, 1 Galaxy Map, 1 Fizz Token, Detailed Instruction Manual. 8/31/2015 (Price: $13.99) [Add to my Inquiry Basket][?]



Dinosaur Dawn Floor Puzzle - 24 Pieces by MELISSA & DOUG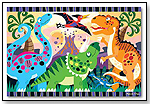 This puzzle features dramatic dinosaurs in an exciting prehistoric scene. 2' x 3' when complete, it features 24 extra-thick pieces with an Easy-Clean surface to keep them looking like new. 8/3/2015



Janod Magnetic World Puzzle by JURATOYS US CORP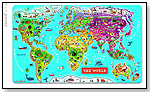 A fun and educational way of discovering the planet. Each magnet represents a country or region of the world, with its name, capital and an illustration characteristic of that part of the world. The big magnetic board shows the world with its continents and oceans: the colour used for each region helps you find its place. Have fun putting each country in its place and you will have a wonderful map of the world which you can hang on the wall. Wood : Plywood (tray + magnets). Printing : sticked paper.Delivered shrinkwrapped. Cardboard wedge provided in the master carton to protect the world maps during delivery. 8/3/2015 (Price: $44.99; Age: 7 and up) [Add to my Inquiry Basket][?]



Lilliputiens 12345 Numbers Puzzle by HABA USA/HABERMAASS CORP.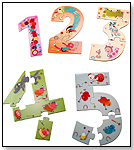 Count up the fun with this neat number puzzle set! Use the colors and pictures on each piece as clues to figure out what numbers they create. Count all the way up to 5! Both children and parents will love how the amount of puzzle pieces corresponds to each number. 15 pieces total, made of sturdy cardboard. 7/20/2015 (Price: $15.99; Age: 2 and up) [Add to my Inquiry Basket][?]



The Greatest Dot-to-Dot Adventure - Book 2 by MONKEYING AROUND


As the 18th book in the Greatest Dot-to-Dot series, Kalvitis has added more story, more mystery, and never before seen puzzles containing foldouts, new puzzle styles, and clues that will help solve other puzzles. The variety of images that Kalvitis' Adventure books are known for continue throughout Adventure Book 2, along with a simple story line that follows an imaginative young boy searching for the missing pieces of a mysterious gift.

Puzzle solvers of all ages will enjoy the fun and challenges Kalvitis creates through his skillful utilization of dots to create complex, artistic works. The images of what the young boy sees "connects" as the story begins to unfold. In fact, the pages of Adventure Book 2 really do unfold when puzzle solvers challenge themselves to solve 2 triple page foldouts, and one jaw dropping 4 page foldout with over 2,100 dots.

1/26/2015 [Add to my Inquiry Basket][?]



Seashore Puzzle by RE-MARKS INC.


This highly detailed puzzle brings back memories of beach combing on days gone by. You can almost hear the ocean waves when you work this puzzle. That's why it's a best-seller year round! 1/23/2015 [Add to my Inquiry Basket][?]



Dolphin Rainbow Dreams - 100 PC Kids Puzzle by WHITE MOUNTAIN PUZZLES


Dolphin Rainbow Dreams 100 Piece Kids Jigsaw Puzzle #1033. Michael Searle has done it again with his luminous illustration of an ocean escapade. In this 100 PIECE KIDS JIGSAW PUZZLE you can follow the pod of dolphins through sparkling waves, and see what wonders lay at the other end of the rainbow. Swim amongst the tropical fish, and enjoy the magic of this dream-like scene. 100% MADE IN THE USA, this JIGSAW PUZZLE is created for KIDS AGES 6+. The finished size is 11" x 15", and if you'd like to see more of our children's puzzles be sure to check out our kids puzzle category. 7/31/2014 (Price: $10.95; Age: 6 and up) [Add to my Inquiry Basket][?]



Twist of Color by SPRINGBOK PUZZLES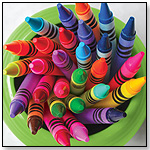 500 Piece Jigsaw Puzzle. Second Place winner of the 2012 Springbok Image Contest. These twists of color will point you to lots of fun as you piece together their bright and winding rainbow hues. This puzzle is full of deepening hues of bright color and unexpected shadows making for a fun challenge.
— In a July 2014 survey, two out of 14 retailers told TDmonthly that Twist of Color was their best-selling puzzle. 7/30/2014 (Price: $12.95) [Add to my Inquiry Basket][?]



Crazy Car Race by INNOVATIVEKIDS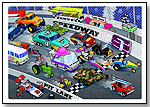 Perfect for more advanced puzzlers, these awesome 100-piece puzzles come packaged in a cool towerlike box and include high-interest themes with detailed illustrations. Made entirely from recycled materials, these puzzles are great for bigger kids ready for a bigger challenge than standard floor puzzles. Ready! Set! Race! From monster trucks to souped-up race cars, this super fun puzzle is packed with wacky action. Kids can learn about the different kinds of crazy racing that really exists, like tractor pulling and monster truck racing, right on the box!
— In a July 2014 survey, one out of 14 retailers told TDmonthly that Crazy Car Race from Innovative Kids was their store's best-selling puzzle. 7/30/2014 (Price: $14.99) [Add to my Inquiry Basket][?]



Candy Scramble Squares® by b. dazzle, inc.


Before sugar was readily available, candy was made from honey. Honey was used in Ancient China, the Middle East, Egypt, Greece and the Roman Empire to coat fruits and flowers as a preservative or to create forms of candy. Originally, candy was used as a form of medicine, either to calm the digestive system or to cool a sore throat. In the Middle Ages, only the most wealthy people could afford to have candy, used as a combination of spices and sugar as an aid to digestive problems, which were very common during this time because of the consumption of food that was neither fresh nor well balanced. Banquet hosts would typically serve these types of candies at banquets for their guests. 5/14/2014 [Add to my Inquiry Basket][?]



Gravity Maze by THINKFUN

This gravity powered logic maze is sure to put your visual perception and reasoning skills to the test. The colorful, translucent towers can be arranged in a plethora of visually stimulating structures but, for each challenge, you'll have to think carefully to build a path that will successfully carry your marble to its target. 60 challenges, ranging in difficulty, will give you plenty of creative building time while you maneuver the maze in your mind!
— Phyllis Stroud, owner of Rocking Horse Toy Store in Natchitoches, La., told TDmonthly in a January 2015 survey that Gravity Maze from Thinkfun was one of their store's best-selling STEM toys. 4/29/2014 (Price: $29.99; Age: 8 and up) [Add to my Inquiry Basket][?]



Round Table Puzzle - Kids Edition - Polar Chill by Michael Searle by A BROADER VIEW


Introducing the Round Table Puzzles, the new way to do puzzles! These circular puzzles have the top of the image in the center & the bottom of the image around all the edges. Just as the Knights of the Round Table all had an equal seat around the table, the kids can all have an equal seat around the puzzle. In the Polar Chill Version, polar bears and penguins come together to party like it's 2014. The 50 pieces are large and sturdy to enable kids to easily handle the pieces and the pieces to easily withstand the kids. This image was created by famed puzzle designer - Michael Searle. 50 pieces. 4/2/2014 [Add to my Inquiry Basket][?]



Jigsaw Puzzles for Men by TDC GAMES INC.


We all know that many puzzle buyers are thoughtful women who are buying gifts for the men in their life. We recognized this need and thus created our new, reasonably priced,1000 pc "Man Puzzles", Jigsaw puzzles for men. With artwork from world class pin-up illustrator Greg Hildebrandt, creator of thousands of works, including the original Star Wars poster, these puzzles are sure to please. A portion of the proceeds from this "American Beauties" series benefits the fallen NY firefighters & EMS workers. 2/13/2014 () [Add to my Inquiry Basket][?]



Imaginets by MINDWARE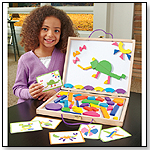 Want to boost their fine motor and visual thinking skills? You want Imaginets. The sturdy wood carrying case features durable hinges and rope handles that are perfect for little hands to grasp. Inside, brightly-colored magnetic blocks can be arranged on the boards to replicate any of the 50 full-color design challenges, including animals, faces, vehicles, sports, structures and more. Plus, the magnetic board surface doubles as a dry-erase board, so kids can decorate a backdrop for their creations.

Where to buy:
NORTH WEST 12/4/2013 (Price: $29.95)



Marusenko Sphere by LION RAMPANT IMPORTS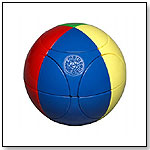 This Spanish sphere puzzle challenges users in several ways to solve the sphere, by matching the colors or making certain patterns. There are five different levels of difficulty, and the sphere can be twisted in nine different ways.

2/21/2013 (Price: $24.99) [Add to my Inquiry Basket][?]



Fun-to-Know® Puzzles: What Comes Next? by TREND ENTERPRISES INC.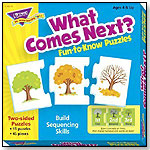 Teach sequencing and ordinal numbers. Pictures on front, words and numbers on back. Format adapts to abilities and features self-checking pieces for independent learning. Two-sided, 3-piece puzzles. 15 puzzles/45 pieces. 1/18/2013 (Price: $14.99; Age: 4 and up) [Add to my Inquiry Basket][?]



USA PUZZLE CUBES by SMART PLAY LLC


A six-sided block puzzle that encourages kids to re-create familiar animals, landmarks and map of USA. Turn the blocks to make 6 different puzzles...mix and match for more creative fun. Great educational toy that challenges the cognitive skills in assembling the matching blocks. Large 2" Blocks are easy to hold and play with. Includes a slide-out tray and mini images of completed puzzles. Launch date: February 2013. 1/8/2013 (Price: $11.99; Age: 3 to 10) [Add to my Inquiry Basket][?]



Gears & Puzzles - Deluxe by PLANTOYS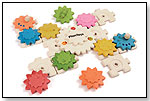 Explore and build EVEN MORE endless possibilities by combining the expanded assortment of gears. Place the puzzle pieces together and watch the amazing movement you can create by spinning and twirling the gears. (24 pieces included) 12/17/2012 (Price: $40.00)



SmartMax Flower Palace by SMART TOYS AND GAMES INC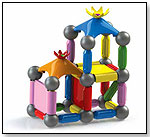 SmartMax Flower Palace provides your child with four colorful flower-shaped pieces, along with 19 magnetic medium bars, 16 large ball-shaped magnetic connectors, and two peaked rooftops so she can use their imagination to build a multitude of creations. These extra-large pieces make it easy to use creative-thinking skills to mix-and-match the pieces and create new combinations. Unique houses and large-scale castles are among just a few of the many options. Children can use the four panels to strengthen the structure of their construction and build walls, floors, or forts. Flower Palace is one of several new 2012 sets in the award-winning SmartMax® magnetic construction toy line. It can also be combined with all existing Smart Max ® sets for unending play opportunities.
Awards: 2012 Dr.Toy Best Picks 12/14/2012 (Price: $59.99; Age: 3 to 12) [Add to my Inquiry Basket][?]



500 pc Square Forever Young - Hobby Horse by MASTERPIECES PUZZLE CO. INC.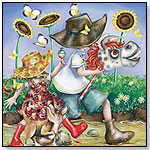 This collection of puzzles features the whimsical artwork of Hayley Gillespie. Inspired by her son; they conjure the feeling of what it is to be a child and how short and special that time can be. The puzzle itself has 500 pieces and the chipboard used is made of recycled materials. Design: Hobby Horse. Finished dimensions: 19x19 inches. Recommended for ages 13 and up. Imported. 12/11/2012 (Price: $10.99; Age: 13 and up) [Add to my Inquiry Basket][?]



Puzzle Doubles Glow In The Dark Dino by THE LEARNING JOURNEY INTERNATIONAL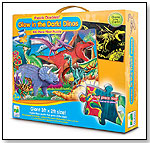 Learning about dinosaurs has never been so much fun. Expand your knowledge of dinosaurs with this 100-piece Puzzle Double! After you put the puzzle together, turn off the lights and the puzzle glows in the dark! Additionally turn the puzzle over and you have a coloring activity. The bright illustrations encourage parent-child conversation. Each 100-piece puzzle measures a giant 3' X 2'. Launch date: November 2012. 12/5/2012 (Price: $14.99; Age: 3 to 8) [Add to my Inquiry Basket][?]



Color + Number Sudoku Game Set by SUKUGO LLC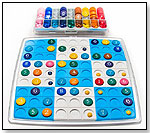 Loved by players of every age and skill level, the goal of Sudoku - a fun, addictive logic game - is to fill all 81 spaces on the 9x9 playing area with numbers, such that all digits 1-9 are used once per row, per column and per 3x3 region. Designed with balance in mind, our innovative approach to Sudoku equally engages both halves of the brain - the right side works on numerical challenges and reasoning while the left side focuses on color patterns and creativity. Although the large game board and colorful numbered pieces are designed to be enjoyed collaboratively with a partner, it's just as fun to play individually. Each Set includes: 1) Game Board (11.4" x 11.4") with Colored areas easy to distinguish each 3x3 region and indented round spaces to keep everything in place. 2) Round Game Pieces (216) includes, 81 primary game pieces which are identifiable by both colors and numbers and has a black or white star on its reverse side for use in other games, and 135 secondary game pieces with 15 of each number which are smooth and can move and slide easily. 3) Covered Storage Tray for easy to organize and store game pieces with ergonomic, rounded design which makes accessing the smooth game pieces easy. 4) Sukugo® Booklet with game instructions and 100 Sudoku games (10 levels of difficulty) and solutions. And 5) Carrying Case with Padded, zipper-closing case fits easily on a bookshelf and external pocket holds game piece tray and booklet.

11/30/2012 (Price: $39.99; Age: 6 and up) [Add to my Inquiry Basket][?]



MICROBES ATTACK! by DADDY-O PRODUCTIONS, INC.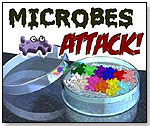 A great new brainteaser with 100+ different puzzles, from the inventor of "Kanoodle" (TM) Fun microbe shaped pieces come stored in a cool petri dish carrying case. Launch date: 2012. 10/25/2012 (Price: $14.99; Age: 7 and up) [Add to my Inquiry Basket][?]



Cobra Twist by SMART ZONE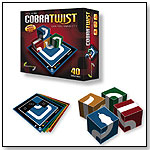 Place the cubes on the boards to create 3-D snakes that will keep you rattling for hours. Follow the clues on the challenge boards, and place the cubes accordingly Develops 3-D logical and spatial vision. Launch date: May 2012. 9/25/2012 (Price: $24.95; Age: 6 and up) [Add to my Inquiry Basket][?]



Butterfly A to Z Puzzle by BEGINAGAIN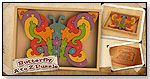 The 26 piece brightly stained But erfl y teaches children let ers with fun puzzle play. One side of this puzzle teaches upper case let ers and turn it over to learn lower-case. The But erfl y A to Z Puzzle is carefully craf ed & stained with child-safe stains. The But erfl y A to Z Puzzle comes packaged with an easy clean up storage box made from Beech wood. Made from Natural Rubber wood, stained with child safe stains, box made from Beech wood, manufactured in China. 9/25/2012 (Age: 3 and up) [Add to my Inquiry Basket][?]



Peter Rabbit - Cozy Burrow Floor Puzzle by NEW YORK PUZZLE COMPANY LLC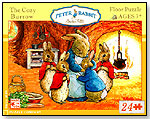 Get all warm and cozy with this 24 piece floor puzzle featuring a burrow scene from Beatrix Potter's famous Peter Rabbit books. Large sized pieces make for easy handling for the little ones while the colorful yet simple illustration keeps the puzzle from becoming too challenging. Made in the USA. Launch date: March 2012. 9/18/2012 (Price: $17.95; Age: 3 and up) [Add to my Inquiry Basket][?]



THIS BANNER IS AN AD:
---
---