---
New & Notable Toys: Sporting Goods
Check out these new and noteworthy toys.
Sky Shredder by SLACKLINE INDUSTRIES / CANAIMA OUTDOORS


Aerodynamically designed to optimize speed, distance and height, the Sky Shredder is the ultimate in performance flying discs. Throw further, faster and with precision using the latest technology from BYA Sports. The lightweight material is ultra-soft and dynamic, but remains stable in flight with strategically placed ventilation ports. Use on its own or add a standard tennis ball in the center to propel your game to the next level. Recommended for ages 8 & up, 1 disc $7.99 MSRP or 3-pack $11.99 MSRP. 2/2/2015 (Price: $7.99; Age: 8 and up) [Add to my Inquiry Basket][?]



Rainy Day™ Indoor Playground by PLAYAWAY TOY COMPANY


The Support Bar is the center of all the action. The Support Bar is designed to be installed in any doorway that measures 29" to 36" wide. Extension plugs which are (sold separately) would allow the support bar to expand to 44".

Our Rainy Day® Indoor Trapeze Bar can be raised or lowered to desired height to accommodate each child or moved out of the way for using the handles alone.

Children love to swing, and now they can do it all year round with the Rainy Day® Indoor Playground. Ideal for families with limited or restricted access to outdoor play space.

Get the support bar, trapeze bar, and strap swing in this kit to save from buying them separately!

Awards: 2015 TDmonthly Magazine Top Toy Award 1/26/2015 (Price: $179.95) [Add to my Inquiry Basket][?]



Smakaball by SMAKABALL


Smakaball has the amazing ability to allow people to make an exhilarating catch by snatching the ball right out of the air in a seemingly magical way on land and in the water. You can do tricks if you are playing by yourself or play catch with a friend or play monkey in the middle or 500 or even a team sport like Ultimate Smakaball. All ages and all genders ranging from unathletic to very athletic can have fun playing with each other without hindering the enjoyment of one another.
Awards: 2014 TDmonthly Top Toy Debut Award 4/17/2014



Focus Marble Kendama – Purple/Yellow/Seafoam by SWEETS KENDAMAS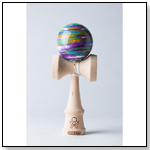 Marbles are back for a limited time! This tama features our classic marble paint style with a purple, yellow, and seafoam combo. Coated with our high-gloss Pro Clear. Every Sweets Kendama comes with an extra string, bead, instructional book and stickers.

3/27/2014 (Price: $29.99)



Kendama Pro by YOMEGA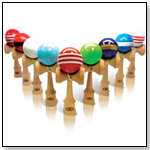 The Yomega Kendama Pro is a professional model based on our popular Kendama. This piece is crafted out of wood, making for a better grip and a premium feel. Catch the competition-sized ball on the various size cups, then go for the spike, landing the ball on the pointed tip. A game easy to learn yet difficult to master, ensuring hours of concentrated play.
Award: 2015 TDmonthly Magazine Top Toy Award

2/6/2014 [Add to my Inquiry Basket][?]



Sports Wall Decor by C & I COLLECTIBLES


NFL, MLB, NBA, NHL, MLS and collegiate sports wall decor for virtually any team, player, or stadium. Perfect for any fan-young or young at heart. Display in bedrooms, rec rooms, offices, and kid/man caves!

2/6/2014 [Add to my Inquiry Basket][?]



SKY CATCHERS™ by GEOSPACE INTERNATIONAL


Here's an amazing new throwing game that gives kids the arm of an NFL quarterback. SKY CATCHERS™ makes it almost effortless to launch the Tripod Rocket up to 100 feet...and catch it just as easily. As soon as they see it in action, kids pocket their i-phones and come running. Simple and intuitive to learn, the added leverage of the Launcher Stick multiplies arm strength for incredible throws, while easily snagging the Tripod legs of the returning Rocket. Kids have a blast creating contests to reward greatest distance, height,and precision. Ages 5 & Up.

1/20/2014 (Age: 5 and up) [Add to my Inquiry Basket][?]



KanJam SPLASH Game Set by KANJAM LLC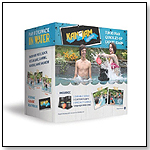 KanJam SPLASH is the Ultimate water game. Play it in anywhere you can find water! Great for Backyard Pool, Beach, Ocean, Lake, Camping, Parks and Vacation! TWO WAYS TO PLAY! Team members take turns throwing and deflecting Disc to score points. One vs One is fast paced and exciting! Each KanJam SPLASH game includes: - 2 durable, highly portable official SPLASH goals - 2 custom floats - 2 official KanJam SPLASH Labels - Custom-designed official KanJam MINI flying disc - Instructions. MADE IN USA. Retail $26.99 12/26/2013 (Price: $26.99) [Add to my Inquiry Basket][?]



Red Sox Collector Series by OYO SPORTSTOYS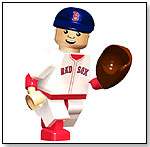 Figure comes in his own storage case with a special package design made to fit in your pocket. Each figure comes with a Boston cap, bat, glove, ball, stand, and unique OYO DNA number. OYO minifigures are athletic figures that are compatible with popular building-block systems. These figures include MLB and NFL licensed minifigures. OYOs are designed with eyes, ears, nose, mouth, and other facial characteristics that best represent their real life counterparts. Figures are articulated to better mimic real athletic positions and movements. 11/19/2012 (Price: $12.99) [Add to my Inquiry Basket][?]



Make A Ball by PTC INTERNATIONAL INC


Make-A-Ball is a program that allows kids to design any sports ball and make it their own. Kids can choose from baseball, softball, football, soccer, volleyball, basketball or hockey. Kids can design their own background, choose from our libraries of backgrounds and clip art, and add their own text and photos. Each ball is what we call "full coverage" meaning that it can be printed edge-to-edge and the artwork covers the entire panel. Kids can use unlimited photos, colors and artwork. The balls are regulation size and come inflated and ready to display. Make-A-Balls are great for gifts, fundraisers, awards, trophies and keepsakes. They are great for senior nights, booster clubs, coaches' gifts or championship games. The possibilities are endless. Once designed, your ball will arrive in 4-5 weeks. Launch date: December 2008. 11/16/2012 (Price: $25.00; Age: All Ages) [Add to my Inquiry Basket][?]



Y Fliker F3 by YVOLUTION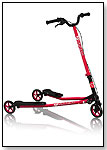 Yvolution presents a new family of revolutionary three-wheeled scooters that will get kids up and active. There's no more kicking the pavement like simple two wheel scooters. Riders simply move their hips from side to side to get going and keep moving using their own body power for self-propelling fun. The Y Fliker's patented technology, light-weight and sleek design, combined with performance rated wheels, allows this free-style scooter to perform smooth carving and drifting actions. The quick response hand brake offers kids increased control and ensures a safe, fun ride. Y Fliker also sports anti-vibration hand grips for extra comfort and can be stored away easily thanks to its twist and stow folding system. 9/18/2012 (Price: $115.00; Age: 7 and up) [Add to my Inquiry Basket][?]



Djubi Spring Shot by ALIQUANTUM INTERNATIONAL INC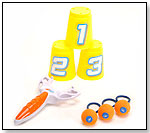 Stack the cups and knock 'em down. How many cups can be knocked down with one shot? Pull back the ball attached to the Spring Shot then release the ball aiming at the stack of cups. Djubi Spring Shot Fun target game with cups comes with One Spring shot, 3 Small balls, & 3 Knock down cups. 8/3/2012 (Price: $19.99; Age: 8 and up) [Add to my Inquiry Basket][?]



Knee Hockey by PLASMART INC.


Another member of the Fun Slides family, Knee Hockey includes two 16" hockey sticks and one carpet puck. 8/2/2012 (Price: $14.99; Age: 3 and up) [Add to my Inquiry Basket][?]



The Speed Stacks Competitor by SPEED STACKS INC.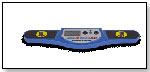 The Speed Stacks Competitor includes choice of any cup color, a Gen3 StackMat (Timer and Mat), the StackFast DVD and our Black Gear Bag for holding everything. peed Stacks® are specially designed high-tech Sport Stacking cups endorsed by the World Sport Stacking Association (WSSA) for competition. Speed Stacks are the only products approved for use in WSSA sanctioned events and each cup carries the official WSSA seal of approval. (

Watch Video) 6/21/2012 (Price: $30.99) [Add to my Inquiry Basket][?]



Eco-Bonk Bop Bag by PUERI ELEMENTAL LLC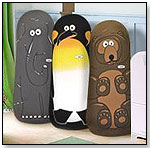 A gentle alternative to rough-and-tumble playtime with fun-loving creatures that are not only specially designed, but also destined to "bounce back". Plush Cover, Machine Washable & Interchangeable. Charitable Donation to Wildlife Alliance. Stands 36" Tall When Inflated. Biodegradable, Free from BPA, Made in USA. Launch date: June 2012. (

Watch Video) 6/21/2012 [Add to my Inquiry Basket][?]



Zippy Flyer Skateboard by MINDTWISTER USA


Enjoy the joy of skateboarding as a family with Zippy Flyer. Zippy Flyer comes in Blue or Orange. A fun and simple way to enjoy skateboarding with the whole family the way that skateboarding got started in 70's, when everyone rode a plastic skateboarding with the newly invented urethane wheel, a special plastic that is uniquely perfect for a skateboard.
Compact design makes it easy to store or throw in a bag. A perfect option for a first skateboard or a nice addition for any skateboard collection. Fun for kids of all ages. Includes: Reinforced injection molded propylene deck with hexagonal traction grooves; 59mm soft 80A durometer wheels for smooth riding on most surfaces; high quality diecast aluminum trucks; 90A durometer trucks bushing for easy turning; trucknut safety nylon locknuts; star patter steel deck bolts for maximu, support from board to trucks; and deck/truck safety nylon locknuts.

5/29/2012 (Price: $59.99; Age: 6 and up) [Add to my Inquiry Basket][?]



OgoDisk RAQ by OGOSPORT, LLC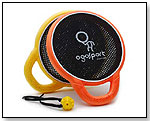 A hand trampoline for balls: throw, catch, bounce. RAQ combines the ease of the other OgoDisks with the added power of a handle. Features the new Flux ball, with adjustable speed, for tailored fun. Bounce any ball; for summer fun, try it in the pool with water balloons. Each set includes one yellow and one OgoOrange RAQ disk with one Flux ball. EVA foam ring. Nylon-spandex membrane center. 5/25/2012 (Price: $38.00; Age: 3 and up)



XaXa™ by Astrojax USA – Active People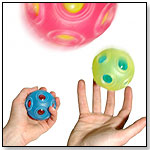 XaXa (pronounced "Ksa·Ksa") is designed to stimulate the senses. It's for playful, curious people, jugglers, dancers, performers – for kids of all ages. The adaptable balls invite kids to experiment and explore: Fill them with different objects to change their sound or weight and mix or match colors to get the look they like. The core of XaXa is made of shock-resistant, clear plastic that is protected by a super-elastic rubber skin. This soft skin makes the balls pleasant to touch and easy to catch. It is so stretchy and durable that the core can easily be popped out of one of the holes. 5/18/2012



MLS Light Up Soccer Goal and Ball by FRANKLIN SPORTS INC.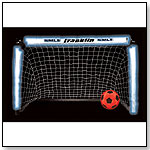 The MLS Light Up Soccer Goal and Ball Set encourages active play even when the sun goes down. This complete soccer set features a goal with glowing edges, and a red light up soccer ball. Now, kids can play their favorite sport with excitement day or night. Includes stakes to hold the goal securely in the ground, light up goal, light up ball, and 1 3V battery. 6 AAA batteries also required, not included. Goal measures 37.5 inches x 24 inches. 4/30/2012 (Price: $49.99; Age: 5 and up) [Add to my Inquiry Basket][?]



Kickin Putt by BEGINAGAIN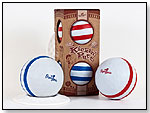 This outdoor game combines the fun of soccer, kickball, ying discs, and golf. The Kickin' Putt 2 player game is complete with 2 kick around golf balls and the ying scoring disc. Toss the scoring disc to set the hole, and get ready for a game of soccer meets golf. The scoring disc is made in the USA from wheat based plastic and the kick around golf balls are made from natural rubber. 4/30/2012 (Price: $30.00; Age: 3 and up) [Add to my Inquiry Basket][?]



Happy Hoop by HOUSE OF MARBLES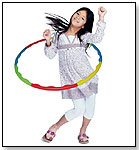 The HAPPY HOOP has an innovative new design which allows for the full adjustment of both ring size and weight. Eight colorful ring-pieces can be added or subtracted to created the perfect hoop-size. The unique molded curves each ring-piece increases grip and controllability while massaging the waist, stimulating blood circulation. 4/24/2012 (Price: $12.00; Age: 2 to 6) [Add to my Inquiry Basket][?]



Muckers by SATURNIAN 1 INC.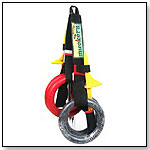 The ring toss game for skill and easy-going competition. Perfect for parties, cookouts, the beach, and picnics, easy-to-grip rings are 100% safe natural rubber with no sharp edges. The 3' nylon carry strap provides portability and easy storage. 4/24/2012 (Price: $29.00) [Add to my Inquiry Basket][?]



RompyRoo™ Exercise Adventure DVD by JUMPSPORT INC
For kids with built up energy. Simply download the Hop-Along with RompyRoo video to an iPad, attach the device to our kid-tuff, universal tablet mount, and watch kids entertain themselves, learn and exercise all at the same time. (Can also be played on DVD player). Both DVD and iPad versions come with the iBounce. 3/30/2012 (Age: 2 to 6) [Add to my Inquiry Basket][?]



Red Sunrise Kendama by KENDAMA CO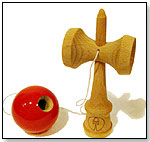 Kendama is the ultimate form of the traditional ball and cup game. Originating in Japan, Kendama has captivated the world with its simple design and endless freestyle trick possibilities. With no moving parts, Kendama is deceptively simple at first glance. The simplicity makes it enjoyable for the beginner and also gives it its infinite playability.

(

Watch Video) 3/26/2012 (Price: $21.00) [Add to my Inquiry Basket][?]



Go Sport™ Basketball Backpack (Red) by NEAT-OH! INTERNATIONAL LLC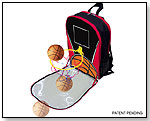 Now kids can take their A-Game everywhere with the Go Sport™ Basketball Backpack. This backpack lets kids keep their mini arena and books neatly tucked away. Has padded pocket for MP3 player and a pass-through for headphones. It includes a fabric handle that fits over a door knob so kids can hang and shoot. The included net hoop packs flat under a clear cover. When unzipped, the clear cover acts as a ball return and zips up into the backpack when not being used. Rugged build, soft padding and a built in hoop brings out the student-athlete in all of us. Includes hoop, net and 3" basketball. (

Watch Video) 3/26/2012 (Age: 3 and up) [Add to my Inquiry Basket][?]



Tootie Turtle Racquet and Ball set by MELISSA & DOUG


Two kid-sized racquets featuring shell designs and a boing-y surface, team up with two brightly colored balls to make a great racquet set that will entice players of all ages to "come out of their shells." Improves hand-eye coordination and encourages physical activity.
— In a March 2012 survey, Donna Frederick, owner of The Play House Toy Store in Durham, N.C., told TDmonthly that this is one of her best selling outdoor toys for younger kids. 3/8/2012 (Price: $14.99; Age: 4 and up)



Wiffle Bat and Ball by THE WIFFLE BALL INC


This is the official Wiffle Ball brand 32 inch bat in classic yellow with a 12 inch softball. This is the same ball, made by the same family that started the whole thing way back in 1952.
— In a March 2012 survey, Donna Frederick, owner of The Play House Toy Store in Durham, N.C., told TDmonthly that her best selling outdoor toy is the original Wiffle Ball and Bat. "It's all retro, and it's under $10. It's made in the USA, and it's a good outdoor family toy," she said. They sell "A dozen a month, easily, not including extra balls people buy." 3/8/2012 (Price: $5.99) [Add to my Inquiry Basket][?]



Fold & Go Trampoline by THE ORIGINAL TOY COMPANY
ASTM safety approved + HR4040. Totally foldable; suitable for indoor/outdoor use. Extra safety, comes with padded frame cover and handle. Holds 1 child up to 150+ lbs. Retail packaging. 36" diameter x 35" floor to handle. 2/24/2012 (Price: $100.00; Age: 3 and up) [Add to my Inquiry Basket][?]



Flexdex Clear29 LT Green Lighted Skateboard by FLEXDEX SKATEBOARDS LLC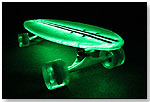 The Clear29 LT lighted longboard skateboard is a hot seller that looks great both day and night. Created with all superior quality parts that provide a high performance ride that experts and novices will appreciate. The addition of LIGHTS makes for a one-of-a-kind longboard. Made from clear polycarbonate for a super smooth ride and incredible light dispersement. (

Watch Video) 2/15/2012 (Price: $175.00) [Add to my Inquiry Basket][?]



Little Tikes TotSports T-Ball Set by LITTLE TIKES INC.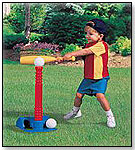 Beginning T-ball set includes an easy-to-use oversize bat, 2 oversize baseballs and Tee. Adjustable height "T" adapts to a child's developing skills. Special "hang-on-the-wall" design for easy small-space storage. Helps improve batting skills, motor skills and coordination.
— As of 05/12/2011 this product was #1 in the Toy Sports category on Amazon.com and had 4.5 out of 5 stars from 50 reviews. Cons: One reviewer said that though the minimum age is listed at 2 years, her two year old had trouble with it; the base isn't very heavy so on the grass it's not very steady; the height only adjusts by about an inch. 5/12/2011 (Price: $19.99; Age: 2 to 4)



Tandem Space Hopper by WILD CREATIONS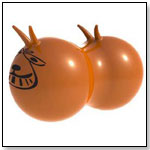 A child will never have to hop alone again. Using this tandem hopper increases kids' agility and copperative skills. Plus, they get exercise without even noticing.
Awards: 2010 National Parenting Center Riding/Exercise Toys award 12/3/2010 (Price: $29.99; Age: 10 and up) [Add to my Inquiry Basket][?]



Grip Labels for Decks by IDEA MILL LLC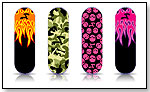 These stylized labels add fun and flair to a plain skate deck. Grip labels are available in six patterns. 7/12/2010 [Add to my Inquiry Basket][?]



SK8GLO by SK8GLO


SK8GLO is a skateboard lighting system that uses non-toxic glow sticks. It is designed to fit all standard skateboards and does not require any modifications. SK8GLO is battery-free, waterproof and lightweight, and does not interfere with tricks or grinds. 6/28/2010 (Price: $10.00; Age: 5 and up) [Add to my Inquiry Basket][?]



Dodge Tag by DIGGIN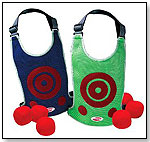 This target toss game is designed for use in recreation centers, schools, backyards and resorts. The set includes six balls and is designed for two to six players. (

Watch Video) 6/16/2010 (Price: $14.99; Age: 4 and up)



World Cup Finger Soccer by ZELOSPORT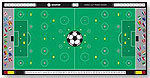 This game for two or more players features all 32 tournament teams, and includes a 2' x 4' playing surface, game rules, parts bag, dice, slider soccer ball and 6 yellow rings. 6/14/2010 (Price: $29.95; Age: 8 and up) [Add to my Inquiry Basket][?]



SMASH Soccer Set by MONKEY BUSINESS SPORTS


SMASH Soccer allows any soccerballer the ability to practice their skills anywhere. One can play alone or with a group, and four cones are included to make a field or set up skill courses. Kids can juggle, dribble, play 1 vs.1 or 2 vs. 2 and have fun with SMASH sports soccer. This product is foam pellet filled for safety and performance, and double stitch sewn for durability. Features: Soccer ball, 4 cones and reusable backpack. 5/28/2010 (Price: $17.99; Age: 6 and up) [Add to my Inquiry Basket][?]



Splash Bat by PRIME TIME TOYS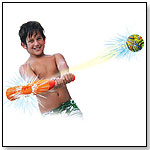 Whether at the park or in the pool, kids can make a huge splash by dunking the splash ball in the pool and then hitting it with the foam bat. Can also be played without water. The bat measures 22" long, and the ball is 3" in diameter.
Awards: 2010 Tillywig Top Fun 5/28/2010 (Price: $10.50; Age: 4 and up) [Add to my Inquiry Basket][?]



Jump Rope - 10' by ATHLETIC CONNECTION

This 10' plastic jump rope features heavy nylon rope that is protected by unbreakable plastic sections. It comes in assorted colors and is also available in a 16' version.
— This product is a best seller at Neely's in South L.A. (

Watch Video) 5/28/2010 (Price: $3.50; Age: 5 and up) [Add to my Inquiry Basket][?]



NERF Curve Pitch Baseball Set by HASBRO INC.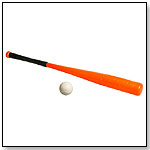 The NERF Curve Pitch Baseball Set features a unique felt patch located on one side of this specially designed "curve" ball which creates a drag effect that, depending on how it's held and thrown, will assimilate a specific pitch. Complete with a bat featuring a rubberized grip, the NERF Curve Pitch Baseball Set is a fun way to help knock kids' stats out of the park. Launch date: June 2010. 4/30/2010 (Price: $9.99; Age: 8 and up) [Add to my Inquiry Basket][?]



Little Nutty Helmets by NUTCASE HELMETS


Little Nutty Helmets from Nutcase are designed to stylishly protect the noggins of little ones. Engineered for toddlers to 5-year-olds, the helmets include the Nutcase's Spin-Dial Fit System to ensure a perfect fit. Little Nutty Helmets feature ABS injection shells and are available in 10 trendy designs perfect for a variety of outdoor activities.

— Justine of Babygadget, who bought a Little Nutty helmet for her daughter, declared that "all Nutcase's designs are so much more interesting than the usual, gender-stereotyped fare that they are bound to help foster any child's INDEPENDENT style."
— WestchesterMom of The Children's Blog had high praise for the entire Nutcase range, calling them the "holy grail of helmets." She recommended using a soft tape measure to attain perfect sizing. 4/7/2010 (Price: $45.00; Age: 2 to 5) [Add to my Inquiry Basket][?]



Trick 360 by FLEXIBLE FLYER® SLEDS
This APS-core foam sled comes complete with adjustable lap belt/buckle, knee pads, and a contoured design with bold graphics. 3/24/2010 (Price: $40)



M Forcer by MARSHMALLOW FUN COMPANY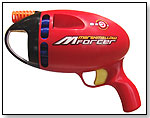 The MForcer pistol is the first ever rapid-fire marshmallow shooter, allowing you to shoot 15 consecutive marshmallows at unsuspecting targets. It packs all the punch of the company's flagship Marshmallow Shooter into quarter of the size. Load up to 15 mini-marshmallows into the chamber, give it a quick pump, and the MForcer is set for rapid fire attack. There's no need to for any additional pumping after each shot. (

Watch Video) 3/17/2010 (Price: $34.95) [Add to my Inquiry Basket][?]



Sole Skate™ - Red by RAZOR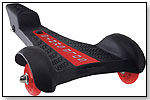 This shoe-sized skate simplifies the skateboard concept for on-the-go ease. It features three 64mm urethane wheels, a Grip tec system, weighs 2.5 lbs, and holds riders up to 220 lbs. It can attach to backpacks (clip not included) and comes in red, blue and white. 3/12/2010 (Price: $49.99; Age: 8 and up) [Add to my Inquiry Basket][?]



Trikke T5WS Kids Carving Vehicle by TRIKKE TECH INC.

Best for heights up to 4'10" suitable for ages 5-8. Awarded both the Oppenheim Toy Portfolio Platinum Award 2004 and The National Parenting Center 2004 Seal of Approval, The Trikke T5 features durable steel construction, color options and encourage fitness disguised as fun for smaller children. 3 wheel contact and no foot pushing provide excellent stability. 3/5/2010 (Price: $119.99) [Add to my Inquiry Basket][?]



My First Lil Roo by TRAMPOLINES USA INC.


My First Lil Roo is a small Round trampoline with an enclosure and zippered netting for smaller children ages 3 to 6. The weight limit is 100 lbs. The enclosure has a circular steel upright that helps with stability and keeping the netting straight. It's made of "heavier steel than a lot of the smaller trampolines on the market," Pamela DeVore, General Manager, Trampolines USA, Inc., told TDmonthly. Launch date: April 2010. 2/4/2010 (Price: $179.99; Age: 3 to 6) [Add to my Inquiry Basket][?]



Baby Banz Ski Banz by BABY BANZ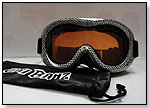 These Ski Banz goggles are designed for outdoor enthusiasts from ages 4 to 10 years old. They offer valuable eye protection for every winter activity, from skiing to sledding to the occasional snowball fight. These professional-grade ski goggles offer 100-percent UV Protection, are helmet compatible for hitting the slopes safely, have anti-fog polycarbonate orange-tinted lenses, and include their own carrying case that doubles as a cleaning cloth. Launch date: 2010. (

Watch Video) 2/4/2010 (Price: $35; Age: 4 to 10) [Add to my Inquiry Basket][?]



Fist Bumps by SportsDisplays
Fist Bumps are enormous inflatable fists that are used for fist bumping. Pass them out at parties or take them to a sporting event, they are great for getting autographs on and also make for excellent noisemakers and seat cushions. 2/2/2010 [Add to my Inquiry Basket][?]



Foam Master Pogo Stick in Blue/Gray by AMERICAN POGO STICK CO.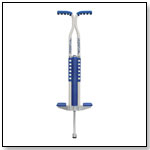 This pogo stick features a foam covering with replaceable non-slip, safety handles, foot pads, and rubber tip. It safely supports 80 to 160 lbs. 1/21/2010 (Price: $69.95; Age: 9 and up) [Add to my Inquiry Basket][?]



Golfer's Footprint® Swing Trainer by GOLFER'S FOOTPRINT INC.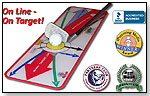 The award-winning, patented Golfer's Footprint® Swing Trainer is designed to help golfers learn ball control. Recommended by top PGA, LPGA, and Natural Golf® instructors, the Golf Swing Trainer takes golfers back to the fundamentals — simply point and shoot. "The Golfer's Footprint® works with all your clubs from driver to wedges and is an excellent trainer for focusing your chipping game around the green. You can even use the trainer in the bunker to master those difficult sand shots. The trainer is designed to fit in your golf bag, so no matter where you go, you have a professional golf lesson with you. Simply point and swing and you're on the path to a better golf game and lower scores. The trainer is available in left- and right-handed models," Marshall Townsend, President, Golfer's Footprint, told TDmonthly. Awards: iparenting Media Outstanding Products of 2007. Launch date: June 2001. 1/14/2010 (Price: $34.50; Age: All Ages) [Add to my Inquiry Basket][?]



Fun & Fitness Happy Bike by REDMON


Designed to provide safe, fun and healthy activity for children, the Happy bike has an adjustable seat and a tension setting, and includes a battery powered odometer. It is made with a steel frame, and is foam padded for safe play, Some assembly is required (tools included). Launch date: 2009. 10/29/2009 (Price: $130; Age: 2 to 6) [Add to my Inquiry Basket][?]



Dirtbag® Classic - Blue/Yellow Footbag by FLYING CLIPPER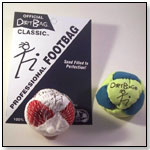 The Original Dirtbag® the Dirtbag Classic is the flagship footbag for Flying Clipper. This eight panel hand sewn sand filled beauty is what all the kids are asking for. 10/27/2009 (Price: $9.00; Age: 8 and up)



The Wave LX (Light Xtreme) by STREET SURFING LLC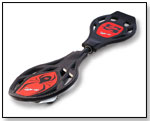 The Wave LX (Light Xtreme) offers an ultra-lightweight design that's built for extra speed and stability. Like the original Wave, the Wave LX runs on two wheels rather than four, with a flexible platform that gives you the ability to perform precision 360s in small spaces, carve downhill, and even ride uphill. In addition, the Wave boards encourage riders to perform all manner of skating tricks, including manuals, board leaps, ollies, acid drops, kick flips, and more. The Wave LX's wider concave platform allows for more stability and traction, while the reinforced web deck is lighter than before. As a result, you can cruise farther and turn with less effort on the Wave LX. The lightest casterboard of its kind, the Wave LX is also the first of Street Surfing's boards to offer the sleek Xtreme body design, which also helps boost speed. 9/11/2009 (Price: $79.99; Age: 12 and up) [Add to my Inquiry Basket][?]



Rollors Lawn Game by ROLLORS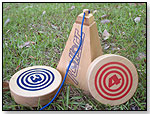 ROLLORS is a yard game that can be played at a park, in the front or back yard of a house, or just about anywhere where a relatively flat ground surface can be found. This game of skill requires a modest level of physical activity and can be quickly varied depending on the age and skill level of the players. It can be played in teams or individual competition. Launch date: May 2009.
Awards: Dr. Toy 100 Best Children's Products - 2010
As of 6/16/2011, this product is now licensed to and manufactured by MARANDA ENTERPRISES LLC. 8/19/2009 (Price: $35.99; Age: 6 and up) [Add to my Inquiry Basket][?]



Swiggies water bottle by GO HYDRO INC.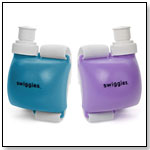 Swiggies is the Water Bottle for the 21st Century. It is designed to attach to one's wrist and provide easy access to water during an exercise. Each Swiggie holds 4 ounces of water or sports drink, for a total of 8 ounces. It is strapped onto the wrist and has a pull top. It eliminates the need to carry water bottles, which can be cumbersome to carry and break your stride when you have to stop to take a drink. You just fill them up with cold water and go. Swiggies comes in 6 bright colors for kids on-the-go and encourages kids to drink more water. Swiggies is approved by Child Safe International as a safe, BPA-free, "green" product. 7/31/2009 (Price: $12.95) [Add to my Inquiry Basket][?]



Kid Lunastix by LISTON CONCEPTS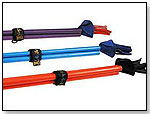 These lightweight batons have a shaft length of 48 cm and come in purple, blue and fire orange with coordinating handles, suede leather ends and sure-grip surfacing for ease of use. They are handmade in the USA.
— Lunastix are best sellers at Moon Rabbit Toys in Sante Fe, N.M., Owner Shana Hack told TDmonthly in early summer 2009.
— Lunastix were best sellers at Figpickels Toy Emporium in Coeur d'Alene, Idaho, in the late summer of 2010. "Our employees are quite good at demonstrating Lunastix in the store," said owner Brett Sommer. "When people see them performing they want to try it too. Also, the elementary schools have juggling classes that use Lunastix, so there is an endless supply & demand in the area." 7/10/2009 (Price: $23.00; Age: 6 to 10) [Add to my Inquiry Basket][?]



Boarding Basics DVD by GarageCo Toys, Inc.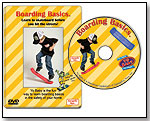 "Boarding Basics" is designed as the perfect companion DVD for the award-winning Yo Baby Kick Flipper. The easy to follow DVD offers instruction on tricks such as the 180 and 360 Spin, Ollie, Peanut Flip, Caveman and lots more. It takes kids through each move, step by step, so they can follow along and learn. "It is the only step-by-step DVD that teaches kids how to do all the cool boarding tricks on a Yo Baby Kick Flipper (think 'skateboard without wheels') in the safety of their home," Bob Ellis, president of GarageCo Toys, told TDmonthly. Launch date: July 21, 2009. 6/29/2009 (Price: $6.99; Age: 3 to 12) [Add to my Inquiry Basket][?]



THIS BANNER IS AN AD:
---
---