---
New & Notable Toys: General Toys
Check out these new and noteworthy toys.
Kinetic Sand Metallic by SPIN MASTER TOYS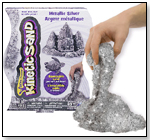 Discover the sand that shimmers in your hand! The all-new metallic Kinetic Sand assortment comes in shimmering Silver and Gold! And with 1lb of Metallic sand the creative possibilities are endless. This soft and stretchy sand easily cleans up while delivering non-stop fun! It's squeezable sand you can't put down. Feel the difference with Kinetic Sand! 7/29/2015 (Price: $17.00; Age: 3 and up) [Add to my Inquiry Basket][?]



Lay it or Break it by FOTORAMA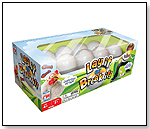 2 players compete in this game to help the chicken save her eggs! The farmer has collected the eggs and is ready to cook them. Players wear a plastic chicken beak, and attach a magnetic chicken clamp to their pants. Both players compete at the same time and, without using hands, remove the eggs one-by-one from the frying pan and transport them to the safety of the nest. If an egg falls and breaks, the player must start over. The player that collects the most 'unbroken' eggs in their nest the WINNER.

7/2/2015 (Price: $17.99; Age: 5 and up) [Add to my Inquiry Basket][?]



Bungee Blast JR by GEOSPACE INTERNATIONAL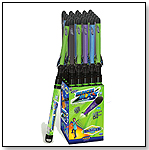 Standard Pump Rockets are a rollicking blast to fire. But our new Bungee Blast Jr ramps up the fun and excitement by an order of magnitude. We've engineered a patented elastic bungee cord inside the pump cylinder to turbo boost the launching power. Load a foam rocket into one end and pull back the cylinder, feeling the increasing tension of the cord inside. Then let go. Kids will be amazed as the stored energy of the cord pushes the piston of air very forceful, blasting the rocket out at hyper-speed. It's like putting a turbo-charger inside! Ages 3 & up.

2/19/2015 (Age: 3 and up) [Add to my Inquiry Basket][?]



Play and Trace Boogie Board by IMPROV ELECTRONICS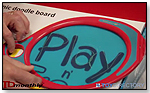 This brand new offering from Boogie Board re-envisions the board as a transparent screen that can be used for tracing anything. Practice letters, numbers, and shapes, then press a button to clear the design.

2/14/2015 [Add to my Inquiry Basket][?]



Spike by R&R GAMES INC.
It is the early 1900's and you are the owner of one of the fastest growing rail companies in the eastern USA. Expand your rail network as you connect cities in order to pick up and deliver more goods. Complete contracts and routes to bring in money to modernize your train. Upgrade your engines, tenders and railcars to transport the most freight. Build farther, transport more and amass wealth on your way to become 'King of the Rails'!
2–4 players • Ages 14 and up • Playing time: 60 min 11/10/2014 (Price: $49.95; Age: 14 and up) [Add to my Inquiry Basket][?]



Niya by BLUE ORANGE GAMES


Set in the Imperial Garden of Classical Japan, Niya centers on a dark political conspiracy among two influential clans. On every turn, players replace a garden tile with one of their clan tokens. The next player can only exchange a token for a garden tile that has an element in common with the previously chosen tile. The first to position their clan in a row, square, or blockade will win control of the garden...and power at court! A simple yet sophisticated strategy game, Niya captivates players young and old. 5/14/2014 (Age: 8 to Adult) [Add to my Inquiry Basket][?]



ZipStix by HOG WILD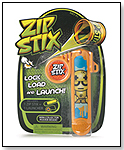 1 ZipStix and 1 Launcher. Starter Pack has everything you need to get zipping! High-octane graphics lay flat like a skateboard and then curl up like a runaway wheel when launched! 4/30/2014 [Add to my Inquiry Basket][?]



Weplay® Forever Up-Down by WEE BLOSSOM INC.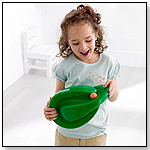 The Weplay Forever Up-Down Playset is designed for use with both hands. Simply grip the sides and practice turning it inward and outward repeatedly. Once you are familiar with its operation, place the ball of choice on the track. The object of the exercise is to control the ball without dropping it. This activity is suitable for everyone. It enhances one's reflexes and concentration as well as improves hand-eye coordination and hand muscle control. The balls are made of two different materials to provide different speeds and challenge levels. 4/28/2014 (Price: $42.99) [Add to my Inquiry Basket][?]



Marble Racer by GALT TOYS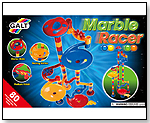 Build an exciting marble racing game for up to 4 players. Fully compatible with Galt Marble Run, this exciting construction set features 3 special racing pieces.A variety of chutes and wheels are also included for a really fascinating race. Starter top, starter base, finish, 3 racing vortex, wiggly bell chute, staircase, staircase support, curved chute with horizontal wheel, vertical wheel chute, paddle wheel, 'S' shaped chute, 4 straight chutes, 37 tubes, 4 bases and 20 marbles. Mention ToyDirectory for special considerations

2/24/2014 [Add to my Inquiry Basket][?]



FUNNYBONES™ by FUNNYBONE TOYS LLC


Funnybones is part skill, part tradition…and ALL fun! And, with 30 game challenges, the excitement never ends. Funnybones dates to the Greek and Roman periods & now this game is played in many places around the world. Funnybone Toys is thrilled to introduce its special version in the US, with game challenges ranging from easy to difficult! These include Overhand Ones, Twos, Threes and Fours; Clicks; Horses in the Stable; Eggs in the Basket - and more! Brief instructional videos of each challenge are posted on Funnybone Toys' YouTube channel. Players improve hand-eye coordination as they tackle the challenges. Funnybones is great to practice alone and play with others while taking turns.

1/17/2014 (Price: $9.99; Age: 6 and up) [Add to my Inquiry Basket][?]



Ziperoos by WIGGLES 3D


Get ready for Zipperoos! Now a child can enjoy both a portable game and the fun of a plush animal in the same toy. Children can collect more than one Zipperoos game: Monkey's Wild and Frantic Frog are available now. These simple and fun games each come with their own high-quality plush animal carrying case. Each Zipperoos plush has a zippered pouch in its back so children can store their new game inside their animal friend. Or, they can use the pouch as a hiding spot for anything they like! These fun games and furry friends are sure to find a home with any family!
Two fun versions
Frantic Frog: Fast reaction card game. Grab little hopper to claim the cards any time they match
Monkey's Wild: Help the animals find their friends in this set collecting tile game. Monkey's are wild! 1/13/2014 (Price: $16.99; Age: 4 and up) [Add to my Inquiry Basket][?]



Feather Pens by GEOCENTRAL


Beautiful feathers are turned into a fun pen. These feather pens can add a touch of whimsy and style to your writing. It's a great item to add when using a guestbook. 1/13/2014 [Add to my Inquiry Basket][?]



Scented Scoops by BEGINAGAIN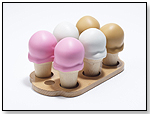 Scented Scoops is an ice cream party playset that smells good enough to eat. The 6"x9" beech wood serving tray holds six, three-inch White birch "cones". Each cone can be topped with one or more of the six, deliciously scented two-inch "scoops" made from 100% compostable corn starch bio-resin (two vanilla, two chocolate and two strawberry. Great for role-play, Scented Scoops is recommended for ages 4+

Where to buy:
NORTH EAST 12/4/2013 (Price: $29.99; Age: 4 and up) [Add to my Inquiry Basket][?]



Squigz by FAT BRAIN TOY CO.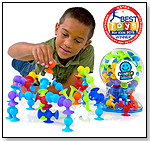 Apply pressure to two Squigz. Air rushes out and the fun rushes in! Connecting to each other and to any solid, non-porous surface - Squigz are a species all their own. They flex. They stick. They suck people into creativity. Once they take hold, it takes some pull to separate them. When Squigz POP! in protest - you'll have to admit… your hands and ears are shamelessly delighted!
— Jenni Mallory, manager of Magic Box LTD in New Orleans, La., told TDmonthly in a March 2014 survey that Squigz was a best-selling product.
— David Castillo, vice president of The Red Balloon Toy Store in Salt Lake City, Utah, told TDmonthly in a November 2014 survey that Squigz from Fat Brain Toys is one of their store's best-selling toys.


Where to buy:
NORTH EAST
NORTH WEST 12/4/2013 (Price: $24.95; Age: 3 and up)



Speed Stacks Competition Cups by SPEED STACKS INC.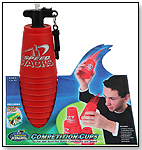 A great game to play solo, against the clock or go head-to head against friends. Cup Stacking is an exciting individual or team sport to race to stack and unstack 12 competition stacking cups. These cups are approved for use in the WSSA competitions.

Where to buy:
SOUTH 12/4/2013 (Price: $16.99) [Add to my Inquiry Basket][?]



Skazooms by JAX LTD INC.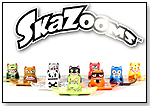 Make way for Skazoom, the amazing new toy that moves like magic. Slide them, spin them or even crash them into each other. Each Skazoom character comes with its own customized helmet and board - ready to race across any smooth surface. And with Skazoom accessories like the Bounce Park, Stunt Bowl and Ramp Ride, you can make your Skazoom jump, flip and bounce. Look for Skazoom and start collecting them all today.

Where to buy:
SOUTH 12/4/2013 (Price: $9.99; Age: 7 and up) [Add to my Inquiry Basket][?]



Flying Kung Fu Frogs™ by PATCH PRODUCTS INC.
Launch your Kung Fu frogs at the training center and try to conquer all the levels to score big. It may look easy, but the levels rotate; you must try to land on moving targets to master the levels of Kung Fu! 7/11/2013



ZOOB Jr Scooter by INFINITOY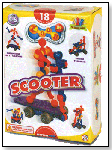 The ZOOB JR. Scooter features 18 ZOOB JR. pieces, 4 wheels, and instructions for 17 creations, such as a scooter, a mini go-cart, a skateboarder, and a spinning robot (but kids can make up lots more). The instructions require no reading, and are printed on sturdy cards. ZOOB JR. is our fastest-growing product category. 5/21/2013 (Age: 3 to 6) [Add to my Inquiry Basket][?]



Beyblade Metal Fury Performance Top System Legendary Bladers Descendants Set by HASBRO INC.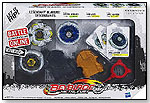 It's a pack of stamina, defense and more defense with the Legendary Bladers: Descendants 3-pack set of spinning battle tops. In the stamina column of this trio of fierce Beyblade tops is the Scythe Kronos T12EDS top, with a Spin Track part whose Tornado design helps create a sustaining vortex. Its Eternal Defense Spike Performance Tip part is for stamina and defense. Create custom top combinations by switching parts, and may the best top win. 12/11/2012 (Price: $26.99; Age: 8 and up) [Add to my Inquiry Basket][?]



eco-build a block set by ECO-KIDS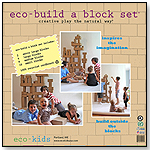 From building a tower, to a fortress or a maze, eco-build a block set™ will inspire imaginations to soar. These blocks are fun for all ages; they build confidence, teamwork and help with gross motor skills. Get ready to watch worlds come to life. These 100% recycled cardboard blocks come packaged in a reusable carrying case and are ready for play. With four unique sizes, use them as is or add an artful touch for hours of creative play. eco-build a block set includes 2 extra large boxes, 4 large, 8 medium and 16 small boxes. Carrying case measures 16.5"H x 20"W x 4.25"D. Launch date: August 2012. 11/21/2012 (Price: $39.99; Age: All Ages) [Add to my Inquiry Basket][?]



Stripes The Long Earred Bunny by SCHYLLING


This long floppy eared bunny is colorful and cuddly. Knotted eyes & nose add classic touches. 13" tall. Launch date: June 2006.
— As of 10/5/2012 this product had 4.1 out of 5 stars from 21 reviews on Amazon.com. Pros: Colorful; cute Cons: Several reviews said the toy was not as durable as they had hoped. 10/5/2012 (Price: $24.99; Age: 3 and up)



The Little Yoga Mat by THE LITTLE YOGA MAT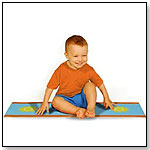 The Little Yoga Mat is a colorful, eco-safe yoga mat for babies and toddlers. Designed by a yoga mom and created for the under 4 set, The Little Yoga Mat is a multi-purpose mat that works beautifully for tummy time, nap time and on-the-go. Toss it into a stroller bag or backpack and take it on your travels! It's simple to clean (soap & water), and comes in 2 yoga inspired designs: SUN or LOTUS flower. Kids LOVE having a mat that's just their size. Launch date: January 2011.
— As of 09/25/2012 this product had 5 out of 5 stars from 2 reviews on Amazon.com. 10/2/2012 (Price: $25.00; Age: 0 to 4) [Add to my Inquiry Basket][?]



Fruits & Veggies Wooden Magnetic Set by MUDPUPPY PRESS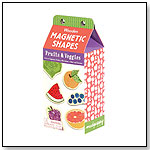 Each wooden magnet shows a stylized fruit or vegetable as illustrated by Jen Skelley: lemon, peach, radish, lime, kiwi, potato, garlic, mushroom, asparagus, blueberry, pineapple, raspberry, celery, strawberry, peapod, chili pepper, watermelon, orange, broccoli, pear, eggplant, avocado, grapefruit, cantelope, grapes, bananas, bell pepper, pumpkin, carrots, apple, corn, cherry, and tomato. Make your own green market on the refrigerator or any metal surface. The full magnetic backing will hold the letter firmly in position. Magnetic pieces are made of 80% recycled wood. Package contains 85% recycled paper and is printed with nontoxic inks.
Awards: 2012 Dr. Toy 100 Best Toys 9/11/2012 (Price: $18.00; Age: 3 to 6) [Add to my Inquiry Basket][?]



Orbeez RC Ladybug Scooper by TINY LOVE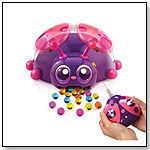 Power up the remote and make this Ladybug Scooper scoot around the floor collecting Orbeez into it's shell. The Ladybug Scooper blinks, lights up and makes chirping sounds as it moves around cleaning up. Kids can also push the Ladybug Scooper manually to collect all of the Orbeez. After the press of a button, the Ladybug Scooper will dispense the Orbeez to start the fun all over again. 8/29/2012 (Price: $29.99; Age: 5 to 15) [Add to my Inquiry Basket][?]



Gumby and Friends Bendable Box Set by NJ Croce Company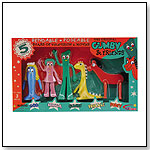 Fans of the classic TV show will love having their very own Gumby and friends boxed set. All the favorites are here including Goo, Minga, Prickle, Gumby and his best pal Pokey. Nostalgia lives on in this fully bendable and posable boxed set of beloved characters from the good ol' days. Launch date: 2002. 7/26/2012 (Price: $29.99; Age: 3 and up) [Add to my Inquiry Basket][?]



Vegetable Basket by HABA USA/HABERMAASS CORP.


This pretend play set encourages healthy eating. Includes: basket with 1 leek, 2 carrots, 1 banana, and 2 tomatoes. Basket 18 x 12 x 9 cm. 7/20/2012 (Age: 2 and up) [Add to my Inquiry Basket][?]



Topplers Domino Obstacle Course by ROYLCO INC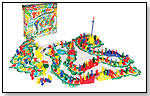 Stand them up and knock them down. Make your domino Topplers tumble, swing, and wind along a colorful obstacle course track. Turn and connect the printed tracks to form over a hundred possible routes. Combine the tracks with plastic obstacle "stations" like bridges, teeter-totters, and slides. Use the kit to develop fine motor skills, exercise concentration and coordination, customize your own domino obstacle course, and build dexterity and creativity. The Topplers Domino Obstacle Course includes 100 Topplers, 21 printed tracks, and 8 obstacle stations. Launch date: September 2012. 7/5/2012 (Price: $19.99; Age: 4 and up) [Add to my Inquiry Basket][?]



SpongeBob Squarepants™ 3in1 Book by LEE PUBLICATIONS


Play with your favorite SpongeBob Squarepants™ characters in this 3in1 activity book. The activities include Magic Pen® Painting, Invisible Ink and Sticker Puzzles. The Special Pen reveals the invisibly printed pictures. The Special Pen also produces a rainbow of colors instantly. Unscramble the stickers to create a surprise picture. Each book includes 24 pages of fun, a special pen and 2 jumbled sticker puzzles. 6/25/2012 (Price: $3.99; Age: 3 and up) [Add to my Inquiry Basket][?]



Waverly and the Magic Seashells by THE BRIDGE DIRECT INC


Mini-collectible seashells that contain little "pets." The seashells are part of a larger universe of "play" that includes mermaid dolls and play sets. Fun for kids to collect, display, and trade with friends. 6/22/2012 (Price: $3.99) [Add to my Inquiry Basket][?]



SqwowFish Collector Bank by SQWISHLAND LLC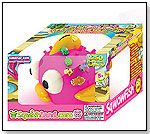 SqwowFish Collector Bank can be decorated with any soft 'n squishy SqwishLand toys and helps kids save their pennies. (

Watch Video) 6/21/2012 (Age: 5 and up) [Add to my Inquiry Basket][?]



My Sandbox by ALEX BRANDS


Feeling the sand and moving it to expose the colors underneath stimulates the senses of young children. As their coordination improves, they will find new ways to manipulate the sand. Wooden sandbox comes with 3 tools and a clear acrylic bottom. Use the art on either side of the reversible lid, or your own art to create colorful pictures. Sandbox measures 16' x 12' x 2.75'.
Awards: 2012 Dr. Toy Best Classic Toys 6/19/2012 (Price: $39.95; Age: 3 to 5) [Add to my Inquiry Basket][?]



Levitron High Flyer by FASCINATIONS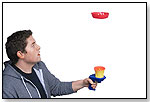 Using Bernoulli's principle Fascinations has engineered a way to float a disc in the air over 18 inches high. Of course at that height it can become difficult to balance any object on a cushion of air but that's where all the fun begins. How long can it stay in the air and how long can it fly? It's cooler than magic because it's real science at work. 6/8/2012 (Price: $14.95) [Add to my Inquiry Basket][?]



Xtra Large swing and Spin 48" by WIDE IDEAS INC.
Can be attached to an existing swing set or hung from a tree. Kids can swing like they would normally do or swirl around. All 3 sizes of our hand made swings can hold 660lbs and hang down 70". The two ropes are joined together at the top by a steel ring, making it easy to hang. 4/23/2012 (Price: $249.99; Age: 3 to 15) [Add to my Inquiry Basket][?]



Diabolo by EOLO SPORT INC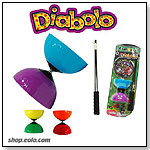 Practice your throwing, catching and juggling skills with the multi-color Funtrix Diabolo from Eolo Sport. Includes an instructional DVD that will help kids to learn and enhance their trick skills. "Diabolo involves throwing, catching and keep spinning a double cone with the help of 2 sticks linked with a string. Originality and difficulty are the most valued features when performing tricks," Sophia Georgeo, US Domestic Sales Executive for Eolo Sport, told TDmonthly. Launch date: March 2012. 3/16/2012 (Price: $12.99; Age: 6 and up) [Add to my Inquiry Basket][?]



Clump-o-Lump by KNOCK KNOCK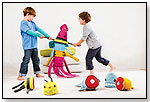 Clump-o-Lump is a line of super-snuggable plush creatures that zip apart into three whimsical pieces—head, torso, and rump—so they can be mixed, matched, and multiplied. With over 2,303 combinations possible, Clump-o-Lumps offer countless hours of fun, imagination, and super-swappable collectibility. The inaugural Clump-o-Lump family includes six characters: Frog-o the Frog, Bee-o the Bee, Shark-o the Shark, Bird-o the Bird, Tig-o the Tiger, and Squid-o the Squid. Just zip-and-match 'em to make 'em tall, small, or anything at all. Launch date: March 2012.
Awards: 2013 TDmonthly Seal of Approval (

Watch Video) 3/16/2012 (Price: $25.00; Age: 5 and up) [Add to my Inquiry Basket][?]



Mugz The Ice Cream Maker by JUPITER CREATIONS INC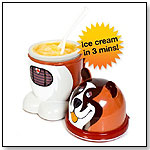 Makes ice cream or slushie in only 3 minutes. There will be a whole lot of shakin' going on with the the Ice Cream Mugz from Jupiter Creations. That's because a little bit of shaking results in frozen ice cream, juice, or yogurt in just 3 minutes...a mere 180 seconds. Simply place ice cubes and regular table salt in the mug bottom and milk, chocolate milk, juice, or yogurt in the aluminum cup. Then cover and shake, shake, shake. When the salt melts the ice cubes, the resulting ice water is actually colder than the frozen ice, and when this super cold water comes in contact with the aluminum cup, the aluminum gets cold enough to freeze the liquid. The result is both a yummy frozen treat and a science lesson, too. (

Watch Video) 3/8/2012 (Price: $9.99; Age: 4 and up) [Add to my Inquiry Basket][?]



Mini Robot X-7 by THE ORIGINAL TOY COMPANY
Bend me, shape me into various positions by moving my head, arms and legs. Display contains 12 wooden robots. 2/24/2012 (Age: 3 and up) [Add to my Inquiry Basket][?]



Find It Games Starry Night by FIND IT GAMES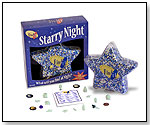 "Starry Night", the newest version of the best selling Find It game, has some real "star power." The first Find It® game to feature a custom star shaped container, adding a whole new dimension to game play. The "Starry Night" game features 40 items nestled among the brightly colored pellets, all packaged inside a three dimensional star shape. As an added bonus, many of the items inside glow in the dark which allows for a whole new way to play. Use the enclosed score pad to check off items as you find them in this "contained adventure". Launch date: September 2011. 9/16/2011 (Price: $23.00; Age: 8 and up) [Add to my Inquiry Basket][?]



Weird & Wacky Contraption Lab by SMARTLAB TOYS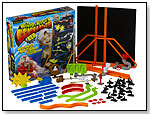 Standing over two feet tall, the Weird & Wacky Contraption Lab has 60 mix-and-match pieces to build an unlimited amount of contraptions. Kids can dream up crazy courses, then build and test them using this easy-to-construct Velcro-like system. Instructions offer tips and tricks on how to best manipulate the kit's components. It guides kids through five sample contraption designs while they learn how to predict the outcome of each. "Contraption Lab offers full-circle skill building from prediction and planning to testing and experimentation," Nancy Storment, marketing & PR rep for SmartLab Toys, told TDmonthly. Launch date: October 2011.
Awards: TDmonthly Top Toy Award, January 2012.
— Why it won: A great product that encourages creativity. 9/16/2011 (Price: $39.99; Age: 8 and up) [Add to my Inquiry Basket][?]



Dinosaurs in a Bucket by LUVYDUVY CORPORATION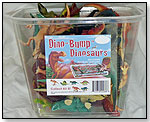 Large 5" dinosaurs retail at $2.00 each; sold in bucket of 45 dinosaurs. Launch date: October 2011. 8/29/2011 (Price: $2.00; Age: 5 to 10) [Add to my Inquiry Basket][?]



PopOut Ring Toss by DIGGIN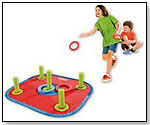 This soft and safe ring toss pops open for portable fun. Kids can take it and play anywhere, outdoors or indoors. Play solo or with the whole family. To collapse, hold the mat at the corners and twist. Comes with six rings, PopOut target with posts and storage bag. It's "A classic game that POPS open for big fun!" Jenny Stern, VP& Founder of Diggin Active Inc, told TDmonthly. Launch date: February 2011.
Awards: 2011 Oppenheim GOLD Award 6/27/2011 (Price: $19.99; Age: 10 to 3)



Woody Rocking Horse by PRINCE LIONHEART INC.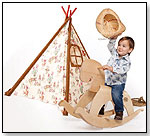 Woody Rocking Horse is made from 100% birch, harvested from an FSC Approved (ethically harvested) forest. It is produced to last as an heirloom toy. Helps Children develop balance, muscle strength and coordination. Over-sized rockers prevent tipping forwards or backwards, and footrests help children balance and position themselves properly. Weight limit is 100 lbs. Launch date: June 2011. 5/24/2011 (Price: $80.00; Age: 2 to 5) [Add to my Inquiry Basket][?]



Star-Ball by CREATIVE WHACK COMPANY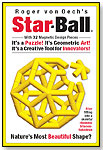 Creative Whack's newest product is both a challenging puzzle and a creativity toy. Star-Balls's 32 magnetic pieces can be rearranged in countless different ways. Polarity dots help you reassemble the star shape by combining the 5-legged stars with the 3-legged "tri" pieces. Star-Ball pieces can also be combined with the award-winning Ball of Whacks for even more creative possibilities. "The geometry of Star-Ball embodies the golden ratio found in mathematics, art, and nature," Lynn Araujo, communications director of the Creative Whack Company, told TDmonthly. Launch date: February 2011. 1/25/2011 (Price: $29.99; Age: 12 and up) [Add to my Inquiry Basket][?]



DoodleMark by REMARKABLE READING CONCEPTS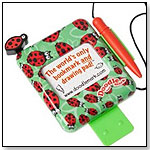 DoodleMark™ allows children and parents to interact with books together. Whether practicing sight words, working on vocabulary, learning to write letters, bookmarking their progress or just doodling a funny picture, this product is designed to help build a child's confidence in their reading and writing. It can be used as a classroom tool, at home to reinforce what's being taught in school, and as an incentive for reluctant readers. "DoodleMark is the world's only bookmark and drawing pad that clips to a book," Jennifer Kendra, VP sales and marketing at ReMarkable Reading Concepts, told TDmonthly. Launch date: November 2010. 1/25/2011 (Price: $8.00; Age: 3 to 10) [Add to my Inquiry Basket][?]



Teacup Piggies Fashion Runway by TOY TECK LTD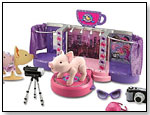 This playset features everything needed for a piggie fashion show. The stage has working lights and sounds, an extendable catwalk with a rotating platform, and an interactive piggy starlet with a collection of chic fashion accessories. 12/21/2010 (Price: $29.99) [Add to my Inquiry Basket][?]



Stowaways™ Dino Adventure by BSW TOY INC.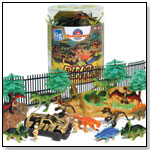 Stowaways™ Big Buckets™ feature sleekly designed keepsake tubs with sturdy handles and snap on lids for Take-Along-Fun. This Dinosaur Park adventure includes a complete playset of animals, scenery, an off-road vehicle and a playmat to build exciting scenes. 10/18/2010 (Price: $19.99; Age: 4 and up) [Add to my Inquiry Basket][?]



Plush Rocking-horse by CHINA TOYBIZ.CN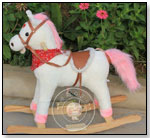 These products have a strong iron mold inside to support up to 90 kgs weight. Nice children's rhymes are heard once you pinch the horse's ears. Furthermore, both the tails and mouths are moveable. 100% safety guaranteed without toxin or odor. 10/18/2010 (Age: 2 to 5) [Add to my Inquiry Basket][?]



MOBI TykeLight GloMate PLUS by MOBI Technologies, Inc.

The GloMate PLUS is a portable, rechargeable play and night light designed to fit perfectly into a child's hand. The built-in lithium-ion battery lasts over 10 hours on a single charge. The base features an LED ring that lights when charging and makes the it easy to find in total darkness. The GloMate PLUS lights up in blue, green, red or a rainbow mode that cycles through all of the colors. "The GloMate PLUS is designed as the perfect play friend. The multi-color LEDs make any child's adventure a colorful one," MOBI Technologies National Sales Manager Andrew Buckband told TDmonthly. 9/23/2010 (Price: $19.99; Age: 2 and up) [Add to my Inquiry Basket][?]



Poppin Peeper-Pig by WARM FUZZY TOYS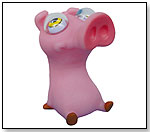 Press this pig for "eye-popping" entertainment. This silly pig measures 3" tall. 9/1/2010 (Price: $3.95; Age: 3 and up) [Add to my Inquiry Basket][?]



Hot Wheels™ ZipBin® Wheelie Track Pack by NEAT-OH! INTERNATIONAL LLC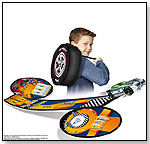 Hot Wheels™ ZipBin® Wheelie Track Pack resembles a mag wheel with a Hot Wheels rim. It unzips from the mag wheel to a two-lane dragracing track with integrated jump. The backpack includes pockets for six favorite cars, but easily holds 100 cars. Designed for portable play, it interfaces with Hot Wheels® tracks and includes an authentic Hot Wheels® car. 8/26/2010 (Price: $19.99; Age: 3 and up) [Add to my Inquiry Basket][?]



Kitchen Chemistry Set by POOF-SLINKY INC.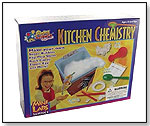 This kit uses common household substances to make fun things like rock candy, super bubbles, and molding clay. Kids can explore the science behind the food we eat and the substances we use in our homes every day. Other experiments turn bones to rubber, change liquid to rainbows, make candy, and more. (

Watch Video) 8/26/2010 (Price: $12.99; Age: 8 and up) [Add to my Inquiry Basket][?]



Pedestal Pets - Safari Friends by INSPIRED DESIGN LLC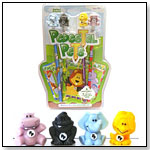 The Safari Friends Pedestal Pets collection includes a gorilla, lion, hippo, and elephant. Pedestal Pets are sets of pencil toppers featuring a variety of animal figures. Each package comes with 4 animal pencil toppers, 4 matching pencils and 4 fun fact trading cards. Children can also go to the Pedestal Pets website and "adopt" their pets and print out coloring pages of all the animals. 8/13/2010 (Price: $5.50; Age: 5 to 13) [Add to my Inquiry Basket][?]



Balloon Copter by WILD CREATIONS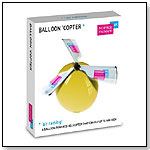 This flying toy is powered by air released from the balloon, turning the rotor blades. It can reach heights of up to 160,' letting out a whistle as it goes. 8/11/2010 (Price: $7.99) [Add to my Inquiry Basket][?]



Sonic Controlled Giggle Ball with Lights. by TOY WONDERS INC.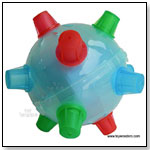 8080D Sonic Controlled Giggle Ball with Lights. 4.25" Giggle Ball features shaking, laughing with flashing lights. Requires 3 "AA" batteries. Box size: 5"L x 4.5"W x 4.75"H. 6/25/2010 (Price: $12.00; Age: 8 and up) [Add to my Inquiry Basket][?]



Aquatic Universe Soft Toys by C.A. BIO


Aquatic Universe soft toys include a starfish, whale, tortoise and octopus. They are handmade from organic cotton under Fair Trade standards by a small women's association in Lima, Peru. 6/25/2010 (Price: $67.00; Age: All Ages) [Add to my Inquiry Basket][?]



Rocket Balloons by TOYSMITH


This kit includes a 7" pump and 20 balloons. Kids and teens can use the pump to fill the balloons, then let them go and watch them zoom high into the air. (

Watch Video) 6/16/2010 (Price: $4.99; Age: 8 to 15) [Add to my Inquiry Basket][?]



Marble Run by HOUSE OF MARBLES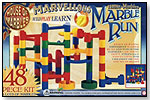 Made of heavy-duty plastic with snap-together tubes and chutes, this kit includes plenty of marbles for hours of building and rolling. (

Watch Video) 6/16/2010 (Price: $30.00; Age: 4 and up) [Add to my Inquiry Basket][?]



Simply on Board Toy Straps by PIPPALILY


These adjustable 100-percent cotton toy straps allow parents to keep a child's favorite items on a seat or stroller. "Toy tossing has come to an end," Victoria Turner, president of Simply on Board, told TDmonthly. 5/25/2010 (Price: $8.99; Age: 0 to 2) [Add to my Inquiry Basket][?]



THIS BANNER IS AN AD:
---
---