Tools:







New & Notable Toys: Interactive
Check out these new and noteworthy toys.
Star Wars R2-D2 Interactive Astromech Droid by HASBRO INC.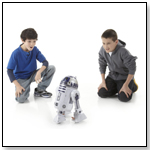 This is one sidekick who definitely comes in handy! Your R2-D2 Interactive Astromech Droid figure is packed with all kinds of features to help you fight the dark side—or just have fun throughout your day. This exciting little friend rolls, spins "dances" and plays music, "remembers" and reacts to famous Star Wars characters, guards your room, plays multiple games and can even find and follow you! And with awesome features like an illuminating light beam, infrared location sensors, an adaptable droid mood status indicator, a rotating dome, motorized indoor-terrain treads, a beverage holder and manipulator arm and special "secret" features, this figure is sure to keep the fun going for "light years"! 10/28/2015 (Age: 8 and up) [Add to my Inquiry Basket][?]



KidiBeats Kids Drum Set by VTECH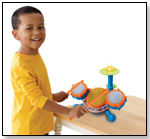 Your child can rock out and learn with the VTech KidiBeats Drum Set. This drum set for kids comes with a pair of drumsticks that can be used to tap the four different electronic learning drums. Your child can drum freestyle or play along to nine pre-set melodies in a variety of musical styles. Or for more structured play, they can follow the lights on the drums as they learn about letters and numbers. With four ways to play and a variety of fun sounds, your child will love learning to the music with this educational toy. 10/26/2015 (Price: $19.99; Age: 2 and up)



Bright Beats Dance & Move BeatBo by FISHER-PRICE INC.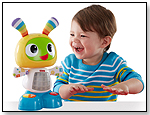 A press of BeatBo's tummy or any of the buttons on his feet activates fun songs, learning content and dance moves. This futuristic friend even allows mommy or baby to record a phrase, and he'll remix it into his favorite song! His 3 modes - Dance 'n Move, Learning & Games, and Customized Sing-Along - "grow" with baby to make him a fun, entertaining companion for years to come! And all the while, he's introducing baby to letters, colors, counting, music, cause & effect and much more! 9/30/2015 (Price: $39.99; Age: 1 to 3)



LeapFrog LeapTV Educational Active Video Gaming System by LEAPFROG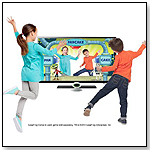 Gaming just got smarter with LeapTV, the educational, active video gaming system built just for kids ages 3-8 years. Kids learn through motion as they jump and dance through innovative, engaging curriculum. With a library of 100 LeapFrog educator-approved games and videos, kids never run out of fun. 11/13/2014 (Price: $149.00; Age: 3 to 8)



Kids Drawing Easel for iPad by CTA DIGITAL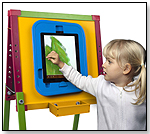 Kids are naturally drawn to the highly visual and easy to use touch interface on the iPad. The many educational, artistic and entertaining apps available for children increases its value for parents who want to inspire their young creative minds. Keeping the iPad safe and secure by enclosing this in a traditional easel means parents can be relaxed about giving their child access to the tablet. 6/26/2013 [Add to my Inquiry Basket][?]



Ubooly by UBOOLY INC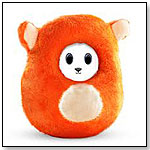 Ubooly is a stuffed animal powered by an iPhone or iPod touch. Put the device in its fuzzy pocket, and Ubooly comes to life. Includes the Ubooly stuffed animal, the Ubooly software, and free monthly content updates. 2/26/2013 (Price: $29.99) [Add to my Inquiry Basket][?]



Barbie Digital Makeover Mirror by MATTEL INC.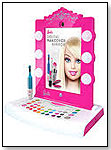 When kids look into the Barbie Digital Makeover Mirror, which is used with an iPad, they can see their reflections. Then, using the accessories provided, they can digitally put on eyeshadow, lipstick, and other makeup - without actually getting anything on their face, thanks to the mirror's augmented reality software. 2/26/2013 (Price: $69.99) [Add to my Inquiry Basket][?]



Tagamoto Large Starter Set by INNOVATION FIRST LABS, INC.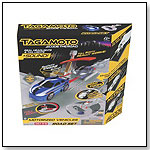 Kids place stickers with different bar codes on the track. Then the race cars drive over they read the codes and perform new actions - stopping, lighting up, slowing down, and more. 2/25/2013 (Price: $14.99; Age: 4 and up) [Add to my Inquiry Basket][?]



Retro Straw- Exact Replica of the Original Krazy Straw® by FUN-TIME INTERNATIONAL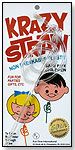 This has the same shape and package design of the first Krazy straw® that was ever created in the 1960's. Bring to parties and be sure to turn heads. Launch date: 2012. 10/19/2012 (Price: $1.99; Age: All Ages) [Add to my Inquiry Basket][?]



How Machines Work by RUNNING PRESS BOOK PUBLISHERS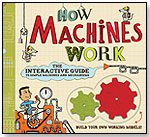 Everything that a budding inventor needs to build 12 basic machines is provided, including 25 machine pieces, 10 plastic nuts and bolts, and a detachable peg board—all color-coded for easy identification. Using the simple and direct instructions, kids can build each machine in minutes. The projects include: incline planes, levers, wheels and axles, gears (spur, compound, rack and pinion, and planetary), cams, cranks, pulleys, ratchets, and springs. Includes timelines detailing the history of each machine. Hands-on, interactive, and engaging, this kit will bring out the DIY and inventor spirit in every child. Launch date: October 2011. 10/16/2012 (Price: $19.95; Age: 7 and up)



Animal Planet Wildlands by NUKOTOYS INC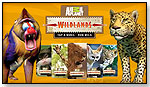 Tap a NUKO. Run Wild. Play with virtual NUKO and physical cards. Animal Planet is an innovative 3D animal adventure game for kids of all ages. Players can collect the full set of 60 unique trading cards called 'Nuko' that magically come to life within the game. Each animal card will allow them to explore an immersive 3D world where they can interact with other animals, create herds or packs, discover hidden items and race against other animals – all while making sure they don't end up on the wrong end of the food chain. 9/25/2012 [Add to my Inquiry Basket][?]



TeeGee: The Smartest Stuffed Animal in the Universe by TEEGEE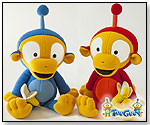 TeeGee is a fully interactive, customizable stuffed animal capable of telling stories, singing songs, and playing games with children. TeeGee is able to interact with the world through smart accessories, speech recognition, and other modes of communication. Parents can customize TeeGee's behavior by downloading age-appropriate apps from our online app store or the iTunes app store. Launch date: August 2011. 11/11/2011 (Price: $49.99; Age: 3 to 7) [Add to my Inquiry Basket][?]



Laffy Laffalot by CARE2 MEDICAL PRODUCTS INC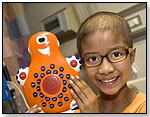 Laffy Laffalot is an innovative, interactive toy designed to bring laughter back into the lives of sick children. With its bright orange body and big engaging eyes, Laffy Laffalot is heart-warming and fun, but can take the tough love kids have for their favorite toys – withstanding a drop of up to 6 feet. Laffy Laffalot also can stand upright on a bedside table or desk - always a smiling companion, 24 hours a day, seven days a week. When kids touch one of the 20 pre-programmed blue buttons, they can hear a hearty belly laugh, the giggle of an infant or a silly snort. The contagious laughs will instantly put a smile on kids' faces and help distract them from the pain and challenges of medical treatment. Laffy Laffalot was created to lift the spirits of anyone who may be feeling blue or just needs a good laugh. Laffy Laffalot's unique features include: Four buttons to record and play custom, comforting messages from mom, dad, friends or loved ones; a hilarious helium effect dial that alters any laugh or custom message for endless hours of fun. Laffy Laffalot also comes with a built-in speaker, MP3 quality sound, headphones that won't hurt small ears and two AA batteries. 6/13/2011 (Price: $19.99) [Add to my Inquiry Basket][?]



Aqua Pets by WILD PLANET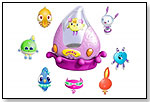 These Aqua Pets are updated versions of eight fan favorites from the original line. They feature redesigned aqua pods, offering new games and increased interactivity. Each Aquapet has its own look, sounds and songs. The creatures come alive when kids, or other Aquapets, interact with them. A microchip, microphone and speaker housed in the toy's base enable Aquapets to register and respond to sound. Each character replies with movement and melody. The more kids play with their Aquapets, the more songs they will perform and the livelier they'll become. Aqua Pets can also play three new interactive games: - Memory Moov (a memory-building sequence game) - Aqua Speed (a fast-paced reflex challenge) - Bubble Boogie (a fun and silly way to make your mini marionette dance) Place two or more Aquapets together for an AquaParty and the buoyant buddies will dance, chirp and converse with each other. Each energetic character has a sleep function, because even the most interactive friends need to rest. 4/13/2011 (Price: $9.99; Age: 6 and up) [Add to my Inquiry Basket][?]



Phone Frenzy by BUFFALO GAMES INC.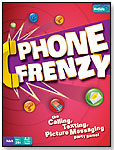 Phone Frenzy is a board game that uses everyone's mobile phone as the primary game component for calling, texting, and sending photos. Every turn, players are given a challenge or activity that can only be completed with the help of one or more of their phone contacts. A challenge might be a race to receive a correct response to "Finish this lyric by Journey: 'Just a small town girl'…" Players pick who they think are the right contacts from their phone and send them a text message with the question. The first player to receive the correct text message wins the round. Launch date: Summer 2011. (

Watch Video) 2/22/2011 (Price: $22.00; Age: 14 and up) [Add to my Inquiry Basket][?]



got milk? Magic Milk Straws by FOOD MARKET MERCHANDISING INC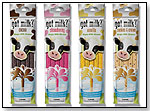 A straw that naturally transforms white milk into bold and delicious flavors. When kids drink milk through the Got Milk? Magic Straws, the milk becomes flavored and colored. "Parents and kids from 2 to 99 buy them year-round and it's completely new to toy stores with no competition," Paul Henson, CMO of Food Market Merchandising, Inc, told TDmonthly. Launch date: January 2010.
— In a late Summer 2012 survey, three out of 12 retailers told TDmonthly that these were one of their top-2 bestselling candy items. 1/12/2011 (Price: $1.99; Age: 2 and up) [Add to my Inquiry Basket][?]



ActionJetz F-22 Raptor by ModelWorks
ActionJetz are cool diecast planes that each come with a Secret Game Code Card. With it, kids and paretns can chat, play and learn new stuff in the Online World of ActionJetz. Choose from the wide range of die cast planes which are about 3-6 inches small to collect. 12/20/2010 (Price: $4.99; Age: 3 and up) [Add to my Inquiry Basket][?]



Sqwishland® Characters by SQWISHLAND LLC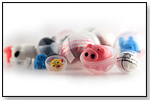 Sqwishlanders – they are cute, they are collectible, they are fun – a craze every parent can afford to support and you don't have to go far to find one. Available at those ubiquitous red vending machines found in every supermarket, convenience store, arcade and malls across America, put your quarter in, crank the handle and wait and see what comes out. The surprise of the catch is just part of the fun. Once you open the capsule and see which Sqwishland® character has been dispensed, a fortune cookie style secret code will reveal yet another surprise, an unknown bounty of virtual game cash will be discovered when the code is entered on line. (

Watch Video) 12/17/2010 (Price: $0.25) [Add to my Inquiry Basket][?]



Ambi Ted & Tess Carousel by SCHYLLING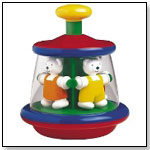 These spinning bears go round and round when baby pushes the knob on top. The brightly colored spinning top is made of sturdy plastic and has a flat bottom that sits flat on the floor. A fun toy for learning about cause and effect and for making things happen.
Awards: Oppenheim Toy Portfolio Best Toy Award, Platinum, 2010. 10/14/2010 (Price: $19.99; Age: 0 and up)



John Deere Real Sounds Lawnmower by LEARNING CURVE

This realistic interactive lawnmower features mower, gas and oil sounds, as well as voice prompts to check oil and gas. It includes rotating grass clippings and a fold-down handle for storage, and requires two AA batteries.
— As of August 25, 2010, this product had 3.5 out of 5 stars from 17 reviews on Amazon.com. PROS: Interactive and appeals to toddlers. CONS: Not very portable, and some parents complained the handle does not stay up. (

Watch Video) 8/25/2010 (Price: $30.99; Age: 2 to 5)



Toy Story 3 Talking Toy Playtime Sheriff Woody by DISNEY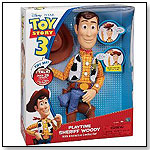 This detailed, movie-size figure measures 14" tall. Woody comes with an interactive cowboy hat — he knows if it's on or off — and speaks over 25 phrases. He comes styled with a cowboy hat, boots, a vest with badge and a belt with buckle
— As of 8.24.10, this product had 4 out of 5 stars from 2 reviews on Target.com and was listed in the top 30 best-selling toys and games. PROS: Interactive. 8/24/2010 (Price: $34.99; Age: 4 and up)



Ophelie Musical Activity Toy by LILLIPUTIENS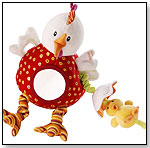 Ophelie's body is decorated with a mirror ands offers sounds including a bell, a squeaker and the fluttering of wings. She holds an egg that opens to reveal a baby chick. Ophelie comes with an attached velcro strap, so that kids can take her everywhere from the crib to the stroller. 7/5/2010 (Age: 0 and up) [Add to my Inquiry Basket][?]



Zhu Zhu Pets Carrot Elevator by CEPIA LLC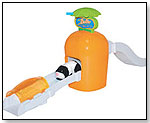 Zhu Zhu Pets hamsters can ride this magical carrot elevator to explore new heights. When placed in the playset, Zhu Zhu pets zoom around. 6/25/2010 (Age: 3 and up) [Add to my Inquiry Basket][?]



Webkinz Chinchilla by GANZ


This green chinchilla, like all Webkinz plush pets, carries a secret code that can only be revealed after purchase. After logging into Webkinz World, (www.webkinz.com), kids enter the code, adopt and name their pet, and are invited into a virtual world where they feed and care for their new pal, dress it, take it to the vet, play games or visit with other Webkinz members. 6/18/2010 (Price: $13.99; Age: 6 and up) [Add to my Inquiry Basket][?]



LEGO Mindstorms NXT 2.0 by LEGO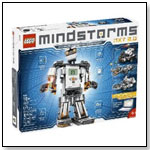 The intelligent 612-piece NXT Lego brick features 32-bit microprocessor, a large matrix display, 4 input and 3 output ports, and Bluetooth and USB communication link; batteries not included. This set includes interactive servo motors and four sensors (Ultrasonic Sensor, 2 Touch Sensors and the all-new Color Sensor). The Color Sensor has triple functionality; it distinguishes colors and light settings, and functions as a lamp. This product comes with easy-to-use software (PC and Mac) with icon-based drag-and-drop programming and 16 fun building and programming challenges, along with building instructions for 4 new amazing robots. Awards: 2010 TOTY Award
— As of 7.27.2010, this product had 4.5 out of 5 stars from 46 reviews on Amazon.com, and was listed No. 44 in the top 100 best-selling toys and games. PROS: Teaches simple programming with well-designed, easy-to-use software. Encourages creative play. CONS: Not innovative enough; doesn't allow for open-ended play; one customer received two defective sets before receiving one that worked.
— In late Spring 2011, 25% of retailers surveyed said LEGO was their best-selling brand of construction toys. 2/15/2010 (Price: $279.99; Age: 3 and up)



Kids' Business Stand by Little Green Money Machine
If kids can play business, they can learn business. Kids will have fun earning money in their neighborhoods and communities while starting their very first business with this unique mobile business stand. The business stand comes with wheels, dry/erase magnetic banner areas, built-in locking money tray, literature storage tray, solar-powered built-in calculator, hooks, keys, magnets, and dry erase marker set. Launch date: November 2011.
Awards: 2011 Dr.Toy Best Classic Toys; 2011 NAPPA Gold Award; 2011 Oppenheim Award 12/28/2009 (Price: $249.00; Age: 6 to 16) [Add to my Inquiry Basket][?]



Prime-8 Action Robot by BOSSA NOVA ROBOTICS
Prime-8 is a fast and agile gorilla robot that does everything from play laser tag to run with your kids down hallways. He explores his own surroundings or responds to remote control. He is silly, occasionally rude, and goes crazy when disturbed in his sleep! Prime-8's intense interactivity is powered by a battery of sensors that allow him to respond to people and to his environment. Internal sensors measure his orientation constantly, and prompt him to right himself should he fall down. Outbound sight and sound sensors help Prime-8 maneuver around obstacles, respond to questions with grunts and growls, and express himself. Finally, motion detection sensors keep Prime-8 alert so that he can chase away intruders by firing rockets! (

Watch Video) 8/24/2009 (Price: $99.99; Age: 8 and up) [Add to my Inquiry Basket][?]



Dittoze Voice Recordable 5" Plush with Online Playground - Frog by BLAYCHON, LLC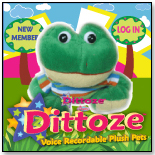 (

Watch Video) 7/20/2009 (Price: $12.99; Age: 4 to 12)



Over & Under the Sea™ Mat by LEARNING RESOURCES INC.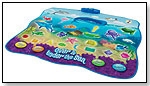 Kids can splash into undersea adventures with friendly creatures that engage them in early learning games. It includes a treasure hunt and plays eight children's songs. They press the gem notes to create original tunes. The mat is designed to keep kids on the move with floor play, or for play on a table. It features high-quality audio, automatic shut-off, adjustable volume and Activity Guide. It wipes clean and is for one to three players. The mat measures 34" L x 30" H and requires 4 AA batteries, not included. Launch date: May 20, 2009. 6/29/2009 (Price: $39.99; Age: 3 to 6) [Add to my Inquiry Basket][?]



Star Trek Original Series Medical Tricorder - EE Exclusive by ENTERTAINMENT EARTH INC.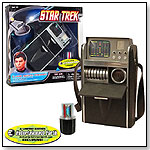 Based on the 23rd-century design seen in the original Star Trek television series, this detailed electronic instrument features silver highlights over a black finish, plus light and sound effects taken from the watershed TV show. The Tricorder features blinking lights, a spinning scanner, a light-up screen, and adjustable shoulder strap. All doors open and close. It comes in window-box packaging. "The Entertainment Earth Exclusive Medical Tricorder is the ultimate replica for any fan, collector, or 23rd-century physician. Not only does the case open to reveal the detailed interior, but this deluxe version also includes a compartment with a removable scanner accessory with lights and motion that you won't find anywhere else!" Jenna Banks, director of sales for EE Distribution, told TDmonthly. Launch date: June 2009. 6/3/2009 (Price: $49.99; Age: 8 and up) [Add to my Inquiry Basket][?]



Rainforest by LEARNING FUN WITH FELT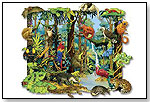 Deep in the rainforest camouflaged againt dense vegetation hide unique animals. A tapir slumbers by the sleepy three-toed sloth, while toucans and monkeys sing in the trees. A lavish play board provides a dense cover for more than 20 felt animals. Launch date: 2009. 5/19/2009 (Price: $16.95; Age: 3 to 8)



Learning Curve - Talking Railway Series - Cranky by RC2 BRANDS


On the docks of Sodor Bay, Cranky keeps the ships and engines productive. Cranky the Crane unloads cargo from ships and loads it onto the train cars. The Talking Railway Series engines unlock special personalized greetings as they pass by Talking Railway Series destinations. Children will delight in hearing Sir Topham Hatt utter "Rosie, Cranky is ready to load the cargo." or "Edward, you are right on time!" The more talking Railway Series engines and destinations added, the more interactive the world becomes!This toy features engine-recognition technology and can address Talking Railway engines by name. It also works with traditional engines. Launch date: 2009. 5/4/2009 (Price: $69.99; Age: 3 and up) [Add to my Inquiry Basket][?]



Revnjenz Drivers Licenses by REVNJENZ


Revnjenz are fast, sleek and sporty street racers that come to life when the owner enters online his or her personalized "Secret Code" that is hidden on the back of the collectible driver's license. In Revnjenz World, kids can race and play games to earn BoostBucks to trick out their ride. "We have developed a virtual world community of street racers that focuses on an untouched market in the retail product/virtual world tie in. We fill a new, unpaved path for boys that gives them something new and unique to play in and talk about. We also have not left out the girls, as the boys can 'trick out' but the girls can 'accessorize' their rides," Susan Ashford, of the sales and marketing division at Revnjenz, told TDmonthly. Launch date: November 3, 2008. 4/28/2009 (Price: $9.95; Age: 5 to 13)



Angel Heaven Guardian Angel Doll by SHARON HAYES LLC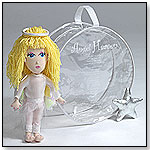 Angel Heaven™ Plush Dolls & Creatures have been custom designed by Artist/Author Sharon M Hayes. They are embroidered and are made from high quality materials that conform to toy safety regulations. Each 14" Angel doll order will arrive in its very own carryall zippered vinyl bubble with the "Earning Wings" poem printed on the front. Orders also include a shiny silver plush star, removable plush iridescent white wings and halo so children can reenact the "good deeds" steps they learn online at Angel Heaven™ World.com and from the "Earning Wings" poem. The angels also have their own members-only website filled with games, cartoons and music. Launch date: 2009. 1/12/2009 (Price: $19.95)



Naughty Monsters by HAMCO INC.


The Naughty Monsters are portable time-out pillows in the form of friendly monsters. They include talking timers that allow parents to program the length of time the child should remain in time out. The child is to sit on the Naughty Monster while in time out. When time is up the monster will say, in a friendly monster voice, "You can get up now, but don't be a Naughty Monster!" Launch date: November 15, 2008. 12/12/2008 (Price: $35.00; Age: 2 to 7)



Kookeys Plush Monkey by 10VOX ENTERTAINMENT INC.


KooKeys offers a line of plush animals with online, interactive digital counterparts known as the Virtual Koo. Each plush KooKey comes with a special key that unlocks the online world for children to explore, interact, play, and learn. 9/4/2008 (Price: $14.99) [Add to my Inquiry Basket][?]



Champ by ANIMALAND


Champ, one of Animaland's most popular stuff-your-own-plush, is dressed in a varsity jacket and offers an interactive experience that is excellent for school fundraisers. Animaland plush is stuffable on any standard stuffing machine or by hand. Animaland offers more than 150 styles of animals and over 100 outfits, making the interactive experience unique and personal for each customer. Launch date: February 2008. 8/27/2008 (Price: $19.95; Age: 3 to Adult) [Add to my Inquiry Basket][?]



Talking Bedtime Teddy by TOEDESIGN INC.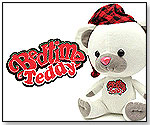 His nightcap and sweet smile look cute and innocent, but this plush bear talks dirty: "I like it when you touch me there!" he proclaims when you squeeze his chest. Slightly less nasty than his cousins, he stands nearly 11-inches tall. Bedtime Teddy is the first-ever oversized Swear Bear ! Only 900 Bedtime Teddies are available. 7/1/2008 (Price: $29.99; )



JumpStart® 3D Virtual World My First Adventure by KNOWLEDGE ADVENTURE, INC


Kids are invited to JumpStart Town! Inside awaits a colorful, musical place where there are exciting games, swimming, sliding and more, all contained in a safe 3D virtual world. While kids explore the land, JumpStart friends will provide encouragement and directions. Games incorporate the use of letter, number, shape and color skills so kids are learning while they play. 7/1/2008 (Price: $9.99; Age: 3 to 5) [Add to my Inquiry Basket][?]



Catalog Request Form
THIS BANNER IS AN AD:
---
---