Today´s kids have many choices when it comes to play cosmetics and jewelry, thanks to an ever-growing retail line of beauty products geared towards the 3 to 14-year-old market.
Round and Round She Goes
Released in winter of 2003, Deico Product's (ToyDirectory) Nail and Jewelry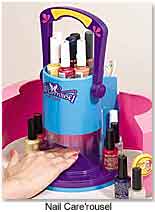 Care´rousel will "help girls creatively conquer clutter in style." Girls 14 years and under can easily organize their nail polish, clippers and more with the Nail Care´rousel ($24.95), which comes with "2Cool Fashion" nail stickers, designer files, toe separators, nail brush, an automated light and fan to quickly dry nails, and a carrying case. The Jewelry Care´rousel ($24.95) is for girls 5 and up who are just learning to care for their dress-up jewelry, or Tweens who want to organize and display their fashion jewelry. This revolving unit stores, organizes and displays jewelry through transparent Lucite double-doors, and comes with an assortment of "2Cool Fashion" jewelry and stickers to decorate the display. Shari Nakakura of Deico Products says its Make-up Care´rousel (to be released Christmas 2004) will include compartments for cotton balls, Q-tips and tissue, a built-in light and mirror and secret nooks to store makeup.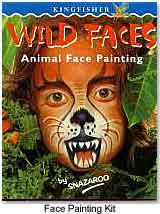 Facial Expressions
Snazaroo offers beginner, intermediate and advanced books and face painting kits (starting at $14.99) that will let children transform themselves into animals, clowns, Halloween creatures, birds and more. Its newest kit (retail $5 to $125) was launched in January 2004 and is expandable in configuration depending on experience. A beginner to intermediate face painter might want to purchase the 16 Color Wheel ($29.99), while the more advanced face painter might go for the full 18 color Walk Around Palette ($49.99), which includes four colors of glitter gel, six professional face painting brushes, one stipple sponge and two high density sponges for application.
Lip Smack´n Good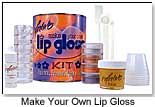 The Smack It To ´Em Lip Gloss Kit ($26) by Colorlab Cosmetics has everything tweens need to make custom shades of gloss in just minutes. The lip gloss is infused with moisturizing botanicals--so while this is great fun for girls to create and wear themselves, it is also a gloss their moms will love. The kit includes Starlight Gold, Pink Gold, Crushed Coral and Alluring Amethyst frosts that can be mixed and matched to create six lip glosses in hundreds of shades. Also included are stackable lip gloss containers and a recipe book.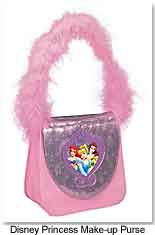 Princess for a Day
Thinkway's Disney Princess Make-up Purse ($19.99) comes complete with a hairbrush, mirror, perfume, nail polish, and lip and eye applicators. The purse features a boa trim handle, light-up images and the voices of Cinderella, Belle and Ariel.
Easy on Young Noses and Skin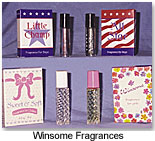 Boys and girls ages 2-14 can wear lightly scented perfume oils in roll-on bottles by Winsome Fragrance. Specially made for children, this sweet smelling line includes the Little Champ ® and All Star T line for boys and Sweet & Soft ® and Winsome ® for girls. Single fragrances retail at $8; gift sets under $15. These products are nontoxic, environmentally safe, biodegradable and do not contain alcohol or dyes.
Mirror mirror on the wall…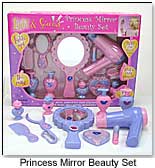 Little girls will discover they are the fairest of them all with the Princess Light and Sound Mirror Beauty Set ($5.99; ages 5 and up). What Kids Want delivers a beauty accessory package fit for every princess to be, complete with a pretend hair dryer, a mirror that lights up and sings sweet tunes, a hairbrush, comb, mock lipstick, play make up compact, nailbrush and heart-jeweled bottles.