While there can be no absolute guarantees as to which toys will be the highest selling of the coming year, there are surely trends, marketing campaigns, and associated cartoons and films that make it easier to accurately predict the money makers. According to research from NPD Senior Analyst, Michael Redmond, the following toys are likely to make it big this year:
Educational toys, such as the Leappad Plus Learning System by Leapfrog and the Powertouch Learning System from Fisher-Price, have appealed to a large number of parents. It greatly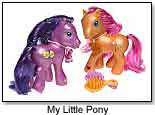 helps that children have found these games to be highly enjoyable as well. NPD statistics indicate that sales in educational games should remain strong this year.

In the dolls category, Strawberry Shortcake, My Little Pony, and Polly

Pocket all did well in 2003 and are projected to also do well this year. Fashion dolls My Scene Barbie and Bratz are also projected to remain strong sellers.
There are many highly anticipated movies and movie sequels due to be released this year, which will help boost sales of licensed toys and video games. Film releases include Harry Potter and the Prisoner of Azkaban (June); Shrek 2 (June); Spider-Man 2 (July);
A Cinderella Story (July); Yu-Gi-Oh (August); and Spongebob Squarepants (November).
Of all these movies, Redmond noted that he expects Spider-Man 2 to "fare best of all," noting that the Spider Man character has maintained a strong and loyal fan base over a large span of years.