Sports fans, rejoice! Upcoming releases encompassing almost every major spectator sport will include memorabilia and game-used edition cards in hobby sets.
The Donruss Company recently paid $264,210 for a game-used 1925 Babe Ruth jersey, for the purpose of cutting it into small pieces that will be inserted into limited-edition trading cards. The company has received a lot of criticism for this, since the Babe's jersey is arguably one of the greatest pieces of baseball history. Upper Deck is also planning the release of several insert-laden sets, which are intended to boost sales in a declining market.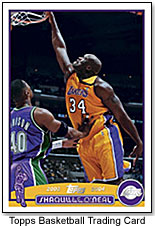 The Topps Company plans to spice up its 2004 hobby packs by including U.S. Presidential signatures, along with other game memorabilia, in an effort to rekindle the link between Americans and their national pastime. Other winter product releases include 2003 Donruss DLP Rookies and Traded, Fleer Rookies and Greats hobby packs, and Upper Deck Finite hobby packs.
The game-used phenomenon has trickled down to other sports, including golf. Upper Deck has begun producing memorabilia cards for what can be considered to be the world´s top vacation sport. Fans can already find the game-used jerseys in select Upper Deck SP Game-Used edition golf packs, which hit the shelves in late October.
The company's 2003 NFL SP Signature Edition football set includes a signature card in each pack from one of the game's top players. Donruss has also gone retro this year with the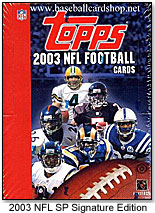 release of its 2003 season Gridiron Kings set, which contains several offshoots, including imitation tobacco-style trading cards, as well as bronze, silver and gold editions that feature painted artwork of yesterday's and today's top stars.
The makers of hockey and basketball trading cards are revealing a number of memorabilia cards in their winter lineups. Basketball releases include Hoops Hot Prospects, Upper Deck Black Diamond, and Upper Deck SPx hobby sets. Hockey fans will see the release of Be A Player Memorabilia Series and Upper Deck Black Diamond hobby packs.
Trading cards featuring the stars of auto racing are becoming almost as popular as the sport itself. Topps recently announced its first ever NASCAR trading cards, which will be available on its website (etopps.com) before they hit stores.