You wouldn't think that a company run by a brother and sister team from a home-office in American Fork, Utah would be invited to hobnob with celebrities at the 30th American Music Awards in Hollywood, but Precious Impressions' (ToyDirectory;ToyShow) unique molding kits have solidified their brand beyond the Arts and Crafts market. A-list musicians such as Christina Aguilera, Paula Abdul, Rob Thomas (MatchBox 20) and Kelly Osbourne stopped by the company's backstage booth to make and sign casts of their hands to be auctioned on ebay. All proceeds were donated to a domestic violence center for women and children.
Company co-founder and President Wendy McGee tells us how they did it…
Dental Siblings

Precious Impressions was started in 1996 by my brother Heath and I. He is a dentist and I am a dental hygienist. The idea of molding hands came from the idea of molding teeth. I had just had my first daughter, Kaylee, and wanted to see if I could make molds and statues of her hands and feet. After doing this [for friends and family], we realized that there did not seem to be an at-home kit on the market. With our dental background we were able to put together an affordable and easy-to-use kit. We started in the craft and baby industry, and soon found a place within many toy and gift stores.
PB&J's and Corporate Deals
It has been a tough road to start our own business. It's fun to think up ideas and exciting to see the business grow; however, there have been many times when we wondered if we would ever have the chance to actually sell a kit. I am a mother of three small children and Heath also has two children. The company's business office is in my home; I make peanut butter sandwiches and work corporate deals—all in an afternoon.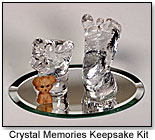 Wonder Gel
We are one of the only 3D plaster casting kits on the market. We also offer the only crystal casting kit for infants, the Crystal Memories Keepsake Kit ($16.95). Our Precious Molding Gel ($7.99 for 1lb.) is unique. There is no need for timing because it changes colors; the customer can watch it turn from bright pink to white—in 3 minutes!
The best thing about our gel is the ability to get perfect impressions on babies and squirmy toddlers. Because [our gel] has a "10-second setting window," it will become solid all the way through when it hits the setting point, leaving wiggly fingers captured in a firm yet flexible mold. Our kits are packaged for gift giving with bright, eye-catching colors and fun instructions. We have kits for everyone from babies to grandparents.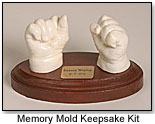 Plaster Galoshes
Our best-selling product is the Memory Mold Keepsake Kit ($15.95). It is made especially for new infants (0-6 months old), capturing a 3D statue of tiny fingers and chubby toes. It keeps customers coming back [to buy it] for gifts, and to make statues of their own babies' hands and toes.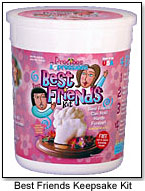 Making Impressions

ur target market is mothers and grandmothers. We are also moving into the area of kids' crafts/activities with our new Best Friends Keepsake Kit ($16.95), made especially for ages 8 and up.
We advertise mainly in craft, baby and gift magazines. We do craft TV where we demonstrate how easy it is to use our products. We also reach our customers through editorial pieces on our kits, such as celebrity castings, making pet castings and birthday party crafting. We also submit guest articles to several crafting websites.
Crafts in Demand

Our products provide families with great activities to share together, as well as create lifetime keepsakes. As other industries have seen decreased sales, I have watched as the craft industry continues to flourish. I believe products that strengthen families will always be in strong demand.
For more information, visit memoryhands.com.