"The number-one lesson I have learned is that it is 10 times easier for most retailers to sell a product which has been customized with a 'name drop' or logo than a standard product that is not." — John Haug, CustomPlush.com

Custom plush products have found a solid niche in the toy industry. Personalized designs as well as wholesale and bulk production have changed the way manufacturers do business and may shove the generic teddy bear to the back of retailers' shelves.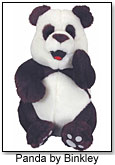 Rob Bishop, president of Binkley Custom Products (CustomPlushToys.com) (ToyDirectory), has been with the business since 1994. His company specialized in selling wholesale to retail shops, but as imports became cheaper (Binkley manufactured locally), it could no longer compete and turned to custom production of other companies' designs, moved work overseas and advertised via the Web.
"The most successful projects are when we are designing a product for a very targeted audience," Bishop commented. "A retail store may have a mascot that the children love or sell a children's book that has an adorable character — the toys developed around these popular themes always sell phenomenally."
Binkley caters to a diverse clientele, large corporations and inventors as well as small individual retailers and chains. The company keeps the customer involved at every step, providing a quote in two days, a prototype within two to four weeks and product in 12 weeks including delivery time. While custom plush competitors have been emerging, they did not pose a threat during Binkley's first seven years.
"What I thought would be a tough hill to climb in the custom plush industry went very smoothly and sales doubled every 18 months," Bishop said.
Today, Puppet Pizzazz, H&T Imaginations Unlimited and Power Pets are three retailers reaping the rewards of ordering from Binkley. Over the years, they've requested over 10,000 pieces divided among three characters, retailing from $9.99 to $19.99. They've found that high-end sometimes outsells low-end products.
"This all comes back to the idea that it is easy to make the toys, you just need to focus on selling and marketing the product," Bishop concluded.
John Haug, general manager for MT & B Corp. (CustomPlush.com), founded his company in 1993 after working in children's clothing for 10 years. Plush toys seemed a logical extension though it proved a competitive market. His break came the following year at the New York Toy Fair when school supply buyers — today an established market — homed in on his line of puppets.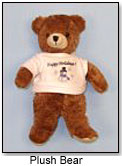 Then, later in the mid '90s, he made a large sale to an advertising company that stumbled onto his "primitive" Web site. Haug offered a wide variety of products online that were unavailable from competitors listed in the phone book.
"Retailers would typically be interested in our in-stock items, which can be customized or 'name dropped' with a printed shirt or other clothing ideas," Haug explained. "These items are more suited to a smaller retailer who can't commit to the quantities needed for new production of their own design."
In-stock items can be created in a few days, but new production takes 90 to 120 days.
"The number one lesson I have learned is that it is 10 times easier for most retailers to sell a product which has been customized with a 'name drop' or logo than a standard product that is not," Haug told TDmonthly Magazine.
His selection includes mascot items designed with a local school, organization or logo. These products are suitable for retail sale, fundraising, promotional and gift-with-purchase transactions.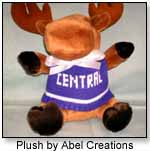 Abel Creations (ToyShow), a custom designer founded in 1977, began working for a chain of children's stores in Columbus, Ohio, hand-knitting sweaters for teddy bears with local school logos. Today, the company buys plush from distributors such as Steven Smith and Logo Bear, then makes specialized outfits for gift and floral shops such as Hallmark, Walgreens, Princeton University and the Memorial Golf Tournament.
Jean Yen, production manager for Granda Toys, a plush manufacturer founded in 1998, relies on computerized graphics to send designs from the United States to Granda's factory in China. She emphasizes the importance of using high-quality materials and keeping the retailer involved in the process of creation to prevent communication errors.
"A picture is better than a thousand words," Yen remarked. "If someone manufacturing plush toys wants to be successful, he has to have lots of different styles and lots of new styles to hit the market."
Custom manufacturing is a viable alternative for retailers to boost plush sales.