A man pauses at a crosswalk and cautiously walks his Trikke (ToyShow) across a busy Los Angeles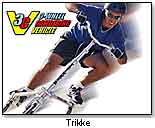 street. It's a typical safety procedure followed by cyclists or scooter pushers, but this is neither bike, nor scooter. This is a Trikke - a three-wheeled cambering vehicle that makes sweeping S-curves similar to snow skiing.
"I'd never seen anything like it," says John Simpson of the awkward looking apparatus he spotted in Santa Monica three years ago. Simpson is now president of Trikke Tech, the company marketing and selling Trikke.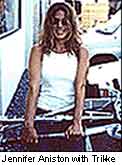 Trikke is quickly becoming popular not only for outdoor recreational transport but for its fitness qualities as well. It's no wonder Trikke has found favor with celebrities Jennifer Aniston, Brad Pitt, and David Spade. The Los Angeles Times Fitness section called riding a Trikke a "good aerobic and all-body toning workout." Turning the handlebars left and right, in coordination with shifting one's lower-body weight makes the Trikke glide forward with camber like motion.
"It's a full body workout and you have to put in sync the upper and lower body at the same time," says Trikke inventor Gildo Beleski, the Brazilian engineer who designed and perfected the riding technique as a safe and fun transport for those who aren't as skilled at riding skateboards or roller blades. There is "no pushing … no pedaling … just rock 'n' roll," as the company's slogan puts it.
Trikkes are making their way down beach boardwalks and park paths across America. One Trikke fan actually took it upon himself to make sure his Trikke did in fact make it across America - literally. Jimmy Evans recently set a world record, as he completed the first transcontinental Trikke ride. Evans left Venice Beach, California on December 12, 2003 to arrive nearly four months later on Amelia Island's main beach in Florida. The feat stirred cross-country buzz about a new three-wheeled ride-on contraption and provided Trikke with numerous write-ups in small town and big city newspapers and magazines.
Having conquered the North American continent, Trikke boldly takes on Europe this fall where it will be the newest integrated racing vehicle in Portugal's Adventure Race – a three day event comprised of ecologically friendly competitive sports. Using the Trikke will give competitors an increased challenge since individuals would not have the same advantage they might with more familiar sports like mountain biking. "This will be the first time the Trikke cambering vehicle has been used in a competitive event of this nature," says William Schlueter, vice president of marketing and content for Trikke Tech.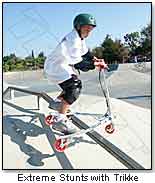 Those at Trikke Tech are confident Trikke will establish itself as a serious platform for competition and they see a future in Extreme Sports, a venue that opened a whole new market for skateboarding, recognizing the adrenaline pumping activity as a sport, rather than a fad of dissident kids. Trikke Tech will participate with skateboarding legend Tony Hawk at the "Stand Up for Skateparks" event this fall, benefiting the Tony Hawk Foundation and its mission to provide public skateparks for kids in low-income communities. The event will feature skate demos and head-line comedian and Trikke fan, David Spade.
Trikke Tech took efforts to ensure their product would not fade like most children's fads. The company initially focused on the adult market, directing their attention toward the expansive demographic of ages 20 to 60 years. The strategy seems to have worked. With a global sales increase of 400% in the last year, Trikke popularity has spilled over into the kids' and teens' market. Trikke Tech recently signed a licensing agreement with Razor USA for its Trikke "5."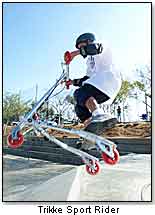 There are three sizes: "5," "6," and "8," which indicate the wheel size in inches. Trikke "5" is for younger kids and sizes "6" and "8" are made for teens and adults and can be used for stunts as well as recreational cruising.
The Trikke riding trend seems to be catching on but the biggest challenge has been educating people about how to ride a Trikke. The riding technique seems unnatural on the first attempt and one-on-one instruction is needed to teach the maneuvering method. Lee Everett, vice president of public relations at Trikke Tech says part of the difficulty has been training retail sales persons to sell Trikke and teach Trikke riding. In order to remedy this problem, Trikke Tech set up a Demo-Riders campaign. Riders fondly referred to as "Trikke Enthusiasts" have sent e-mails or videos to Trikke Tech highlighting their passion for Trikke riding. Trikke Tech then sends these Demo-Riders to various retailers to provide in-store demonstrations. The company also encourages retailers to play a DVD of Trikke in action near the store's Trikke display, so potential riders can see Trikke's functional versatility.
Trikke Tech is certain that once schooled, riders will become fervent Trikke Enthusiasts just like a few celebrity riders have become, often sending their assistants to the Trikke warehouse to fetch two or three Trikkes at a time. But one of the best advertisements for the company continues to be the visual of a person riding a Trikke. As the three-wheeled apparatus peaks the curiosity of beach combers, joggers, and dog walkers, prompting an awestruck "What is that?" the carefree Trikke rider sashays down Santa Monica's paved beach way, feeling the gentle breeze of freedom.