"If we looked at everything we carried and said 'who's going to get upset by it,' we might not have as unique a mix as we have and be as successful as we have." — Joe Falzarano, Big Fun Toys
Novelty retailers in particular need to know which controversial products mean high sales and which could draw protest signs. A novelty storeowner must carefully place stock in order to maintain credibility.
Joe Falzarano, owner of Big Fun Toys, classifies the novelty niche as an "equal opportunit

y offender." Other than sexually explicit items, he considers all products fair game.
Falzarano told TDmonthly Magazine that most customers on the East Coast "get it." "It isn't really that big of an issue," he said. "It might be if we were located in a more conservative part of the country."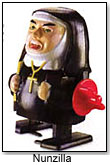 Still, an elderly woman once took offense to a pin-the-tail-on-the-donkey game that featured Michelangelo's David with fig leaves, Falzarano said. Another woman objected to strollers only coming in "pink" for girls and "blue" for boys, without options.
"If we looked at everything we carried and said 'who's going to get upset by it,' we might not have as unique a mix as we have and be as successful as we have," Falzarano concluded.
On the other hand, Casey Fitts, manager of U.S. Novelty & Party Supply in Sandy, Utah, exercises a careful approach. "If it is a trend that is going to damage your overall business image, is it really worth the quick windfall of sales? I think that the most important question might be how it will affect your core customer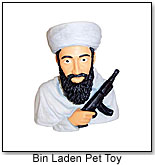 base."
One Halloween, a customer complained about a fake woman's chest, so Fitts covered the front. After censoring the item, another took offense the following year. He apologized but made no changes to the display, realizing it's impossible to please everyone.
To Valerie Pontbriand, owner of The Four Eyes Joke Shop in Southbridge, Mass., being "politically correct" means exercising common sense. She carries a variety of merchandise in her store, some of which may not be appropriate for children, but she knows how to responsibly display stock and never sells products associated with hate. Greeting cards with sophisticated humor are sold in a special room for adults.
"We do not sell sex, and we do not target unattended and impressionable teens," Pontbriand clarified. "We don't carry products that bash our president, political affiliations or situations. If the product can draw a line between two people, we don't want it."
Still, she has received complaints. One angry customer objected to a Fake Rat in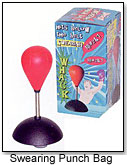 a Trap claiming it was unfair to the rodent. Rather than stop selling the product, Pontbriand simply moved the item to a back room until the unhappy individual left.
At WickedCoolStuff.com, an Internet store based in North Hollywood, owner Brett Dewey carries a mix of novelties without overstepping a PG-13 rating. If a customer is offended, he accepts a return but never hides or removes the product. He displays items in proper places and said he wouldn't put a beer T-shirt on a children's page.
Dewey asserted that for every customer who might be offended, there are several who find the product hysterical. When David and Goliath's "Boys Are Stupid Throw Rocks at Them" line drew controversy, he received e-mails from non-customers demanding he remove the merchandise that was considered to be offensive to boys.
"I pointed out that there are plenty of other items that are offensive to girls. Censor your site, not your products," he recommended.