The original EarthBall by Orbis, a 16-inch diameter, inflatable "reality" globe, was the first world replica to depict the astronaut's view of our planet: It had cloud forms but no borders or political information. Since the EarthBall's debut in 1990, its inventor and company founder, Eric Morris, has gone on to design globes as large as the 16-foot 3-D cartographic models that were among the most-photographed exhibits of the 2002 Winter Olympic Games in Salt Lake City. In this issue of TDmonthly Magazine, Morris' co-worker, Kyle Hall, tells how Morris lets the people of the world take the whole world in their hands.
In 1984, the earth moved for Eric Morris.
This northwest boat builder was so struck by early photographs of Earth taken by NASA astronauts during the Apollo moon voyages that he decided to start his own company making spherical, photo-realistic replicas of the globe. No matter that he had no prior manufacturing or cartography experience. He knew his fate lied in EarthBalls.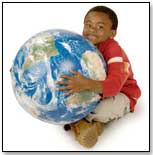 "If others could only see Earth as the Astronauts observe it, perhaps they would be similarly inspired," Morris had thought.
Today, Morris' Orbis Company (ToyDirectory) creates not only the original consumer-friendly 16-inch diameter inflatable "reality" globes — sold to museum, toy, science/astronomy and gift stores — but also massive World Globes, custom made for festivals, concerts, museums, libraries, corporate offices, trade shows and special events. Neither version shows political borders but instead depicts Earth as it would be seen from deep space.
When starting his company, Morris spoke with printers, manufacturers, material suppliers and artists. He ordered prints of photos from the Johnson Space Center. He visited the National Oceanic and Atmospheric Administration and asked for weather satellite imagery. Eventually, he commissioned an artist to paint a globe of the Earth based on the astronaut's photos and publicly available weather satellite data. This globe was then cut into sections and used as the template for silk screens, which in turn are used to make more product.
He marketed the EarthBall by hitting the streets, walking into museums and stores to tell retailers about EarthBall firsthand. With his own funds, he went to trade shows and sent out direct mailings. Slowly, word got out.
The lack of borders and political information made it hard to move the globes at first, but Morris soon solved this problem by developing a 16-page handbook. It offered information on the Earth and suggestions for using the EarthBall in learning and play. Sales grew.
Over the next five years, hundreds of thousands of these little worlds traveled everywhere … into homes, classrooms, offices, churches and theaters around the world.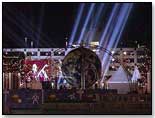 Since then, the EarthBall has been updated several times. It has been used by astronauts aboard the Space Shuttle Atlantis in March of 1992 to describe atmospheric effects and weather patterns on video. And, in later years, it has been increased in size to between 3 and 20 feet in diameter to become Orbis World Globes.

Morris eventually used NASA's newest generation of satellite imagery to create the most authentic photographic representation of planet Earth ever made. It debuted at the 2002 Winter Olympics in Salt Lake City in the form of two giant 16-inch diameter rotating World Globes. These globes were reported to be the most photographed exhibits at the 2002 Games.

Today, because design work is handled in-house, Orbis can also offer more options than most globe manufacturers. Features like NightGlow cities and internal illumination are possible. Next on the agenda is the 1 meter EarthBall to bridge the market gap between the 16 inch EarthBalls and the giant World Globes and a small cloth EarthBall, which can withstand the hard play of young children.


The following is more information on an Orbis product.

Inspired by the original photographs of the whole Earth taken by NASA astronauts, Orbis World Globes has created the first and only inflatable globe to depict Planet Earth as it appears from outer space. Featuring the newest generation of NASA satellite imagery, the EarthBall is the most visually authentic globe available anywhere and the most fun a child can have holding the whole world in their hands! The EarthBall is the only globe to display the world's city lights with glow-in-the-dark printing, providing an exciting dimension of realism. The 16 page Global Handbook, included with every EarthBall, is packed with resources, games, activities and fun information for global explorers of all ages.
— Lorena Lopez, manager at Puzzle Zoo in Santa Monica, Calif., said that the Earth Ball is a favorite among astronomically-inclined consumers. "The sales are good," she said. "It's probably our best selling glow-in-the-dark product."
— Using satellite imagery as a guide, the world's major cities glow in the dark, recreating the view from space.
— Please visit their Web site (www.earthball.com) for a soon-to-be-released 1-meter EarthBall.

.

AD