"Come picnic with me, Mommy! Here's a plate for you!" — Matthew Scholer, Age 2 ½

Preschoolers love to picnic, according the results of a

TD

monthly Magazine

Preschooler Roundtable. The kids hungered for The Picnic Game by eeBoo Corp. (ToyShow), couldn't wait to get their hands on the soft Huggy Buggy Monster Truck by Hooray!, and were a little frustrated by lack of skill in their hands while trying to make their own Crunch Art by HandsOn Toys Inc. But that didn't stop them from being proud of the result.

Evaluators were: Jennifer Arp and Ryan (3 years); Colleen Scholer and Matthew (2); Lana Cassidy, Ben (4) and Will (2); Marie Rossiter, Erin (3) and Cailyn (8); and St. Joseph preschool teachers and students (3 to 5).

The Picnic Game by EEBOO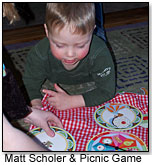 "We're going on a picnic!" shouted one 5-year-old preschooler at St. Joseph's Center.
By far, The Picnic Game was the big winner of this month's roundtable review. From the ease of play to the sturdy game construction, both kids and parents thought that The Picnic Game was a hit.
"Matthew loved it!" Colleen Scholer told TDmonthly Magazine. "He absolutely loved the picnic blanket included and this is a game that we've played over and over again since we got it."
Scholer also noted that because of the game's simple set up, extensions of the game are possible. "Matthew also plays 'make believe' with the plates, blanket and food pieces. It's a game that will grow with him."
In the preschool classroom, The Picnic Game allowed teachers to introduce the food groups and reinforce good eating habits, too. Bottom line? The families and classrooms gave The Picnic Game a big thumbs-up! "This is one we'll be playing at family game night!" confirmed Cassidy.
Huggy Buggy Monster Truck
by
HOORAY
The bright colors and soft exterior of this truck grabb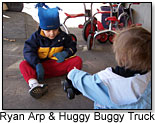 ed the attention of the moms and teachers. "I loved the bright blue … and I liked the fact that it was soft when it banged or crashed into things," shared Lana Cassidy.
Students in each of the preschool rooms loved this toy and had a hard time waiting for their turn to play with it. "They all play with it; sometimes one is not enough in the classroom," said Miss Shari, teacher of preschoolers ages 4 and 5 at St. Joseph's Center.
The younger preschoolers played with the Huggy Buggy Monster Truck longer than their older peers — mostly due to the fact that its simple design didn't hold the older kids' attention as long.
Crunch Art
by
HANDS ON TOYS INC.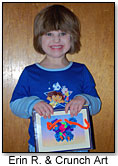 This craft kit got mixed reviews from our roundtable panel. Most reviewers liked the concept but were a bit uncertain about the age appropriateness. "I wouldn't recommend it for preschoolers," declared Miss Sara, teacher of 4- and 5-year-old preschoolers at St. Joseph's.

Many of the children who played with this were overwhelmed with the tiny pieces of fabric that had to be punched into a Styrofoam frame with a plastic stick. "It is a bit too easy to pinch fingers," wrote Jennifer Arp on her evaluation. "Ryan got very frustrated with the project — it was too advanced for him."

When I gave the Crunch Art projects to my daughters, Cailyn and Erin, they loved it and spent quite a bit of time on the projects. The older sister did have to help the younger one, but they worked well together and the project was relatively neat (no glue or cutting necessary!). The final products are in ready-made frames and all of the children in the panel enjoyed putting their art on display.

What follows are more details on products reviewed in this section as well as additional information on other products made by the same manufacturers.

Now little truck lovers can safely crash into cars and walls. The Huggy Buggy Monster Truck is comfortable for little hands and easy on hardwood floors. It has four giant wheels and is new for 2006. THIS COMPANY IS NO LONGER IN BUSINESS 12-16-06.

.

AD

Players collect everything needed for a great picnic and well-balanced meal. Children spin for each item but must watch out for ants in the process. When ants appear, they take items away. A small picnic blanket is included to get kids in the picnic mood. Launch date: 2006.

.

AD

This unique craft kit involves no glue, no water, no paint and no cutting. All that young artists need are the crunch tool, the colorful pieces of fabric included in the box and the specially designed foam (also included) to create vibrant projects that can be proudly displayed once completed.

.

AD

These soft tools provide a safe alternative for the youngest of builders. The set includes a hammer, screwdriver, pliers and wrench packaged in a caddy to keep them all together. THIS COMPANY IS NO LONGER IN BUSINESS 12-16-06.

.

AD

Now little ones can go shopping with Storefront Bingo. Children select a store to own and compete to be the first one to fill up the store window. It comes with 6 laminated cards featuring different store windows. A sturdy drawstring cotton bag holds 36 playing pieces to match. THIS PRODUCT HAS BEEN DISCONTINUED (4.27.10).

.

AD

This foam construction toy consists of wired tuber-shaped oblong pieces (toobers) and thin pieces of variously shaped foam with holes (zots). Boys and girls can make hats, monsters, dragons and more. Each toober is between 1 and 2 feet long.
— This toy is a favorite at Finnegan's Toys in Portland, Ore., says manager Jordan Walden.
— Toobers & Zots has won more than 30 major toy awards and was one of only 12 toys to be included in Dr. Toys' book, "Toys for a Lifetime" in 2000.
— Compatible kits include Toobers & Zots Zany and Toobers & Zots Zowy.

.

AD