"We are very clear about the fact that all of the business acumen, demographic research and marketing savvy in the world won't save us if it isn't fun." — Eric Ryan, Noodle Head

Three years ago, brothers Chris and Eric Ryan became frustrated by unplayful toys. For the sake of their own kids, and kids everywhere, they decided to do something about it.

Unfazed by the challenge of starting their own toy company with no prior toy experience, and amid a competitive market where big box retailers strive to drive product price and quality down, they formed Noodle Head (ToyShow). Today, the small toy company expands beyond travel accessories and activity kits into celebrity-themed plush products and pretend play items.

"It has been a grassroots effort to get people to understand that we're different," Eric Ryan told TDmonthly Magazine. "Each of our kits is based on a high-quality item that has value to kids after the decorating activity is done, and it has taken time to convey that to stores and customers."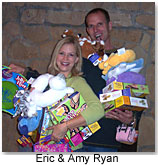 The Ryans' prior work experience has taught them determination and provided them with expertise removed from toy manufacturing yet essential to its success. Chris was employed in sales and operations in the travel industry, and Eric worked in Hong Kong where he still runs Ryan Security Technologies.
"The ability to work and communicate in China gave us a comfort level working with suppliers there and allowed us to produce products efficiently right from the start," Eric Ryan explained.
In addition, Eric's wife and Noodle Head co-owner, Amy Ryan, brought her background in fine and graphic arts to help create the "look" of the company's packaging and products. Though she still runs a gifting business on the side, she still designs most of Noodle Head's plush items.
Drawing on the owners' varied skills, Noodle Head is introducing a number of new products in 2006.
This past March, the Pawparazzi line — plush pets that come with couture bags and accessories — debuted. Each pet comes with a magazine that promotes the personality of the animal and its celebrity status. Unlike Pet Saks from Douglasand Pet Carriers from Aurora World, each set will be retired after a few months, and Noodle Head will release new designs along with a new magazine.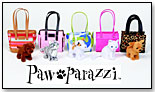 The company's biggest growth area is in Travel Buddies, featuring animal neck pillows and bag tags. The new Adventure Logs, kit journals where children record experiences, will be released in May. Also this May, the company will launch its first two products in a new pretend play line called My Play — My Play Café and My Play Classroom.

"We're trying not to confine kids to a play pattern but give them fun props," Eric Ryan remarked. "We are very clear about the fact that all of the business acumen, demographic research and marketing savvy in the world won't save us if it isn't fun."

What follows is information on the newest and most popular Noodle Head products.

This colorful travel kit comes in a vinyl case and is available in two styles, both equipped with a shoulder strap. It includes a note pad, tracing paper, colored pencils, sharpener, magnifying glass and tape measure, along with a string and clips to display souvenirs and specimens. Games and activities complete the set, which will be ready in May 2006.

.

AD

These personalized luggage tags come in five plush styles — cat, dog, leopard, panda and pig. The identification tag is located on the animal's belly. Velcro strap fasteners hold the pet in place.

.

AD

Noodle Head Inc., manufacturer of toys and activity kits for children, has introduced the first of several new travel accessories for children. Travel Buddies is a series of plush neck pillows especially made to accommodate sleepy little heads in cars, on planes or anywhere else. Irresistibly soft and cuddly, these pillows are perfect for naptime on the go. There are six adorable animals to choose from: bear, frog, giraffe, dog, cat or lion.

.

AD

Fun to make and fun to wear, a colorful silk halter is the perfect fashion accessory! Children will engage in a classic art form with this kit that allows children to paint a masterpiece they can wear! Brightly colored silk halter comes with pre-printed designs for children to paint in three different styles: flower butterfly or dragonfly. Kit includes 1 silk halter, silk paint, embroidery hoop, paintbrush, mixing tray and information booklet.

.

AD