"Our culture loves their pets — they want to show that love similarly to parents who indulge their children." — Paul Roche, Aurora World

Furry companions have inspired the hottest new merchandise in the toy industry. Luxury for pampered pets along with games and gifts with an animal theme may be a retailer's best bet in stocking shelves this year.

Plush product manufacturer Aurora World Inc. (ToyDirectory) has developed a line of cat and dog toys, beds and carriers. "Our culture loves their pets — they want to show that love similarly to parents who indulge their children," Paul Roche, senior vice president of sales, told TDmonthly Magazine.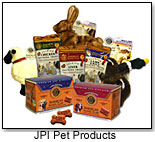 JAKKS Pacific acquired Pet Pal (now JPI Pets) in June 2005. The company will sell beds, treats, clothing and accessories for small animals through pet stores as well as mass retailers. Its newest innovation is the Rip N Fetch dog toy, utilizing the launching technology in JAKKS' Fly Wheels action line.
According to Genna Rosenberg, vice president of corporate communications at JAKKS, the pet products market has seen a 5 percent compounded annual growth. "The pet industry is growing quickly — at a faster rate than the toy industry .... Kids are getting older younger, and certainly the popularity of electronics, video games, cell phones, iPods and more, all contribute to declining toy sales."
Rosenberg said that the company's goal is to offer compelling products to engage kids with their pets. Their lines will feature licenses with Marvel, Bratz, Disney and Snoop Dogg as well as the American Kennel Club and the Cat Fanciers Association.
Dogmatic Products, established in 2001, released the Snackshotz Treat Launcher, a device that propels edible disks for dogs. President Ren Moulton said that eight to nine line extensions are planned for 2006 and 2007, including versions appropriate for cats.
"We've been contacted by a lot of toy manufacturers, and we're starting to formalize some strategic alliances," Moulton told TDmonthly.

Moulton said that 50 percent of households with children have pets. Toy buyers have expressed an interest in crossover items. He believes many consumers of pet products become long-term customers.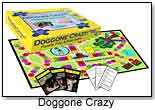 "We're really focusing on highly interactive toys that will enhance the human-animal bond," Moulton remarked.

Doggone Crazy, a Canadian company, has launched a new dog bite prevention board game by the same name developed by Joan Orr and Teresa Lewin. They've combined education with fun. "We focus on reading dog body language rather than telling kids 'don't do this and don't do that,'" Orr explained.

Ninety-five percent of sales are in the United States. The game sells in high-end pet boutiques as well as through distributors via the Web and catalogs. The company's biggest outlet is the youth education division of the Humane Society.

"If pet and toy retailers began to market specific products with appeal to both the pet and toy sector, and the consumer knew that they may be likely to find both types of products in one place … this may open up a new way of shopping for people," Orr said.

Ty will release Bow Wow Beanies in 22 designs, canine toys in popular Beanie Babies styles with squeakers and crinkles along with a new line shaped like bones. They come in two sizes for small and large dogs.

"People love their pets and, as a pet lover myself, I couldn't be more excited about Ty's new foray into the pet market," said Tania Lundeen, senior vice president of sales for Ty. "We've heard some of our product has already become quite popular as pet toys, so we think this is a natural fit."

The pet and gift industries have spawned a new category of retailers such as ColorfulCritters.com, a store that opened in 2003 after tremendous success selling animal-related items on eBay. Most customers are adult women who purchase for themselves or others. Owner Jeanne Pavlicek said that cats are more popular than dogs.

When Chris Gober started The Big Zoo in August 2000, it was an information site for children. He sold merchandise through affiliate agreements. Today, he carries almost 3,000 products from toys to books to habitats and sells directly to customers.

"People love animals, and the markets are finding very creative ways of incorporating them," Gober said.

Expansion is on the horizon.

What follows is more information on these unique crossover products.

Doggone Crazy! is a fast-paced interactive game with a doggy theme. Kids can be doggy detectives, trying to figure out what the dogs are saying with their body language in the more than 100 photo cards. Created by dog experts, this unique game is loads of fun for kids and families.

.

AD

Aurora is now branching out into the world of pet supplies and accessories with its new Fancy Pals for Pets line. This little coat for pets 6" to 8.5" long is secured by a Velcro strap that fits snugly around doggie's middle. It comes in three machine washable soft plush patterns: cheetah print, Dalmation print and light pink with red and purple hearts.

.

AD

These heart and bone shaped pet beds are appropriate for cats and small and medium breed dogs from 8 to 15 pounds. Available in colorful animal prints with plush lining, every bed features an appliquéd Fancy Pals logo. They are machine washable.

.

AD

Appropriate for cats and small and medium breed dogs, these colorful print pet carriers will hold animals from 8 to 15 pounds. Features include mesh vent panels, front and top entries, and a back pocket for accessories. They come equipped with a shoulder strap and a removable machine washable plush lining.

.

AD

This innovative dog toy features a launcher with a claw, a ripcord and tennis ball. When the cord is pulled the ball flies. The claw-like end will retrieve it without the owner needing to touch the wet ball.

.

AD

Ty will also make its mark in the pet industry with the introduction of Bow Wow Beanies. Bow Wow Beanies are designed with squeakers and crinkle sounds that the family pooch is sure to love. Bow Wow Beanies are created in two sizes (for larger and smaller dogs) and designed both as some of customers' favorite Beanie Babies styles and as dog bones in fabulous fabrics and colors. There are 22 designs in all. They will be ready for retail on April 1.

.

AD