---
Aquarium Toys Bring the Ocean Indoors
Underwater Adventures Start at Home
"Kids today are enchanted with unusual sea creatures that exist in the deep recesses of the ocean, and also dream of being ocean explorers." — Matt Johnson, Explore Toys

For children, playtime is often an escape from the everyday world, an opportunity to voyage to a faraway place. Of all the imaginary places children visit, the undersea world is have a perennial favorite.

Raymond Derouin, owner of Ouray Toys Inc. in Ouray, Colo., said, "In spite of our far removal from the ocean, we sell a substantial amount of ocean-themed toys." Best-selling lines include sea-life figures from Schleich and Safari Ltd (ToyShow). "In the past, dinosaurs were by far the most popular area. Now sharks, manatees, whales and all sea life are selling exceptionally well," he said.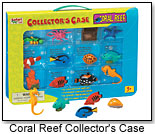 Safari added several replicas of ocean animals this year, including the Sea Turtle, Sea Otter and Clown Anemomefish, as well as several ocean animal sets such as the Coral Reef Collector's Case, which includes a dozen replicas. Ramona Pariente, president and owner of Safari, said, "The dolphins, killer whales have always been very popular. Perhaps because they see them in the aquariums and shows."
This year Happy Dog Toys (ToyDirectory) is growing its SpongeBob SquarePants aquarium line, which is its top seller. Deadria Smith, product manager, pointed out that, although the novelty aquarium trend began several years ago, "our Betta Tank sales are as popular as ever, which leads us to believe that more people are maintaining them outside of the home, such as at the office or school."
Those not satisfied with choosing a fish in a pet store can grow their own underwater pets with the help of several available kits. Marianne Cursetjee, owner of DiscoverThis.com, said one of her store's most popular ocean-themed toys is The Amazing Live Sea-Monkeys. New this year is the company's Sunken Treasure, a kit that includes a glow-in-the-dark sunken galleon for the "sea-monkeys" to swim around. Uncle Milton's Aquasaurs Prehistoric Pet Habitat and Triop kits from Triops Inc. (ToyDirectory) also sell well, she said.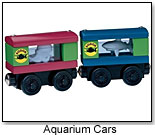 The ocean has even found its way to the railroad station with two Thomas and Friends products by Learning Curve released last year. Aquarium Cars are two liquid filled train cars — one carries an octopus and the other a shark. The Aquarium Set is an 83-piece track set that in addition to the usual track, includes Aquarium Cars, an aquarium and afish food factory.

Kristit Largoza, operations manager for Thomas' Trackside Station, explains that her store carries every piece in the Thomas and Friends line. Despite the overwhelming choices she confirmed that the Aquarium Cars "are selling wonderfully. Maybe because they are the first water toy. When [kids] look at the cars you just know they're thinking, 'Wow, if I got that one maybe I could open it up and get that water out …'"

Water as a substance has long mystified children. The deep ocean also holds secrets. "Kids today are enchanted with unusual sea creatures that exist in the deep recesses of the ocean, and also dream of being ocean explorers," explained Matt Johnson, owner of Explore Toys.

In answer to their customers' requests, Douglas Cuddle Toys (ToyShow) began releasing its first marine animals in April 2006. "They provide an opportunity to explore different materials, many of which sparkle and appear wet," Radich told TDmonthly Magazine . "The fish, sea horses and mermaids are great colors and fanciful subjects ... fun to design."

What follows is more information on aquarium-related products.









.

AD
---






This new baby-activated kick toy is one of five new products in Tiny Love's new line of car toys designed for safety and baby's amusement. Designed for rear-facing travel only, the Aqua Seal Kicker creates an aquarium effect for baby's delight. The toy features two operating modes: Play, a battery-operated cause-and-effect kick pad with four different sounds, light, bubbles and swimming sea animals, and Auto for continuous music followed by lights and bubbling. It´s perfect for ages 3 to 12 months.

.

AD
---






One of many sea creatures in a new nautical Douglas Line! We have tropical fish, an electric eel, octopus, and many others! All are made of mixed fabrics ...many have special sparkles that glisten and even look wet!

.

AD
---






Each Adventure Pak has a theme and comes with clip-on toys for added play value during play time or when it comes time for show and tell. There are five Adventure Paks in all: Shark Pak, Mermaid Pak, Jungle Fever Pak, Daisy Dog Pak, Western Pak and Dino Pak. The will all be available as of September 2006. Adventure Paks provide plenty of storage space for the preschool child to carry along all his/her needs and they also come with soft toys for creative play as well.

.

AD
---






Dreamy Octopus, Bozo Clown Fish, Jolt Eel and Flash Stingray are just a few of the plush sea life creatures being offered. There is an ocean full of plush that has been created from the latest fabric designs. Glitter in the plush gives them a wet look.

.

AD
---






This is a six-piece wooden puzzle that creates a fishbowl filled with three brightly colored fish. The puzzle can be constructed flat or upright.

.

AD
---






This 12.5" by 7" by 13.5" aquarium also contains a viewing scope that allows kids to peer into the aquarium for a close-up view of the fish and the world they live in. Fish are not included.

.

AD
---






This 10.8" by 6" by 7.8" holds three quarters of a gallon of water. Its small size makes it perfect for a beta fish or goldfish for the beginning aquarium owner. The aquarium is decorated by 3-D planets and rockets in an outer space scene for the fish to swim in. Fish are not included.

.

AD
---






Just add water and the aquasaur eggs will hatch and thrive in an environment filled with prehistoric touches, such as underwater volcanoes.

.

AD
---






This kit includes dormant sea-monkey eggs that can be grown in a tank that includes a glow-in-the-dark sunken galleon for sea monkeys to swim around (they are attracted to light). This new hybrid of sea monkey changes colors from yellow to orange to red. The kit includes water purifier, food, illustrated handbook and more.

.

AD
---






My Li'l Aquarium is a 4.5" x 4.5" snow globe filled with several tropical fish that actually swim in their underwater world. You can move the magnetic fish with the help of an included "magic stick." Two AA batteries are included.

.

AD
---






This fishbowl has water-filled walls where friendly sea creatures "swim". Music, bubbles, and lights will entertain Baby. Tiny sea creatures live in three water-filled balls that baby can take in and out of the fishbowl. The fishbowl needs 3 "AA" batteries (not included).

.

AD
---






This 2.8 gallon tank with a bright orange lid includes everything needed to start an aquarium: bubble wall aeration and filter system, pump, tubing, gravel. It even includes a SpongeBob figure and background taken from the cartoon to amuse the fish. Fish are not included.

.

AD
---






This .5 gallon tank for a beta fish is shaped like SpongeBob's pineapple house with a removable lid for easy feeding and cleaning. Gravel is included; fish are not.

.

AD
---






This new baby-activated kick toy is one of five new products in Tiny Love's new line of car toys designed for safety and baby's amusement. Designed for rear-facing travel only, the Aqua Seal Kicker creates an aquarium effect for baby's delight. The toy features two operating modes: Play, a battery-operated cause-and-effect kick pad with four different sounds, light, bubbles and swimming sea animals, and Auto for continuous music followed by lights and bubbling. It´s perfect for ages 3 to 12 months.

.

AD
---






This 83-piece track set is enclosed in a wooden box with a removable lid/seat. The track layout is 42" by 28" and includes aquarium cars and two destinations: an aquarium with swimming fish and the fish food factory. "Thomas the Tank Engine is our biggest seller ... anything by Thomas Tank," enthused Dan Mewborn, owner of Past Time Toys in Surf City, N.C.

.

AD
---






.

AD
---
THIS BANNER IS AN AD:
---
---