"Sock puppets don't cut it anymore." — Heather Maclean, Little Laureate Inc.
Over the past few years, the children's media market has been growing at an astounding pace. The new companies entering the arena have expanded well beyond teaching kids their ABCs and 123s.
TDmonthly Magazine asked manufacturers why parents and educators prefer to use computer monitors and television sets to present new ideas and teach skills to the next generation. And where is the market headed?
"Video is better at teaching skills/information because it can incorporate so many tools — live images, computer-generated images, animation, dialog,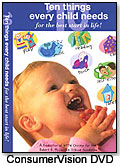 sound and music," said David Kuperschmid, president of ConsumerVision Inc. (ToyDirectory) "Young kids learn by watching others. When they see Glenn the Bear in our 'No More Diapers' DVD they get excited about wearing big kid underwear. They want to wear it too."
And Wynne Williams, pediatric speech pathologist and creator of The Baby Society (ToyShow), added, "We now know that babies learn vocabulary and language concepts when they are actively engaged and interested. ... A great DVD can provide that in a way no flash card possibly could!"

Still, in many cases, manufacturers pointed out, DVDs and software should not be the only tool used in educating. However, if available, they can be used to reinforce certain ideas. In some cases, they may be essential.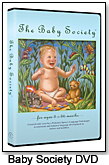 "With schools drastically cutting back on all but the core reading/writing/arithmetic, parents know that if their children have special interests beyond ABCs and numbers, DVDs are a fantastic way to educate and engage them," pointed out Shoshana Zisk, CEO of KiddieVillage.
Greg Scheinman, CEO of Team Baby Entertainment (ToyDirectory), noted that videos and DVDs are becoming de rigueur for baby. As far as parents are concerned, "there's a stigma if you're not starting kids on this product," he said. "The thought is you're not giving them enough of a jump on their education." He added that Team Baby DVDs "are a great way to encourage activity, movement and interests beyond the television."
Kathleen Waidhofer, creative director of Baby Hands Productions, added, "Parents are looking for resources to provide their babies with an educational and emotional head start as well as ways in which to help make child rearing easier and less frustrating."

Enticing and stimulating material is a key element of this education. New media for babies and young children is focusing more and more on interactivity. As Heather Maclean, president of Little Laureate Inc.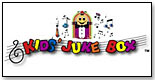 pointed out, "Sock puppets don't cut it anymore."

Daryl Ragsdale of Kids Juke Box Inc. (ToyShow) noted that personalized products, such as his CD Story Books, are a great way to engage children in the learning process. "Everything we have helps build self-esteem, name recognition and is just all around fun," he said.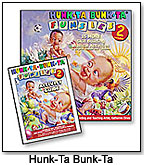 Furthermore, rather than wait for television shows to air at a certain time, video and computer software puts parents in charge of the learning material. Maclean noted that "consumers can purchase titles about subject matter they are interested in and play them at will."

Teresa Hoffman, co-president of Baby Dance Productions (ToyShow), added, "In this busy world of overextended schedules, DVDs like Baby Dance! give parents an opportunity to interact and educate their child on their own time."

The pool of available DVDs keeps growing. Katherine Dines, of Hunk-Ta-Bunk-Ta (ToyDirectory), said she still believes strongly in the CD market for education. "[CDs] encourage listening and communication — arts that are fast disappearing in our hectic world." But even she will soon be releasing a DVD called Hunk-Ta-Bunk-Ta HOLIDAYS: Traditional Celebrations from Around the World in early 2007.

As the market becomes more specialized, it not only allows parents to educate on their own time but in their own way and on multiple subjects. Liz Milwe, president and director of choreography at Jumping Fish Productions, said that even the nation's problem with obesity and sedentary youths can be helped through the DVD format. She explained, "there's many great ways to exercise, but kids who don't have a sport or who love to dance find [exercise DVDs] a flexible way to get moving."

Encouraging such beneficial activities at an early age can help to build solid habits that help a person throughout life. Many manufacturers feel that it is most effective to teach some skills — such as learning a second language — from an early age.

"Children learn cognitive skills at an amazing rate in the first five years of life," Jeanne Keene M.Ed. of Fiesta Friends LLC (ToyShow) told TDmonthly. "For too many years, our country has fallen behind by not putting more of an importance on second language introduction at an early age."

MaryBeth Sigler-Garcia, founder and CEO of Cantarima Multimedia, feels that Spanish language education will continue to play an important role in children's media products for many years. "The fast growth of the Hispanic population will continue to fuel DVD content growth in this area," she said.

And that's not all: Some manufacturers say computer software is the next big thing for little ones.

"The computer has become as common in the household as a toaster," reasoned Tim Leverett, president and founder of software provider Leveractive. "Classrooms have computers for students beginning as young as preschool, and some school districts and schools are actually providing laptops to their students now."


And the future? Here's a look at where babies are headed when they get a little older:

"I believe the use of technology and the Internet as a way to communicate and share information will continue to move forward," predicted Mona Westhaver, president of Inspiration Software Inc. "I believe there is an expanding market in tools that enable better interaction and help make sense of information and data."

And the sooner the movers and shakers of tomorrow become comfortable with the means to access and interpret this data, the better off the whole world may be. At least, that's what the manufacturers of children's media products are depending upon.

The following is more information on children's media products.

.

AD

This 24-minute video introduces children to the language and rituals of bedtime through traditional children's lullabies in Spanish and English. This soothing video uses friendly puppets, colorful toys and playmates to gently transition children from active play to rest time. Simple words and phrases are introduced in both Spanish and English, and language learning is reinforced with song. With music sung by children and developed for little ears, this video will appeal to children of all ages. A VHS version is also available for $12.99.

.

AD

This 35-minute CD includes 12 imaginative songs that the whole family will enjoy. The lyrics carry engaging messages about the world in which we live. The lively acoustic pop production motivates little minds and bodies to have fun and to become the best they can be.

.

AD

Hola! This unique video series centers on the home and daily routines of babies and children through age 9. This video provides translation and is designed for those whose first language is English but are looking for a fun and easy way to give their children a basic first introduction to Spanish that relates to their everyday lives. Kids will meet Fuerte the adorable Chihuahua and his amigo Fuego, a chili pepper. It also stars the Fiesta Friends Kids, bright graphics, fun musical scenes and unique toys. This DVD centers on the bedtime routine, offers popular nursery rhymes in Spanish, numbers from 1 to 20, items in the bedroom, toys and bedtime phrases as well as simple commands. It has won numerous awards.

.

AD

"Fun with Dance" is the first title released by Kiddie Village, a new children´s educational video company. Fun with Dance takes kids on a journey through the wonderful world of dance. It promotes learning and creativity by introducing toddlers to the joys of movement and dancing through the actions of puppets, animals, dancers and other children. The video builds body brain relationship and motor skills and introduces children to various styles of Dance. Fun With Dance has just won a Gold Award from NAPPA, the National Association of Parenting Publications.

.

AD

This fitness DVD for moms and tots gives the parent a challenging workout that tones and strengthens. Kids can go at their own speed along with mom. Everyone loves the special playtime for babies and toddlers, and it's safe for pregnant and new moms.

.

AD

Shapes is the first title from the new Giggles Computer Funtime for Baby line. The CD-Rom is set up so that whenever a child touches the keyboard, she is rewarded by fun, on-screen sounds and adorable dancing, flying and spinning shapes. In addition to the 14 activities, each Giggles Computer Funtime For Baby title includes more than 50 songs in five musical categories, and Shapes includes a second bonus CD with a limited edition screensaver version of the software. It is intended for use by those ages 6 to 24 months. Babies LOVE to tap the keys on the computer! This unique software encourages little ones to tap on the keys for adorable onscreen feedback, such as animated animal characters, animating shapes, fun sound effects and great music. It has won numerous awards, including a Dr. Toy Smart Play Award for 2006, iParenting Media Product of Excellence Award and "HOT" Product Award, 2006 Editors Choice Award – Children's Technology Review and Mr. Dad's Top 10 Seal of Approval Award.

.

AD

This 60 minute DVD and CD entertainment set teaches kids how to break dance and get their groove on. Roger G, a hip hop master, demonstrates the funkiest moves this side of the Himalayas. He is featured on videos with Jay Z and has appeared on "106 & Park" and "Def Comedy Jam" as well as with the NBA and the WNBA. He has also toured the world with the show, "Break."

.

AD

Available from Inspiration Software in Summer 2006 is a powerful new tool to help students make sense of data. With InspireData, students investigate, manipulate and analyze data in science, social studies and mathematics. Applying the proven strategies of visual learning to data literacy, students formulate questions and interact with data to identify patterns, trends and relationships, solve problems and build their own conclusions. As a result, students develop deeper content knowledge and stronger critical thinking skills.

.

AD

This 30-minute video is one of over 20 Team Baby Entertainment college team titles. It allows young children to share in the love, loyalty and excitement many families feel toward the college team that they root for. Baby Badger uses officially licensed footage of Badger sports, mascot, marching band and campus attractions to expose children to the University of Wisconsin in an exciting, playful and educational manner. It is a fun filled, colorful and stimulating visual experience that will encourage young sports enthusiasts.

.

AD

.

AD

Paintings come alive in time to a fully orchestrated score that includes Mozart and Beethoven, allowing children to experience the rhythms, textures and patterns in the art and the music. It is a viewing pleasure for both infants and their parents.

.

AD

Spectacular live footage and traditional animation specially suited for young eyes is used to explore historical landmarks and works of art and introduce friendly native animals. Even parents will be entertained by this lively video.

.

AD

.

AD

.

AD