"Bath time is a wonderful opportunity to engage in play. Our challenge is to introduce toys with a lot of play value." — Elin Friis Kabo, ALEX
A whole lot of fun is taking place in the bathtub these days thanks to the emergence of toys that promote creative, interactive and educational play. Budding artists, water-inspired musicians and pint-sized masters of imagination have found the bathtub to be the perfect environment to indulge creative impulses.
Among the key trends in this category is the emergence of toys that encourage artistic expression. One of the premier bath toy manufacturers, ALEX, has taken its success in arts and crafts and transferred it to the tub. Introducing its first bathtub finger painting kit in 1999, the company has expanded its Rub A Dub line to encompass such artistic products as Draw in the Tub Crayons, Color Your Tub Crystal Tints, Doodle Duck, Art Foams and more.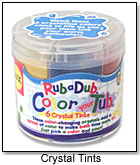 "We wanted to complete a comprehensive story to cover all aspects of art in and outside the tub," explained Elin Friis Kabo, director of communications for ALEX. "It was natural to expand our line to the bath. It was an opportunity to fill a void in a neglected area."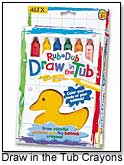 Musical expression is another trend that has found its way into the bathtub. The highly popular Tub Tunes, part of the Big Boing line that was recently acquired by ALEX, taps into this trend. Water Flutes, Water Drums and Water Xylophone are among the products in the Tub Tunes line that can be tuned with water to create music.
Also finding their way into the tub are battery-operated toys that have proven to be safe in a water environment. International Playthings Inc. has introduced several battery-operated toys for the bath. Its latest is Spouts Abouts by iPlay, featuring an assortment of octopus and whales that spout water and spin.
"IPI introduced its first battery-operated bath toy a few years ago, and I can remember hearing some concerns from retailers," stated Sue Tice, public relations director and product manager for International Playthings Inc. "I think that with time and many other product introductions, both consumers and retailers now purchase these items confident in both their safety and operating quality."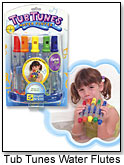 The bottom line for all successful bath toys is that they provide kids with an entertaining time in the tub. "Fun sells — provided the toy is of good quality," said Mike Shipman, operations manager for D&D Distributing. "We find that the best-selling bathtub toys offer functionality mixed with a bit of whimsy."
D&D Distributing meets the whimsical standard with its Bathtub Family Tub Toys. The toy line features a simple concept — a mommy creature (duck, alligator, frog, octopus, dolphin, dragon, etc.,) with a hollowed-up back that provides room for three little babies. The line also offers toys that are not traditionally associated with the bath, such as ladybugs, cows, hippos and even pink elephants, as well as floating vehicles ranging from a pirate ship to a dump truck.
According to Kabo, the most successful bath toys are those that are totally interactive and provide a lot of play value. An example of such a toy is ALEX's Rub A Dub Car Wash, which takes advantage of the water environment by allowing children to wash toy cars and move them along a conveyor belt.
Kabo observed that the tub is one place where play is totally interactive and the parent is a participant. "Bath time is a wonderful opportunity to engage in play," she said. "Our challenge is to introduce toys with a lot of play value."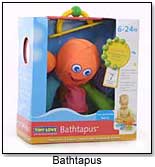 Interactive toys also make bath time a more fun experience for babies. For instance, Tiny Love (ToyShow) offers Bathtapus, a toy that floats and features six armfuls of development activities, including a rattle, mirror, teether, peek-a-boo fish and a squeezable water pump that squirts water from the toy's mouth. The toy promotes hand-eye coordination and cause-and-effect cognition for children ages 12 months and older.

Retailers contacted by TDmonthly affirm that creative, interactive bath toys are popular — even to the point where kids look forward to their baths. "Their appeal is they are reserved for playing in the tub," said Frank DiPietro, owner of Mumbles & Squeaks Toy Shoppe in Ellicott City, Md. "They're imaginative, and they keep kids busy."

The following is more information on engaging bath toys.

.

AD

Now kids can write on tub walls during bath time. Squeeze each bottle to make drawings and play games right in the tub. When you're done, just wipe off. Comes with a set of four writers (red, blue, yellow and gold). Push-pull cap never gets lost. It's safe, clean and fun.

.

AD

Dress your pets in style in the bath. Get two foam friends, a poodle and a kitty, and 32 outfits and accessories. It stores easily in a hanging drip-dry PVC bag.

.

AD

Kids will enjoy this action-packed adventure in the kingdom of ALEX. This interactive toy will have them chasing dragons, protecting the castle and casting spells with the wizards. Stick pieces to tub wall or build a 3-D ship that floats. The 33-piece medieval magical world floats, too.

.

AD

Kids will have loads of fun with this 3-D tropical island that floats in the tub. Build a mermaid's paradise. Stick pieces to the tub wall, too. Featuring 34 colorful pieces. It includes a reusable drip-dry bag for easy storage.

.

AD

Spouts Abouts by iPlay is a battery-operated toy featuring an assortment of octopus and whales that are sprinklers for the tub. Water spouts from their heads and spins around for bath time fun.

.

AD

Shell Shapies by iPlay are soft, brightly colored crabs that squirt water and are shape sorters. The three crabs each have a different shape on their shell. Match the shape to find the crab's own shell.

.

AD

.

AD

.

AD

.

AD