As May blossoms, take a moment to check out Mr. TOYDIRECTORY's latest crop of toy videos. The moving images help convey what the featured toys are capable of when let lose from their packages. Each 10- to 20-second video reveals product size relation, dimensions and playability.

Videos are listed by toy categories below. Just click on the links to find toys on the move (PLEASE NOTE: Videos may take up to 8 or 9 minutes to load):




Videography by Alison Marek. Edited by Mark Zaslove.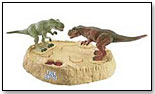 Electronic T-Rex Battle by Uncle Milton Industries

It's T-Rex versus T-Rex in an action packed battle royale. Just grab a T-Rex by the tail and control its moves. Attack or dodge your opponent as built-in sensors in the neck and head record hits. First one to get their opponent from 9 down to 0, wins. Automatic electronic scoring and awesome sound effects add to the prehistoric fun.(Watch Video)