---
Sell Your Toy With a Picture
A Great Photo's Worth 1,000,000 Words
Matthew Fried shoots toys. So does Brian McCarty. With cameras. Both are photographers and owners of studios and they've done everything from catalogs to Web pages, for everyone from Mattel to MGA. Why? They make toys look good enough to buy.

Fried and McCarty told

TD

monthly Magazine why manufacturers — big and small — should use the best photographer around to get their products sold.

Paying for Experience Pays Off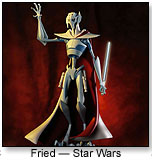 One product shot well can compete with the big boys, whereas lots of products shot by someone's Uncle Morty just look like lots of products shot by someone's Uncle Morty, the photographers concurred.

"In advertising, it's all about the image," stated Fried. "A small startup company with one product can look just as good to the buyer as a big company with a larger budget. The reason why a company uses a professional photographer is the experience that he or she brings to the job."

Tens of thousands of dollars' worth of top-of-the-line cameras, lenses, lights and studio equipment — plus the skill to use them to evoke emotional responses from buyers —helps, too.

Photos Build Brands ... and Desire

"The goal should always be to convey the brand identity and underlying power the toy holds to the consumer," explained McCarty.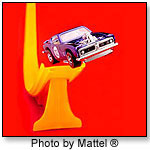 "The photographer has to understand what the toy is about and who will want to play with that toy (boy or girl or both and what age range)," added Fried. "Then you have to put yourself in that child's frame of mind and figure out what would interest them the most about that toy."

"With infant and pre-school toys the parents are key," added McCarty. "They want to see a child playing with the toy and enjoying it. With fashion dolls and action figures, the images should focus on wish fulfillment and entering into the imagined world the toy opens."

Budgeting for Success

But what is a startup company to do? Big-time photographers can cost big-time bucks. The answer is to make the most efficient use of the budget.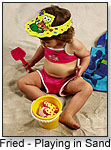 "A simple background, or with a human model," Fried suggested, adding, "I try to use professional kids to model whenever possible. It costs a little more up front, but the results are always way ahead of using the owner's cute kid."

Strategizing helps, too. "The image that was originally meant for one-time use in a print catalog, if shot well, can be repurposed a thousand different ways from PR to advertising," McCarty pointed out.

Negotiating With the Pros

Manufacturers on low budgets may be able to hire top-notch photographers by recognizing certain licensing rights, McCarty told

TD

monthly.

"There are a host of misconceptions that lead many toy industry clients to demand ownership of images," he said. "If the client is educated and willing to negotiate licensing terms, they open up a lot more flexibility on the budget while expanding the talent pool to professionals that have a vested interest in the success of the photo. The better it is, the more use it will get, and the more they are paid."

"Organizations such as the American Society of Media Photographers and Advertising Photographers of America are great resources for education on finding a photographer," he added.

Making It Fun

But in the end, Fried reiterated, "When looking to hire a professional photographer the key is experience. They have to be able to get on the level of playing with that toy themselves and have fun doing it."

Cover photo: Brian McCarty
Writer's Bio:
Mark Zaslove is an entertainment industry veteran in developing content (writing, directing and producing television and feature films) for the major studios, including Disney, Universal and Warner Bros. A two-time Emmy Award winner for writing and recipient of the Humanitas Prize (for writing uplifting human values in television and movies), Mark is also Head of Content Development for Nice Entertainment.
Read more articles by this author
THIS BANNER IS AN AD:
---
---