---
Homeschoolers Say: Robots Rule!
Ancient Dinos and Mod Bots Capture All Ages
"This is a toy that appeals to older kids, which is hard to find." — Julie Petoia

Moms and kids agreed: Toys by OWI (ToyShow) and National Geographic were loads of fun, and could be used as part of a homeschooling curriculum, too. The younger kids were thrilled by excavating one dinosaur, and then building another. Their older siblings proudly constructed and programmed their first robot, the navigable Binary Player.

Participants were former art teacher Lynn Costine with Sarah (13 years), Anna (11), Emily (9) and Will (7); Julie Petoia, RN, with Cabot Lee (12), Talia (10), Malynne (8) and Jeremiah, Jacob and Gabriel (5); Susan Ledford, editor of the "Homeschoolers Resources Directory," with Victoria (11) and Joe (7); Alison Shanahan with Elizabeth (12), Emily (10) and Katie (6); and Teresa Wilson with Timothy (13), Andrew (11), Elise (7) and Steven (6). CLICK HERE to view the full results of the survey.

National Geographic - Dinosaur Skeleton Kit
by THAMES & KOSMOS (ToyShow)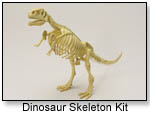 What It Is: A dinosaur model-puzzle that lets kids build their own tiny dino.

What the Moms Thought
Nine-year-old Emily was so excited about the prospect of building her own dinosaur that she left the room when her 7-year-old brother got the first turn "so I won't get any clues," she told her mom. "They took it apart and redid it several times," added Costine.

While playing with the kit, "my kids spent some time talking about comparative anatomy with bird and stegosaurus hip bones," shared Shanahan.

"It appeals to a wide range of ages," added Petoia.

What the Kids Said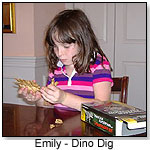 "I was able to do this by myself and that made me proud!" glowed 6-year-old Catherine.

"I learned that the stegosaurus had hinged jaws for chewing, and I examined the hip, leg and backbone configurations," proclaimed Elizabeth, 12.

"Can I use this in my Science Fair display?" wondered Timothy, 13.

How to Improve It
Shanahan thought that a full set of accompanying game cards should be included in each kit instead of just three.

Wilson's kids suggested including a display stand. Ledford thought the skeleton should be poseable and more pliable. She noted that the model's stiffness led to one of the legs breaking off when its post was accidentally forced into the wrong hole.

Would You Want Another Toy Like This?
Everyone answered yes except for Ledford, who wound up with a 1-legged model.

"This puzzle works equally well as learning or playing toy," summed up Costine.

---

National Geographic - Dinosaur Expedition Kit
by THAMES & KOSMOS (ToyShow)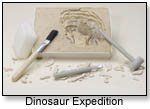 What It Is: A plaster slab that kids chip away to reveal a T. Rex fossil inside.

What the Moms Thought
"All four children enjoyed the opportunity to model a career in paleontology," said Wilson. "I am also grateful that the full set of 24 fact cards is available to download online."

"It would work well as part of a homeschooling curriculum or as a birthday gift," Costine told

TD

monthly.

What the Kids Said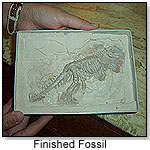 "Emily (10) liked the reading materials best, but also liked revealing the hidden 'treasure' of the skeleton," reported Shanahan.

"Gently!" Elise (7) admonished her brothers as they picked away at the fossil.

"'I want another turn' was heard more than once,'" noted Wilson.

How to Improve It
"The fact card games suggested in the instructions were formulated for three players, but including ideas for 2 and 4 players would increase interest in playing," suggested Wilson.

Ledford thought the kit should include a jar of lacquer or paint to properly finish the project.

Would You Want Another Toy Like This?
"Can we get some more of these?" all four Wilson children asked their mom. The "yes" vote was unanimous in the other families, too.

---

Bilateral Robot by OWI (ToyShow)

What It Is: A robot that kids build and then program to navigate obstacles courses they've created.

What the Moms Thought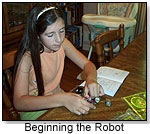 Costine's kids needed help from their computer-savvy dad to assemble the robot, but "Once they actually got it made, it's really cool," she told

TD

monthly. "There's a lot of cognitive thinking involved in planning how you're going to make the robot move around the room."

Ledford raved: "This is the way to teach a student about circuits and electricity. It's a terrific kit because it is challenging and engaging."

"This is a toy that appeals to older kids, which is hard to find," added Petoia.

What the Kids Said
"This is a real robot!" enthused Andrew, 11.

"Timothy (13) and Andrew (11) were very pleased that the instruction manual was easy to understand and directions clearly outlined," said Wilson. "They also enjoyed learning why tasks needed to be performed in a particular manner."

"I can't believe we made it work!" exclaimed the Petoia kids.

How to Improve It
Wilson suggested the inclusion of a file or emery board in the list of "necessary tools." Costine agreed, since her husband had to file down one of the parts to make it fit.

"Drawing paper and black drafting ink also should be added to this list as optional materials," continued Wilson.

Ledford suggested increasing the size of the instruction charts and perhaps color coding them to increase legibility.

"Larger size!" for the robot was the only suggestion for improvement from the thrilled Petoias.

Would You Want Another Toy Like This?
The homeschoolers and their parents all loved the OWI Binary Player and would recommend it to other kids and parents — homeschoolers and non-homeschoolers alike.

Here are the toys the homeschoolers evaluated, plus a couple more from each manufacturer:







.

AD
---






.

AD
---






A two-wheeled mini-robot, the Binary Player Robot has its internal program stored on a black-and-white disk that´s user programmed, so it can do tricks and patterns. It's easily assembled with basic hand tools and is both fun and educational.

.

AD
---






Air Zinger inhales and then blasts out an included ball through its cannon-like loader. Zigging and zagging is no problem with its wired controller. A child can easily make it move forward, backward, left and right. When the propeller is activated to retrieve the ball, it is like watching a largemouth bass inhale its lunch. On command, its special compartment stores the ball and launches it. Quick and easy to assemble, this kit challenges cognitive skills and helps to develop a growing interest in science and robotic creation.

.

AD
---






.

AD
---






Written by Ann Bausum, this gripping historical tale takes a look at women's struggle to gain voting rights in the United States. It received a starred review, Best Book of the Year, from the School Library Journal; a starred review from Kirkus Reviews; and was a winner of the Jane Addams Children's Book Award.

.

AD
---






Enroll in Chem C1000 and prepare a child for a lifetime of fascination through 75 diverse experiments. Build a mini fire extinguisher and make water flow uphill in experiments with air pressure. Float a soap-powered boat to learn about the surface tension of water. Entertain friends and family with chemistry "magic" tricks, and then enlighten them with the scientific explanations behind the magic. Identify the elements in different chemical substances with dazzling colors in flame tests. The 40-page, full-color Experiment Manual guides aspiring young chemists, chemical engineers, lab technicians and researchers.

.

AD
---
THIS BANNER IS AN AD:
---
---