---
Get Collectors Collecting Again
Manufacturers' Tips for Braving a Bad Economy
"We're trying to make high art out of a combo of a toy and consumer electronics." — Daniel Ruby, Mimoco

Competition for adults' diminishing disposable income has collectibles manufacturers scrambling for new sales strategies. Low price points, strong relationships with retailers, and defying expectations help them keep up with the Jones Incs., they told TDmonthly Magazine.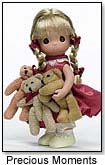 "The adult market for collectible dolls has softened by 50 percent in the last five years," shared Richard Hay, president of the Precious Moments Doll Company. "A doll collector is not a wealthy person."

Get Out and Meet the Public

To keep his piece of the market, Hay and a team that includes famed doll designer, Linda Rick, go straight to the collectors for signings at venues such as Dollywood and Bronner's Christmas Wonderland in Frankenmuth, Mich.

"The market is not soft for us," countered Shirley Blackall, president of Blackall Associates Inc. (ToyShow)"Last year was our best year ever."

When the Home Shopping Network ceased showcasing collectible dolls, Blackall took her Masterpiece Dolls line straight to specialty retailers, beginning in February 2005. "We make an offering every 3 months and each time the response has been greater than the last," she told TDmonthly.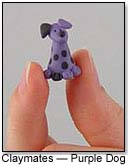 But if it weren't for doll collectors, bears might be at bare bottom. "Bears are really taking a hit," sighed Chris Nimeth, sales and marketing for The World of Miniature Bears. (ToyShow) "We get more play out of the doll people using our stuff with their dolls. Dollhouse miniature people are using it, too. The undressed bears are what's moving."

Diversify Your Lines

To increase sales, the company's now targeting the promotional market, too. "Recently, we produced a series of bear eyeglass chains, because we see our collectors like to have bear jewelry," noted founder Theresa Yang.

Clay-Mates USA (ToyDirectory) brought their tiny new porcelain creatures to the US hoping that a $1.50 price point per creature would get people hooked.

"Our collectors range from ages 6 to adult," said Claymates USA's sales and marketing manager, Brad Countryman. Random packaging of their new $6.99 to $7.99 4-piece sets creates occasional duplication, which promotes trading, he added.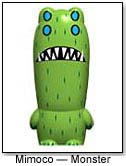 Make It Useful

At a higher price point, Mimoco (ToyDirectory)blends high-tech gadgetry with designer-toy collectibility in portable flash-drive characters with up to 2GB memory.

"We're trying to make high art out of a combo of a toy and consumer electronics," explained Mimoco marketing manager Daniel Ruby. "Our target audience is between 20 and 40."

If they want it, they'll buy it — as long as manufacturers find a creative way to get it into their hands. Here's what the big kids are grabbing:







Mai Ly is an adorable Asian newborn baby from Sheila Michael. Everyone has been waiting for a new Asian baby from Sheila and Mai Ly now has been born in the 18" newborn size that we all love. The arms are sculpted above the elbow and the legs are sculpted above the knees. She is made of silicone/vinyl that gives us a life like appearance. Mai Ly is dressed in a very pretty lavendery pink brocade fabric with the traditional coordinating frogs on her jacket. She also wears matching pants with trim accented in a deep purple color. Her hair is a black human hair blend with baby thin hair and a pretty white headband. Her eyes are dark brown. She comes with the soft fluffy blanket as shown in the photo. She also wears a cloth diaper. She also comes with an ID band where you can write her name or rename her. She is barefoot. Limited Edition 350 pieces.

.

AD
---






Laura Tuzio-Ross has created her first sleeping baby. Beddy Bye Baby (Caucasian) at 22" is a very special sculpt with newly sculpted arms and legs as well. The arms go above the elbow and the legs go right up into the baby's cloth. The baby is dressed in an adorable outfit and comes with a pretty pink blanket with a pink satin edge. The hair is a light brown human hair blend wig as shown in photo. Limited Edition 350 pieces.

.

AD
---






Mimobots are little friendly data fiends that hold essential data, such as tunes, pictures, or presentations. The 2" monsters transport files via flash memory drives that also come preloaded with bonus removable content such as animation, games and music. Mimobots are produced in limited editions and are available in capacities ranging from 256MB to 4GB. They are hi-speed USB 2.0 and compatible with both Mac and Windows. The 2006 mimobot Artist Series delivers crisp characters created by influential artists representing a cross-section of pop art genres. Pictured here is Betty-Lou, designed by Lili Chin, co-creator of the Warner Brothers hit show Mucha Lucha! Only 500 were produced and she runs from $49.95 to $144.95, depending on flash memory size. Launch date: Late 2005.

.

AD
---






Last year, for the first time in history, a limited-edition Frida Kahlo doll was licensed (to Munecas ENY S.A. de C.V.) by the Kahlo family in preparation for Frida Kahlo's 100th year anniversary in 2007. The doll will be available to collectors in the United States by special order, and at prestigious retailers. Master artist Jose Guadalupe Barrios, contemporary and friend to Diego Rivera, sculpted Kahlo's likeness for this doll. The Mexico City Philharmonica created a special music CD with Mexican melodies that were close to Frida's heart. Mrs. Isolda Kahlo, niece and heir, published a special biography book to be included with this limited-edition presentation. The first 1000 limited-edition dolls will include a signed, numbered certificate by Mrs. Kahlo. All dolls will bear numbered certificates of authenticity, and come in an ornate presentation box with the book and CD.

.

AD
---






Pinky:st is a series of vinyl figurines designed by modeler Yuki Kanaya (Baby Sue). The theme for the 5" figures is the girl next door. Pinky Street figures are an innovation in collectibles by Gunze Sangyo, featuring fully interchangeable female characters that are part Anime-style, part current Tokyo fashion trends. Mix and match the figures to make different outfits. This tough little schoolgirl comes with a flouncy white party dress.

.

AD
---






Based on the girl next door and designed by Yuki Kanaya (Baby Sue), Pinky Street 5" figures are collectible, interchangeable toys based on Tokyo street fashions and Anime. The dolls' heads, hair, torsos, legs and various clothing articles can be swapped to create new outfits, looks and characters. "Pinky Street has been picking up a lot in the last few months," noted Dragon Models USA's sales manager, Alain Yuen. "I think it's just because they have a couple new game titles coming out." Right now, the figures are mostly found in comics and boutique shops, and are collected by girls 14 and up and men.

.

AD
---






.

AD
---






Tiny Petals stands just 3" high. She was crafted by Sharon Crain from cuddly cashmere.

.

AD
---






.

AD
---






She's 12" of capable care. Armed with a clipboard and stethoscope, this vinyl nurse is ready to cure anyone's woes. "The demand for small dolls, which Precious Moments does, is because of limited space," noted president Richard Hay. He keeps his collectors happy with 25 signing sessions per year.

.

AD
---






This beautiful handmade collectible doll of 60-cm height represents a typical 15-year-old Mexican girl. She is dressed in a pink silk and chiffon dress and handmade shoes made with the same fabric.

.

AD
---






This small clay butterfly is designed by Zoe M. It was created on 12/09/2005.

.

AD
---






Blanche is a Posh Pink Bird created on 2/18/06.

.

AD
---
THIS BANNER IS AN AD:
---
---