---
Corolle Dolls Makes Classics to Last a Lifetime
Longstanding Company Stands for Quality
"It could take a year before a mold is finally created. Most of the operations are done by hand, such as painting the face."—Beau James, Corolle Dolls

Corolle Dolls (Gift Guide) has been in business for almost 28 years. They've managed to stay on top of the specialty market by maintaining high quality and designing dolls that will serve a child's needs, Beau James, North American director for Corolle Dolls, told

TD

monthly Magazine.

"A doll is an object of affection that provides an emotional outlet for a child and encourages children to express feelings, develop imagination and gain understanding and care for others," said James.

Although Corolle dolls are perceived as high-end, they really cost no more than the average doll at the local department store. The dolls' faces are sculpted to resemble real children's faces, but they're stylized just enough to avoid frightening young children, who sometime react negatively to realism.

"Once an idea is born, sketches are made and given to a sculptor who creates a three-dimensional form," he said. "It could take a year before a mold is finally created. Most of the operations are done by hand, such as painting the face." The making of a Corolle doll involves from 50 to 100 hand operations, he added.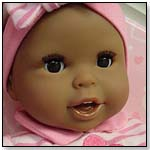 Although first baby dolls for the youngest children are bald, the hair on other dolls is made from Kanekolon, which is the same fiber used in human wigs. Other doll manufacturers use 24 threads in each stitch hole on the doll's head when rooting the hair, but Corolle uses just six to 12 hairs per stitch hole, which gives it a very natural look. The hair is washable and can be treated like real hair, said James.

Additionally, "The doll is designed in proportion to the weight of a child. Two- to 8-year-old children usually weigh 15 to 40 pounds, so the Corolle dolls usually weigh around a pound and are easily carried by the child," he said. "Size is important. … A 12" doll will fit the arms of a 2-year-old, and a 15" doll fits into the arms of a 5-year-old. Larger dolls are for children 7 years and older."


The dolls' soft flesh tones resemble that of actual skin. Dolls with vinyl bodies are surface washable and are scented with vanilla, which is added to the liquid vinyl before being poured into the molds.

"Corolle in French means the inside of a flower, and that is what [our dolls] smell like," noted James. "Catherine Refabert is the designer responsible for Corolle. … She has been making dolls in France for over 30 years and lives and works in the Loire Valley, in the heart of Touraine — the storybook region of France. The Corolle dolls still have a very European feel … in looks and their clothing line."

Although Corolle dolls are no longer manufactured in France, James added, "It's not where a doll is made, but how it is made that is important."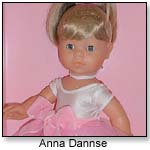 James believes that, "Corolle is very successful because we present Corolle as a brand …as dolls with clothing, fashion accessories, furniture, strollers … everything little girls need to have an adventure playing dolls."

He added that the company had made its share of mistakes. "The worst one was getting into the collectible market. … The collectible doll market went soft and those dolls didn't move. … Now we will keep our focus on where it should have always been: on the child."

Writer's Bio:
Virginia Davis is a freelance writer who is considered an expert in the area of dolls and collectibles. She has written hundreds of articles on dolls and toys, as well as other subjects, for numerous publications. She lives in Georgia.
Read more articles by this author
THIS BANNER IS AN AD:
---
---