---
TDmonthly's Book Expert
One Educated Bookworm's Opinion
Dorothea DePrisco Wang is the author of more than 40 books for children. Dorothea has 14 years in the publishing industry, beginning her career with Scholastic Inc. She later became executive vice president and publisher of Intervisual Books Inc., where she created and executed 300 titles. She is best known for her titles published by Piggy Toes Press, such as "Eight Silly Monkeys" and "Who Stole the Cookie From the Cookie Jar?"

In this issue of
TD
monthly Magazine, Wang reviews a couple of Halloween titles that give kids shivers of the best kind. Here's what she has to say about some of the newest books on the market:


Title: The Rainbow Web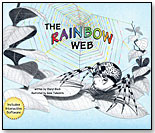 Company: Block Publishing

What It Is: A picture book about spiders, with an interactive CD.
This picture book features a little spider that spins a colorful web by eating colorful fruit, such as a red berry and a blueberry. However, his father points out that his colorful web is preventing him from catching any food. The interactive CD teaches the science behind the story and has information on colors, rainbows and spiders. It includes 29 reproducible activity sheets. My son and I did a few of the activities together (he's almost 3 years old).

Why You Should Carry It:
This book is designed for homeschoolers, as it follows the national standards for both science and literature. The author states that the book was created to offer homeschoolers and teachers a complete thematic unit on spiders. The book has cross-curricular activities in math and reading.

What Kids Think:
The children who looked at this book were ages 2 to 5 years old. They repeatedly asked why it was in black and white. As we reached the middle of the story it became clearer, but the children commented they would have liked more color in the book.

---
Title: Boris and Bella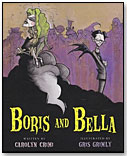 Company: Harcourt (ToyDirectory)
Age range: 4 to 7
Retail Price: $6.00

What It Is: A love story about a messy monster and a tidy monster.
Bella is the messiest monster in Booville and Boris is the tidiest. The two neighbors are at constant odds. Bella has a dirty dress and sticky hair, and stacks of snake tails overflow her counters. Boris is neat and clean, with bewitched broomsticks that constantly sweep his yard. The two do not get along until they dance together at a Halloween party.

Why You Should Carry It:
This is a perfect seasonal buy for Halloween. The paperback is a great way to have a new seasonal title without much risk. The characters are likeable and relatable to all children. The illustrations make the book — with ink and watercolor, they deliver creativity and ghoulishness. It's written by Carolyn Crimi ("Henry and the Buccaneer Bunnies," "Candlewick, 2005") and illustrated by Gris Grimly. (Grimly also illustrated Gris Grimly's "Wicked Nursery Rhymes" and "Edgar Allen Poe's Tales of Mystery and Madness").

What Kids Think:
Kids loved this. I read this to a group of 3 to 6 year olds and boys and girls loved both Boris and Bella. They especially liked the Howling Wolfman Band!

---
Title: The Cremation of Sam McGee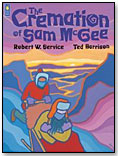 Company: Kids Can Press
Age range: All ages
Retail price: $17.95

What It Is: An illustrated version of the famous poem by Robert W. Service.
"The Cremation of Sam McGee" tells how the dying Sam McGee makes the poem's narrator promise to burn his remains after he's gone.

Why You Should Carry It:
This is the 20th anniversary edition hardcover of the infamous poem we all remember as children in the sixth grade. Ted Harrison brings bold colors and lines to his illustrations. His blues, mauves and pinks evoke the feeling of "the icy grave" and the paintings are compelling. What is also interesting is that he has illustrator notes on each page that contain historical information.

What Kids Think:
This book was read to children ages 7 to 10. Some knew of the poem and some did not. All thought the illustrations were interesting. The illustrator's notes came in very handy and helped to enhance the read-aloud experience.

---
Title: Crispin: At the Edge of the World

Company: Hyperion Books for Children
Age range: 10 to 14
Retail price: $16.99

What It Is: This book is the second in a Crispin trilogy by award-winning author, Avi.
Crispin is an orphan who travels with his friend, Bear. This sequel to "Crispin: The Cross of Lead" picks up where the first book left off. Bear and Crispin are attacked by a man who thinks Bear has betrayed his brotherhood. Bear is wounded badly and it's left up to Crispin to take care of Bear and make decisions for both of them. They find some luck when they are sheltered by a family, and then eventually take to the sea.

Why You Should Carry It:
It's award-winning, Newbery Medal-winning Avi. It's part of a trilogy that you have to have in your store. Crispin is a hero: a 13-year-old boy living in 14th century England as an outcast. Crispin is someone every child can relate to in some small way. Avi's lyrical and consistent writing is easy for children to read.

What Kids Think:
After sitting with a few children, most hadn't read the first book … I suspect because they were too young. But we sat and talked about Crispin as a character and then read a few pages to them. Because they were younger, I had to set the scene and ask them to sit back and imagine the setting. They were interested and curious and asked questions about the language and the characters. Older children would probably be more immediately involved in the story.

---
Title: All Hallow's Eve: 13 Stories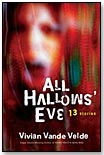 Company: Harcourt (ToyDirectory)
Age range: 12 and up
Retail price: $17.00

What It Is: A hardcover novel of thirteen scary stories by Edgar Award-winning author, Vivian Vande Velde.
Thirteen scary stories! A girl is dragged into a crypt during a field trip to a cemetery. A boy is trapped inside a possessed car that has stopped in the way of an oncoming train …
It's all very frightening, gruesome and perfect for Halloween.

Why You Should Carry It:
This is a great book for Halloween for teen and middle-grade readers. Vivian Vande Velde has won numerous awards: ALA Best Book for Young Adults, ALA Popular Paperback for Young Adults and ABA Pick of the Lists. There's really no reason you shouldn't carry her works. If you carry and sell her other novels, this is just as good. She's consistent and I appreciate that. These short stories are terrifying and a great read for this age group.

What Kids Think:
Excerpts were read by older children and were well received by those who follow this genre.

---
---
Title: The Strictest School in the World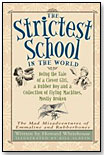 Company: Kids Can Press
Age range: 9 to 12
Retail price: $6.95 paperback

What It Is: A middle-grade adventure novel about a 14-year-old aviatrix.
Emmaline is a pioneering aviatrix who, oddly enough, has a fear of flying. Her friend Rubberbones, a small boy who never hurts himself, is Emmaline's pilot for her flight experiments. Before Emmaline can complete her flying machine, she is sent to St. Grimelda's School for Young Ladies. This just happens to be the strictest school in the world and all Emmaline can do is think about escaping. There is a horrifying headmistress, scary teachers and a terrible secret. Sound familiar? However, this setting includes extinct beasts and dilapidated inventions.

Why You Should Carry It:
The book centers on brave and daring Emmaline, her crazy Aunt Lucy, a strict and mysterious boarding school and Emmaline's friend Rubberbones. All are engaging characters and there aren't enough smart female adventures out there for young girls. It is refreshing to read a middle-grade novel that has little to do with friendship clubs or babysitting. It is also refreshing to see a female scientist as a strong main character.

What Kids Think:
I read parts of this middle-grade novel to a few younger children, closer to 9 to 10 years old. They found Emmaline a likeable character and wanted to know more about the inventions and less about the darker and scarier parts of the school, like the Black Tower. This is scary and Dickens-like, as other reviewers have pointed out. So although the reading level is 9 to 10 years, the content is a touch older.

---
Title: Happy Birthday CoCo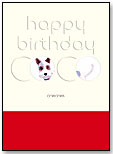 Company: Kane/Miller Book Publishers
Age range: 4 to 8 years and adults
Retail price: $12.95

What It Is: A well-designed, well-executed hardcover book about a terrier's first year of life.
"Happy Birthday CoCo" is a perfect gift for dog lovers and young children. Hitomi Sago is the graphic designer, Tatsuro Kiuchi is the illustrator and Shoko Nagamatsu is the author. Beautiful watercolors. Beautiful production.

Why You Should Carry It:
"CoCo" is a specialty book with a simple story line about a dog. It's a sentimental journey interesting to all (even if the reader is not a dog lover.) I am a huge fan of books that have a high production value for a reasonable price. This book retails as a $12.95 hardcover but has a beautiful jacket, embossed pages, die cuts with vellum inserts, and superior binding.

What Kids Think:
I read this to a few children around age five. They were saddened when CoCo's friend passed away and we spoke briefly of death. I had to guide them into a broader discussion. They enjoyed the story and loved the illustrations.

---
---
Title: Do Princesses Scrape Their Knees?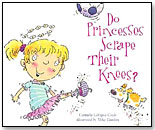 Company: Northland Printing, Rising Moon
Age range: 4 to 8


What It Is: A hardcover picture book about an active "princess" who plays soccer, does yoga and scrapes her knees.

This book is a fun-loving look at girl who falls down, belly-flops and makes mistakes when she tries new things. But when she and her younger brother try new things, she maintains a can-do attitude. For example:

"Are you going to kick that ball into the goal?"
She replies, "I'm going to try with my whole heart and soul!"

This message is great for young children who are hesitant about trying new things, particularly sports.

Why You Should Carry It:
"Do Princesses Scrape Their Knees?" helps children with self-esteem but does not preach nor even suggest that a child should do something new. It shows through example that it is hard to try new things, but that trying is better than not trying at all. It's a great book for parents to start communicating this lesson with their kindergarten to third-grade kids.

What Kids Think:
They loved it: the illustrations, the text and the characters. However, they wanted the two kids to have names instead of "brother" and "princess."

Writer's Bio:
Dorothea DePrisco Wang is the author of more than 40 books for children. Dorothea has 14 years of experience in the publishing industry, beginning her career with Scholastic Inc. She later became executive vice president and publisher of Intervisual Books Inc., where she created and executed 300 titles. She is best known for her titles published by Piggy Toes Press, such as "Eight Silly Monkeys" and "Who Stole the Cookie From the Cookie Jar?"
Read more articles by this author
THIS BANNER IS AN AD:
---
---