---
To Drool For: Wee Gallery's Baby Art
Infant Graphics Satisfy Adult Aesthetics
"Our son was more interested in the air-conditioning grate than toys." — Dave Pinto, co-owner Wee Gallery

Teacher Dave Pinto and graphic artist Surya Sajnani created Wee Gallery, but their first production — a son born in 2002 — was the inspiration behind the company.

"The studies show that black-and-white and high-contrast toys are best for infants," Pinto told TDmonthly Magazine. "Our son was more interested in the air-conditioning grate than toys. And the black-and-white toys and baby items that we found were just not our style."



Wanting something "more modern" with "organic shapes," the couple kept searching.

"We wanted things that interested adults, as well as the baby," Pinto added.

Frustration Leads to Inspiration
But there wasn't much available that matched their criteria. Discouraged, the couple began painting graphics on their son's walls. They also made flashcards whose style echoed the wall paintings. When they shared the cards with other new parents, the response was overwhelming.

"People kept telling us we should make these," Pinto shared with TDmonthly. "We wanted our own business, so we made our first animal flashcards with a run of 1,000."

T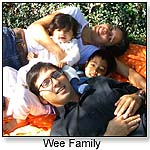 hat first sampling was picked up by the San Francisco Museum of Art, which continues to be a consistent buyer. That original set — named the Original Set — is still available.

The couple used feedback from the museum to help set pricing and tweak their company. Wee Gallery consistently queries retailers and customers for information to help its St. Petersburg, Fla.-based business.

Learning From the Pros
For instance, when they showed framed prints at the New York Gift Show in January, there was interest, but not much buying. Talking to others, Pinto learned that the product needed to be simpler. By providing a print, color, and printed mat, he said, he may have made it difficult for customers to match a baby's room.

"No one wants to deal with glass or frame something themselves," Pinto told TDmonthly. "From that advice, we decided to do canvases."

The new canvases were released in early August and immediately did well, he said. The canvases feature a black-and-white animal on a shaded, colored background: green for the "originals" animals, blue for sea animals and wheat for farm animals.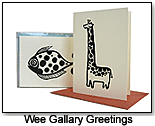 In addition to the canvases and the flash cards (which can be turned into a mobile), Wee Gallery produces wall graphics, greetings, baby clothing sets, T-shirts, and a "Twins" Board Book.

While adding products, Pinto and Sajnani have learned to be persistent with retailers.

"Everyone is busy, so you must politely continue pestering," Pinto said. "That's the only way to get on store shelves."

Here are a few examples of Wee Gallery's graphic baby products:





MSRP: $38.00

Age Range: 0 and upLaunch Date: July 2006Gender: Boys And Girls





Wee Gallery has created adorable designs from down on the farm: a striped bee, dotted cow, feathered hen, flowered pig and curly sheep on a field of corn make up the Farm Collection of wall art for babies. A set of four in a series retails for $140.00. Other series include Sea Collection and Wild Collection. Launch date: Summer 2006.

ToyDirectory Product ID#: 9090

(added 8/21/2006)

.

AD
---






Wee Gallery flash cards are works of art that can introduce babies to a new world of animal and marine life down on the farm and under the sea. Wee Gallery flash cards come from hand-painted originals that take advantage of infants' visual strengths. Whimsical animals made up of black-and-white repeating shapes entertain and engage little ones, transforming playtime into a virtually artistic experience. The Farm Flash Cards help baby say "moo," "oink" and "baa" with six high-contrast prints that stimulate and engage baby. A striped bee, dotty cow, feathered hen, curly sheep, flowery pig and tall horse make up this creatively designed farm flash card set.

ToyDirectory Product ID#: 8547

(added 7/11/2006)

.

AD
---






Parents can turn these hip Wee Gallery flash cards into a cool urban mobile with this stainless steel Kikkerland mobile kit. When baby is older, the kit can be used to display favorite photos or drawings. Animal Flash Cards are included with the mobile to turn baby's nursery into a sophisticated baby art gallery, worthy of plenty of wide-eyed concentration and certainly a lot of well-deserved baby drool.

ToyDirectory Product ID#: 7607

(added 4/19/2006)

.

AD
---




MSRP: $6.95

Age Range: All AgesSKU or Item #: ISBN - 0-9746715-1-7Gender: Boys And Girls





Have you ever seen children try to make sense of what they see the first time they encounter identical twins? Their eyes track from one face to the other in an incredulous attempt to figure out this astounding new concept. Twins are not as simple as the big/small, loud/quiet lessons in opposites that they're used to; twins are nuanced and kind of funny. And it's exactly that funny nuance that artist Surya Sajnani has masterfully captured in her wonderful new board book, "What Should We Call the Twins?" This engaging 7" x 7" book introduces children to the concept of twins in an upbeat and whimsical way. Through her use of entertaining puns, the book is also a fun read for adults. Sajnani developed her current artistic style shortly after becoming a mother. Wanting to engage her son visually, Sajnani began to create hand-painted original works of art that took advantage of the visual strengths of her child. She made animal prints in black and white — a high-contrast combination that stimulates brain development.

ToyDirectory Product ID#: 7357

(added 3/28/2006)

.

AD
---

Writer's Bio:
Terri Hughes-Lazzell is a freelance journalist based in Ossian, Ind. After spending nearly a decade as a daily newspaper reporter, she has worked as a freelance journalist for more than ten years, writing about a variety of topics. Her work appears in newspapers, magazines and specialty publications nationwide.
Read more articles by this author
THIS BANNER IS AN AD:
---
---