In celebration of ToyDirectory's 10th Anniversary, Bob Naimi — founder of ToyDirectory and publisher of TDmonthly Magazine — explains how using the online trade metropolis he's building will strengthen the specialty toy industry.

Why does the toy industry need ToyDirectory?
Every industry needs a central gathering point. ToyDirectory provides anytime/anywhere access to anyone who works with or loves toys, without regard to scheduling or budgets.
By quickly publicizing new products and findings, ToyDirectory helps minimize redundancy in research and development, which can ultimately save the toy industry millions of dollars.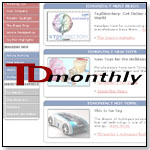 But ToyDirectory is more than just a database of thousands of new toys. ToyDirectory's editorial division, TDmonthly Magazine, gathers information from specialty retailers around the nation to determine how those toys are selling at any moment.
And because ToyDirectory is online, information for making key business and buying decisions is instantly accessible.
You claim that ToyDirectory can save the industry millions of dollars. How is that possible?
For example, a manufacturer who plans to develop a new toy may discover via ToyDirectory and TDmonthly Magazine that another company has just released a similar product. … This information could save him thousands of hours on research and development, perhaps prevent a lengthy legal battle, and ultimately may even lead to the creation of a more innovative toy.
The faster information is shared, the more quickly innovations can be implemented that will strengthen the toy industry overall.
ToyDirectory and TDmonthly save everyone in the toy industry time and resources:
Rather than peruse hundreds or thousands of Web sites, looking for new toys, retailers can come to one site to research and order the latest and best-selling products.
And rather than spend tens of thousands of dollars on print ads for a general audience, manufacturers listed on ToyDirectory can reach retailers who are interested in their specific product types.
Don't other Internet sites service the toy industry?
ToyDirectory is the only toy-industry trade site that is exclusively online. ToyDirectory has more traffic — and more qualified traffic — than any other toy trade Web site.
That's why Google has rated us as the #1 wholesale trade directory for three years in a row.
Large amounts of qualified traffic translates into increased leads for the manufacturers who list with us and, in turn, bolsters the number of new products that retailers will find on our site.
Does ToyDirectory's comprehensiveness obviate the need for trade shows?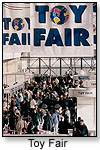 The toy industry will always need trade shows. But not everyone can afford to attend each trade show, and trade shows are delimited by time, space and budget.
ToyDirectory has no temporal or spatial limitations. Our services are free to all retailers and consumers, and even manufacturers get free exposure via TDmonthly Magazine.
And for manufacturers who choose to participate with us, services start at less than $100 per year to reach hundreds of targeted readers. This basic package ensures that even small start-ups can become a permanent part of our community.
So after 10 years of ToyDirectory, are you satisfied with what you've accomplished?
ToyDirectory's goal is to stimulate growth in the toy industry by creating a comprehensive online community — a cultural and trade metropolis, if you will — where anyone who loves toys can come to be astonished and inspired, and make wiser business decisions.
ToyDirectory has just begun. We've broken ground, we've laid the foundation, but we will be building on this site for decades to come.