---
Kids Snatch Up Adult Collectibles
Ugly Rabbit Gives Knights a Run for Their Dunny
"[Dunnies are] blind packaged, like baseball cards, and you don't know what you will get."—Sidney Witt, co-owner of The Toy Store in Atlanta
With reporting by regional correspondents Virginia Davis, Bonnie Priever and Willow Polson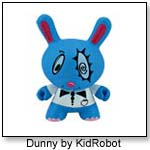 A little punk rabbit has sneaked into a market where PVC knights usually reign supreme, reported a TDmonthly Magazine regional correspondent. While a quarter of 38 retailers surveyed confirmed that Papo (ToyShow) was still selling like "wildfire," Sidney Witt, co-owner of The Toy Store in Atlanta, claimed that boys and girls have picked up on a KidRobot adult collectible: the 2-faced Dunny.
"They're blind packaged, like baseball cards, and you don't know what you will get," explained Witt.
Adults are still into the Dunnies, too. Witt's other hot collectible, for all genders and ages, is Pretty Ugly's Uglydolls (Gift Guide). These two toys "have become sensations, in a way," he said.

The rest of the retailers reported that boys were craziest for trains from Thomas the Tank Engine and plastic animals by Safari (Gift Guide), Schleich (Gift Guide)and Papo. Girls liked the latter, too, adding Bryer horses to their collectible lists. Two retailers mentioned the Webkinz by Ganz as one of their best buy-more toys.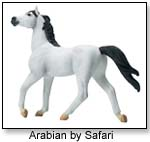 And though Margaret James, manager of Child's Play in Gresham, Ore., claimed that Manhattan Toy's (ToyDirectory) "Groovy Girls are on the way out," she added that they're "still the biggest one category we have. … Once people get started on them, they come back for more accessories and clothing."


Nine retailers confirmed that the Groovies remained their hottest collectible for girls. "Some adults collect the Groovy Girls, too," noted Shannon Nashif, manager of Creative Kidstuff in Portland, Ore. One southern retailer said that Kidz by Dezign's (ToyShow) Slumber Girls, which launched nationally in summer 2006, was waking up the collector in her girl customers.


Here are the toys that kids are collecting, retailers told

TD

monthly

:









.

AD
---






.

AD
---






The 10" tall cloth fashion doll Maya shows her flair for fashion and love for vivid colors as she dons her multi-color striped corduroy pants and yellow halter top. To complete her look, Maya carries her matching corduroy purse and slips into her raspberry Mary Jane-style shoes with yellow accents. Her hair is 100 percent acrylic and dry cleaning is recommended. "[Dolls] by Kidz by Design — a new manufacturer — sell well," said Karen Sullivan, owner of Polka Dot Kids in Marietta, Ga. Tween girls "love their hair, which is as close to natural hair as you can get," explained Kidz by Dezign vice president and the designer's son, Chris Carpenter. "They can style it and comb it."

.

AD
---






Casting gender stereotypes aside, Anne Bonny proves that you don't have to be a man to be a pirate. Armed with two pistols, a cutlass and a boarding axe, this 5-1/4" tall, hard vinyl version of Anne Bonny is ready to rough up all of the boy action figures. She comes packaged on an illustrated blistercard. "We sell pirate toys well," reported Linda Hill, owner of Emerald Isle Toys on Emerald Isle, N.C. "Our pirates are by Accoutrements."

.

AD
---






.

AD
---






Reeves International's Breyer Animal Creations brand has unveiled Mini Whinnies, a new line of micro-mini horses. Mini Whinnies horses measure just 1" to 2" tall and are offered in single sets, backpack travel sets and play sets. Capturing all the glamor and fun of exotic equine vacation destinations around the world, Mini Whinnies travel play sets are packaged in vinyl back packs for jet-setting horse lovers. Exotic equestrian vacations captured in these fun play sets are the annual Chincoteague Island Pony Round Up, horse racing on snow at posh St. Moritz in the Swiss Alps, wilderness trekking in the Land Down Under, and cross-country gallops across the Irish Countryside. Breyer also pays homage to its own annual collector and horse festival BreyerFest, held annually at the Kentucky Horse Park, with the Deluxe BreyerFest Play Set. "Those are really popular," said Mike King, toy buyer for Palo Alto Sport Shop and Toy World in Calif. Prices range from $7.00 to $25.00.

.

AD
---






The Dunny series continues with new 3" creations by Tristan Eaton, Abe Lincoln Jr., Mishka and others. The 17-piece blind assortment includes some designs that are limited to just 500 pieces. To add to the excitement, hidden inside 400 special boxes are tickets redeemable for an 8" Love Dunny by Tado, who also designed the box art. One grand prizewinner will receive a custom 20" Dunny by Tado. Some retailers stage trading parties for Dunny aficionados. Launch date: July 27, 2006.

.

AD
---






This 83-piece track set is enclosed in a wooden box with a removable lid/seat. The track layout is 42" by 28" and includes aquarium cars and two destinations: an aquarium with swimming fish and the fish food factory. "Thomas the Tank Engine is our biggest seller ... anything by Thomas Tank," enthused Dan Mewborn, owner of Past Time Toys in Surf City, N.C.

.

AD
---






.

AD
---






.

AD
---






.

AD
---
THIS BANNER IS AN AD:
---
---