---
TDmonthly's DVD Expert
Kideos Get a Look-See
"Will Ferrell on line one," says my assistant (who sets my double mocha, sugar-free, fat-free, taste-free super-jumbo latte down on my desk). "Hold that call, I'm watching something." "But you already have Brad and Angelina on two!" I wave my hand, shooing her away. "I said, I'm watching something."

And so I am: the latest kid videos to cross my overly swamped desk. Believe me, they aren't the 100-million-dollar-budget big-screen extravaganzas boringly coming out of Tinsel Town. These are small-budget, shoestring productions made from spit, video and baling wire — but also, lots of creativity. Good thing TDmonthly Magazine has me to rate 'em with my 5-TD (for TDmonthly) system:


My Baby Can Talk: First Signs by Baby Hands Productions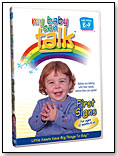 Age: 1 to 3
Gender: Boys And Girls
Okay, like "Lord of the Rings," this is a whole series of DVDs, and they're based on the fact that babies learning sign language while they learn the spoken language learn language faster and better. Increase their IQ, too. But will anyone want to watch this thing?

… Actually, it's pretty great! "My Baby Can Talk" combines short stop-motion bits with live action, a reoccurring baby and a woman who looks like she's uniformed straight out of a Star Trek episode. But it really works! I can sign "cat" and "eat" and "car" (which I used to tell my assistant to go get my Ferrari washed). Not a lot of budget, but what's there is well used. They reinforce the lesson in multiple ways, and the demonstration by the woman really sticks in your head. Now if I can just learn the signs for "5 percent of the gross," I'll be set.


| | |
| --- | --- |
| Budget | |
| Creativity | |
| Bells & Whistles | |
| Usefulness | |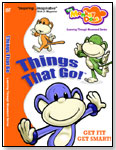 The Monkey Doos "Things That Go!" by Mazzarella Media
Age: 2 to 6
Gender: Boys And Girls
Our second feature of the matinee is another ongoing series (like "XMen"). This is all about exercise, with catchy songs and special exercise routines (the Helicopter, the Paddleboat, etc.). The Monkey Doos are a trio of simply animated and designed exercise monkeys who help the live-action kids do their thang against a green-screen virtual background. There's also the host, Maureen.

So ... it's made well on a small budget. It gets the job done: sort of a kid's version of the old 80's aerobics videos (sans leotarded hotties). But more could be done with this. The monkeys don't do anything the kids don't do (demonstrate the exercise); in fact, the kids are more interesting and individual. As much as the Monkey Doos are a trademark, the kids are more fun to watch. If the monks were interacting with Maureen more and in more comedic ways, giving them some personality, that would kick this up a notch.


| | |
| --- | --- |
| Budget | |
| Creativity | |
| Bells & Whistles | |
| Usefulness | |

Roald Dahl's The BFG (Big Friendly Giant) by A&E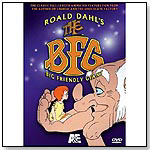 Price: $19.95
Age: 7 and up
Gender: Boys and Girls
The last DVD is kind of a ringer from Cosgrove Hall Studios that was made for TV and is now brought out on DVD via A&E. It's much bigger budget, design, acted, etc. It's a real movie ... but is it good for the kids?

First, read the original Roald Dahl book. It's the greatest! The DVD does not hold up. Although nicely stylized, the plot is watered down and not nearly as captivating as the book. Worse, it can be too scary for the smallest kids, but not scary enough for the older ones. And ... it's not the fastest moving sheep in the herd. Now, I love Cosgrove Hall — they made "Danger Mouse" and "Count Dukula," two of the greatest animated series of all time. This is just not their most engaging work. Worth a look, but check out Danger Mouse first.


| | |
| --- | --- |
| Budget | |
| Creativity | |
| Bells & Whistles | |
| Usefulness | |

So, gotta get back to wheelin' and dealin'. See you next month with more DVD reviews. "Okay, Brad — what's up? You want to do a children's DVD? Let's talk ..."
Writer's Bio:
Mark Zaslove is an entertainment industry veteran in developing content (writing, directing and producing television and feature films) for the major studios, including Disney, Universal and Warner Bros. A two-time Emmy Award winner for writing and recipient of the Humanitas Prize (for writing uplifting human values in television and movies), Mark is also Head of Content Development for Nice Entertainment.
Read more articles by this author
THIS BANNER IS AN AD:
---
---