---
Retailer Spotlight: The Toy Chest
A Personal Touch Has Kept Them Coming for 23 Years
"I looked to hire a really good artist and a good embroiderer. I think it just makes us a little bit different than most specialty toy stores." — Debbie Wurzburger, The Toy Chest

Although her father had always been in the toy business, necessity pushed Debbie Wurzburger to open her own toy store in Pikesville, Md.



"Almost 23 years ago in the Baltimore area — and in most of Maryland — there were no specialty toy stores," Wurzburger said. "I had one young child at the time, and I felt that I had to go up to New York or over to D.C. to get good, quality toys. So we opened our first store."

The Toy Chest remained at its original location until about four years ago, when it moved a mile up the street. However, the premise for the store stayed constant.

"Every year, there are new manufacturers and new toys that come out, but the idea we started out with hasn't changed: good quality toys that are age appropriate, and giving excellent customer service," Wurzburger said.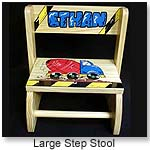 The store carries items from all the major specialty manufacturers, including International Playthings, Small World, Tiny Love and Corolle. To stand out from the competition, Wurzburger decided to sell a line of hand-painted and embroidered items, too.

"I liked to decorate my own children's rooms," she noted. "I don't have artistic ability, but I knew there was a lot of talent out there, so I looked to hire a really good artist and a good embroiderer. I think it just makes us a little bit different than most specialty toy stores. After we were in business just a couple years, everybody started popping up, so I wanted to constantly keep us different."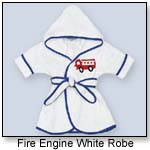 Personalized items are sold online as well as in the store. Embroidered items include everything from bibs and robes to hooded towels and burp cloths. The most popular hand-painted items are rocking chairs, but the store also does its share of toy chests, step stools, and picture frames.

To help stay fresh in today's market, Wurzburger noted that she does a lot of reading and attends numerous shows. Her customers also sometimes give her leads, and she checks out anything that she can. Another help is that she is a member of ASTRA, which allows her to share information with other specialty retailers.

"I think we all try to really do the same, looking for anything new that really works for anyone," she said. "We're scattered throughout the United States, and I think it's all friendly competition."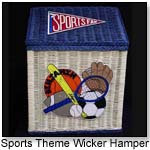 Although Wurzburger has advertised over the years, she wishes that she'd saved most of her money instead.

"I feel my mailing list is my best form of advertising," she said. "It's like my Bible."

Wurzburger's advice for those who are new to the industry is to do a lot of homework and be willing to work a lot of hours.

"I think that's the biggest mistake," she explained. "People just think they're going to open a store, and people are going to flock to you. Knock on wood, I am successful at what I do. I'm one of the few — I've seen a lot of stores come and go — but I'm here usually six days a week. People can go anyplace they want. They need a reason to come to you."

Writer's Bio:
Brenda Ruggiero is a freelance writer from western Maryland.
Read more articles by this author
THIS BANNER IS AN AD:
---
---