---
TDmonthly's Expert Mom
Send Her Your Toys ... If You Dare!
Emilie Hill has taught kids of all ages everything from swimming to physics for more than 15 years. She has four children of her own, ranging in age from a toddler to 12 years. In addition, she writes for an online community of moms. Each month, she shares her views on the latest toys with

TD

monthly Magazine readers, rating them with 1 to 5 TDs (for

TD

monthly!), with 5 as the top rating.

In this month's issue, she's found a super way to keep kids safe in grocery carts and great new games, including a trivia boardgame that doesn't exclude the little tykes.


Name: Clean Shopper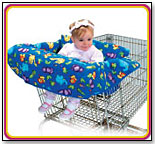 Company: BABE EASE LLC (Gift Guide)
Gender: Boys And Girls
Category: Infant & Toddler

Mom's Impression
Unlike a similar product I already had, the Clean Shopper completely covers every part of a shopping cart with which a child would come into contact. The Clean Shopper not only makes sitting in the child seat of a shopping cart more comfortable, but it also makes it safer. The padding covers the entire seating area of a standard (or smaller) size shopping cart, protecting the child from germs (and dirt!). The seat even extends to fully cover the cart handle, which teething babies so often try to gnaw.

What the Kids Did
We took the Clean Shopper on a grocery-shopping trip. It easily slid into place in the cart. I used the included safety strap (no more searching for a cart with a working strap) to buckle in my 20-month-old son, and I was able to put a couple of his smaller toys in the Clean Shopper's side pockets. My toddler was secure and had toys within easy reach.

What Mom Recommends
This product is a sanity saver. It is well constructed and easy to use. The Clean Shopper instructions state that the product is completely machine washable (I'd recommend line drying, so the padding is not destroyed), which is necessary after a few uses to keep it relatively germ-free. Although it doesn't come with attached toys, as similar products often do, there are pockets for toys your child already has. This is beneficial, because toys are readily changed out and can be cleaned individually. I highly recommend the Clean Shopper as it is the best product of its type that I've seen yet.
Rating:

---
Name: Clever Catch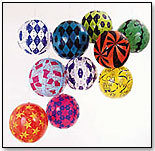 Company: SCOTT RESOURCES
Age: 4 to 7
Gender: Boys And Girls
Category: Educational

Mom's Impression
Clever Catch is packaged in a clear, plastic pouch with a cardboard hangtag. Upon inflation, the 50 icebreaker questions become legible. Questions range in topics from being afraid of the dark to favorite sports and hobbies.

What the Kids Did
My kindergartner and 1st grader do not read independently yet, so playing with the suggested rules was tricky. Children are directed to toss the ball around and answer the question printed on the ball nearest their left thumb. While the goal is to promote reading ability in the age group of 4 to 7, my 5 and 6 year olds were frustrated with having to ask my help in reading the questions. About three questions into playing, they started making up their own questions.

What Mom Recommends
As a new idea for engaging kids in group game play and getting to know each other, the Clever Catch is somewhat successful. However, to be used in a classroom setting, the participants would have to have basic reading skills. I'd cautiously recommend it for second and third graders based on the reading required, though the questions seem more appropriate for younger children. Clever Catch balls are available in different subjects, such as math, and some of those may have improved on the concept.
Rating:

---
Name: Tumblin' Dice
Company: NASH GAMES
Category: General Games

Mom's Impression
Tumblin' Dice includes everything you need, from 16 dice (4 for each player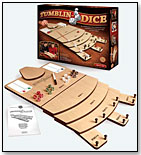 , up to 4 players) to a dry-erase marker for scorekeeping directly on the game board. The two large game board pieces fit together easily, and play can begin shortly after the box is opened.

What the Kids Did
Tumblin' Dice is recommended for ages 8 and up, but my 5 and 6 year olds were eager to play. Since players have to decide where to aim each die (i.e., knock off competitors' dice versus advance their own scores), simple strategy is involved. Skill is also required to gently toss each die to areas that maximize the score without falling off the board. All three of my older kids loved playing this game, and have played on several occasions already.

What Mom Recommends
The durable Tumblin' Dice game board is made from solid wood. The game comes with simple instructions, and two different methods of play are described. A velvet dice pouch helps prevent individual game-piece loss. After seeing my kids play Tumblin' Dice, I'd recommend having one available for play in toy stores. Once customers can see the game in action and try it for themselves, they will be more likely to recognize its classic value.
Rating:

---
Name: Tyler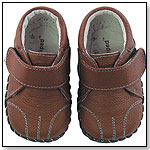 Company: PEDIPEDS
Age: 0 to 2
Gender: Boys And Girls
Category: Apparel

Mom's Impression
The Tyler style of shoe by Pedipeds is very attractive. The brown leather and blue stitching is typical of infant boy-style shoes, but the soft soles are not. The soles are sturdy yet very flexible, and they seem to give support without bulk.

What the Kids Did
Unfortunately, my toddler's feet were too big for the sample pair of Pedipeds, but I will pass them on to my sister-in-law once her baby is born.

What Mom Recommends
Doctors and baby experts highly recommend soft-soled shoes for infants and toddlers , and low-quality knockoffs are flooding the market by way of mall kiosks. Pedipeds are high in quality, made from genuine leather, and are hand stitched. Upon examination, the shoes seemed strong and durable, and baby would most likely outgrow the shoe long before it wore out. The shoes came packaged nicely in an attractive shoe box, complete with viewing window, as well as an explanation of the benefits of using Pediped shoes. I highly recommend this product as one of the best available of its type, both in display and use.
Rating:

---
Name: Dreamblade — Starter Set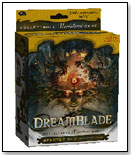 Company: WIZARDS OF THE COAST
Age: 13 and Up
Category: Card Games

Mom's Impression
From the makers of Dungeons & Dragons, Dreamblade is another strategy game that uses collected game pieces, each with its own particular abilities and weaknesses. Dreamblade is the logical next step for boys who are outgrowing strategy collector card games such as Yu-Gi-Oh! or Pokemon. However, because the playing pieces are nightmarish creatures, I would seriously recommend sticking to the 13+ suggested age range. The 16 pieces are individually wrapped and packaged in a small box with a paper game mat and an instruction book.

What Mom Recommends
For kids seeking something beyond card collecting and deck strategizing, I do recommend figure strategy games. I would be concerned about sensitive kids playing with Dreamblade, simply because the 16 figures that came in my particular set were all either bloody or horrific. I found the miniatures to be rather repulsive (which is probably the whole point!). The similarities between Dreamscape and Magic the Gathering (its card game predecessor) are striking, and previous players of Magic could make a seamless transition to Dreamblade. Older adolescents who are not affected by the gruesome game pieces may enjoy the game, which boasts local tournaments for prizes. (Editor's note: Because neither Mom nor the kids played with this toy, there's no rating. But children past the nightmare age should love the gruesome characters in the Dreamblade set.)

---
Name: Word Sweep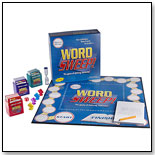 Company: INTELLINITIATIVE INC.
Age: 10 and Up
Gender: Boys And Girls
Category: General Games

Mom's Impression
Deduction, speed and wordplay: all great attributes for a game to have. With three different sets of cards (easy through challenging), as well as "Junior Rules" (for players ages 10 to 14), each player can play at his or her own individual ability level while still competing against everyone else. This terrific concept is lacking in most board games. Everything is included for game play, even notepads and pencils for players who need to take notes.

What the Kids Did
My seventh grader and I had a ball playing this game. With fewer than three players, we were unable to utilize the "stealing answers" portion of game play, but it was fun nonetheless. My son was able to play using the easier card set, while I played against him using the more difficult card sets.

What Mom Recommends
I was excited to play a game that both my son and I found challenging and enjoyable; usually, games are either too difficult for him or too easy for me. We both enjoy word puzzles of every type, but I think Word Sweep would be enjoyable even if we weren't particularly interested in wordplay. Another benefit is the exposure to new words and the building of vocabulary that comes with playing Word Sweep. I highly recommend the game for both family use and possible school use.
Rating:

---
Name: Wits & Wagers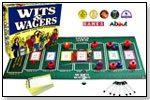 Company: NORTH STAR GAMES (ToyShow)
Age: 10 and Up
Gender: Boys And Girls
Category: Board Games

Mom's Impression
Wits & Wagers is well designed, catering to both the trivia fanatic (like myself) and the amateur gambler (like my husband). It comes with a neoprene rubber game mat, dry-erase answer cards and pens, question cards, poker chips and bet markers. All questions have a numerical answer, which players must write on the answer cards. The answer cards are then placed on the game mat in numerical order, with corresponding odds (2 to 1, 5 to 1, etc.) listed below. Players then place bets on the answer(s) they think are closest to, without going over, the correct answer. Winnings are paid both to the player who provided the correct answer and to any players who bet on that answer. Rounds consist of 7 questions and move very quickly, enabling several games to be played in a relatively short period of time.

What the Kids Did
Wits & Wagers is recommended for ages 10 and up, but bright younger players may be able to participate as well. I played with my husband, 12-year-old son and 6-year-old daughter. Although her answers to the questions weren't correct, she had no problem placing bets on the rest of our answers and managed to play quite well. We enjoyed her sometimes ridiculous answers and had fun learning the sometimes even more ridiculous correct answers.

What Mom Recommends
With a capacity for up to 21 players, Wits & Wagers would be a great staple game for dorms and sorority houses. The kids begged to play it again and again. I think my husband and I even had more fun than we anticipated. I highly recommend this game, and it's easy to see why it has won several industry awards.
Rating:

---
Name: Pillow Pods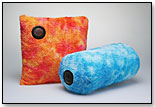 Company: FUNHOUSE
Gender: Boys And Girls
Category: Furniture

Mom's Impression
The particular Pillow Pod we got was soft, furry and purple. There's a 3"-diameter speaker in one corner of the pillow, and a cord exits another corner for attachment to the headphone outlet of a CD player, MP3 player or iPod.

What the Kids Did
My 11-year-old son has an iPod, so we used that to try out the pillow. It was as easy as plugging the pillow into the headphone socket of the iPod. My son was disappointed with the volume output of the Pillow Pod, however, and even with the iPod volume turned to the maximum, the pillow volume output was somewhat low.

What Mom Recommends
Even with low volume output, the Pillow Pod is a good product. It would be appropriate for personal use within a child's room, but it shouldn't be relied on for providing musical entertainment for a roomful of people. The package markets the product for adolescents to use in their rooms, which is what I'd recommend. Perhaps the best selling point is that, unlike other iPod speaker-type toy products, the pillow does not require separate batteries.
Rating:

---
Name: Sixth Sense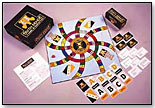 Company: SIXTH SENSE GAMES (ToyDirectory)
Age: 16 and Up
Gender: Boys And Girls
Category: General Games

Mom's Impression
The premise of this game is simple: Predict other players' answers to opinion-based questions, and gain points for correct answers. A benefit of game play would be learning more about each other — assuming everyone answers honestly. However, because it is a game, one suggested strategy is to mislead opponents to prevent them from scoring match points. The game now turns into little more than an intricate gambling sequence, with bets being made on answers A, B, C or D. The game's description notes that perceptive players will be able to predict when players are going to answer truthfully or dishonestly, proving their developed "sixth sense."

What Mom Recommends
Although this game is truly unique in its premise, I would not be interested in playing it unless players agreed to be honest. I've always believed that board games are meant for entertainment and socializing, and are not necessarily about winning. What makes Sixth Sense interesting are the thought-provoking questions it includes, such as "What do women lie about more: age, weight, experiences, or in this day in age women don't need to lie?" and "Who would you rather have dinner with: Madonna, Cleopatra, Mark Twain, or Tiger Woods?" Game play can even be modified to resemble "Newlywed"-type matching games as well, which is an added bonus. The game could easily be marketed as a grown-up party game.
Rating:


Writer's Bio:
Emilie Hill has taught kids of all ages everything from swimming to physics for more than 15 years. She has four children of her own, ranging in age from a toddler to 12 years. In addition, she writes for an online community of moms.
Read more articles by this author
THIS BANNER IS AN AD:
---
---