---
Toy Sleuth: Helicopting Head Turns Heads
Fake Flying, Fake Ants and Ride-on Luggage Get Hunted Down
Scouring the globe for the latest, greatest new toys and knickknacks, the

TD

monthly Magazine Toy Sleuth picked up electrical ants, locomoting luggage, robots that eat pencils, and a helicopting head:

Ants in the Pants ... er, Palms

Ant farms, perennial favorites for more than 70 years, have leaped into the 21st century with Bandai's (ToyDirectory) Ant's Life Studio Virtual Ant Farm. Set for release next month in Japan, this virtual ant-farm simulator could become the next Tamagotchi.

"This toy can be used as a snazzy interior decoration," a Bandai Japan spokeswoman, Ms. Taneda, explained to

TD

monthly. "Or else stressed-out employees can keep it on their desks and be comforted just by watching the 'ants' work."

Unfortunately, according to Darin Tambascio, senior account executive for The Rogers Group, which represents Bandai America, it might not make it to the United States. But there's some uncertainty about that, so cross your antennae.

Take a Seat(case)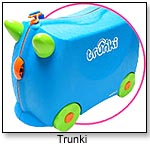 "Are we there yet? Are we there yet?" Kids and traveling don't mix, but award-winning entrepreneur/designer Rob Law of Magmatic/Trunki created the Trunki as part luggage, part toy, all fun. "I had an idea to utilize the wasted space found in ride-on toys, so I designed a hard suitcase-like shell that would be fun to ride yet also function as hand luggage."

The award-winning design prevents children from damaging their backs by carrying heavy bags, Law explained. Crafted in brightly colored, durable plastic, they are "hand-luggage approved."

Tierney Fox of the Trunki Press Office (Dangling Carrot PR) told

TD

monthly, "They're selling marvelously! We have various retail channels here (Britain), and international pickup (especially in Japan and Australia) is promising. We have 'spotted' photos sent in from all parts of the world."

Stay Ahead of the Game ... a Head, Get It?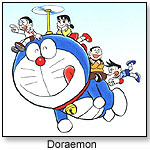 With the Nintendo Wii coming out shortly, sporting a motion-sensitive controller, the whole "body-movement" game idea is taking off. For Doraemon fans, that's literal: The Epoch Corporation Ltd. Doraemon Game with strap-on helicopter hat, or "takekoputa" (a Japanese combination of helicopter and ... uh, some other word), allows the player to fly around in a game using only his or her head. Strap on the electronic "beanie," plug the base station into a monitor, and any motion of the head — forward, back, right or left — makes Doraemon fly the same direction inside the game. It comes with a story mode, 10 mini-games, and a free mode where the child can fly around and explore Japan from the skies.

A Robot in the Hand ... Is Worth a Pencil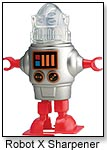 Pencils and robots will never be the same again. This latest 'bot by Famemaster, the Robot X Sharpener (looking like very famous sci-fi robots from past and future), are wound up by sharpening a pencil, which sets the clockwork mechanism into motion so the 'bots can walk along to terrorize the world. A key is provided for those times when no pencils are on hand.



TD

monthly's been told that the Robot X Sharpeners often sell out. "It's a cute item that's doing better than forecast," said the pleasant folks at HearthSong in Madison, Va. Sophie Williams, marketing manager of Hawkin's Bazaar in Norfolk, England, found that it's "selling very well — mainly to adults, although they might be presents for children. We're surprised at the sudden popularity of the item."

These are the latest to pop their heads above the radar. Take a look and have some fun: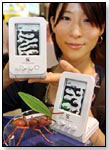 MSRP: $69.00

Age Range: 8 and up





This handheld electronic ant farm has electronic ants that scurry about, dig holes, feed their queen and do all the "anty" things ants do, like destroying nests, finding yummy caterpillars and — if they're not careful — getting eaten by passing spiders. Unlike a real ant farm, this thing will never accidentally unleash ants into the wild of a child's bedroom.

ToyDirectory Product ID#: 9450

(added 9/21/2006)

.

AD
---




MSRP: $40.00

Age Range: 3 to 6





Globetrotting children can pack, carry, rest on and ride on this innovative luggage. Generously sized, it is made from durable, brightly colored polypropylene, and has a wide, stable wheelbase and a shoulder strap. Trunkis let toddlers participate in the traveling experience in a practical, safe and fun manner. Soft rubber rims prevent little fingers from being caught, and the wheelbase ensures safe riding around airport terminals. TrendyKid is a distributor of the Trunki.

ToyDirectory Product ID#: 9451

(added 9/21/2006)

.

AD
---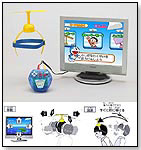 MSRP: $40.00

Age Range: 4 and up





Fans of Doraemon will rejoice knowing that there is a new Doraemon-based game in town that uses the "takekoputa" as a navigation device. The control scheme goes one up on the Nintendo Wii, as players are required to wear the takekoputa on their heads, leaning in all four directions like a traditional D-pad to control Doraemon as he flies through the air. It is powered by four batteries.

ToyDirectory Product ID#: 9452

(added 9/21/2006)

.

AD
---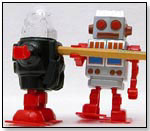 MSRP: $4.95

Age Range: 5 and up





This smart little robot performs a function as well as entertains. Sharpening a pencil winds up the mechanism that makes it walk along. A key is also provided for when a pencil is not handy. It comes in assorted classic sci-fi designs in various colors. It's a really cute item.

ToyDirectory Product ID#: 9453

(added 9/21/2006)

.

AD
---
Writer's Bio:
Mark Zaslove is an entertainment industry veteran in developing content (writing, directing and producing television and feature films) for the major studios, including Disney, Universal and Warner Bros. A two-time Emmy Award winner for writing and recipient of the Humanitas Prize (for writing uplifting human values in television and movies), Mark is also Head of Content Development for Nice Entertainment.
Read more articles by this author
THIS BANNER IS AN AD:
---
---