---
Dolls: Corolle's Bébé Do
Precious Baby Doll Earns a Perfect 5
"The doll was small enough for even my youngest child to cuddle, so everyone took turns." — Amanda Forrest

This month, Dolls Roundtable participants reviewed Corolle's Bébé Do — an infant doll they fell in love with before the package was even opened. The 14" soft-bodied Bébé Do comes with a plush bunny, a bottle and a book, and is part of Corolle's Les Classiques baby doll collection. Participants were most impressed with the doll's price point, inclusion of accessories, baby powder scent and playability among various ages.

Roundtable participants included: Ruth Mandt with her granddaughter Paige (6); Amanda Forrest with her daughters Sydney (7), Savannah (6) and London (15 months); Kim Hobbs, owner of Hobbs House of Dolls in Marietta, Ga.; and doll collectors Brenda Oxford and Virginia Davis.

Bébé Do by Corolle
MSRP: $49.99
Age: 2 and up
Gender: Girls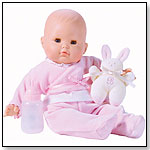 TD
monthly rating:





PLAYABILITY

"I love baby dolls, and this one is so cute!" collector Brenda Oxford cooed. She's confident that her 8-year-old niece or any other little girl would fall in love with the doll, as all little mommies love to give a baby a bottle.

Other little girls did, in fact, love the Bébé Do.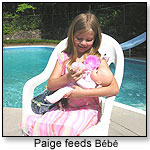 London Forest cuddled the doll and her two older sisters argued about whose doll she was. They were especially excited that the doll came with her own playthings.

"I was glad the doll was small enough for even my youngest child to cuddle, so everyone took turns holding the doll," mother Amanda said.

Ruth Mandt loved the doll's baby powder scent, and her granddaughter Paige repeatedly read the little book to her new baby and her little dog, Twinkle. Paige also loved the plush bunny that came with the doll, and was delighted that she could give the doll a bottle.

"The doll is very cute, and the accessories packaged with it would make her a great play doll as well as a good seller for the holidays," retailer Kim Hobbs concurred.

VALUE

Hobbs expressed that Bébé Do is an exceptional doll for the price, and others agreed.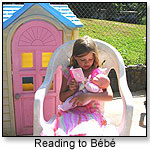 "The doll is a specialty store item and a very good value," Amanda said. "My mother and I buy quality dolls for the girls, like Only Hearts, American Girl and this one."

"I have been collecting dolls for a long time, and I love Corolle dolls," Amanda's mother, Barbara, said.

Oxford, who proclaimed that she would buy this doll for all the little girls on her Christmas list, pointed out that when you have three or four girls in a family, finding a beautiful, well-made doll for a good price is much appreciated.

Mandt thinks that little girls can learn how to nurture and care for a real baby by playing with this doll.

POSSIBLE IMPROVEMENTS

None of the participants could think of any ways in which the doll could be improved. All awarded it 5 stars.

Writer's Bio:
Virginia Davis is a freelance writer who is considered an expert in the area of dolls and collectibles. She has written hundreds of articles on dolls and toys, as well as other subjects, for numerous publications. She lives in Georgia.
Read more articles by this author
THIS BANNER IS AN AD:
---
---