Tools:








Spidey's Special, But Knights Still Rule
Heroes and Fighters Stake Their Claims on Specialty Floor
"Everyone who wanted pirate stuff to play with, got it. … I think it's pretty much played out." — David Campbell, Amazing Toys

With additional reporting by regional correspondents Dennis Furlan, Terri Hughes-Lazzell and Christine Lebednik

OK, knights still KO most other action figures in the specialty market, but a mass-market arachnid has caught kids in its web.

Spider-Man was named as a top-selling action figure by three of 41 specialty toy-store owners, and made

TD

monthly's Top-10 Most-Wanted Action Figures list.

WHAT'S SELLING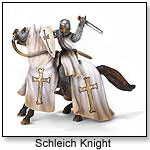 But other than a bit of Spidey and Batman, it was knights and pirates all the way for the second year in a row (VIEW ARTICLE).

"I buy the whole Papo line. … The only ones that don't do well are the Vikings and the Robin Hood era," summed up Linda Angel, owner of Kidoodles Toys in Norman, Okla.

Papo, Schleich and Safari were the most-named companies in the knights and pirates categories, but Shana Hack, owner of Moon Rabbit Toys in Santa Fe, N.M., is considering the Bullyland characters as an alternative to those more popular brands.

WHAT'S FADING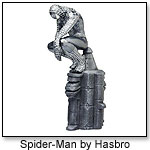 Despite five other retailers' continued enthusiasm for the high-seas robbers, "Pirates in general are pretty much bye bye," claimed David Campbell, owner for 19 years of Amazing Toys in Great Falls, Mont.

Even with $112.5 million in opening-weekend ticket sales for "Pirates of the Caribbean: At World's End" (Reuters, May 27), Campbell projected the slump to continue: "Everyone who wanted pirate stuff to play with got it. A new movie might bring it up for just a short time. But I think it's pretty much played out."

WHAT'S COMING

You might be able to woo back even the most jaded kids by offering them a chance to create their own action figures. Last year,

TD

monthly reported on 3-D printers that could replicate human figures (VIEW ARTICLE), but, at the time, the price for such technology was prohibitive. However, IdeaLab's Desktop Factory intends to sell a model for $4,995.00 and company CEO Cathy Lewis projects it will be ready in November.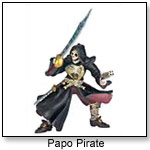 WHAT TO MAKE OF IT

Don't clean the bats and spiders from the shelves just yet, pirates are a maybe, but knights are still going strong. Keep an eye out for cheap 3-D printers to get your clients designing their own toys.

In the meantime, these are the action figures that might move your sales today:







.

AD
---






The King is one of six figures in Safari's imaginative Once Upon a Time Collection. The figures range in size from 4" to 5.25" tall (the King is 2.5" long by 5.25" high) and are offered individually or in a POP display for flexible retailing. Pieces in the collection are superbly sculpted by masters for hours of imaginative play. Launch date: May 2007.

.

AD
---






.

AD
---






This ship's helm and cannonballs are part of Safari's pirate collection, which includes six pirate figurines and other accessories that range from 3" to 4" long. The pieces are hand-painted and phthalate-free. Launch date: Spring 2007.

.

AD
---






Avast ye heartys. Kids can travel back to days of yore, when seas were plagued with marauding pirates, with Safari's pirate collection, which includes First Mate Jonathan Roberts and five other 4"-tall figurines. The products are hand-painted and phthalate-free. Roberts is offered individually, on platform boxes or in a POP retail display. Launch date: Spring 2007.

.

AD
---






Hand-painted Nuray is the beautiful princess of darkness. But despite her enchanting appearance, her thoughts are very sinister. Launch date: May 2007.

.

AD
---






Two action figures of Jack Bauer, hero of Fox's television drama "24," are available in boxed sets. The figurines re-create scenes taken directly from the action-packed show. Launch date: August 2007.

.

AD
---






.

AD
---






.

AD
---






.

AD
---






The Phantom Ghost Ship from Le Toy Van looks like an authentic pirate ship, but also features a spooky skeleton and spider web design. With glow-in-the-dark skeleton fabric sails, it sets sail with two masts, rope ladders, two removable jail cages, a prison, a working anchor and an opening stern for greater play value. The wooden, durable Phantom Ghost Ship holds so many ghostly pretend-play details that kids will sail off into some spooky and great imaginative play. Launch date: May 1, 2006.

.

AD
---






.

AD
---






.

AD
---
Catalog Request Form
THIS BANNER IS AN AD:
---
---