---
Fast, Cheap and Under Control
Novelties Let Shoppers Grab and Go
Harried holiday shoppers who want a unique present that won't break their budgets or take much time can pick up these fun toys from your novelty bins:
Aqua Dragons Underwater World Boxed Kit by PLAY VISIONS INC.


Live aquatic creatures which you will bring to life, hatching them out of their hibernated egg state by putting them in water. Aqua Dragons look like three-eyed, long-tailed, hairy headed dragons. They swim and play graciously in their fascinating aquatic underwater world. Care for them and you will see them eat, grow, swim, play and reproduce. Comes complete with aquarium, eggs, food and feeding tools. 3/18/2015 (Price: $18.00; Age: 6 and up) [Add to my Inquiry Basket][?]



Sea Life Poppers by HOG WILD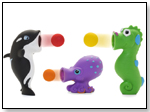 Wave "hello" to three new ocean-inspired Poppers—Orca, Octopus and Sea Horse. Just place the ball into their mouth, squeeze the belly and out shoots a soft foam ball—up to 20 feet! Each character includes six soft foam balls. Great for indoor, outdoor, at the beach or just lounging around the home front.
Awards: 2015 TDmonthly Top Toy Award 3/18/2015 (Price: $9.99; Age: 4 and up) [Add to my Inquiry Basket][?]



Wild Lights by LEADING EDGE NOVELTY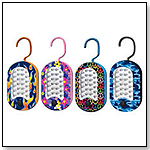 32 LEDs plus a flashlight. Great locker light; has magnet and hook to hold it in place. 12/18/2014 (Price: $7.99) [Add to my Inquiry Basket][?]



Whackies by CREATIVE CONCEPTS LLC


Whackies is the latest and greatest product coming out of Creative Concepts this year. Filling a tube full of great tasting crunchy candy pieces makes this new product a must for retailers who are looking for something new and exciting. 11/10/2014 [Add to my Inquiry Basket][?]



Finger Spinners by NPW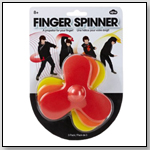 These foam propellers will spin as long as they are moving, so take one for a whirl on your fingertip! Wave your hands around and release the spinner for a host of mind-blowing moves and tricks. 10/15/2014



Flip Car by TOYSMITH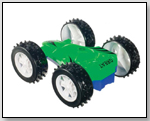 These friction-powered racers feature a two-sided design. Rev them up and watch them drive over and into obstacles, flip over and keep going. Cars measure 4.5 inches long and have all-terrain wheels. Assorted colorful styles. 10/15/2014 (Price: $2.99) [Add to my Inquiry Basket][?]



Disney Large Beanbag 9-10.5 Inches Plush With Hangtag by UNITED PRODUCT DISTRIBUTORS LTD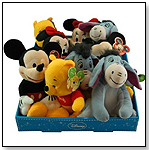 Assortment of PLUSH - DISNEY LARGE BEANBAG 9-10.5 INCHES PLUSH WITH HANGTAG. Comes in an assortment of 12 characters. © Disney 9/2/2014 [Add to my Inquiry Basket][?]



Houdini Lock and Key by RECENT TOYS USA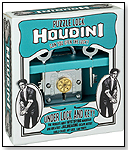 A special design for a metal trick lock.The Houdini Under Lock has internal mechanism that needs to be figured out, so a simple use of the provided key will not do it! Puzzle Locks or Trick Locks cannot be opened like normal padlocks. A solution, or trick, needs to be found to crack the lock! Pit your wits against this puzzle in order to crack the lock. Puzzle locks have been made for many centuries and have foiled burglary attempts, kept secrets hidden away and helped escapologists baffle audiences. Over the years they have been some of the best and most popular puzzles ever invented. 5/6/2014 (Price: $19.95) [Add to my Inquiry Basket][?]



Super Sonic Auto Gyro Spinnerz by GEOSPACE INTERNATIONAL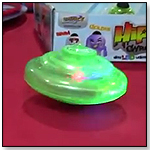 Like a miniature UFO, this phenomenal auto spinning toy displays a kaleidoscope of constantly changing LED Lights, flashing and pulsating to the rhythm of a cool hip-hoppy tune. Powered by 3 AA batteries (not included), the SUPER SONIC™ LED AUTO SPINNERZ™ can rotate incredibly fast and are surprisingly stable. A three-way switch gives kids the option of operating it with music on or off.

4/7/2014 (Age: 4 and up) [Add to my Inquiry Basket][?]



Halloween Screamer by CANDYRIFIC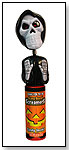 Building on the popularity of CandyRific's past Halloween Screamers, 2013 brings a new design, featuring a skeleton and mummy. When you shake them, their eyes light up and they scream four different shrieks. They also include .53 ounces of microbites candy. Launch date: August 2013. 1/18/2013 (Price: $3.99; Age: 3 and up)



Elvis Blue Hawaii Potato Head by PPW TOYS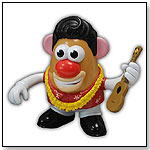 How cool is this Elvis Presley Blue Hawaii Mr. Potato Head? Combining the spirit of the musical film Blue Hawaii, starring everyone's favorite crooner Elvis Presley, with the classic fun of putting together Mr. Potato head, the 6-inch tall Elvis Mr. Potato Head features The King of Rock and Roll with his trademark pompadour, in a red Hawaiian shirt. He's got a ukulele in his left hand, in case kids feel like having him bust out some tunes. And what kind of Hawaiian would Elvis be without that yellow lei flower necklace? Elvis fans will love the mini parody album cover included inside the packaging, too. 12/4/2012 (Price: $13.99; Age: 2 and up) [Add to my Inquiry Basket][?]



Extreme Chores Video Game by 30 WATT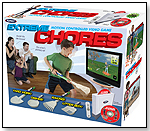 A motion controlled video game equipped with wireless controllers in the shape rakes, dust pans, frying pans and pooper scoopers. Extreme Chores races kids against the clock as they complete important household tasks like raking, doing the dishes, digging holes and emptying the litter box. Exteme Chores promises to make chores fun. 11/26/2012 (Price: $8.00) [Add to my Inquiry Basket][?]



Primordial Putty by GIANTMICROBES

Each petri dish of orange putty in the company's new line of product, GIANTmicrobes® Primordial Putty, includes a different collectible figure. Choose from Flesh Eating Disease, Black Death, Ebola Virus or Anthrax. Perfect for Halloween parties and stocking stuffers. Launch date: 2012. 11/5/2012 (Price: $7.95) [Add to my Inquiry Basket][?]



petzombIeRock Methuselah by undead4EVR LLC

petzombIeRock is a unique, collectible artwork hand painted and crafted in the USA by the artist, KC. PetzombIeRock makes a great Halloween gift. petzombIeRock arrives in its own coffin. 9/17/2012 (Price: $12.99) [Add to my Inquiry Basket][?]



ItzaBot Grow-A-Head Girl by SOURCING INTERNATIONAL LLC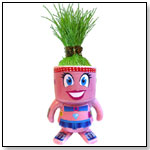 Itzabots are robot shaped ceramic planters that kids can customize with any of the included mix and match stickers. Create and recreate new companion as many times as kids like. When kids fill the planter with water and give it a little light, their itzabot will begin to sprout a thick head of grass "hair" within 5-7 days. The hair will continue to grow for 2 months with continued watering and styling. Available in three styles/sticker kits: Monster, Girl, and Robot. 8/23/2012 (Price: $9.99; Age: 3 and up) [Add to my Inquiry Basket][?]



TipAlert Tots by TipAlert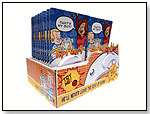 A happy tune and saying–reminding him to lower the seat when he's done. A flashing LED light every 15 seconds lets users know when he's left the seat up in the middle of the night. Peel-and-stick adhesive backing attaches easily to the flat underside of any toilet seat. Hygienic, water resistant case. 8/8/2012 [Add to my Inquiry Basket][?]



Thinking Putty Super Illusions by CRAZY AARON ENTERPRISES, INC.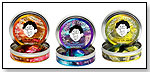 Thinking Putty is high quality silicone bouncing putty enhanced with knock-your-socks-off colors. It is all Made in the USA, non-toxic, and never dries out. The three new Super Illusions are unbelievably vibrant colors that shift depending on how the light hits them. The dynamic colors shine like no others: when held up to the light and pulled thin, the colors magically disappear and kids can see right through them. Launch date: June 2012.
— Mary Sisson, owner of Kazoodles in Vancouver, Wash., told TDmonthly in a Fall 2012 survey that Thinking Putty is one of her best sellers in the tween category. 7/19/2012 (Price: $13.50; Age: 3 and up)



Air Fork One by FRED & FRIENDS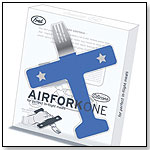 Airfork One is now ready for boarding. It's made of sleek stainless steel encased in food-grade, dishwasher-safe silicone, just the thing to bring those mashed potatoes and peas in for a safe landing. It's high-flying meal-time fun for the little ones. 6-1/2-inch long, packed in a recyclable clear peggable PET box. Design by Sibylle Stoeckli/ECAL. 6/8/2012 (Price: $9.99)



Fisher Price Retro Changeable Disk Camera by SCHYLLING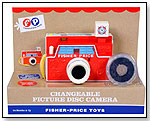 A reproduction of the original 1968 Fisher Price toy, this camera includes 3 interchangeable picture disks that are advanced by pressing the "shutter" button. Other features include a take along strap for the aspiring photographer on the go and a rotating flash cube. 6/8/2012 (Price: $24.95; Age: 2 and up)



Nickelodeon Gak - Blue by NSI INTERNATIONAL INC.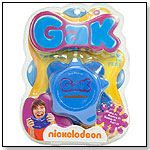 Nickelodeon Gak is back. The Nickelodeon Gak - Blue is the incredible squishable, squeezable, squashable, stretchable, bounceable, ploppable, poppable stuff. Gak's "Splat" container lets kids make all sorts of wacky sounds when they squish the Gak around. Smoosh it, Twist it, Bubble It, Mix it. 4/11/2012 (Price: $6.99; Age: 6 to 8) [Add to my Inquiry Basket][?]



Sevi Instrument Set by MAGICFOREST LTD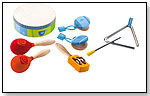 Music is a wonderful opportunity for little ones to expand their sensory and imaginative personality. Music helps them to understand rhythm and harmony, and also to express themselves and their moods. This set of percussion instruments from Sevi is an easy way to get kids started. It comes with 8 pieces, including a tambourine, castanets, a triangle, maracas and a noise maker. Produced by Sevi, Europe's oldest wooden toy company, this product contains parts and components that are recommended for children ages 2 and up. (

Watch Video) 3/26/2012 (Price: $35.00) [Add to my Inquiry Basket][?]



SillyHands by KELLYTOY U.S.A INC.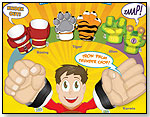 These pairs of super-sized plush hands looks just like kids' favorite character's hands and slide right over their hands for slamming SillyHands™ make-believe. Each hand makes distinctive motion activated sounds and speech. Styles include Karate, Tiger, Alien and Boxing. Launch date: February 12, 2012.

Silly Hands ©&TM 2010-2013 Idea Vault LLC All Rights Reserved
Used by Kellytoy U.S.A. Inc. under license from Volcano LLC 2/10/2012 (Price: $19.99; Age: 3 and up) [Add to my Inquiry Basket][?]



Ecotronics Hand Crank Flashlight by INTERNATIONAL PLAYTHINGS LLC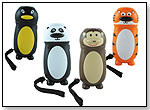 Squeeze-powered, kid-sized flashlights. Each animal's nose lights up when switched on. Side lever stores inside the body—release and squeeze to charge up the light.
— June Hargrove, co-owner of Black Forest Books & Toys in Charlotte, N.C., told TDmonthly in September 2011 that they sell 12 of this item each month. 9/12/2011 (Price: $10.99; Age: 6 and up)



Big-foot Stomp Walkers by MONKEY BUSINESS SPORTS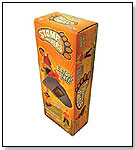 These stilts are decorated on the end with big, hairy Bigfoot feet. Set includes 1 pair of Stomp Walkers. Supports up to 100 pounds. Balance is easy with ultra-wide foot stands. Flexible & durable soft foam base is ideal for indoor/outdoor play. (

Watch Video) 3/31/2011 (Price: $79.99; Age: 6 and up) [Add to my Inquiry Basket][?]



Sunny BeadZ by SUNNY SLEEVEZ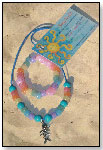 Sunny BeadZ Jewelry features color-changing beads that are white indoors and instantly change to color in the sun, the stronger the UV rays the brighter the color. Skin cancer rates are skyrocketing, (1 in 5 Americans diagnosed annually). Often some of the worst sun damage occurs on cloudy summer days when the UV rays are just as strong but the temperature is cool, but Sunny BeadZ alerts the wearer to the strength of the rays. Sunny BeadZ Necklaces, bracelets and key-rings featuring both permanent-color beads & charms as well as UV beads, and all are made in the USA. Launch date: 2011. 3/22/2011 (Price: $6.99; Age: 3 and up) [Add to my Inquiry Basket][?]



Felt Forest Soft Sculptures by FELT FOREST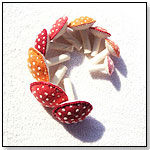 These various hand-felted sculptures are made out of all natural wool felt and cotton thread. Each piece is made by hand. Also available are mini felted mice, gnomes, birds, and petit fours. Prices from $7.00-$95.00. 2/24/2011 [Add to my Inquiry Basket][?]



Egg Bods by BLUW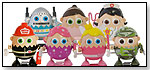 These cute eggs come in a variety of characters. You can switch around their heads to let them have a chance to experience a different costume. They also wind up and walk. 2/22/2011 (Price: $4.99) [Add to my Inquiry Basket][?]



Dandy Bandz 24 pack- Baby Boy by Dandy Bandz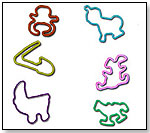 These sparkling silicone bands can be stretched out to fit around a child's wrist, but they always go back to their original shape. The 24-Pack Baby Boy Series includes: Pacifier, Baby Boy, Safety Pin, Rabbit, Stroller, Rocking Horse. 2/3/2011 (Price: $4.99) [Add to my Inquiry Basket][?]



I Spy Wonder Tubes by BRIARPATCH INC.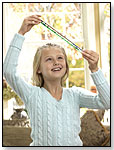 Among the sand and glitter in the I Spy Wonder Tubes are I Spy pictures. Find the floating pictures in the tube to answer the I Spy riddle/rhymes. There are three different sets of riddles and five different colors to collect. "The I Spy Wonder Tubes are unique because they feature the I Spy images AND I Spy riddles," Carol Comes, senior product manager at Briarpatch Inc., told TDmonthly. Launch date: February 2011. 1/25/2011 (Price: $5.99; Age: 5 and up) [Add to my Inquiry Basket][?]



Moopus McGlinden Temporary Tattoos by MRS PINKELMEYER LLC
This pack of five temporary tattoos feature Mrs. Pinkelmeyer's dog, Moopus McGlinden. FDA approved. 12/17/2010 (Price: $5.00) [Add to my Inquiry Basket][?]



Alphabet Piggyback Bandz by FUNGRINS, LLC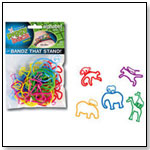 This patent-pending version of an elastic bracelet takes it to a whole new level – perpendicular to the wrist. Piggybacks, "The Bandz That Stand™" have incorporated a mini shaped band that "piggybacks" on top of the traditional shaped rubber band allowing, the top shape to be easily seen when placed on the wrist. A Piggyback Bandz looks similar to many other band bracelets until you slide it on your wrist and watch it stand at attention, upright. The bandz can be layered with one, two or a half-dozen more to create a word, a secret code, a design or whatever the imagination whips up. 12/16/2010 (Price: $4.95; Age: 4 and up)



Silly Bandz Gulf Shapes by BCP IMPORTS LLC

Containing the shapes of a dolphin, sea turtle, crawfish, and other creatures native to the habitat affected by the 2010 Gulf of Mexico oil spill, this special pack of Silly Bandz is designed to raise awareness for creatures threatened in this environment. A portion of the sales from every pack will go to helping rescue affected wildlife. In addition, this pack features "thermo activated" technology, causing a change in temperature to change the Silly Bandz's color.
— Two of 44 retailers listed Silly Bandz as a best-seller for tweens, reporting sales of approximately 100 per month during a September 2010 survey.
— "We've sold 2,300 this year at all three stores," Marc Holcomb, owner of of Toys & Co. in Greensboro, S.C., said in autumn 2010. ''Silly Bandz is trending down, and they are selling their excess to stores in California, Washington and Texas,'' he added.
--Christine Osborne, co-owner of Wonder Works in Charleston, S.C., sells about 3,000 to 4,000 per month. 10/28/2010 (Price: $5.95; Age: 5 and up) [Add to my Inquiry Basket][?]



Jokes On You! by REEVE & JONES LLC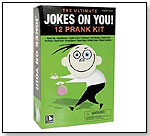 Loaded with 12 complete pranks, the Jokes On You! kit from Reeve & Jones contains supplies and instructions for classic gags to pull on friends and family. A hand buzzer, fake vomit, pet poop, squirt ring, money snatcher, and many more items will arm tricksters young and old.
— During a September 2010 survey, two of 49 retailers listed practical joke supplies as their top-selling novelty items. 9/29/2010 (Price: $19.99; Age: 5 and up) [Add to my Inquiry Basket][?]



Ooze Tubes by OFFICE PLAYGROUND INC.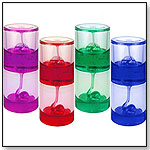 The Ooze Tube is a bright colored, slow-moving desk top toy. Part kinetic sculpture, part decoration, the Ooze Tube is filled with a clear, viscous liquid that flows from one half of the tube to the other through a small hole in the middle while bubbles form in the liquid above. When all of the ooze has run out, simply flip it over and start again.
— "We do really well on ... things that flip over, like Ooze Tubes. With oozie things like that, that there's a degree of mesmerization," said Anna Barr, owner of Anna's Toy Depot in Austin, Texas, when asked about her best-selling novelty items in September 2010. 9/29/2010 (Price: $6.99)



Magic Orbeez Maker by TINY LOVE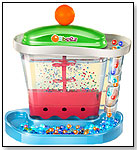 Kids can grow up to 300 Orbeez at once, and 2,500 total, in this gizmo. While the Orbeez grow, children can shoot them through the hoops. Once grown, they cascade down the spiral ramp into the collection tray and can be used for play with ideas from the included activity booklet. 9/23/2010 (Price: $24.99) [Add to my Inquiry Basket][?]



USB Lightsaber Glow Lamp by UNDERGROUND TOYS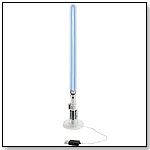 This lightsaber plugs into a USB port to light a desk area. The base recharges the light and can be removed to adjust the illumination level. This singular lamp stands approximately 14" tall. (

Watch Video) 8/20/2010 (Price: $29.99) [Add to my Inquiry Basket][?]



Temporary Tattoo by CHINA TOYBIZ.CN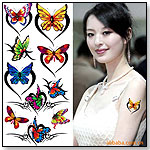 These temporary tattoos are easily applied with water and can last for several days. They are guaranteed to be safe for skin and come in a variety of designs. 8/19/2010 (Price: $1.50; Age: 8 and up) [Add to my Inquiry Basket][?]



Poo in a Box by WILD CREATIONS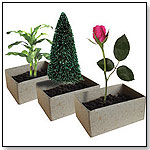 This novel item is nutrient-rich animal dung from an elephant, reindeer or rhino. From the Natural History Museum, the Poo in a Box begins at a British zoo or safari park and is treated to be germ and odor free. Kids and adults simply sow the seeds, water the cardboard box and watch the plants grow. Awards: Dr. Toy Best Green Toy Award 2010 8/13/2010 (Price: $5.99; Age: 5 to 12) [Add to my Inquiry Basket][?]



Kung Zhu Pets Battle Arena by CEPIA LLC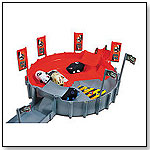 With eight original characters split into two battling groups called Special Forces and Ninja Warriors, Kung Zhu Pet owners will have the thrill of training each character to transform fighting, battling warriors. While these Kung Zhu hamsters may start of as "cute" and "mild-mannered" once they are sent into their main training grounds, smart chip technology will actually allow for a distinct personality transformation of fighting ninja and warriors.
— As of 8.12.10, this product had 4 out of 5 stars from seven reviews on ToysRUs.com and was listed No. 14 in best-selling toys and games. PROS: Easy to use and entertaining. CONS: Not very durable. 8/12/2010 (Price: $34.99; Age: 3 and up) [Add to my Inquiry Basket][?]



Iwako Unicorn Erasers by BC INDUSTRIES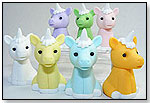 These unicorn erasers have removable puzzle parts so they can be taken apart and reassembled. The collection includes six pastel colors.
— In summer 2010, Margy Peine, owner of Tree House Toys in Cumberland, Md., told TDmonthly her store sells about 75 Japanese erasers per month.
— Thirteen percent of 38 specialty retailers named Japanese erasers a best-selling product in July 2010.
— Linda Laramy, owner of Crackerjacks in Easton, Md., told TDmonthly in an October 2011 survey that they don't sell many tween items other than collectible erasers, which they sell about 4 dozen of each month. 8/10/2010 [Add to my Inquiry Basket][?]



Star Wars Rotta the Hutt Back Buddy by ENTERTAINMENT EARTH INC.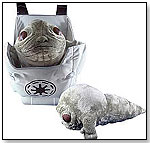 This squeezable, functional, and collectible backpack is a humorous and unique way to store belongings. The Rotta Back Buddy is based on the "Star Wars: Clone Wars" character and includes an adorable baby Huttlet that nestles inside. 7/22/2010 (Price: $45.99) [Add to my Inquiry Basket][?]



Magic Fish Bowl by FASCINATIONS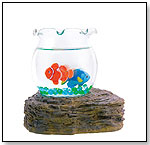 These bright tropical fish swim around their bowl all day long while requiring none of the feeding, cleaning, or careful temperature monitoring of a real aquarium. The round bowl and simulated rock base offer an attractive and realistic appearance.
― When asked about her top-selling electronic or battery-operated toys in June 2010, Diana Nelson, owner of Kazoo & Company in Denver, Colo., said "this whole line" from Fascinations, including the Magic Fish Bowl. 7/21/2010 (Price: $14.99; Age: 3 and up) [Add to my Inquiry Basket][?]



Disney Bandz Classic Characters by DISNEY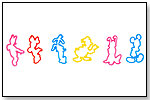 These multicolored shaped rubber bands can be worn, collected or traded. This set features Daisy, Minnie, Goofy, Donald, Pluto and Mickey. 7/13/2010 (Age: 5 and up)



Plush Food by CURLYQ CUTIES LLC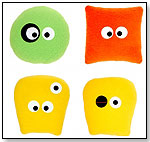 These huggable characters each resemble a different vegetable. The series offers 10 different veggies, including pea, black-eyed pea, carrot, asparagus, corn, genetically modified corn, popped corn, green bean, wax bean and lima bean. 7/5/2010 (Price: $8.97) [Add to my Inquiry Basket][?]



Spy Gear Lie Detector Kit by WILD PLANET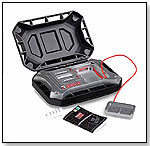 The Spy Gear Lie Detector Kit allows kids to find out who is telling the truth and who is not by giving them a lie detector test. The indicator lights light up when the "suspect" is not telling the truth. 7/5/2010 (Price: $25.00; Age: 6 and up) [Add to my Inquiry Basket][?]



Healthy Basics by HAPE


This non-toxic wooden child-sized Healthy Basics food set lets kids create their own mealtime treats. The food is undersized, making it perfect for small hands, and simply designed so that it is identifiable but durable. The set includes three eggs, a bottle of apple juice, a bottle of orange juice, an orange juicebox, a jar of blueberry jam, strawberry yogurt, a carton of milk, and a wheel of cheese. (

Watch Video) 6/29/2010 (Price: $29.99; Age: 3 and up) [Add to my Inquiry Basket][?]



Hello Kitty Paint Your Own Bank Kit by SANRIO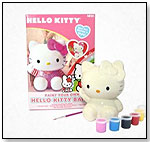 Young artists can personalize this Hello Kitty bank using the included five paint colors and easy-to-follow instructions. 6/25/2010 (Price: $20.00; Age: 5 and up) [Add to my Inquiry Basket][?]



Zombie Dice by STEVE JACKSON GAMES


This game for two or more players comes with a cup and 13 dice. Each player is a zombie, rolling a die for one of three outcomes: the brain icon that represents points, the footsteps icon that stands for a victim on the run and an opportunity to re-roll, or the shotgun blast icon that is detrimental to a player's undead health. Players score one point for each piece of gray matter and a strike for each shotgun blast. The first zombie to hit 13 points wins. 6/24/2010 (Price: $13.00) [Add to my Inquiry Basket][?]



Pita Rappit by WEBRAPPERS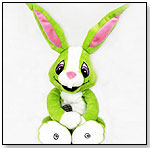 This 8" green rabbit plush is part of the line of gift and greeting toys that rap and record. Pita has a 30-second recording device and can also wrap around wrists, gifts or cribs. The WebRappers website features hundreds of musical greetings and genres in multiple languages to choose from. 6/23/2010 (Price: $19.95) [Add to my Inquiry Basket][?]



Superman Plush by FUNKO INC.


This plush from Funko's DC Comics series has black hair and big black eyes, and wears Superman's iconic red and blue suit and cape. 6/22/2010 (Price: $12.99; Age: 4 and up) [Add to my Inquiry Basket][?]



Playskool Talk N' Pop Mr. Potato Head by HASBRO INC.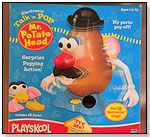 This interactive pal plays "Mr. Potato Head Says", tells jokes as kids mix and match his seven removable pieces, and plays a game that challenges kids to get all the pieces in place in ten seconds flat. This silly tater also spins, shakes and pops out all his pieces. 6/22/2010 (Price: $29.99; Age: 3 and up) [Add to my Inquiry Basket][?]



Mezco Toyz Living Dead Dolls Series 11 Maggot by MEZCO TOYZ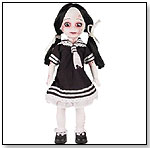 This spooky 10" doll features rooted hair, an elaborate costume, and a vampire theme. Maggot has black hair worn in plaits dons a black and white sailor dress accessorized with white ruffled socks and black shoes. 6/21/2010 (Price: $26.00; Age: 15 and up) [Add to my Inquiry Basket][?]



The Question Guys Chat Pack by WILLIAM RANDALL PUBLISHING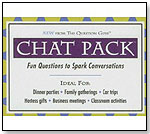 The Chat Pack contains 156 cards, each featuring a question meant to get people talking. This game is designed for dinner parties, family gatherings, car trips, and classroom activities. (

Watch Video) 6/16/2010 (Price: $9.95; Age: 6 and up) [Add to my Inquiry Basket][?]



Igrobot I Grow Grass Growing Robot Planter by NOTED CO


Unpack the I Grobot from its little red box, place its body on its legs, fill it with peat and seeds provided, water and watch it come alive. Its grass-head can be cut and will grow again just like a lawn. When the grass is finished growing, the 4" x 2.5" glazed ceramic novelty planter can be replanted or used as a container. 6/15/2010 (Price: $12.49)



Bug Light Hand Crank Rechargeable Flashlight by KIKKERLAND DESIGN INC.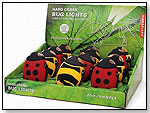 This 2.75" x 2" x 1" flashlight is available in ladybug and honeybee versions, and is designed to be both cute and eco-friendly. It requires no batteries; simply crank the side handle to charge. 6/15/2010 (Price: $6.44; Age: 3 and up) [Add to my Inquiry Basket][?]



Jam Erasers by IWAKO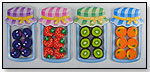 Each of these colorful erasers measures about 1.25" and resembles a fruit-filled jar of jam. The jam erasers are made in Japan and are sold separately or in a themed pack. 6/8/2010 (Age: 4 and up) [Add to my Inquiry Basket][?]



Rubber Band Bracelets by COOL JEWELS WHOLESALE FASHION JEWELRY


These fun shaped rubber band bracelets glow in the dark and come in assorted shapes. Sold in 12 piece bags. 6/4/2010 (Price: $4.99) [Add to my Inquiry Basket][?]



Faith Bands – Shaped Rubber Bands by SWANSON CHRISTIAN PRODUCTS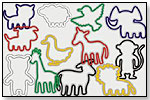 Swanson Christian Products offers more than 20 different design assortments of shaped rubber bands, with wholesale pricing as low as 60 cents per package depending on purchase quantities. The bands are formed in various shapes and colors including glow-in-dark and scented styles. They can be used as regular rubber bands, or collected and traded. They are designed to return to their original shape. (

Watch Video) 5/12/2010 (Price: $2.99; Age: 5 and up) [Add to my Inquiry Basket][?]



Pop the Pig Piggybank by GOLIATH GAMES


The Pop the Pig Piggybank will stores loose change for a rainy day. Kids can feed him coins either through his mouth or the slot in his back. When ready to "cash out", they can just use his spatula key to open his clear vault stomach and get their money. Jennie Robinson of Goliath Games told TDmonthly, "It's an addition to the popular game Pop the Pig." Launch date: 2010. 4/8/2010 (Price: $6.99; Age: 4 and up) [Add to my Inquiry Basket][?]



Fuzzy Nation Norwich by MANHATTAN TOY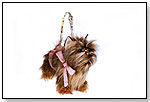 The Fuzzy Nation Norwich "Prue To You" is one of a kind. It is a stylish handbag that will match the Norwich "Prue To You" pooch. Julie Flann, Manager of Marketing & Sales at Manhattan Toy, told TDmonthly, "This little fuzzy fashionista will 'terrier heart out' in her striped mini and Georgia peach silk organza bow." Launch date: 2010. 4/2/2010 (Price: $50.00; Age: 6 and up) [Add to my Inquiry Basket][?]



Slinky® Dog Wind Up by POOF-SLINKY INC.


Crank the knob and watch Slinky Dog take himself for a walk. Launch Date: March 2010. 3/2/2010 (Price: $4.99; Age: 3 and up) [Add to my Inquiry Basket][?]



Glow in the Dark Tattoos by ESCO TOYS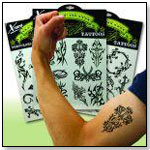 Temporary tattoos that glow in the dark. Includes 10 designs per sheet. 2/18/2010 [Add to my Inquiry Basket][?]



Moon Dough by SPIN MASTER TOYS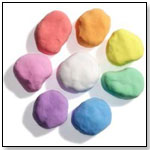 Moon Dough is a moulding compound unlike that is soft and marshmallow-like, does not stick or stain to material, and never dries out so you can use it again and again. As well as being wheat-free, the compound is hypo-allergenic. Launch date: 2010.
— "I thought this product was great and placed an order for it at the show, " Jeanette Lauture, owner of Aunt Jean's Toys & Treats, told TDmonthly at Toy Fair 2010. 2/15/2010 (Age: 2 to 4) [Add to my Inquiry Basket][?]



Sound Bites by MARY MEYER CORP.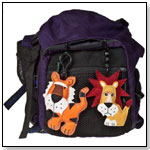 These 5" animal characters are full of personality and can be clipped onto a backpack or purse as a fun accent. When squeezed, each felt creature utters the sound of the animal it represents. The collection features a tiger, lion, zebra, monkey, elephant, dolphin, turtle, penguin, seahorse, lobster, orca and shark. Launch date: 2010. 2/11/2010 (Price: $5) [Add to my Inquiry Basket][?]



KNOTBALL by TAMARA CORPORATION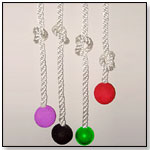 This patent-pending toy is comprised of a ball and a rope. The ball is attached to one end of the rope. The challenge and fun is to, by holding the rope at one end and with a one-hand motion, cause a knot in the rope. Launch date: June 30, 2010. 2/4/2010 (Price: $2.99; Age: 6 and up) [Add to my Inquiry Basket][?]



BLINGKEEZ by TOOBEEZ LLC
Users can light up the day and night with BLINGKEEZ, a fun, multi-use light with 10 LED bulbs. The 2.5" sphere features three light settings (disco strobe, party flash, all on), an 18" lanyard with a breakaway safety clasp, and automatic shut-off. Launch date: February 14, 2010. (

Watch Video) 2/4/2010 (Price: $11.99; Age: 3 and up) [Add to my Inquiry Basket][?]



Bug Eyes by INKOLOGY INC.


These fun pens will keep kids distracted during math class. 1/27/2010 [Add to my Inquiry Basket][?]



GoGo's Crazy Bones - Hiraku by iTOYS INC.


GoGo's Crazy Bones have been a fav with kid collectors since the 1990s. They're inspired by an ancient Greek game called "Astragals," where children played with sheep knuckles. 1/14/2010 (Age: 4 and up) [Add to my Inquiry Basket][?]



Bag O Dogz by ZANYBANDZ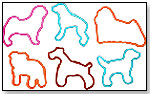 Silicone Animal Rubber Bands began in Japan, designed by the award-winning team of Yumiko Ohashi and Masonar Haneda, but a few years after the bands zapped their way in to the States, other companies began producing similar or identical items. These Zanybandz are one of the lastest iterations of animal rubber bands and they come in a variety of shapes, including this bag of 24 dogs, divided evenly between breeds: baby girl the pug, pokey the greyhound, eva the yorkie, william the bulldog, adolf the schnauzer , and roy the lab. Read more about how Animal Rubber Bands stretched into a nationwide fad in 2009. 1/12/2010 (Price: $4.95; Age: 6 and up) [Add to my Inquiry Basket][?]



Star Wars Light Saber Chopsticks Set by KOTOBUKIYA / KOTO INC.
An innovative and fun addition to Kotobukiya's Star Wars line of products: Lightsabers merge with Japanese culture and "Chop Sabers" emerge! Suitable for eating sushi or defending the galaxy, the Luke Skywalker and Darth Vader lightsabers measure over 9" long, with the blades cast in translucent material. The smaller "children's size" Yoda saber measures approximately 8" long. As a special bonus each set includes translucent Star Wars logo chopstick rests.
Awards: 2009 IGN Collectible Toy Award the Year; 2010 Creative Child Award (

Watch Video) 12/23/2009 (Price: $19.99; Age: 13 and up) [Add to my Inquiry Basket][?]



Tomiko Japanese Erasers by TOPTRENZ.COM
Tomiko Japanese Erasers feature colorful and fun erasers in the shape of items such as ice cream, cakes, pizza, etc. Over 90 different styles available. 12/23/2009 (Price: $0.40) [Add to my Inquiry Basket][?]



Fun Flashing Sippy Cup by ELECTROSTAR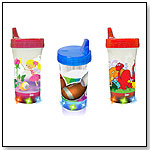 Available in Fairy, Sports and Dino varieties, this battery-operated sippy cup features multicolor LEDs that light up when a child sips and then go off after approximately 20 seconds. They can also be manually turned on and off with the press of a button. The cups are free of BPA and come with batteries. The lid and cup can be washed in the dishwasher (remove base first). This product received 5 out of 5 stars from What the Stuff Toy Review. 12/2/2009 (Price: $7.49) [Add to my Inquiry Basket][?]



Animal Rubber Bands by EASTERN ACCENT INTERNATIONAL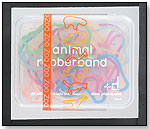 Animal Rubber Bands were designed by Haneda & Ohashi of Passkey Design in Tokyo in 2002. They were awarded Best Design for 2003 at the Japanese National Competition; the Toyota Prius had won the previous year. "Ours are the original animal rubber bands and come in three styles: pet, zoo and dino," said Carol Shapanka of Eastern Accent International. " They're made of silicone and produced and packaged in Japan. Japanese products are produced under strict standards. Factory conditions and the welfare of the workers is just as important as the products coming out of the factory." The boxed set comes with 24 pieces in a sturdy snap box. The cards have one of each of the pet, zoo or dino animals. Launch date for Animal Rubber Bands: 2002. Launch date for Dinos: 2007.
— TDmonthly Magazine first reported on Animal Rubber Bands by Eastern Accent on July 27, 2005; one store manager compared their popularity to that of Ty's Beanie Babies. They had also been featured in a 2002 New York Magazine "Best Bets" article. 11/25/2009 (Price: $10; Age: 3 and up) [Add to my Inquiry Basket][?]



Rainbow Hokey Spoke by THE HOKEY SPOKES COMPANY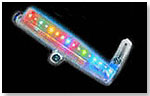 This transparent blade attaches to bicycle spokes and displays various design images prompted by an internal computer as the blades spin while the bike is moving. Hokey Spokes utilize LED lights and have waterproof keys to select the play mode. 11/9/2009 (Price: $32.95) [Add to my Inquiry Basket][?]



Bendable Party Mustache by ACCOUTREMENTS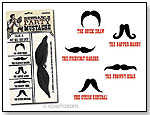 The flexible wire inside this 6.75" black mustaches allows it to be shaped in various styles, including the friendly barber, the stern general and the dapper dandy. It comes with a rubber piece that clips to the nose.
— Two of 38 specialty retailers mentioned mustaches as a best-selling novelty item in fall 2008. Michelle Bears, owner of The Toy Store in Highlands, N.C., told TDmonthly her store sells about 48 Accoutrements fake mustaches per month.
— Donna Frederick, owner of The Play House Toy Store in Durham, N.C., told TDmonthly in a December 2011 survey about Halloween that, "Accoutrements sells a set of novelty mustaches that is very popular." (

Watch Video) 10/30/2009



Plush LOL Rollovers - Brown Monkey by YMC TRADING CORPORATION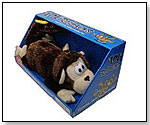 The LOL Rollover Monkey rolls around back and forth on the floor laughing hysterically. It starts laughing with a wave of your hand (motion activated). Launch date: November 15, 2009. 10/29/2009 (Price: $29.95; Age: 3 to 3) [Add to my Inquiry Basket][?]



Pocket Laser Light Show™ by CAN YOU IMAGINE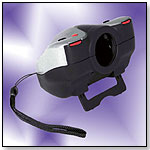 The Pocket Laser Light Show has been designed for home use or take it outdoors — it's wireless. It's so portable it fits into the palm of your hand. Simply turn it on and watch as a spectacular array of laser light designs perform on your walls or ceilings. The most portable laser light show ever, the Pocket Laser Light Show is so small it can fit in your pocket. But don't let its size fool you; the Pocket Laser Light Show™ creates giant-sized light shows. 10/28/2009 (Price: $15.99; Age: All Ages) [Add to my Inquiry Basket][?]



Little RasCools™ Eye-Poppin Crazy Critters - Series 4 by CoolZips


These 2" rubber animals have hard plastic eyes that pop out when the character's head is squeezed. The eyes then go back to their normal position. This series includes Holly the Hippo, Mickey the Monkey, Bobby the Bear and Parker the Penguin. Launch date: 2009. (

Watch Video) 10/23/2009 (Price: $4.99) [Add to my Inquiry Basket][?]



Grass - Countertop Drying Rack by BOON INC.


This two-piece, dishwasher-safe drying rack features a flexible grass top to hold baby utensils and accessories and a lower tray to catch water as it drains. It is free of BPA, PVC and phthalates. 10/12/2009 (Price: $19.99) [Add to my Inquiry Basket][?]



Shock Gum by MAGIQUE NOVELTIES LLC


Shocking gum appears to be a regular packet of gum with one piece sticking out. When someone grabs the piece of gum, they get a real shock.
— The Toy Store in Highlands, N.C., sells about four dozen per month of this item, Owner Michelle Bears told TDmonthly in fall 2009. 10/6/2009 (Price: $4.50; Age: 14 to 50) [Add to my Inquiry Basket][?]



Retro Tags - Scooter by FLAPJACK TOYS


This cool retro scooter is designed to add a little flair to any suitcase or other bag. It measures about 5.75" x 5". 10/5/2009 [Add to my Inquiry Basket][?]



3-D Bookmark – Waterworld by MAGNETIC BOOKMARKS, INC


This bookmark features a colorful palette of the world under the sea, with an eye-catching three-dimensional effect.
— Gary Green of Toy Box of Asheville in North Carolina told TDmonthly in summer 2009 that his store sells 60 to 70 of these bookmarks per month. "It seems to me we do a reorder once a month with them. It's not something people come to the store for, but it's so eye-catching that it stands out," he said. 9/30/2009 (Price: $4.99) [Add to my Inquiry Basket][?]



Toy Story Talking Pens by KAMHI WORLD


The Toy Story pens come in three styles: Woody, Buzz Lightyear and Little Green Men. "Toy Story Talking Pens will be launching just in time for the re-release of 'Toy Story' 1 & 2 and the release of 'Toy Story 3' in 2010. Launch date: December 2009. 8/28/2009 (Price: $7.95; Age: 3 and up) [Add to my Inquiry Basket][?]



QT Charm - Bar Gymnast by QT CHARMS


This interchangeable charm features a full-color image and a round clasp. Full length including clasp is 1.5". Launch date: March 2004. 8/13/2009 (Price: $2.95) [Add to my Inquiry Basket][?]



BoogieBOTS Edge Series: GeishaBot by Bigatron LLC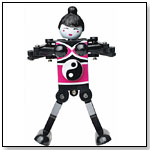 This wind-up character is designed to dance for 15 seconds and comes in "try me" packaging. It does not require batteries. (

Watch Video) 8/5/2009 (Age: 6 and up) [Add to my Inquiry Basket][?]



DrinKlip™ by BEEEEN.COM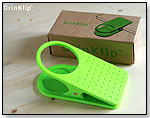 Designed by Been KIM, the DrinKlip is designed to clip right onto tables or desks in order to hold drinks securely without requiring surface space. It is available in a several different colors. 7/30/2009 [Add to my Inquiry Basket][?]



The "Original" Tornado Tube by TORNADO TUBES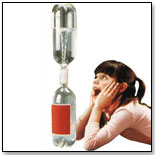 The Tornado Tube is a fun and educational toy! Create a tornado in a bottle and watch the the whirling vortex! Add colored water and glitter and enjoy both creative and educational play. Made in the USA.
— Mary Porter Green, owner of Curiosity Zone in Ashburn, Va., told TDmonthly in a March 2013 survey that they sell "dozens and dozens" of Tornado Tubes each month. 7/20/2009 (Price: $2.98; Age: 5 and up) [Add to my Inquiry Basket][?]



3-D Anaglyphic Glasses for DVD movies by AMERICAN PAPER OPTICS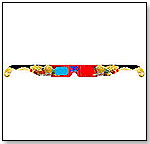 Three-dimensional anaglyphic glasses are used for viewing print, movies, Web sites, games and computer applications in 3-D, defined as two views of the same subject (either moving or still) in contrasting colors and slightly offset for two different perspectives. These IYF (In Your Face) 3-D anaglyphic glasses are re-formulated and supercharged with red and cyan filters, designed to punch full four-color 3-D with depth-defying clarity without compromising colors, flesh tones and light. "With the phenomenon of 3-D movies and with all the new movies planned to be released in the next two years, you need to be prepared for the rush. More and more children are having 3-D movie-watching parties. Most DVD rentals only come with two glasses and only four are packed in a DVD when you purchase them," Mark Nidzgorski, director of retail for American Paper Optics, told TDmonthly. Launch date: June 2009. 5/19/2009 (Price: $0.99; Age: 8 and up) [Add to my Inquiry Basket][?]



Fart Machine by WORLD TEC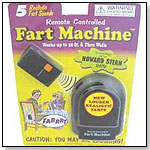 This remote-controlled gadget offers five different fart sounds that are said to be very realistic. 5/12/2009



Marshmallow Cross Bow by MARSHMALLOW FUN COMPANY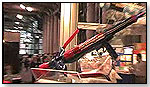 This cross-bow shoots large marshmallows up to 40 feet. Launch date: 4Q 2009. 4/14/2009 [Add to my Inquiry Basket][?]



When Pigs Fly? by JACK RABBIT CREATIONS INC.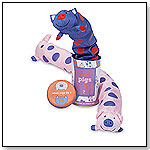 All it takes is a twist of the top of the can, and these two colorful piggies go flying. 3/17/2009 [Add to my Inquiry Basket][?]



SplatBack Egg by DJDS INTERNATIONAL LLC
Do you like your eggs hard-boiled or sunny-side up? Well you can have both with this egg. Have it whole or make it SPLAT sunny-side up! When thrown onto the ground, SplatBacks splat into a flat, liquid-looking mess, then morph back into their original shape.

Past Videos:
WTHRA 2009 (

Watch Video) 3/11/2009 (Price: $5.00) [Add to my Inquiry Basket][?]



The Original Gas-O-Matic® Fart Toy by GASSUN LIMITED INC.
The Original Gas-O-Matic® is a mechanical wind-up fart toy with an amazing repertoire of fart sounds sure to turn heads and disgust innocent bystanders! No batteries necessary. Simply wind the center spinning device (aka the "Sphincter") of the Original Gas-O-Matic®, hide it under your leg, then give that umistakeable "fart lean" and "rip it". The Original Gas-O-Matic® is proudly made in the USA using safe, high quality and durable materials for long lasting fun! (

Watch Video) 3/5/2009 (Price: $7.99) [Add to my Inquiry Basket][?]



ZING AIR ZARTZ by ZING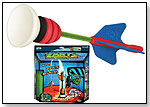 Ideal for both indoor and outdoor play, ZARTZ feature a safe, SOFTEK foam suction cup that sticks to windows, metal, walls, asphalt or nearly anything with a smooth surface. The self-releasing suction cup allows the ZARTZ to fall just a few seconds after adhering to a ceiling or other hard-to-reach place. ZARTZ are available in 7" and 9" forms, and come packaged in a durable carry case. There's also a Fun Pack that includes two hand-target catchers and a 9" ZART, which can be launched as far as 100'. Launch date: 2009.
— "The Zing Air Zartz are really good right now," Emily Bieritz, manager of My Favorite Toy Store in Downers Grove, Ill., told TDmonthly in June 2009 when asked about her best-selling gift for boys.
— "Zartz are definitely No. 1," said Steve Banducci, owner of Games Unlimited in Danville, Calif., when TDmonthly asked about his best-selling sports and outdoor items in March 2010. Banducci reported sales of at least one Zartz per day.
— Four of 37 retailers surveyed in spring 2010 listed Zing as their top-selling brand of outdoor products.

Past videos: WTHRA 2009 (

Watch Video) 2/27/2009 (Age: 6 and up) [Add to my Inquiry Basket][?]



Ecotronic Farm Torches by Russimco Limited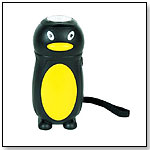 These small flashlights provide light without the use of batteries. They are powered by pressing the handle that pops out from one side, and come in four designs: chicken, pig, dog and cow. 2/18/2009 [Add to my Inquiry Basket][?]



PakNak™ - Pinky by PAKNAK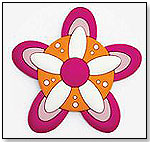 PakNaks are decorative accessories that transform plain backpacks, bags and other stuff into personalized, ever-changing, colorful works of art. With more than 40 designs that are interchangeable, weather resistant and quickly and easily adhere (no ironing, sewing or pinning!), PakNak makes changing style easy, especially since they stick on with super-strong, custom, self-adhesive Velcro. PakNaks make terrific birthday party giveaways, tooth fairy leave-behinds, incentives, gifts, luggage identifiers and more. The newest designs are made from recycled plastic and are phthalate free. Launch date: January 8, 2007. 12/12/2008 (Price: $3.99; Age: 3 and up) [Add to my Inquiry Basket][?]



Glow-in-the-Dark Halloween Tattoos by DOVER PUBLICATIONS


Ghosts, pumpkins and black cats can be found in this spooky collection of six glow-in-the-dark tattoos.
— Three of 52 retailers named items by Dover when asked by TDmonthly about best-selling Halloween items in fall 2008.
— Teresa Derry, owner of Annie's Toy Chest in Cocoa, Fla., told TDmonthly in a Winter 2012 survey that glow-in-the-dark tattoos were one of her Halloween bestsellers. 12/10/2008 (Price: $1.50; Age: 5 and up) [Add to my Inquiry Basket][?]



Bottle Lamp by STREAMLINE INC.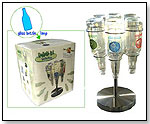 Mix and match your empty favorite beverage bottles to make this personalized lamp. Your glass recyclables will be glowing in no time. The lamp is packaged in a gift box. 12/2/2008 (Price: $40.00) [Add to my Inquiry Basket][?]



Mugen Pop Pop by BANDAI AMERICA INC.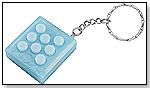 Those tempted to reach for the nearest sheet of plastic bubbles need look no further than Mugen Pop Pop. Mugen Pop Pop is a highly addictive handheld keychain device that stimulates the strangely satisfying experience of popping plastic bubble packaging. Launch date: October 27, 2008, 11/14/2008



Bounce & Pounce Balls by COPERNICUS TOYS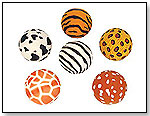 These animal-print bouncy balls measure 2.4" in diameter. There are six styles. 11/11/2008 (Price: $2.25) [Add to my Inquiry Basket][?]



THIS BANNER IS AN AD:
---
---