---
Retailer Spotlight: Henry Bear's Park
Bookworm Builds Successful Stores From Lessons Learned

An interest in children's books introduced Sally Lesser, owner of three Henry Bear's Park stores in Massachusetts, to the toy industry.

BUILDING KNOWLEDGE WITH BOOKS

"My first job out of college was as the assistant to a children's book editor," she told

TD

monthly Magazine, noting that she followed that post with three years of work on the publishing end and then switched to children's book buying for a successful specialty retailer.

"That was in 1974, and the toy world was much, much different," she said. "I got a much broader education in this job, which included quite a bit of bookselling, and later on, managerial experience."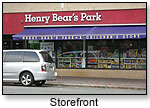 That experience led her to found Henry Bear's Park in Cambridge 31 years ago, in 1976. She has since expanded the store to two additional locations — one in Arlington, which opened in 2002, and the other in Brookline Village, which opened in 2004.

SELECTED FOR PLAY

"I believe our toy selection reflects my personal values about good play," Lesser continued. "I really look carefully at the play that is inherent in each toy, and try to decide if this meets a need at an appropriate price," she said.

Other considerations include product freshness, appropriate packaging (not too much box for the contents), quality, durability, safety and fun.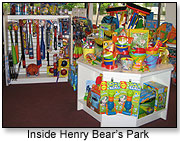 MAINTAIN FOCUS

Lesser said that when she chases competitors or ventures into areas that aren't a good fit for her stores, she loses focus and her sales suffer.

In about 1987, Lesser opened what she thought was a complementary clothing store, but soon closed it when she realized it "took away focus from the core business," she explained.

Later, she opted not to carry books at her third store because there was a good children's bookshop down the street from that location.

"Know your competitors, but don't chase them," she advised.

STRETCH FOR SUCCESS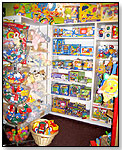 Part of Lesser's success has arisen because she has stretched to try new product and move the price point up.

"I have also not been afraid to place some heavy bets on good product early in the season," she said.

KNOW YOUR OWN BOOKS, TOO

An attempt to drum up business with three years of storewide sales failed to bring in customers and resulted in lost margins. Lesser added that she has learned not to get behind in bookkeeping.

"If your financial data are not timely, you don't have a real handle on your business," she said.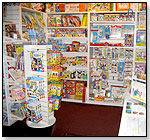 Owning multiple stores has taught Lesser the importance of running a tight back room.

"For me, a 'go with your gut' kind of person, I've had to learn that policies and procedures are important," she explained. "For your floor to run smoothly, professionally and with a certain degree of warmth and ease, you have to be pretty buttoned up out back."

Her advice to someone just entering the toy industry? Articulate a concept, and then be sure it fits the intended market. To find out what fits her market, see My Best Sellers: Henry Bear's Park.


| | |
| --- | --- |
| | Sally Lesser, 30-year owner of Henry Bear's Park in Arlington, Mass., talks about general trends in toys. |

Writer's Bio:
Brenda Ruggiero is a freelance writer from western Maryland.
Read more articles by this author
THIS BANNER IS AN AD:
---
---