---
Cuddle a Rat
Plush and Puppets Are All-Inclusive
When it came to vermin, great grandma reached for her broom, but kids nowadays just stick them on their hands. Following is everything from plush rats to praying mantis puppets, with a few star-struck poodles in between:




Rat "Rosine" by KOESEN USA INC.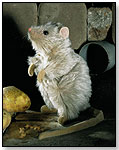 This plush animal is handcrafted in Germany with special emphasis on naturalistic appearance and excellent quality. It fulfills the demands of collectors and enthusiasts who ask for plush toys to be produced with selected natural materials. It is optimally designed to give children an understanding of shy animals that are difficult to observe in the wild as they conceal themselves from humans. When these animals are in soft toy form, children can come to like them while including them in their play. The rat is made of mohair wool. It won a 2006 Preferred Choice Award from Creative Child Magazine. Launch date: 2006. 4/18/2007 (Price: $71.88; Age: 3 and up) [Add to my Inquiry Basket]
Fingerlings by WOWWEE GROUP LTD.
WowWee's Fingerlings 11/7/2017



Mini Monk Seal by FOLKMANIS INC.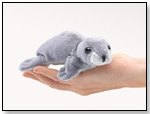 An endangered species worthy of attention, the MINI MONK SEAL finger puppet is so sweet and soft that she'll swim to the depths of your heart. 12/30/2015 (Price: $6.49) [Add to my Inquiry Basket][?]



Aurora Baby - GiGi Giraffe™ by AURORA WORLD INC.


If you are looking for a great cuddle partner for your little one look no further! These adorable and ultra soft giraffes come in 8 styles in four unique sizes, each having its own interactive component including rattles, crinkles and squeakers. 12/10/2015 [Add to my Inquiry Basket][?]



Curly the Worm by ADC Yangzhou Hongchang Arts and Crafts Co.,Ltd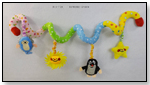 This happy stuffed product is designed for baby gift, the sun, the star all are carefully added to pleased baby. 10/30/2015 (Price: $3.5; Age: 3 to 5) [Add to my Inquiry Basket][?]



FurReal Friends StarLily, My Magical Unicorn by HASBRO INC.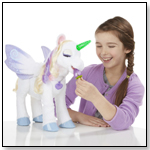 The pet of any girl's dreams is here: the StarLily, My Magical Unicorn toy! StarLily is a beautiful young unicorn who's come from her home in an enchanted forest to become a very best friend. She responds to voice and touch with more than 100 sound and motion combinations! When interacting with her, she moves her head and hoof, makes special sounds, and lights up her horn. 10/26/2015 (Price: $119.99; Age: 4 and up) [Add to my Inquiry Basket][?]



Twinkle Collection by DOUGLAS CUDDLE TOYS


Twinkle Collection (Twinkle Floppy Fawn, Twinkle Hedgehog, Twinkle Standing Fawn, Twinkle Polar Bear and Twinkle Owl) – Special Glitter fibers knitted in the plush make this lovely collection Magically "Twinkle" 7/29/2015 () [Add to my Inquiry Basket][?]



Fuddlewuddle Fox Cub by JELLYCAT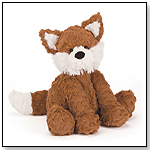 Looks like someone's been scrabbling about and making all kinds of mischief! Fuddlewuddle Fox has been on so many adventures, he's made ruffles all through his soft, gingery fur. Give this feisty fellow lots of scruffles and strokes, and maybe he'll show you how to dance the foxtrot!
— In a June 2015 survey, two out of 10 retailers told TDmonthly that Jellycat was their best-selling plush brand. 6/30/2015 [Add to my Inquiry Basket][?]



Whiffer Sniffer Backpack Clips by BEARINGTON COLLECTION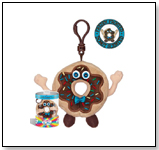 These scented backpack clips are shaped like foods. Pictured: Freddy Frosted: I'm chocolate donut scented!
— Deran Muckjian, owner of Catch a Falling Star in Lexington, Mass., told TDmonthly in a June 2015 survey that Whiffer Sniffers are their store's best-selling plush. 6/30/2015 [Add to my Inquiry Basket][?]



Qwilly Porcupine by GUND INC.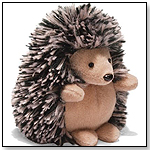 This cute little 1 piece, palm size porcupine set from Gund will put a smile on your child's face. Each porcupine measures 3" in height with a plastic nose & stitched eyes. Each porcupine has soft velour face & paws with the lighter of the two having a soft velour stomach as well. Both porcupines have salt & pepper colored long hair.
— In a June 2015 survey, two out of 10 retailers told TDmonthly that Qwilly porcupine was their best-selling plush toy. 6/30/2015 (Price: $10.00; Age: 1 and up) [Add to my Inquiry Basket][?]



ThumbThings Handmade Finger Puppets by FINGER PUPPETS INC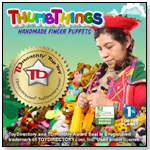 Over 200 characters to collect - New Characters all the time!
Awards: 2015 TDmonthly Top Toy Award 6/3/2015 (Price: $3.99; Age: 3 and up) [Add to my Inquiry Basket][?]



Digiplush BirthdayLand "Cupcake" Birthdaykin Plush by KIDS PREFERRED INC.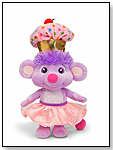 Product Description: Birthdaykins are the fun friends in BirthdayLand, the place where birthday wishes come true. Some say Cupcake is one of the most delicious Birthdaykin because she's topped with a yummy golden cupcake! She bakes cupcakes for everyone in BirthdayLand with a big heap of love. Like the rest of the Birthdaykins, Cupcake comes with a special code that unlocks premium features in the BirthdayLand app. The app is a free download in iTunes Store, Google Play and Amazon Apps. 5/21/2015 (Price: $12.99; Age: 3 to 7) [Add to my Inquiry Basket][?]



Madame Chouette Activity Toy by MAGICFOREST LTD


Welcome baby with gifts from the newest range by Moulin Roty: Mademoiselle et Ribambelle. Imagine the forest and all of the fairytale characters who can be found there. Imagine an owl singer, a little opera mouse, a gentleman otter and a rabbit - Monsieur Lapin – who is always late. This happy crowd is gathered around the delightful Mademoiselle at the edge of the wood to enjoy the show! Enter Madame Chouette The Activity Owl. Marvel at all of the surprises that await baby while admiring her pink ensemble with a yellow cotton polka dot tutu lined with tulle. Place this precious owl near baby and wait for her to discover a baby owl squeaker hidden in a tummy pocket, a detachable plastic ring rattle filled with colorful beads, large super soft wings with crinkle paper and a small mirror. Adorable! Look for other items in Mademoiselle et Ribambelle such as musical Owl and Monsieur Otter, squeaker toys, buttery-soft loveys to comfort baby and mousey rattle. Imported Exclusively by Magicforest.
Attributes:
· Hours of fun, learning and companionship to a little one
· Mirror helps with self-awareness
· Ring Rattle for grasping, sound and visual stimulation
· Crinkle paper for teaching cause and effect, sound recognition
· Baby Owl squeaker tucked into Mamma's front pouch will teach object permanence and help with motor skills
· A variety of soft fabrics offer sensory experience for baby as she explores all sides of Madame Chouette 3/31/2015 (Price: $70.00; Age: 0 and up) [Add to my Inquiry Basket][?]



Brobo by HOG WILD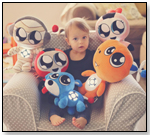 No shadows and no fear because Brobo is here! Hog Wild's new night light buddy, Brobo, is a child's perfect daytime friend and sleeptime solution. Featuring both light and dim modes, Brobo gives little ones instant control over the darkness and shadows that make bedtime difficult, all from the safety of their own bed! This soft, plush robot from the future has a five–minute auto shutoff with long-lasting LED lights that are cool to touch. Age Range: 18+ Months
Awards: 2015 TDmonthly Top Toy Award 3/18/2015 (Price: $29.99; Age: 1 and up) [Add to my Inquiry Basket][?]



Pirate Kitty by TENTACLE KITTY

Pirate Kitty is Ninja Kitty's rival and next-door neighbor. He steals everything he needs to be a pirate from his owner, including the Jolly Roger panties on his head. He also has his leg stuck in a toilet paper roll to complete the look while he orders Squeakarr, his first mate and cat toy, about on many tasks while he spies on the dastardly Ninja Kitty. 2/10/2015 [Add to my Inquiry Basket][?]



Kaloo Petite Rose Mini Zig Musical by JURATOYS US CORP


This sweet and soft musical pull toy from our new Petite Rose Collection plays a lilting and familiar phrase from "Sleeping Beauty." Babies quickly associate their action (pulling on the bunny) with a response (delightful music). For Ages 0+ months. 1/27/2015 (Age: 0 and up) [Add to my Inquiry Basket][?]



Worry Eaters by HAYWIRE GROUP


The award-winning plush from Europe finally makes it stateside for children coast to coast to cuddle. When times get rough, kids can jot down their frets, worries and fears and feed it to Worry Eater. As child sleeps, mom or dad tiptoes in and discovers the scary concern. Next day a solution or discussion can be shared between child and grownup. A much healthier way to deal with stress and worry! $15.99 (S) & $22.99 (L)
Styles in both small and large sizes: Schnulli, Saggo, Enno and Polli
Available in large only: Flint, Bill, Betti and Flamm.



1/20/2015 (Age: 3 and up) [Add to my Inquiry Basket][?]



Ray and Ben by MAF INDUSTRIES


Ray with the red cap and Ben with the blue cap make the perfect pals (shown with bodies tucked in).

Inspired by a child's drawings, they have soft cushy pillow heads, with small stuffed bodies that tuck inside. As a friend to dream with, they spark positive, imaginative play, and encourage children to Be A Dreamer®. As a pillow, Dream Frenz put the fun in FUNctional! Each one has a coordinated quilted soft fabric on the back. U.S. Pat. No. 8,321,978 12/1/2014 [Add to my Inquiry Basket][?]



Sophie and Lili Color Me Doll by NORTH AMERICAN BEAR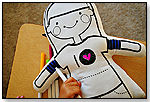 Licensed soft doll in whimsical 2-dimensional design by artist Jennifer Vallez makes a big fashion statement with creative fun! Oversized 18" woven cotton doll features a black and white screen-print outfit on front and contrasting custom textile print on back for coloring and decorating with any favorite markers. 11/14/2014 (Price: $24.99; Age: 3 and up) [Add to my Inquiry Basket][?]



Max Buddy Ball by MAXLAND TOYS LLC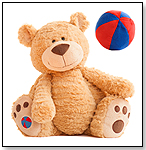 Our signature buddy, MAX is a huggable honey colored bear that converts into a cherry red and bright blue ball. He is made of the softest fur available. Always ready for a game of catch or a quick snuggle, he is the ideal companion for your on-the-go child! Like all of his buddies, MAX unzips in the back to reveal a secret compartment perfect for storing all of life's little treasures. Dimensions: MAX: Teddy bear is 16 inches tall (standing), transforming into an 8 inch diameter plush ball.

9/22/2014 (Price: $29.99) [Add to my Inquiry Basket][?]



Mickey and Friends "Tsum Tsum" Mini Plush Collection Disney by DISNEY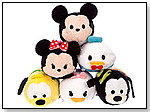 Disney's cutest characters are cuter than ever with our "Tsum Tsum" Mini Plush Collection. Already a hit in Japan, now you can collect Mickey, Minnie, Donald, Goofy, Pluto, and all their soft stackable friends in mini size! 8/29/2014 (Price: $4.95)



Skoink by GENETIPETZ


What do you get when you combine the DNA from a skunk and a pig? Answer: a Skoink! The Skoink is a super soft and incredibly fun combination of a skunk and pig! The Skoink is a true favorite of the kids who like to express their uniqueness! Genetipetz are mounted on header cards that make them easy to display and explain for retail customers. These toys feature unique registration codes and free access to the Genetipetz Clubhouse to connect offline and online play experiences. 7/31/2014 [Add to my Inquiry Basket][?]



Stickgal Sal™ by STICKMAN STEW LLC


Stickgal Sal™ is a warm and caring gal. She's a good friend who will always be there to hold your hand. Sal loves to give hugs and read people's fortunes. 5/27/2014 [Add to my Inquiry Basket][?]



Dinosaur Hand Puppets by GEOCENTRAL


These detailed Tyrannosaurus and Triceratops puppets are sure to bring out the imagination. Kids will have fun for hours. The assortment contains 2 of each of the 2 styles. 5/14/2014 [Add to my Inquiry Basket][?]



Anteater by FIESTA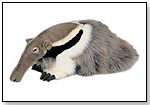 Fiesta stuffed animals and plush toys soothe, comfort, and encourage creative play. Animals for everyday, holiday, special occasion, inspirational, amusement, novelty and custom. Quality soft fabrics, attention to detail and expressive faces make fiesta stuffed toys a gift to be treasured.
— In a June 2015 survey David Campbell, owner of Amazing Toys in Great Falls, Mont., told TDmonthly that Fiesta was their store's best-selling plush brand. 4/29/2014 [Add to my Inquiry Basket][?]



WiKiBear by COMMONWEALTH TOY & NOVELTY CO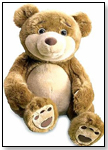 WikiBear is an interactive talking plush bear. It connects to an app via bluetooth, allowing it to access the internet and answer any question little minds might ask. It also remembers names and will interact with children, telling them it's hobbies or cracking a joke. 4/29/2014 [Add to my Inquiry Basket][?]



Pinkie Pirate - Dooodolls Plush Doll by BSV LLC


Ahoy, captain! With his exceptional sense of direction and savvy seafaring skills, no wonder Pinkie Pirate has explored every land and ocean. A descendant of the infamous pirate who conquered the seas, he is also the owner of a magical wooden sword that will bring you wherever your heart desires!

3/19/2014 (Price: $19.99; Age: 3 and up) [Add to my Inquiry Basket][?]



mi mu ru™ by HENDERSON & COMPANY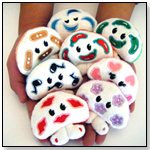 Introducing a new family of super-soft, collectible plush mushroom characters called mi mu ru™ (my moo roo). Each of the unique, beautifully embroidered characters (eight in all) have individual personalities complete with their own mottos and fun names. missikissi says, "A simple kiss can make everything better". zzzzizi says, "A nap a day makes grumpy go away." And, ouchi booboo states, "Bumps and bruises reminds us not to do that again." These are just some of the mottos from mi mu ru™.

Adding to their play value, each handmade 2" tall cute plush is attached to their own ultra-soft wristband (buddi bands™) which allow kids to wear 'em, carry 'em and share 'em. This feature enhances the play value while still being affordable. Kids will want to collect 'em all! mi mu ru buddi bands are more than a toy, they are a super-fun children's accessory. Sales reps/distributors welcome. www.mimuru.com 11/6/2013 (Price: $4.99; Age: 3 to 8)



Climb the Monkey Bars? That's Bananas! Book/Plush Combo by FOBIE FRIENDS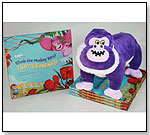 Climb the Monkey Bars? That's Bananas! is our second book and is also available in hardback. Here, our young boy faces his fears on the playground. Excited to play on a new jungle gym, he tearfully changes directions when his Papa encourages him to climb a ladder so he may join friends on the monkey bars. When his imagination tosses him into a wild place, a gentle, furry friend coaches the new climber through his first success with high places. Includes plush Monkey.
TDmonthly Editor's Notes:
- A series of books that help kids with their phobias. My daughter loves the illustrations.
- A story line that kids can follow and relate to. A great gift for any child.
- Fun use of rhyme throughout the story.
- Fobie Friends encourages youngsters to confront their fears with courage and an open mind.
- Encourages inner strength 9/26/2013 (Price: $27.99) [Add to my Inquiry Basket][?]



Monkey + Bunny by CHINA TOYBIZ.CN


It has a bunny's head and paws, as well as a monkey's body. The toy itself is about 8" long, while the hat is around 28" in overall length. long enough to be used as a scarf and mitten. This 3 in 1 fuzzy hat is your perfect choice for children and women in winter. Mini. 50 pcs. by airmail. Ocean shipment is offered for qty. over 1000 pcs..( mixed items allow) Write us to get the quote based on your qty. and shipping method. 7/24/2013 [Add to my Inquiry Basket][?]



Beanie Ballz Tippy the Giraffe - Large by TY INC.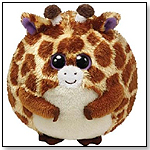 Beanie Ballz are a little wild and wacky, toss 'em and they always land on their feet. They are 13" in diameter and are made of Ty's best selling fabric - Ty Silk.
— Kristen Pollard of Mud Puddle Toys in Salem, Mass., told TDmonthly in a June 2013 survey that they sell 30-40 Ballz each month. "They have those big eyes that people like...they're big and can be used as a pillow. I've even sold them to adults. I have to stop questioning why they're selling so well because it's selling to everyone, boys and girls!" she said.
— Diane Gervais, owner of Amato's Toy & Hobby in Middletown, Conn., told TDmonthly in a March 2014 survey that Beanie Ballz were a best-selling product. 6/26/2013 (Price: $24.99) [Add to my Inquiry Basket][?]



Teen Titans Go 7" Plush by ZOOFY INTERNATIONAL LLC


Soft plush assortment of Robin, Cyborg and Trigon. 6/19/2013 [Add to my Inquiry Basket][?]



Sock Monkey Family Limo by BRYBELLY HOLDINGS INC.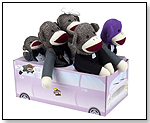 What makes this a great gift item for the holidays?: The Sock Monkey Limo is perfect for any child. A new twist on a classic toy, this product is the latest addition to Brybelly's line of Sock Monkey Family products. Featuring an adorable wedding theme, these stylish monkeys are dressed in their best as they take a ride in their pink limo to witness the marriage of Princess Penelope and Sammy Sarsaparilla. Housed in a creative limo-shaped box with cutouts for each monkey, children can enjoy hours of creative play as they use the actual packaging to play with the toys. The monkeys in the set are dressed in traditional wedding apparel, such as a bridal gown, tuxedos, etc. Each set comes with a total of six monkeys: Princess Penelope (Bride); Sammy Sarsaparilla (Groom); Minster Mook (Minister); Myles (Chauffer); Ava (Flower Girl) and Brayden (Ring Bearer). 4/29/2013 (Price: $49.99) [Add to my Inquiry Basket][?]



Fab Fairies™ by Adora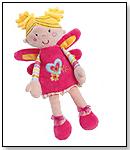 Adora's exclusive Fab Fairies™ spread love & joy! They are absolutely adorable, a perfect blend of sweetness and love for infants on up. Fab Fairies™ are made of ultra soft and cuddly microfiber plush with adorable fairy faces and are available in three cheerful colors accented with a sweet flower appliqué.

2/25/2013 (Age: 0 and up) [Add to my Inquiry Basket][?]



The Deglingos - Sandykilos the Elephant Backpack by GEARED FOR IMAGINATION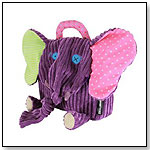 This backpack is sized for the preschool and kindergarten set. This bag combines the personality of the Deglingos with the function of a backpack. Part of the Deglingos brand of toys and accessories designed in France, featuring new character Sandykilos. 1/8/2013 (Price: $34.99) [Add to my Inquiry Basket][?]



Sidekix - Mojo by ZOOBIES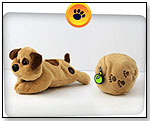 These Sidekix Toys are just like the pets kids have at home — only they can take them anywhere and they're a lot easier to clean up after. When these little furry friends are zipped into a ball they are ready for action. They can be tossed, kicked, thrown or anything a ball can do. By pulling on the custom made Sidekix Toys zipper pull kids can transform their sidekix back and forth from the ball to their lovable and furry friends. 12/20/2012 (Price: $9.99) [Add to my Inquiry Basket][?]



Ruffoo by TEEBOO USA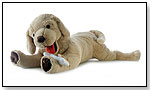 This giant and cuddly plush dog measures 42 inches long and features 9 interactive functions. Ruffoo comes with his own bone that kids can "feed" him. Innovative KidooPets show kids how to nurture while having fun. These quality plush toys are designed in France and made with only the finest materials. Launch date: 2013. 12/17/2012 (Price: $79.99) [Add to my Inquiry Basket][?]



Pillow Pets® Nemo Folding Plush by CJ PRODUCTS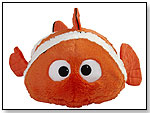 Nemo swims into the hearts of a new generation of children with a re-release in theaters and on Blu-Ray/ DVD. Retailers can "Find" Nemo Pillow Pets® Plush in Q1 2013. He's sure to make a splash on store shelves. Launch date: February 2013. 12/13/2012 (Price: $29.99; Age: 3 and up) [Add to my Inquiry Basket][?]



Planet Sock Monkey™ by PATCH PRODUCTS INC.
Planet Sock Monkey is a limited edition, collectible soft doll line full of bold style and unconventional attitude, daring to go where no monkey has gone before. Each 10" knit sock monkey comes clothed in its signature, detailed fashion and features a unique accessory. These characters are only available for a limited time, so snatch them up before they hightail it outta here! But no worries, more characters will arrive to take their place... 12/13/2012



Digger the Dog by STUFFIES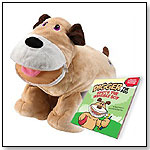 Always the faithful companion, Digger the dog digs deep to help anyone. In Digger's storybook, the kids on the playground discover the importance of including others. Ideal for reading aloud, this 33-page interactive book offers fun-filled rhymes and beautiful illustrations. Stuffies are clever, cozy toys on a mission to keep kids' treasures safe. They have top-secret pockets that are fun to discover and store all kinds of keepsakes.
Awards: 2012 National Parenting Center Seal of Approval; Parents' Choice Classic, Fun Stuff Award Winner
— As of 12/11/2012 this product had 4.8 out of 5 stars from 16 reviews on Amazon.com. Pros: Well made; Lots of pockets for kids to store their stuff; cuddly. Cons: One reviewer said the book accompanying the toy wasn't well written.

12/11/2012 (Price: $29.95; Age: 3 and up) [Add to my Inquiry Basket][?]



Generic Plush Lines by DREAM INTERNATIONAL USA INC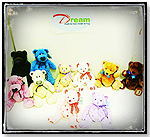 Dream International USA, Inc. launched its own designed plush toys targeting high-end specialty gift market. Our stuffed animals are diverse and we use high quality and unique fabric that are soft and huggable. 11/29/2012 [Add to my Inquiry Basket][?]



Freddy Flungpu by INSANIMALS


Freddy Flungpu originally comes from the dense jungles of India. When he was a little monkey, he used to always carry a banana around and suck on it like a bottle. His friends thought it was a little weird but then again, Freddy has always been weird. When a traveling circus came through town, he thought it would be fun to hitch a ride with them. Eventually, Freddy just became too crazy to handle anymore, and his owner sent him to the Insanimals farm. 11/19/2012 (Price: $14.99) [Add to my Inquiry Basket][?]



Plush Number Characters by NUMBERSALIVE!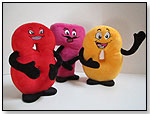 Team Ten, the colorful and friendly plush number characters 0-9, encourage children to think of numbers as something fun and relevant. Each 10" number has a unique personality with a whimsical human face. Children form a bond with the numbers while storytelling, increasing mathematical language concepts and number recognition. Children love hugging their number friends and telling stories about how they find the numbers in everyday life! Great for birthdays and anniversaries, too. Launch date: November 2012.
Awards: 2012 Creative Child Magazine Top Toy of the Year 11/16/2012 (Price: $15.95; Age: All Ages) [Add to my Inquiry Basket][?]



CuddleUppets by JAY AT PLAY


CuddleUppets are both playful puppets that encourage creative play and practical blankets. Their soft plush head can be used as a small travel pillow for children on planes, cars or in daycare while the fuzzy blanket keeps small children warm. CuddleUppets help children transition from play time to bed time. CuddleUppets are available in eight varieties: Pink Poodle, Blue Elephant, Purple Monkey, Yellow Puppy, Brown Bear Green Crocodile and the newest additions Pink Ladybug and Magic Unicorn. 11/14/2012 (Price: $19.99) [Add to my Inquiry Basket][?]



Sesame Street LOL Elmo by PLAYSKOOL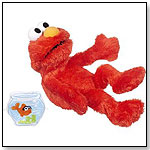 Elmo loves a sidesplitting, rolling-on-the-floor gigglefest. And preschoolers will too with LOL Elmo. He laughs up a storm, tells jokes, and comes with a Dorothy fishbowl squeaker toy for even more silly fun. The more Elmo laughs, the more he rolls and shakes. To see Elmo giggle, press either of his feet or tickle his tummy. To hear Elmo tell a silly joke, just press and hold either foot for 3 seconds. Each time his foot is pressed, he'll tell another joke. To activate Elmo using Dorothy's fishbowl squeaker, hold it approximately 6 inches from his tummy, then give it a squeeze. 11/9/2012 (Price: $49.99; Age: 1 and up) [Add to my Inquiry Basket][?]



ZombieZoo Classic Toxic by ZombieZoo


Toxic is a venomous little snake with her number 1 goal to win at everything. The other zombies are her best buddies but she will constantly challenge them at any contest. Don't ever tell Toxic that she's not cool. She is 12 in high, and made in super soft velboa fabric, very cuddly and comes with a personality tag. Launch date: 2012. 10/25/2012 (Price: $20.00; Age: All Ages)



Cuddle Bear by ELKS & ANGELS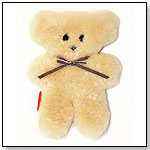 The Cuddle Bear from Elks & Angels is nature's answer to a cuddly companion for little ones. Its silky soft texture made from Australian shearling has a darling gentle face and is flat for ease of cuddling and sleeping on. Sheepskin has a host of benefits, that make this toy hard to resist, it is easy-to-clean, static- and stain-resistant, anti-bacterial, hypoallergenic, and flame retardant. Plus, since it's made with sheepskin, it's incredibly breathable and never smells! Sheepskin is also said to be very soothing and calming for little ones to swaddle into. This adorable cuddle buddy is a cute companion for little ones and has so many great benefits. Launch date: October 2010.
Awards: 2012 Mom's Choice Gold Award 10/2/2012 (Price: $49.00; Age: All Ages) [Add to my Inquiry Basket][?]



Scrappy Dogs by UNDER THE NILE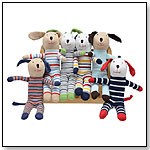 Quirky and colorful, Under the Nile Scrappys are made from 100% Egyptian Organic Cotton Scraps left over from our clothing scraps. Wastefulness is not in our nature-any time we see a chance to upcycle, we're going to. Measures 10" in length. Slim body design makes stuffed animal easy to hold. Made of 100% GOTS certified organic Egyptian cotton. Launch date: September 2012. 10/1/2012 (Price: $14.00; Age: All Ages) [Add to my Inquiry Basket][?]



THUGZ Little Red by MARY MEYER CORP.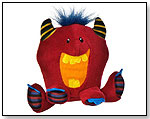 This 5" red monster with embroidered face details is made of soft velour. A great travel companion for kids. 9/17/2012 (Price: $8.99) [Add to my Inquiry Basket][?]



Murphy: Pit Bull & Therapy Dog by CHARLIEDOG AND FRIENDS LLC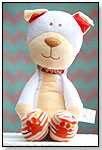 Murphy is Amanda Clase's dreamy, solid, almost pure-white pit bull mix. Adopted at 9 weeks old, Murphy quickly demonstrated the sweet temperament of a therapy dog, and now pursues a career of comforting the patients of Martha Jefferson Hospital in Virginia. Murphy is 18" long and weighty at 3/4 pound. He's made with super-soft velour and satin, with child-safe embroidered eyes and nose. Unique to Murphy are his little striped socks, just like the socks the real-life Murphy wears on those slippery hospital floors. Like all CharlieDog toys, he wears a colorful collar embroidered with the word "Adopt". He has a serial number (from 1 to 2000) on his care tag, and his name embroidered on a patch on his leg. Five dollars of every Murphy is donated to Pit Bull Rescue Central. 9/13/2012 (Price: $35.00) [Add to my Inquiry Basket][?]



Beansprout Blanket Buddies by PEM AMERICA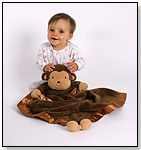 The Beansprout Buddies come in different animals like Frogs, Hippos, Monkeys, Sheep, and Giraffes. Super soft and Super cute. All of our products meet or exceed the ASTM 2012 safety standards. Launch date: August 2012. 9/12/2012 (Price: $14.99; Age: 0 and up) [Add to my Inquiry Basket][?]



Sock Monkey Mini Plush by RASHTI & RASHTI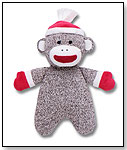 These mini plush toys are based on the nostalgic Sock Monkey character. Launch date: June 2012. 9/12/2012 (Price: $8.00; Age: 0 and up) [Add to my Inquiry Basket][?]



12" Fox by MAISON CHIC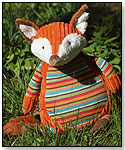 This fox is 12" tall and has a tail that is so soft kids will never want to let go. Made of a soft, wide-wale corduroy, soft and colorful cotton knit, and polyester plush fur. Launch date: June 2012. 9/12/2012 (Price: $20.00; Age: 1 and up) [Add to my Inquiry Basket][?]



Cuddle Covers by FUN LIFE TOYS LLC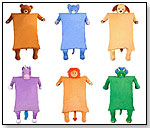 Cuddle Covers are plush pillow covers in the shape of an animal. The covers come in eight different characters, are hypo-allergenic, and zip over a pillow (a Cuddle Cover pillow is also sold separately for $14.99).
— "Each Cuddle Cover is made with hypo-allergenic and ultra-soft polyester fabric, so once you've run your hands across them, it's hard to stop...I appreciated that they are plenty durable enough to be laundered and that the strong zipper makes it easy to position the pillow inside without a problem." - Review from XENIA SUNDELL at ThanksMailCarrier.com 9/5/2012 (Price: $19.99) [Add to my Inquiry Basket][?]



Googalops Guzly Puppet by MANHATTAN TOY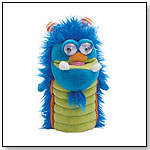 Googly eyes is not his only quality, but makes it more exciting for this out of this world creature. Guzly is super silly for a friendly monster, bright colors and an extra-long tongue makes kids smile just by looking at him. Turn playtime into Guzly time with the Googalops Guzly hand puppet.
— In a June 2014 survey, Joel Dinkins from Doodlehopper 4 Kids in Falls Church, Va., told TDmonthly that Manhattan Toy made their store's best-selling puppets.
— In a June 2015 survey, Ava Allen, owner of Be Beep A Toy Shop in Columbia, S.C., told TDmonthly in a June 2015 survey that Manhattan Toy was their best-selling plush/puppet brand. 8/9/2012 (Price: $30.00; Age: 3 and up) [Add to my Inquiry Basket][?]



SnipPets by THE BEAR MILL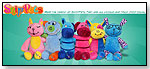 These unique characters have been designed solely by The Bear Mill Team. The back story of these unique colorful plush is based upon utilizing the leftover remnants of fabric from a textile mill's production day. In this story Mr. and Mrs. Threads, who were among the first plush that The Bear Mill produced, create Windle, the original SnipPet. Windle then goes on to create the rest of the SnipPets family. SnipPets can be identified by their signature curly nose, unique smiles, and branded foot. Storybooks of their magical adventures in The Bear Mill, which is located in rural England, will be launched soon. 8/8/2012 (Price: $19.99)



THIS BANNER IS AN AD:
---
---