---
Made in the USA Toys
How Companies Keep Costs Down While Staying Stateside
"We would not be in business if we went overseas." — Michael Rainville, Maple Landmark Woodcraft

American toy companies can save 50 percent or more on manufacturing costs by taking production outside U.S. borders. And yet, some refuse to set sail. They like stateside control, they told

TD

monthly Magazine, and they're proud to put "Made in the USA" on display.

Given recent concerns over reports of tainted toothpaste, pet food and other imports from China, including some of RC2's Thomas & Friends toys containing lead paint, it's possible that more manufacturers may think twice before jumping at foreign price cuts.

COST-CUTTING CUTS SALES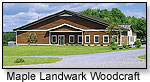 Michael Rainville, CEO of Maple Landmark Woodcraft in Middlebury, Vt., said "the cost of production in China is easily more than 75 percent less than in the U.S.," but noted additional fees related to transportation, inventory and more. These are difficult for smaller companies, he said, and contribute to a plan in which "price is the only driver."

For Rainville, production isn't about price; rather, it's about filling a niche for clientele who demand natural products and have concerns about the environment, safety and American jobs. "We would not be in business if we went overseas," he stated.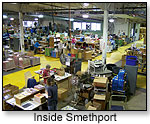 CONTROL PAYS OFF

Logistical considerations, such as the ability to run small batches, are one reason Owner Dean Helfer of Channel Craft and Distribution keeps business here.

"[Overseas], we would have a whole lot less control over getting our customers what they need, when they need it," he said, since shipments from abroad can take months.

President Mark Carson of Fat Brain Toy Co. told

TD

monthly that during a tight production schedule to launch Dado Cubes, his company made numerous visits to its nearby mold maker and injection molder — a task that "would be difficult and time consuming to do overseas."


Smethport Specialty keeps its footing by building its own machinery and by stocking parts, but not finished pieces. "Cash flow is a lot better," said President Scott Cavagnaro. "Instead of $10 [on the shelf], I might have $2 worth of premade parts without any labor."

IT'S A TOSS UP

But even those committed to the U.S. can be tempted to stray.

Teacup Tables, looking to partner with a Texas mill to expand its six-person operation, was enticed by overseas price quotes. Nevertheless, Owner Terri Foxworth assured

TD

monthly that her company is first concerned with quality, and she doesn't support labor conditions abroad.

Quality also played into Ttalf Corporation's decision to manufacture the Yackle Ball at home. "I had a sample sent to me of what China could do, and it fell apart in less than 20 minutes," CEO Patricia Littwin said. But when the company tested 60 of the USA-made Yackle Balls with 1,150 middle schoolers for two days, they "did not lose one."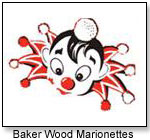 Nevertheless, Littwin admitted that two upcoming products featuring mold-injected foam will be imported because of high prices related to the use of a certain chemical.

Baker Wood Marionettes recently outsourced some Disney-licensed products, but prefers to manufacturer at home, according to Owner Bob Baker, who feels strongly that the United States is "giving everything away to other countries."

MONEY IN THE BALANCE

But Baker admitted that U.S. production is challenging: "We don't make as much profit as we should, and we have to keep the stuff competitive."

Pat Secrist of Secrist Doll Company, citing a procedure that describes in detail how to don safety glasses, said an increase in U.S. regulation might cause him to move production. But, the flexibility of his 15 employees — 12 of whom make the dolls — is a plus. "One employee may know literally 10 different jobs," he said. "And it allows us to pay them more."

Dimensions holds down costs for its 75-member workforce at a Northern California manufacturing and shipping facility for Perler Beads because "the labor rates…are a little bit lower," Sales Manager Ann Shade told

TD

monthly.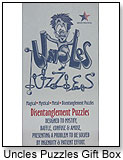 THE HEART OF PRODUCTION

For many companies, manufacturing at home is about giving products a personal touch. The father-son team that makes Rolli-Rider puts "personal love and attention" into the bicycles produced by the hundreds, Owner Noel Eberhardt said.

But it's not only the owners who feel loyalty to home-based companies. The average tenure at Maple Landmark Woodcraft is more than 10 years, and some of the 35 skilled craftsmen and women at Channel Craft have been there for 15.

A few retailers have pledged their allegiance, too, telling Owner Bruce Wettland of Uncle's Puzzles that the "Made in the USA" label on his red, white and blue gift boxes should be bigger.

See U.S. products from these and other companies below:







Our hand-painted Jungle Table Set includes one palm tree-shaped table and two coconut-shaped stools. Extra stools are available. The surface is easily cleaned with a damp cloth. A small amount of assembly is necessary. The table measures 28"W X 23"H and the stools measure 12"W X 12"H. Made in the USA.

.

AD
---






.

AD
---






.

AD
---






.

AD
---






Taffy is a cute little preemie baby, and is just 17" long. She is one of the newest kits from the Secrist Dolls Reborn line. She comes as a blank, unfinished doll kit ready for a reborn artist to bring to life. Secrist also offers reborning supplies and an instructional DVD so that newcomers can learn to make their own lifelike newborns. Launch date: 2006.

.

AD
---






.

AD
---






Gretel may have lost her way in the forest, but with a little help from a little kid, she'll be able to wander back to safety. She's dressed in a felt Tyrolean outfit and is handcrafted of wood.

.

AD
---






Now, you can give the gift of membership to the Toobee fan in your life. Toobee The Amazing Flying Can is safe fun for all ages and can be played indoors and out. The kit includes a membership card, a membership certificate, three Toobees with a carrying case and a T-shirt. The membership kit also includes free shipping, and like all other Toobee products, includes 100 percent of profits donated to a children's charity, Cannedwater4kids. Launch date: November 22, 2005.

.

AD
---






Not for the patience impaired, this is one of the more difficult puzzles to solve. The puzzles are hand made from 1/4" (some connecting pieces are 3/16") high-quality steel that is capable of withstanding all usual and common proper hand manipulation, as well as "creative" attempts to make the solution easier. Each Uncles Puzzle is shipped in an attractive three-color gift box with the solution. Launch date: May 1997.

.

AD
---






With over 50 tattoos per pack and 24 packs per box, there is enough sparkle to capture the attention of any tween girl. Each pack includes one tattoo collector's card.

.

AD
---






Each Play Clay Cup contains approximately 7 oz. of fruity-scented clay. Colors and scents available are red/Cherry Berry, green/Sour Green Apple, yellow/Pineapple Punch, orange/Orange Sherbet, sky blue/Blueberry Blast, purple/Grape Bubblegum and pink/Pink Lemonade. Made from all organic ingredients. Launch date: 2007.

.

AD
---






The gritty realism of Pizza Box Football is driven by the power of the numbers behind the game. Players pick one of three plays: run, short pass or long pass. Pizza Box Football is shaped like a pizza box... and it opens up into a head-to-head football strategy game designed to offer all the intensity of real football in every play. Players unfold the game board (the field) and lay it inside the unfolded pizza box. The cards guide the players as they play and show the players which dice to roll. Players must apply football strategy in order to win — when to run, when to short pass, when to long pass and when to try to fool the other team.

.

AD
---






This is a must-have accessory for water balloons. This product is for use in areas lacking sufficient water pressure to expand and fill balloons. This product is made by the handicapped in sheltered workshops in America. Complete satisfaction is guaranteed by The Fun Company's $2,000,000 product liability policy with Hartford Insurance to protect distributors and retailers.

.

AD
---






The Blues are the first addition to the award-winning Dado Cubes line. Dado Cubes combine art and science as players explore architectural principles — proportion, balance, structure and color. A new twist on classic building blocks, Dado Cubes engage the imagination as the slits on each cube are interlocked to create an unlimited number of three-dimensional structures. Each set features 10 cubes, scaled from 1" to 5", capable of building structures over 32" high. They are made of durable, heavy-gauge plastic and were developed, manufactured and assembled in the U.S.A. Dado Cubes have been honored with numerous awards, including Dr. Toy's Spring 2007 Best Product Award and a Spring 2007 National Parenting Center Seal of Approval. Launch date: May 2007.

.

AD
---






.

AD
---






.

AD
---






.

AD
---






.

AD
---






Best known for the NameTrains and Montgomery Schoolhouse products, Maple Landmark branched out into construction kits for kids. Using "My Little Scoots!"-sized bodies, they've created "Made by Me" kits in four different vehicle styles — truck, train, tractor and tugboat. The vehicle bodies are 4" long, crafted from pine, and sanded smooth to the touch. The boxed kit includes the vehicle bodies, plus a smokestack for the train, 16 axles, 16 wheels and instructions. Single kits are also available.

.

AD
---
THIS BANNER IS AN AD:
---
---