---
Jingle Bell Rocks
Music-Making for Every Age
Kids and the old folks can get their groove on with everything from zithers to electric axes. Following are products of note for this holiday season:
Sound Choice Large Display Rack by WESTCO EDUCATIONAL PRODUCTS


Our carefully selected Sound Choice brand products are positioned to be retail and customer-friendly. We focus on providing affordable quality musical instruments for the retail setting to encourage the exploration of music in the home or educational environment. Comes with rack and sign. 5/18/2015 [Add to my Inquiry Basket][?]



Lil' Symphony Band in a Box by KIDKRAFT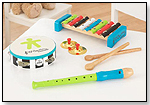 Let the music begin! Our Lil' Symphony Band in a Box puts four fun musical instruments into one convenient package. Includes 2 cymbals, 1 recorder and 1 tambourine. Made of composite wood materials. 9/22/2014 [Add to my Inquiry Basket][?]



Cowboy Guitar by SCHYLLING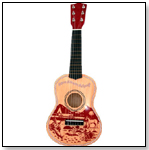 Play tunes at the campfire or a melody on the range with our Cowboy Guitar! Made of wood Features 6 nylon strings, a slotted neck, plastic tuning pegs, and detailed tuning instructions. Decorated with a western scene. 7/31/2014 (Price: $24.99; Age: 8 and up)



Princess Electronic Piano by SCHOENHUT PIANO COMPANY


Schoenhut recently added versatility to their product line by introducing a collection of electric toy pianos painted with adorable characters. Rave reviews from visitors at Toy Fair 2014 proved the popularity of these instruments.

Whimsical and appealing for children, these unique and fun instruments will provide hours of musical enjoyment. Included in the selection are a Dog, Elephant, Bird, Alligator, Lady Bug, Zebra and Princess. The 25-key piano sits safely and squarely on the floor within easy reach of little hands...a great choice for beginners. 4/30/2014 [Add to my Inquiry Basket][?]



Make Your Own Music Box Kit by KIKKERLAND DESIGN INC.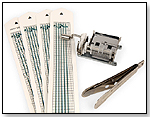 Turn the crank and hear an old tune. The charm of a music box still lingers to this day, and now the mechanism that creates the music is available for you to compose any song you wish. Our Music Box hole punch is a music makers delight. Create your own melody by punching holes in the music paper strips provided. The Happy Birthday melody is included for you to get started. For musicians, crafters and lovers of music this is a must have item. The kit also includes a instruction booklet to help you get started. 4/28/2014 [Add to my Inquiry Basket][?]



Happy Harp by HAPE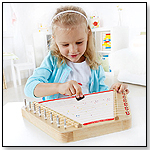 Play a favorite tune on this sturdy strummer sized for small hands and big voices. Includes playing and tuning tips and 5 songs plus a blank page to write your own songs. 4/28/2014 (Price: $39.95; Age: 3 and up) [Add to my Inquiry Basket][?]



Hohner Kids Wood Ukulele by HOHNER


With over 100 ukulele models in our professional line, the Hohner Kids soprano ukulele features all the right materials to provide you with that real tropical sound right out of the box. All wood body, nylon strings, and geared tuners. 2/11/2014 [Add to my Inquiry Basket][?]



ELC Carry Along Keyboard by INTERNATIONAL PLAYTHINGS LLC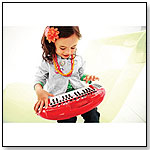 This mighty music maker (with an easy-carry handle) lights up as kids rock. Jam on a 24-note keyboard with a choice of 8 instrument sounds, 4 percussion sounds and 8 different rhythms. It even records and plays back compositions. Approx. 7'L x 15'W x 2'H. Made of plastic. Requires 3 'AA' batteries (included).
— Andrea Scartozzi from Hardware Toys in Paoli. Pa., told TDmonthly in a December 2012 survey that they sold 6 of this keyboard during the holiday season.

TDmonthly recommends looking at Schoenhut for similar, high-quality musical toys and instruments. 1/7/2013 (Age: 3 to 5)



Confetti Ukulele by Janod by JURATOYS US CORP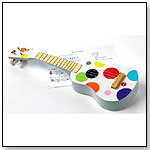 The Confetti Ukulele is thoughtfully made of wood with blast-from-the past construction and quality. Fun, tune-able sound and a size that's just right for a budding musician.
— In a December 2012 survey, Katie Rook, owner of Be Beep A Toy Shop in Columbia, S.C., told TDmonthly that they sold 40 of these ukuleles during the holiday season.

TDmonthly recommends looking at Schoenhut for similar, high-quality musical toys and instruments. 1/7/2013 (Price: $24.99; Age: 3 to 8) [Add to my Inquiry Basket][?]



Xyloba Orchestra by ETA TOYS


Orchestra is the Advanced Level Xyloba with 96 parts. Xyloba is a creative marble run for building and composing at the same time. Xyloba develops motor function and spatial imagination, and facilitates a creative approach to music. 11/15/2012 (Price: $299.00; Age: 5 and up) [Add to my Inquiry Basket][?]



Wooden Kazoo by WOODSTOCK CHIMES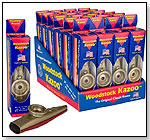 The kazoo measures 4.75" in overall length and comes individually boxed in a pegable four-color window gift box. The kazoos are sold as a 24-piece, four-color point-of-purchase display. The kazoo is handmade in a small Western New York factory which has made kazoos since 1916 and uses similar tools from that time. The packaging, also produced in the Western New York area, proudly features the U.S. Flag on the box and display. 11/5/2012 (Price: $4.00) [Add to my Inquiry Basket][?]



iDrum by DREAM CHEEKY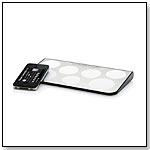 Using Bluetooth®, this seven piece drum kit connects wirelessly to an iPod Touch, iPhone, or iPad. The free Dream Cheeky Sound System app lets users jam along with their favorite music, in one of many styles. Users can even record and play back their drum sessions, or learn how to drum along with pre-programmed songs. On top of all that, there are more free games in the Dream Cheeky Arcade. While the possibilities are infinite, the iDrum is compact enough to take it with them anywhere. But don't be fooled by its size; it can withstand a right good smashing. Launch date: August 2012. 10/10/2012 (Price: $69.99; Age: 8 and up)



Zither Heaven Red Ukulele by ZITHER HEAVEN


The quality and solid construction of a Zither Heaven ukulele puts this instrument in a class of its own. While reasonably priced to appeal to beginners and children, experienced musicians of all ages enjoy playing the Zither Heaven ukulele. The precise action and proper placement of the bridge enables chords to be played at the bottom of the neck as well as the top of the neck without losing its tune. The red ukulele features a 15-inch vibrating string length. The neck is made of solid hard maple with nylon frets and nylon strings. Zither pins are used for the tuning keys. Launch date: February 2012. 9/7/2012 (Price: $56.17; Age: 6 and up) [Add to my Inquiry Basket][?]



The Learn To Play Baby Grand Piano by HAMMACHER SCHLEMMER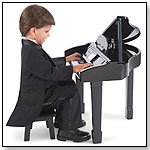 This is the child-sized baby grand piano that teaches aspiring pianists to play with visual digital aides and a built-in metronome. A 3" LCD panel above the keyboard displays animated piano keys, left and right hands, and a metronome. As one of the 12 lesson songs plays through the piano's speaker, the correct animated fingers and keys illuminate on the LCD to indicate which of the actual keys the child should play. Aspiring musicians can customize the lessons to practice playing with one or both hands and the metronome adjusts from 16 to 400 beats per minute, allowing song tempo to be tailored to a pianist's skill level. The piano can record and play back original compositions, it has 30 demonstration songs, and can play eight different background drum beats. The piano requires less than 3' sq. of floor space and its 37-keys provide a more manageable teaching tool. Requires four C batteries. Includes sheet music for the 12 lesson songs. Stool not included. 22 1/3" H x 28 1/2 W x 17 1/2" D. (9 lbs.) 8/23/2012 (Price: $99.95) [Add to my Inquiry Basket][?]



AIR GUITAR by PRINCESS INTERNATIONAL INC.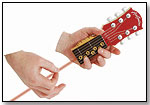 Virtual Strumming with No Strings Attached. Play the Air Guitar by pressing on the chord buttons & strumming in the air. Connect to an iPod & play along with favorite songs. Infrared sensor detects your hand motions. Plays all chords in major, minor, sharp, flat & 7th. Play along with 10 preset songs. Built in speaker. Earphone jack for private playing. Connects to an external amplifier. Connect to any music player to play along. Free play mode. Runs on 2 'AAA' batteries (not included). Size: 8 ¼" x 3 ½" x 1 ½" Weighs: 6 ozs. Launch date: January 2012. 6/25/2012 (Price: $19.95; Age: 5 and up) [Add to my Inquiry Basket][?]



Playful Xylophone by P'KOLINO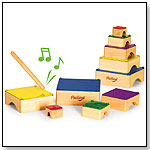 This playful melody maker develops an early interest in music while teaching shape & color recognition. As individual pieces, these colorful blocks allow children to arrange and rearrange to create their very own melodies. When the music is done, nest the blocks together for a quick and easy clean up or stack for a beautiful display. 4/13/2012 (Price: $29.99; Age: 1 and up) [Add to my Inquiry Basket][?]



Thunder Tubes by TROPHY MUSIC COMPANY


It's a 7" long x 2-1/2" dia PVC tube with a resonant head at one end attached to a 17" long x 3/16" dia extension spring. Kids shake it, scrape it, wiggle it, use their palm to muffle it and they generate creaks, deep warbles, rumbles, weird heterodyne-ish gong effects, wa-wa's, rude noises, and, yes, realistic thunder. A perfect musical companion to a cuica and rain stick - and good, clean fun around the house.

4/6/2012 [Add to my Inquiry Basket][?]



Bontempi Showtime Stage/Table Microphone - Red by THE ORIGINAL TOY COMPANY
Adjustable microphone stand with light effects, 10 demo songs, 2 sound effects and volume control. Requires 4 AA batteries, not included. Retail box packed.
— In a December 2012 survey about bestselling musical toys, three out of 12 retailers told TDmonthly that microphones were their bestselling musical toys. 2/24/2012 (Price: $45.00; Age: 3 and up) [Add to my Inquiry Basket][?]



Glammerati LumeFX Megastar Microphone by IMPERIAL TOY LLC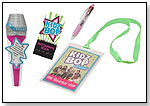 Little Pop Stars will have hours of rockin' fun as they bling while they sing with the Glammerati LumeFX Megastar Microphone. The Glammerati LumeFX Megastar Microphone includes an amplifier and features 3 KIDZ BOP hit songs. Every pop star will surely shine as the light up handle sparkles for every magical performance, whether it's with friends, mom and dad, or just practicing alone in front of the bedroom mirror. The built in crowd cheers will boost confidence and the record and play back feature sets the tone for the making of a superstar. Launch date: Summer 2012. 2/13/2012 (Price: $19.99; Age: 5 and up) [Add to my Inquiry Basket][?]



Meowsic Keyboard by BATTAT INC.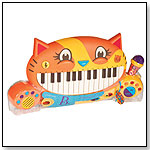 This keyboard encourages interactive play with lots of buttons to press and plenty of musical choices for singing, playing, and recording. The Meowsic Keyboard comes with a book of lyrics and a small book of favorite kid quotes posted on the B Quote Gallery. Has a record button with instant play back, five instrument sounds and five beat choices, as well as a 20-song playlist that includes seven cat-themed songs.
— As of 1/6/2012 this product had 4 out of 5 stars from 60 reviews on Amazon.com. Pros: Lots of songs to choose from; Includes black keys as well as white keys. Cons: Some parents very strongly believed that the pre-recorded songs sounded terrible, and that the songs sung with "meow" instead of regular lyrics were intolerably annoying; a few reported that certain keys wouldn't work simultaneously.
— In a 2012 survey about musical products, two of 13 retailers told TDmonthly that the Meowsic Keyboard from Battat was their top seller in the category. 1/9/2012 (Price: $29.99; Age: 2 and up)



Sesame Street Let's Rock Elmo Guitar by HASBRO INC.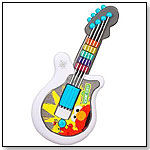 Preschoolers can put on a rockin' performance with the Let's Rock Elmo Guitar. Packed with fun features, the Guitar includes three preschool tunes, three modes of play, light-up keys and a fun whammy bar. For even more rockin' fun, the Let's Rock Elmo Guitar also interacts with the Let's Rock Elmo character, which is sold separately, who magically knows when you have the Let's Rock Elmo Guitar and plays along with you to the Elmo's World song. The guitar comes with instructions. It includes 3 AA batteries. 11/17/2011 (Price: $24.99; Age: 2 to 4) [Add to my Inquiry Basket][?]



Laser Band by PlayAbility Toys LLC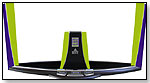 The Laser Band is a laser-activated instrument from PlayAbility Toys that lets children and adults experience the joy of creating and playing beautiful music. The Laser Band allows everyone a world of musical opportunities with small arm and hand movements that break the plain of a laser beam. Launch date: October 2011. 11/3/2011 (Price: $209.95; Age: 3 and up) [Add to my Inquiry Basket][?]



Wowwee Paper Jamz Pro Mic by WOWWEE GROUP LTD.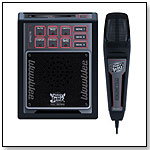 WowWee Paper Jamz are affordable and innovative instruments that provide an instant rock star experience and open-ended play. The creative blend of technology and play is made possible with Active Graphics Technology circuit-embedded paper, which allows kids to play like a pro by simply touching the paper surface. With cutting-edge technology, this Paper Jamz Pro microphone lets anyone sound like a pop star. USB cable included. For ages 8 and above. Batteries 3 x "AAA" (not included). 10/19/2011 (Price: $39.99)



High Seas Symphony by MELISSA & DOUG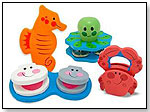 Strike up the band with this toddler-safe set of wooden rhythm instruments for kids 18 months and older. Four friendly, easy-to-grasp instruments jingle, shake and clack. The instruments promote fine motor, auditory and creative expression skills while instilling appreciation of music and movement.
— In a January 2012 survey, Jen Fairclough, assistant manager of Magic Box LTD in New Orleans, La., told TDmonthly that they sell six of this item each month, making it one of their top-two best selling musical products. 5/2/2011 (Price: $19.99; Age: 2 and up)



Air Picks by OHIO ART CO.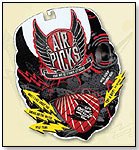 All picks contain guitar riffs of three iconic rock songs that play with the flick of the pick. Each pick has a whammy bar button and an attached carabiner clip. Assortment includes Rolling Stones, Classic Rock and Rebel Rock picks. Peg-ready, footed clamshell package. 2/24/2011 (Age: 6 and up) [Add to my Inquiry Basket][?]



T-Pain's Auto Tune Microphone by JAKKS PACIFIC INC.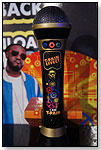 This microphone was developed in conjunction with the eponymous hip-hop artist, notorious for his auto-tuned jams. The hand-held wireless microphone plays three different beats to sing over, and records your voice. It features pitch-correction. Launch date: Fall 2011. 2/22/2011 (Price: $40.00)



Rockin' Sounds Drum by MANHATTAN TOY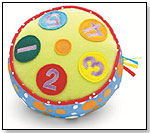 Soft drum features numbered circles that make different drum sounds and say the number or color with every touch. Bottom of drum features opening with Velcro-like closure that provides access to sound device. Lanuch date: January 2011. 1/26/2011 (Price: $30.00; Age: 2 and up) [Add to my Inquiry Basket][?]



Mega Bloks Pull Along Musical Pirate Ship by MEGA BRANDS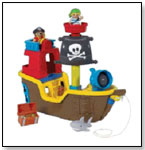 This multi-dimensional playset allows little pirates to sail about the Seven Seas with a pull-along pirate ship that plays a magical buccaneer tune. It also transforms into a secret pirate hideout when the crew needs shore leave and to hide treasure from other brigands. The secret quick-release trap door keeps the treasure safe from thieves; as they step on the floorboard, it quickly releases and sends the brigands tumbling down to a holding cell. With all of the accessories a little buccaneer could ever ask for: a catchy tune, a crew, a real working cannon, a friendly shark and a treasure chest, the Pull-Along Musical Pirate Ship offers many options for hours of adventure and fun for your little captain. 10/29/2010 (Price: $29.99; Age: 1 and up)



Mary Meyer Little MVP Pull Musical Bear by MARY MEYER CORP.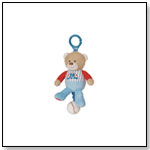 A small pull down musical bear for the little (and big) sport in your life. Tug on the baseball and it plays Take Me Out to the Ball Game. This is a small musical that will fit on stroller or car seat for a lullaby on-the-go.
Awards: Oppenheim Toy Portfolio Best Toy Award, Gold Seal, 2010. 10/14/2010 (Price: $15.00; Age: 0 to 2) [Add to my Inquiry Basket][?]



Disco Ball by MS. DEE INC.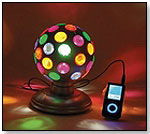 This light-up silver disco ball is also an audio speaker. When an MP3 player or iPod is plugged in, the multicolored lights flash to the beat of the music. A line-in cable is included.
THIS PRODUCT IS NO LONGER AVAILABLE (

Watch Video) 6/16/2010 [Add to my Inquiry Basket][?]



Musical Walter by LILLIPUTIENS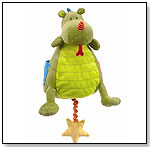 At bedtime, this dragon plush becomes a nighttime music box. With his glowing star and illuminated nose, Walter is designed to comfort children until they drift off to sleep. (

Watch Video) 6/16/2010 (Age: 0 to 5) [Add to my Inquiry Basket][?]



Musical Band by PLANTOYS

This complete drum set for preschoolers comes with two drums, a metal cymbal, a guiro and two drumsticks. The drums are made of hardwood topped with durable latex drumheads. The set stands 13" tall and is designed to help children develop an early sense of rhythm and music.
— In a December 2012 survey, Peg Scholtes, owner of Capitol Kids LTD in Madison, Wisc., told TDmonthly that PlanToys brand instruments were her bestselling musical toys. (

Watch Video) 6/16/2010 (Price: $54.99; Age: 2 to 5)



The Wizard of Oz: Karaoke CD+G by STAGE STARS RECORDS


This karaoke/sing-along CD of songs from "The Wizard of Oz" includes all the hits from the beloved family movie and school musical. Guide vocals and a lyric booklet are provided. "Kids can practice with the guide vocal version of each track, then sing with the accompaniment version. This album is a great rehearsal tool for kids practicing for their school musical," Stage Stars Marketing Director Malinda Boothe told TDmonthly.
Awards: 2010 Parents' Choice Approved 6/16/2010 (Price: $23.95; Age: 5 and up)



B. Parum Pum Pum by TOYSMITH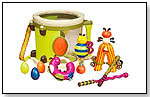 This drum by Toysmith's B. brand is filled with 8 instruments that toddlers will enjoy playing. The drum has a big handle and strap and can be played with the silly centipede drumsticks. Jingle bell ants, busy bee maraca and clacker, cute caterpillar tambourine and two shaka-shaka eggs are also included in the set. 5/28/2010 (Price: $39.99; Age: 2 and up) [Add to my Inquiry Basket][?]



Children's Accordion by CHINA TOYBIZ.CN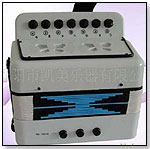 This handy accordion is a musical toy suitable for little kids. William Xie of China Toybiz told TDmonthly it is "good for practice and fun." Launch date: Feb. 20, 2010. 4/2/2010 (Price: $18; Age: 8 and up) [Add to my Inquiry Basket][?]



GummiBear Karaoke by MIK STAR
The GummiBear character that has become an internet sensation is now licensed as a karaoke for children. With 50 built-in songs for kids, the microphone recognizes pitch and sync as they sing to the music, grading the child's performance along the way. Launch date: 2010. (

Watch Video) 3/26/2010 [Add to my Inquiry Basket][?]



Slinky® Dog Playtime by POOF-SLINKY INC.


Slinky Dog plays music and says 4 phrases from the Toy Story movie. Pet Slinky Dog and watch him walk and roll, or turn his bendable body to see him spin in circles. Launch Date: May 2010. 3/2/2010 (Price: $19.99; Age: 5 and up) [Add to my Inquiry Basket][?]



Flute with Keyboard by ESCO TOYS

9.5" flute with eight keys, each with their own individual tone. Easy to play. Comes packaged in a 4.5"x12" poly-bag with header. 2/18/2010 [Add to my Inquiry Basket][?]



Musical Fun Choo Choo™ by VTECH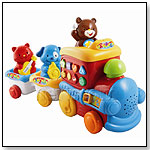 The Musical Fun Choo Choo provides more opportunities for fun as children take a whimsical ride complete with three instrument-playing characters, buttons and shapes for more combinations of exciting learning opportunities. The light-up smokestack adds fun play and an optional pull cord stores in the battery compartment. 2/17/2010 (Price: $24.99; Age: 1 and up)



Sing-a-ma-jigs by MATTEL INC.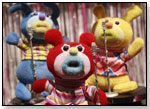 Sing-a-ma-jigs are the new free-spirited, off-beat plush characters that love nothing better than to sing together. With each squeeze of their tummies, they offer up a little bit of chatter and then individual notes to a song. But the real magic happens when kids put the characters all together and squeeze their tummies one more time and the Sing-a-ma-jigs erupt into a harmonic chorus like none heard before!
― As of 9.21.2010, this product had 5 out of 5 stars from 8 reviews on Amazon.com and was No. 43 on the top 100 best-selling toys and games. PROS: Entertaining, cute and interactive. Appeals to children and adults. 2/17/2010 (Price: $12.99; Age: 3 and up) [Add to my Inquiry Basket][?]



MusiColor™ Music Player by DELTA CREATIVE INC.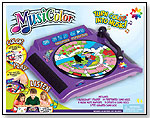 MusiColor turns color into music via an innovative music player and coloring discs. To produce a song, such as "Old McDonald," children simply follow the coloring guide and color a disc with the included markers. When placed on the player, the fully colored picture of Old McDonald will produce a pitch-perfect rendition of the song. In addition to 14 template discs, MusiColor also includes five blank Create-a-Song discs for more open-ended play.
— Bridgette of The Experimental Mommy called MusiColor a reinvention of coloring; by providing a reason to color within the lines, it fosters patience and attention to detail. Though some reviewers felt the detailed template discs were too difficult for younger children, Rob of Look What Mom Found felt that MusiColor's greatest strength is its adaptability to a wide age range thanks to the blank discs kids can use to create their own colorful compositions. 1/28/2010 (Price: $49.99; Age: 4 and up) [Add to my Inquiry Basket][?]



Spice Nut Shaker by JAMTOWN, LLC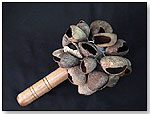 Big empty spice nut shells sound like falling water. The Spice Nut Shaker measures 11" and is made in Indonesia. (

Watch Video) 12/10/2009 (Price: $25.00) [Add to my Inquiry Basket][?]



Pentatonic Glockenspiel by AURIS MUSIKINSTRUMENT AB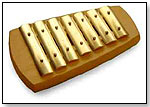 This seven-tone pentatonic glockenspiel has a lovely, crystal-clear sound. (

Watch Video) 12/10/2009 (Age: All Ages) [Add to my Inquiry Basket][?]



Baby Genius Pet Care Center by PACIFIC ENTERTAINMENT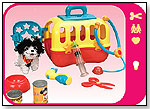 Kids can feed Melody, listen to her heart, trim her nails, and give her lots of cuddles. The excitement begins when your child opens the pet carrier door and hears Melody's playful theme song. Plush puppy and all accessories store easily inside. "The Pet Care Center incorporates the Baby Genius principle of music as a core learning tool to engage and encourage children to communicate, connect, discover, and use their imaginations to express themselves," John Russel, of RUSSEL Public Relations, told TDmonthly. Awards: The National Parenting Center Seal of Approval 2009, The Toy Insider Best Toddler Toys for the 2009 Holiday Season 2009 and Dr. Toy 100 Best Children's Products 2009. Launch date: August 2009. 11/30/2009 (Price: $18.00; Age: 2 and up)



Little Hands Music Band by EDUSHAPE LTD.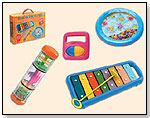 Musical toys specially designed to lead babies from the first discovery of noise and sounds into the creative world of making music. The four-piece set includes: baby xylophone, rattle roller, mini wave drum and spinner mini rainbomaker. (

Watch Video) 10/20/2009 (Price: $49.95; Age: 1 and up) [Add to my Inquiry Basket][?]



31" Electric Guitar - Red by FIESTA


23" Toy Acoustic Guitar in Red. Give the gift of music. Features quality sound, lustrous finishes, clear tone, quality materials and craftsmanship, and good vibrations. Play the blues, country, flamenco, rock, pop, and classical. 9/16/2009 (Price: $69.99; Age: 13 and up) [Add to my Inquiry Basket][?]



Ocean Friends Treasure Box by ENCHANTMINTS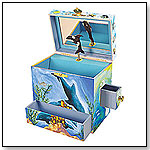 This tall treasure box is excellent for tiny treasures. Earrings, bracelets, charms and sachets are all safe and comfortable inside. Four drawers, one in front and one on each side. It measures 6" x 4" x 6". 7/16/2009



Vuvuzelas - Fan Horn by ALIVE WORLDWIDE LTD.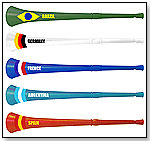 Designed for use at sporting events, this noise-making plastic item is 1-meter long and sounds like an elephant. Orders over 5000 pieces can be customized with team logos. Launch date: 2009.
— As of 7.26.2010, this product had 4 out of 5 stars from 17 reviews on Amazon.com and was listed No. 12 in the top 100 best-selling toys and games. PROS: Captures the spirit of the World Cup. Easy to use and features different play modes. CONS: Some might consider the sound annoying. 4/9/2009 (Price: $5; Age: 7 and up) [Add to my Inquiry Basket][?]



Drum Sticks by KERUSSO
Drumsticks are not just for dummers. Drumsticks may also be used these days with music-based games. Sold in pairs; available in natural and black. Wholesale package contains 12 pairs - 6 Black & 6 Natural. 1/20/2009



Striped Maracas by COLORI USA/TATIRI
Add to a child's instrument collection variety with these colored, striped maracas. 11/19/2008 [Add to my Inquiry Basket][?]



High School Musical 3 Karaoke Microphone by ZIZZLE
Kids can sing along with 10 High School Musical songs from all three movies, singing solo or with the High School Musical characters. It plugs into the TV to show lyrics and cast photos on screen. Launch date: September 2008. 8/21/2008 (Price: $39.99; Age: 5 to 12)



Chick-Itas (pair) by LATIN PERCUSSION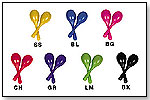 Small, light, and shaped with an easy-to-grip handle, these compact maracas invite rhythm and dance in kids of all ages. Safe for children under 3, Chick-Itas make a nice, simple rattle for babies and a great early instrument for preschoolers. Just the right amount of filling gives them a nice tone and allows for a variety of different sounds to be made.
— "We sell hundreds of LP baby maracas," said Peg Scholtes, owner of Capitol Kids in Madison, Wis.
— Six percent of retailers named maracas as their top musical toy.
— Teresa Ford, owner of Kids Ketch in Lewes, Del., told TDmonthly in July 2008 that maracas are her music section's best seller, with as many as two dozen per month going out the door. 8/12/2008 (Price: $8.00; Age: 2 and up) [Add to my Inquiry Basket][?]



Kids Percussion Floor Tom by REMO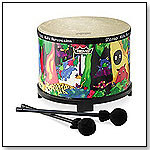 The Remo Floor Tom is a professional quality drum made to fit smaller hands. It can be played with the two included mallets, hands, or the stick side of the mallet for a variety of sounds. Manufactured with Remo Acousticon®, a proprietary material made with 100% recycled wood fiber and a durable synthetic drumhead. Measures 7.5" tall x 10" diameter. Drumming is a great way to start learning basic musical skills and explore counting. It has been shown to channel energy in a positive way and help kids express themselves.
— "Tom Tom drum by Remo; [we sell] about 100 per year," said Joanne Farrugia, owner of JaZams in Pennington, NJ, of her top-selling musical toy.
— "I think drums as a category are strongest," Tara Friese, assistant manager of Tree Top Toys in Redmond, Wash., replied when asked about her store's music category in July 2008.
— "[My customers] prefer cymbals and percussion instruments," said Anna Barr, owner of Anna's Toy Depot in Austin, Texas, who credited her clients' preference for basic acoustic instruments over more electronic or battery operated toys. 8/12/2008 (Price: $44.00; Age: 3 and up) [Add to my Inquiry Basket][?]



16" Daniel the Dreidel Bear by PBC INTERNATIONAL INC.


16" Daniel the Dreidel Bear with yamika, tallis, dreidel and zippered pouch with embroidered Star of David. Head sways and mouth moves while singing "The Dreidel Song" 7/17/2008 (Price: $24.95; Age: 0 and up) [Add to my Inquiry Basket][?]



b2 miJam Pro – Ready to Rock Air Drummer by BLUE BOX TOYS INC.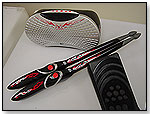 The drumsticks are air drummers, meaning there is no need to hit them upon a surface. They connect easily to most music players with a headphone jack. The set includes wireless drumsticks, a wireless speaker and a wireless foot pedal to simulate a bass drum. The speaker includes six built-in rhythms and volume and tempo controls. Launch date: August 2008. 4/17/2008 (Price: $39.99; Age: 8 and up)



Bonz Band by CURIOUS TOYS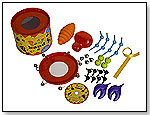 The instrument construction set consists of colorful, anatomically incorrect and interlocking construction pieces that children can use to assemble a variety of distinctive musical instruments. The set includes a CD of original music, a large metallic whistle, a canister with a top that converts into a tambourine and a bottom that converts into a drum, drumsticks, a washboard rattle, sand-filled shakers and four poseable eyes that turn the musical instruments into characters. The 42 construction pieces are all compatible with other Bonz sets. Launch date: February 2008. (

Watch Video) 3/12/2008 (Price: $26.00; Age: 3 and up)



Musical DNA® Software by MUSICAL DNA SOFTWARE, LLC
Musical DNAâ Software, LLC presents the very first exact visual translation of music; color-coded to the rainbow, geometrically precise, fully customizable and interchangeable between two and three dimensions. (

Watch Video) 12/18/2007



Glockentoddler by SOUNDS LIKE FUN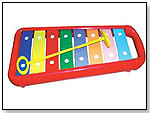 This eight-note diatonic glockenspiel comes with a toddler-safe mallet and is perfectly tuned. 11/28/2007 (Price: $21.99; Age: 1 and up)



Doodlebops Superstar Microphone by iTOYS INC.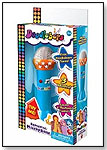 This three-mode microphone plays real Doodlebops tunes and has a record-and-playback feature. Launch date: September 2007. 10/31/2007 (Price: $14.99; Age: 3 and up) [Add to my Inquiry Basket][?]



Butterfly Pullstring Musical Toy by KIDS PREFERRED INC.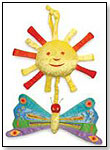 Based on the book "The Very Hungry Caterpillar" by Eric Carle, the sunshine face will help babies drift to sleep. The sun's rays project softly flashing lights, and the butterfly, when pulled, plays a soft lullaby. 10/26/2007 (Price: $20.00; Age: All Ages) [Add to my Inquiry Basket][?]



Big Kids 36" Player Series Acoustic Guitar (White with Stickers) by FIRST ACT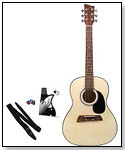 This classic guitar has a spruce top, rosewood bridge and steel-reinforced hardwood neck. Stickers are included so that the parlor size instrument can be decorated to suit any artist's style. Its rich sound and easy playing are a good fit for any experience level. 10/11/2007 (Price: $59.99; Age: 9 and up) [Add to my Inquiry Basket][?]



Crocodile Xylophone by MEE-SUB ENTERPRISE
Little kids will have an extra attachment to music when they use this cuddly crocodile to bang out a tune. The mallet rests in his throat until little ones are ready to play. The croc is plush and the xylophone is made of wood. Launch Date: 2007. (

Watch Video) 9/19/2007



Baby Jamz Cell Phone by PLANET TOYS INTERNATIONAL INC.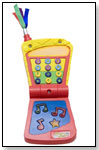 The cell phone has many buttons but is designed for easy and fun musical stimulation. Toddlers need only to press one of two large buttons to hear "Old MacDonald," "Buckle My Shoe" and "Mary Had a Little Lamb." Launch date: July 2007. 9/12/2007 (Price: $8.88; Age: 2 and up)



Rock-a-Bye Baby Musical Rub a Dub™ Book by THE STRAIGHT EDGE INC.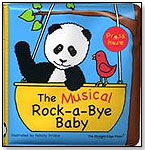 Bath time has never been so enjoyable. The musical book features a pressure-sensitive melody module that is heat-sealed into the cover and plays music when a child presses the red circle. An adorable baby panda illustrates the classic bedtime song. The 5-1/2" square book contains the lyrics to the first verse to encourage word recognition and pre-reading skills. "Our waterproof bath books are musical!" The Straight Edge Inc. owner Amy Kallman Epstein told TDmonthly. "Music not only has been found to encourage cognitive skill development in young children, but it also is a wonderful distraction for a cranky toddler." Launch date: July 2007. 8/13/2007 (Price: $6.99; Age: 1 to 4)



Wooden Music Maker by EUROPEAN EXPRESSIONS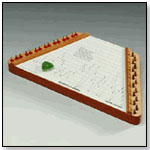 Children can easily make music on this solid wood instrument by sliding a song sheet under the strings and plucking the string above each note. It comes with tuner pick, a spare wire and 12 songs, including "Twinkle, Twinkle, Little Star" and "Rock-a-Bye Baby."
— "The Music Maker is really popular," said Steve Ellerhoff, manager at Finnegan's Toys and Gifts in Portland, Ore. Ellerhoff was part of a January 2010 survey of 48 retailers concerning their best-selling musical items.
— "The Music Maker, made by European Expressions, is popular because it's a no-brainer musical instrument," Steve Shelton, owner of Magical Moon Toys in Logan, Utah, told TDmonthly in early 2010. "[Kids] can follow along right out of the box."
― "One day we got in six, and sold three the first hour they were in the store," said Mary Sisson, co-owner of Kazoodles in Vancouver, Wash. (see her talk about the Music Maker in the attached video). (

Watch Video) 8/8/2007 (Price: $31.98; Age: 5 and up) [Add to my Inquiry Basket][?]



Maywa Denki Knockman by CUBE CO. LTD.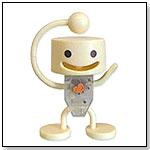 Maywa Denki is an artistic and musical act first made popular in Japan. The KnockMan figures are part of the original act. Move his left arm up and down to wind up the spring and he will start knocking his head. Turn his right arm and he will knock other KnockMan's head. Each character plays only one instrument, which you can see played because of the simple design. They're 10 cm tall and don't need batteries to work their magic.
— "KnockMan from Maywa Denki — the ones with band member figures....by a Japanese musician," said Luke Rook, owner of Lulubell Toy in Tucson, Ariz., when asked by TDmonthly about best-selling musical toys in his store. 8/7/2007 (Price: $15.00) [Add to my Inquiry Basket][?]



Crosley iJuke by CROSLEY RADIO CORPORATION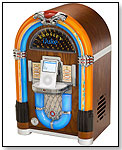 The iJuke is a treat for both the eyes and ears. Modeled after a traditional jukebox, this renovated version features a universal iPod docking station in addition to its visual spectacle of percolating bubble tubes and neon lighting. 7/25/2007 (Price: $199.95; Age: 11 and up) [Add to my Inquiry Basket][?]



Sunshine Drum by REEVE & JONES LLC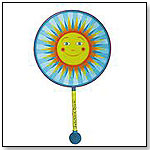 Ideal for a pint-sized percussionist, the Sunshine Drum takes the classic drum on a stick and fashions it with a big 10" sunny face. It also comes with a soft mallet that cleverly stores inside the short, safe stick. It's a practical and simple way for kids to bang their way to some music fun. In summer 2007, the Sunshine Drum was cited as the best-selling music toy in the store of Patti Lee, owner of Toys Galore and More in Kent, Conn. Lee sells about 12 of these drums per month, she said. 7/24/2007 (Price: $15.00) [Add to my Inquiry Basket][?]



THIS BANNER IS AN AD:
---
---