---
Toy Sleuth: A Summer of Transformation
Watch Themes and Laser Beams Put High-Tech Action Into Play
July's Toy Sleuth goes from the primitive to the high-tech, taking familiar ideas and turning them on their heads. Some of these puppies haven't even been brought to market, so this is the newest of the new: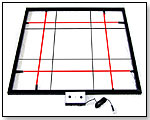 We've all seen the "Dance Dance Revolution" craze and the myriad plastic floor pad knockoffs. Now, Applied Sciences, a company with real scientists, is introducing a laser-triggered "pad" that works with no moving parts (except feet), and only floor to dance on. The player dances between laser beams to any type of DDR game: "Stepmania," "In the Groove" and "Dance Dance Revolution" itself. A. Smyth (a real scientist) said the reaction to the prototype — from retailers, schools, kids, college students and old fogies — has been overwhelming: "We totally underestimated the response." The first human to test the completed prototype, Smyth explained that the coolest thing about playing it was "the fact that the floor had become the controller. For most people, though, the coolest things are the lasers."

ToyDirectory Product ID#: 13152

(added 5/25/2007)

.

AD
---






Who doesn't want to receive a present wrapped in bloody paper? It shows you thought enough to care ... maybe thought too much. And with too sharp a pair of scissors. RudeWrap's first line of outrageous wrapping papers (there's also Pitch Black, for ennui-filled depressives) is heading for uncouth gift-givers everywhere. Realistic with just a touch of nouveau splatter, it will definitely be saved long after the box and its contents are gone. Also, it makes a dandy background for your child's school diorama of the War of 1812. Local lowbrow artists have already taken it to heart. Dina Mo of Compton said, "I was the first one to find it; kudos to me. Now everyone's buying it." Sure beats making it from scratch; kids, don't try this at home.

ToyDirectory Product ID#: 13153

(added 5/25/2007)

.

AD
---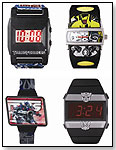 Seiko's jumping on the Transformers bandwagon with cool, kid-friendly timepieces. Some have magnetic lenticular dials and pop out from the back (Optimus changes to a semi; Bubblebee to a Camero, etc.). Tiffany Carr, product developer at Seiko, explained: "They have great toy value. And my favorite has a twist strap with a red digital display that can turn into four different displays!" If you're gonna show your support for Optimus Prime, or wave Barricade in someone's face, this is a cool way to do it. Suggested retail prices range from $7 to $55, depending on the model.

ToyDirectory Product ID#: 13154

(added 5/25/2007)

.

AD
---






A devastating weapon of fun so thoroughly soaking that Neptune, god of the sea, would want one, the Water Mortar shoots water balloons/bombs to 20' from a shoulder-held launcher. It holds eight balloons total, enough to completely obliterate the enemy with wet collateral damage all around. Spring loaded and ready for action, it comes with 100 water bombs and all the attitude you can handle. Baron Davis, one of a growing number of online enthusiasts in London, commented, "Oh, to be a kid in summer again. I have my money ready!"

ToyDirectory Product ID#: 13155

(added 5/25/2007)

.

AD
---
Writer's Bio:
Mark Zaslove is an entertainment industry veteran in developing content (writing, directing and producing television and feature films) for the major studios, including Disney, Universal and Warner Bros. A two-time Emmy Award winner for writing and recipient of the Humanitas Prize (for writing uplifting human values in television and movies), Mark is also Head of Content Development for Nice Entertainment.
Read more articles by this author
THIS BANNER IS AN AD:
---
---