When Mattel set out to fill the construction toy void in the girls' marketplace just over a year ago, their goal was to "develop a unique creation system that would cultivate girls' ingenuity and provide a catalyst for creativity." The result was ello Creation Systems™, wherein girls can create anything from funky characters and room accessories to jewelry and houses.

The ello worlds include ello-opolis™, with plastic squares, balls, triangles, squiggles, flowers and sticks for creating people, places, jewelry, and room accessories ($19.99); Aquaria™, featuring parts to create a whimsical sea environment ($19.99); Fairytopia™, where girls can create a fantasy world filled with fairies, flowers, bugs, bees, and more ($19.99); and Jungala™, containing over 300 pieces packed in a carrying tote ($34.99).

From Wheels to Roller Coasters
K'NEX's Rippin' Rocket ™ Roller Coaster ($89.99, ages 10 and up) is a high-performance roller coaster with turbo boosters. Once assembled, it has 25 feet of track, a 5-foot peak, sheer vertical drop and super-G loop. For a tamer ride there's the 3-foot tall Musical Ferris Wheel ($49.99, ages 8 and up), which includes a motor and sound module, as well as eight figures to help builders create a lifelike carnival atmosphere. Color-coded instructions make for easy assembly.



The XWheels line ($29.99, ages 9 and up) includes a whopping 531 pieces to create authentic monster trucks complete with gigantic tires and 4-wheeled suspension. The body of the truck can be raised to reveal the driver's seat and underbody of the truck. Racing graphics and engine pieces can be added for a customized look. Even young builders can enjoy K'NEX with the Kid K'NEX line (ages 3-7), featuring Bug-Eyed Buddies ($9.99), Footed Friends ($14.99) and Rovin' Rollers ($19.99). Each set has chunky pieces that are easy to snap together. K'NEX's Lid Canister Sets (est. SRP $4.99) are soon to be released.
Them Bonz
The Bonz series (ages 5 and up) by Curious Toys lets children build whimsical characters that are anatomically "incorrect." Figures can be posed by using a special connector that pivots 180 degrees. The newest construction sets, Dino Globonz Tricero and Pterodac ($10) and Dino Globonz Deluxe ($32), let children dabble in dinosaur development using 15, 19 or 35 glow-in-the-dark funky fossils with bendable joints. A Creatures of the Beach Construction Set is scheduled to hit stores in spring of 2004 (est. SRP $32).
From Building Blocks to Building Systems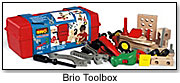 From their classic BRIO® building blocks to their new Builder Systems, BRIO products offer endless building possibilities. With The Builder System Line (ages 2-8), children enjoy the fun and challenge of building their own toys. The best selling Builder Toolbox Set ($30) comes complete with tools and a sampling of parts. Bob The Builder Muck ($30) has caterpillar treads, a working scoop, a dump bed that lifts up and down and all the tools to put it together. The Service Station Set ($25) lets children build their own service station or car workshop and turns them into mechanics for the day.
Zippy, Zany & Zowy

Toobers are foam tubes that bend and hold their shape. Zots are flat foam sheets that pull apart and add structure. Put them together and you have Toobers&Zots® (for ages 3 and up) by HandsOnToys (ToyDirectory). Make wild hats, jewelry and decorations with Zippy ($7), crazy creatures and more with Zany ($15), and pretty much anything else under the sun with the 120 piece Zowy kit ($30). The product will get a packaging face-lift for the New York Toy Fair in 2004.
Teaching Science with a Building Set
With Capsela building sets (ages 7 and up), children work with crown gears, an electrical switch box, the transformation of energy, and other mechanical principles. Smaller kits explore energy changes, electric circuits, motion energy, speed and torque. Larger kits also provide introductory lessons on friction and traction, chain drive,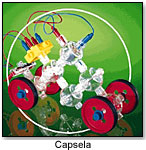 transformation of energy and more.
With the Capsela MX Racer 200 ($25.95), children learn about electric and mechanical energy as they create a car or racing chariot. The kit includes an illustrated basic science booklet and design manual and enough pieces to build ten models. The Capsela Lift-n-Load ($36.95) instructs about water as a power source, gears, and friction as kids build a crane, bulldozer, forklift, dump truck, or their own hydraulic vehicle.