---
Finding Safe Toys
Recalls Send Parents Looking for Alternatives
"People are not looking anywhere past whether or not it was made in China." — Sara Frazee, Jewel in the Crown

Even as Congress investigates toy safety in the wake of massive recalls of toys made by Mattel and others in China, consumers appear to be taking matters into their own hands by buying more playthings made in Europe or America ― even if they cost more.

Sara Frazee, owner of Jewel in the Crown toy store in Grass Valley, Calif., carries lots of eco-friendly toys made of renewable wood and other sustainable materials. Lead-tainted paint has been the culprit in most of the toy recalls, so a spike in sales of "green" toys might be expected. But that hasn't happened, Frazee told Playzak.

A HIGH PRICE FOR SAFETY

"People are not looking anywhere past whether or not it was made in China," she said, adding that some of her customers are willing to pay more for toys made in other countries.

Ditto, agreed Kristina Shabagyan, co-founder of Moolka.com, a large online retailer and importer of European toys. Some of Moolka's toys are assembled in China, but European companies manufacture the materials. "There are always parents who want to pay a little more for safe, well-made toys," Shabagyan said.

TOYS WITH EUROPEAN SUBSTANCE

Moolka sells eco-friendly toys such as stuffed animals by sigikid, a German manufacturer that uses organic cotton and lamb's wool. Sales of these toys have increased recently, Shabagyan said, but only because sales doubled across the board over the summer. They spiked when Mattel's first recall was announced and went even higher after the second.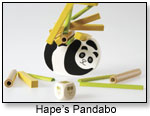 Business is also robust at HaPe International. Though the company's Anima game sets made of sustainable bamboo were recalled for lead-paint in May by the U.S. Consumer Product Safety Commission (CPSC), the toy was being sold at Target, which required large shipments very quickly.

HaPe manufactured the toys for the chain in China entirely with Chinese materials, said Managing Director Maggie Qiu, but they've since discontinued sales to Target.

HaPe also sells toys made mostly out of European materials to specialty shops. Over the summer, the company increased its number of such retailers in the United States and Canada from 500 to 800, Qiu said.

"The bamboo we use for specialty retailer sales comes from China," she told Playzak, adding that all of these products meet U.S. safety testing standards and paint used for the toys is produced and tested in Germany.

CONSUMERS TAKE CAUTION

A CSPC spokeswoman wouldn't say whether going green or buying U.S.-made toys is a smart way to protect children's safety.

"From our standpoint, it's really important for consumers to be aware of all of our recalls," said Nychelle Fleming. "The leading cause of toy-related death is still choking on small parts, because younger children are still putting things in their mouths."

Amen to that, said Jennifer Fagnani, who recently celebrated her daughter Katherine's second birthday. Fagnani, marketing director at USC University Hospital in Los Angeles, also has a 5-year-old son, Michael. She's searching for a reliable listing of retailers who sell sustainable toys or those made outside of China.

"My problem is that I don't know where to turn," Fagnani said. "So my strategy going forward will be scale way back on what we buy."

Here are some "green" toys that may make the grade for worried parents like Fagnani. You can also read Making It in the U.S.A. and Play Goes Green. Then find more great toys in playzak's Holiday Gift Guide!







Inspired by vintage colors and patterns, the collection BENE - Edition 1856 pays tribute to sigikid's more than 150-year-old tradition of toy making.

.

AD
---






With the brand-new iBedoo line, sigikid has taken the traditional music box to the next level: Just put your iPod into the little pouch on the back of the iBedoo, and play your favorite lullabies, downloaded from sigikid's iBedoo website. The iBedoo music box is part of an entire collection of snugglies, squeakers and grasp toys, in fun colors and unique designs.

.

AD
---






.

AD
---






.

AD
---






Lana Natural products are made from 100% organic cotton. Lana controls the process from the cotton fields to the home workers who sew these adorable creatures, so that kids can have confidence in the quality and the earth friendly organic certification of these products. Goosey goose is very lovable and has a neck that is just the right size for little hands to hold. Made with 100% cotton, the goose is filled with pure wool and is washable.

.

AD
---






.

AD
---






.

AD
---






All cozy in her colorful jumper, Charlotte has her eyes closed and is ready for bedtime. Her soft hands and feet provide extra comfort, along with that fluffy tummy, to make her a perfect friend for bedtime. The concept of organic refers to the creation of something that originates in nature, a pure product from the environment. Organic products eliminate unnatural herbicides and pesticides, use biodegradable and natural fertilizers, follow crop-rotation standards and soil-management procedures, undergo specific harvesting procedures and have regulated storage procedures.

.

AD
---
Catalog Request Form
THIS BANNER IS AN AD:
---
---